Thai Coconut Peanut Soup
This Thai Coconut Peanut Soup recipe is not only super yummy but super easy too. The combination of chicken, chili paste, peanut butter, coconut milk, and spices all in a thai chicken soup makes this the perfect way to warm up when you're chilled to the bone.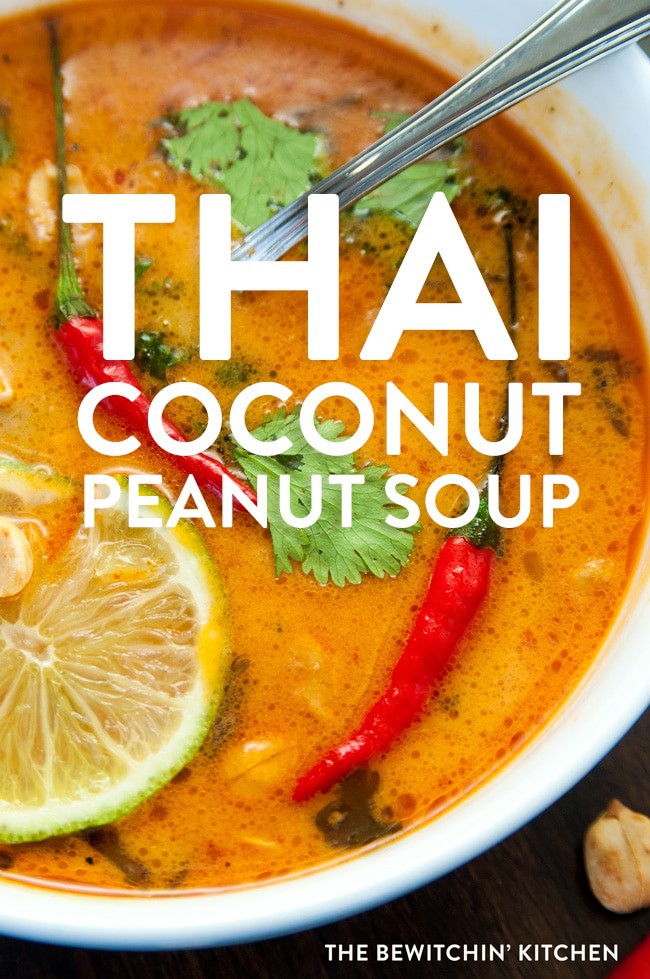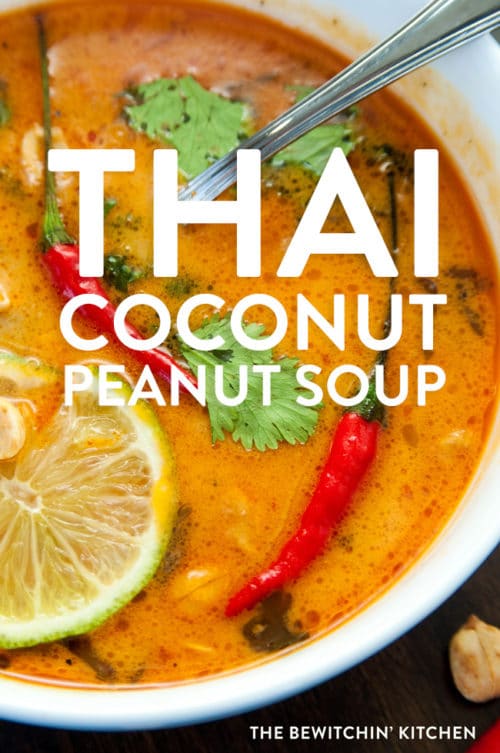 Thai Coconut Soup
Disclosure: I am participating in the Chicken Farmers of Canada campaign managed by SJ Consulting. I received compensation in exchange for my participation in this campaign. The opinions on this blog are my own. This post contains affiliate links for your convenience. As an Amazon Associate, I earn from qualifying purchases.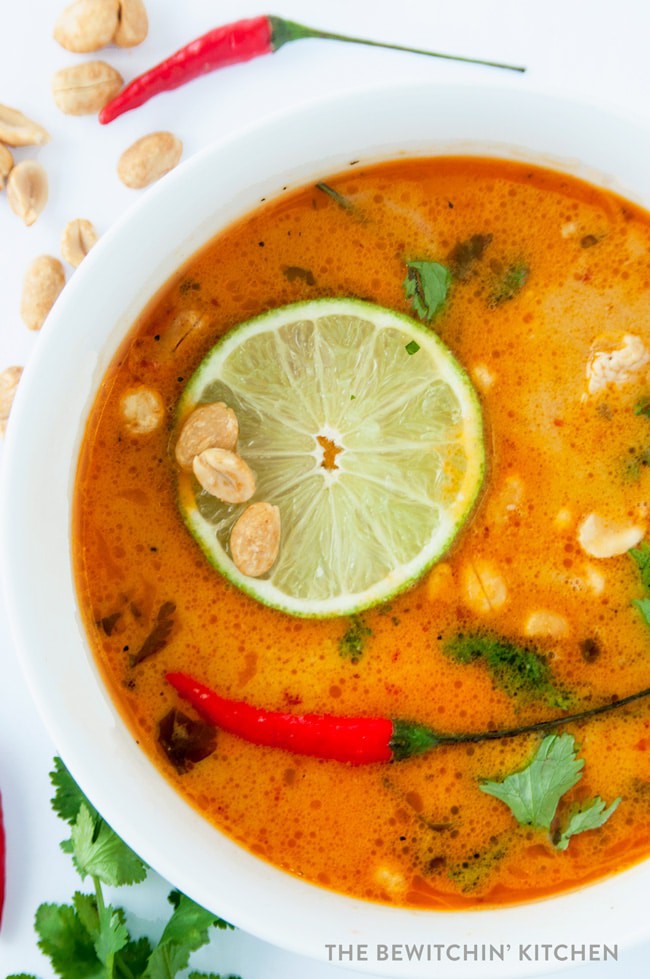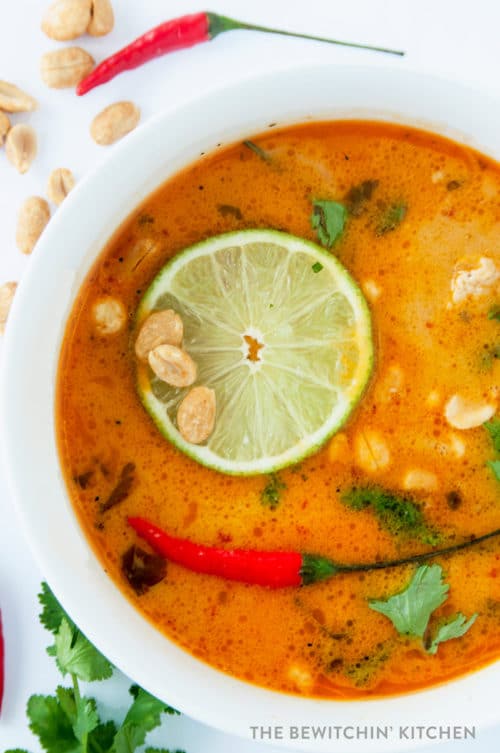 I've mentioned before here on the blog that I love peanut butter and that I like to put it in as much food as possible. However, my husband doesn't believe that peanut butter belongs with dinner (because he's crazy).

So when I made him try the Thai Coconut Peanut Soup, I was nervous and he was hesitant.
The verdict? A winner! He said it didn't make him think of peanut butter and it blended together nicely. Winning! (Are we still saying that? No? Just me?)
Related: Kickin' Chicken Kebabs with Spicy Peanut Sauce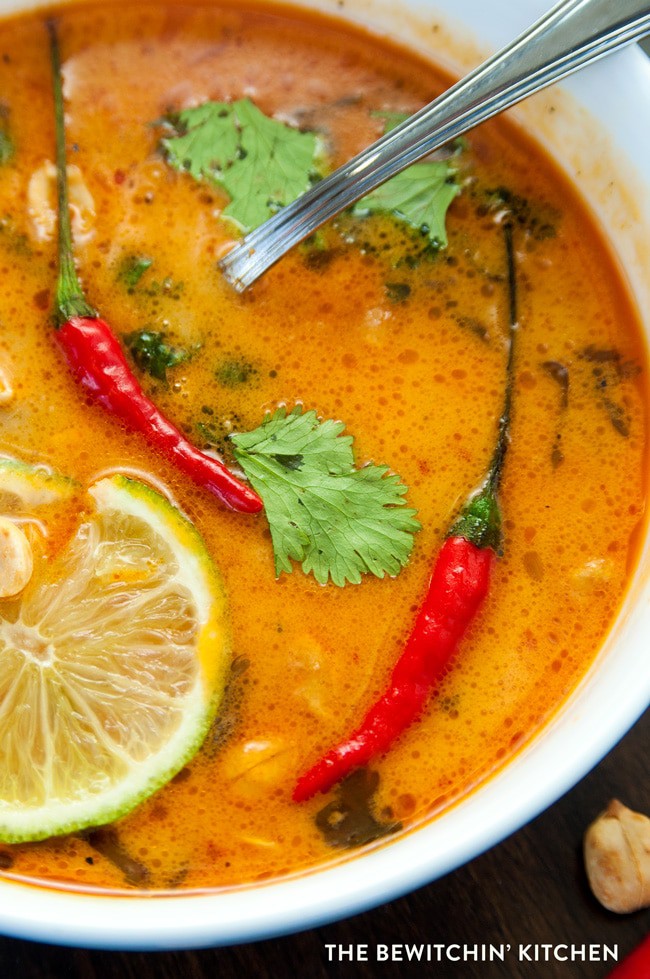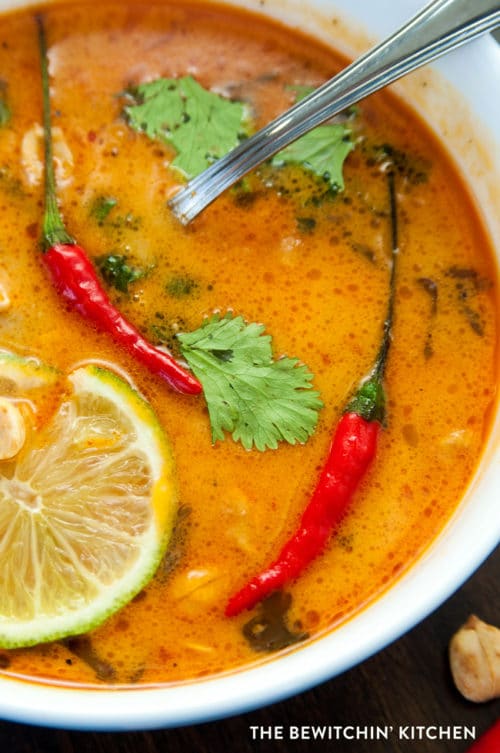 Canadian Chicken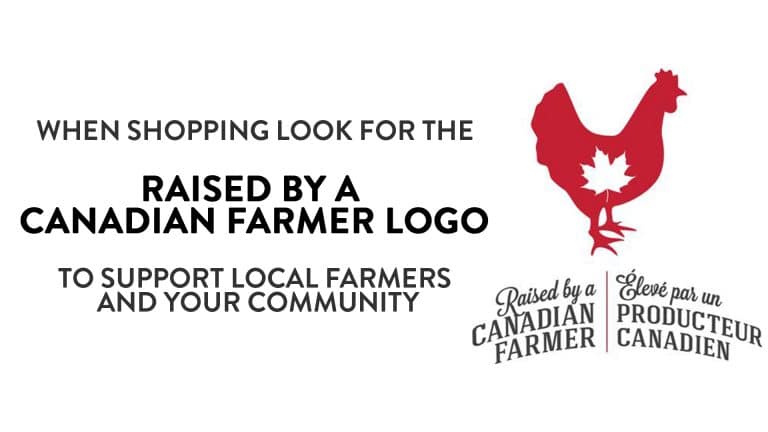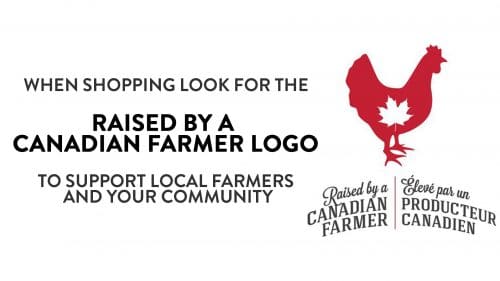 Canadian Chicken facts:
Canadian chicken is grain-fed, free of hormones and steroids.
Canadian chicken is raised here in Canada according to nationally-set, mandatory food safety, and animal care standards.
Did you know that 80% of Canadians want to see a mark that shows that the chicken they're buying is Canadian? The solution is the logo above. Whenever you buy chicken with the Raised by a Canadian farmer logo, you're buying chicken raised by a registered Canadian chicken farmer, who is subject to our mandatory and auditable programming for things like food safety and animal care.
If you don't see the logo at your local grocery store, ask for it! I don't have it at the store I frequent, so I put in a suggestion.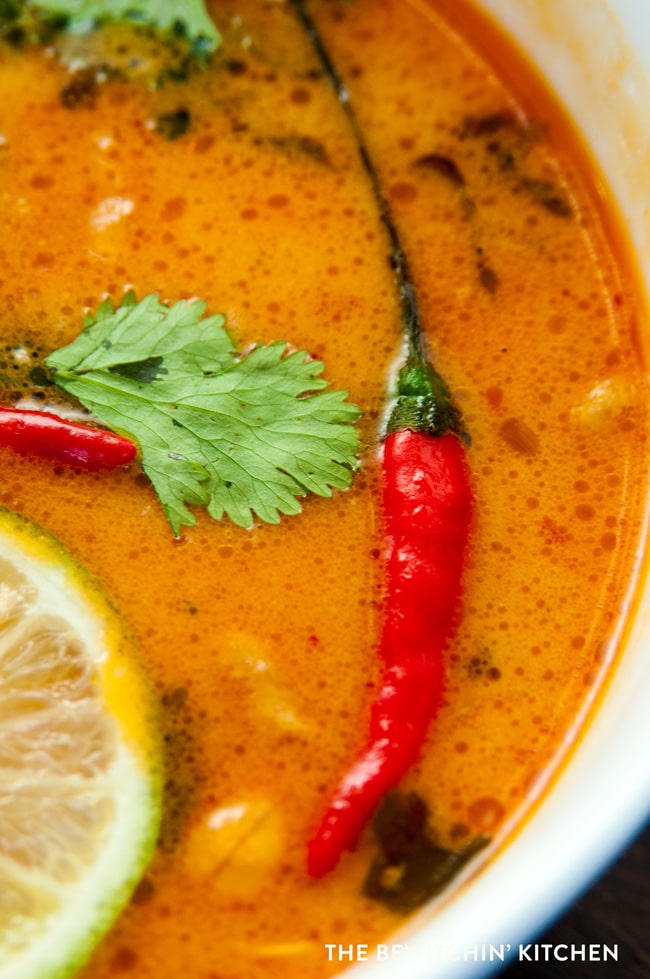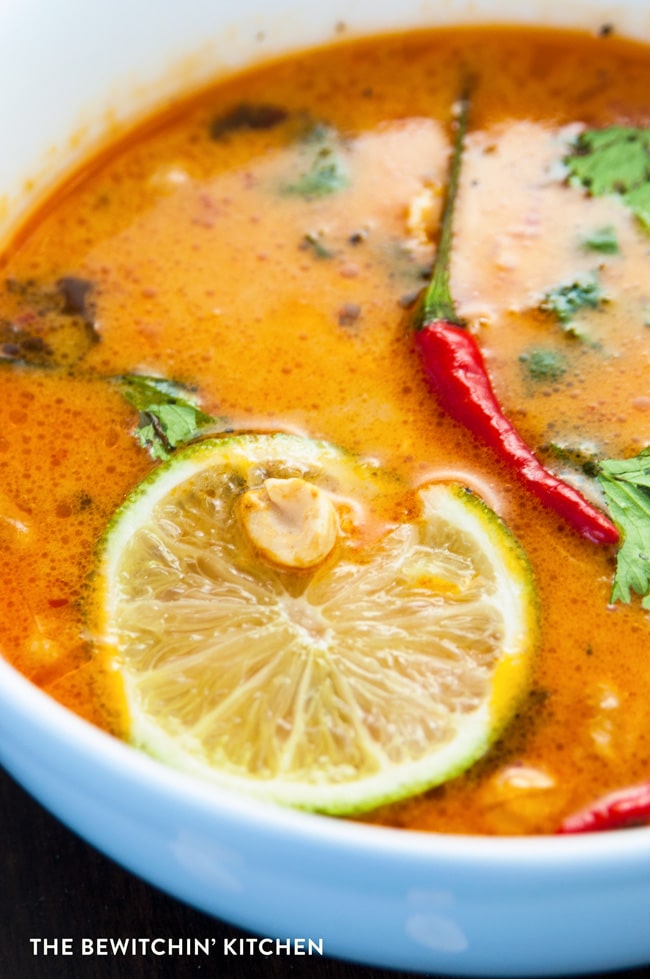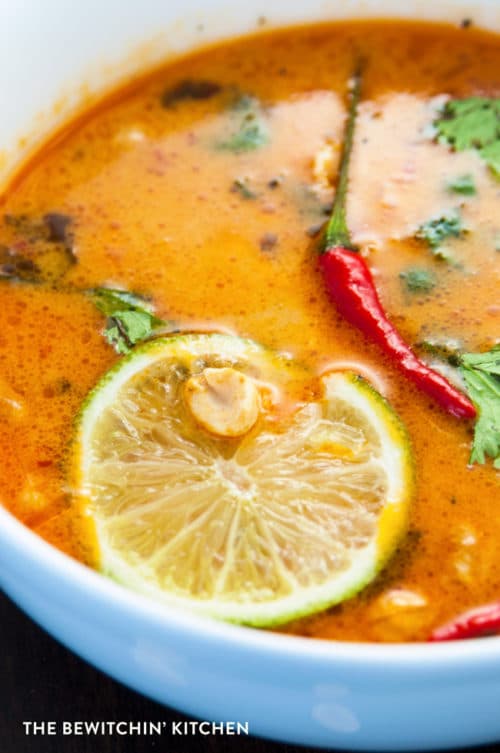 Thai Coconut Peanut Soup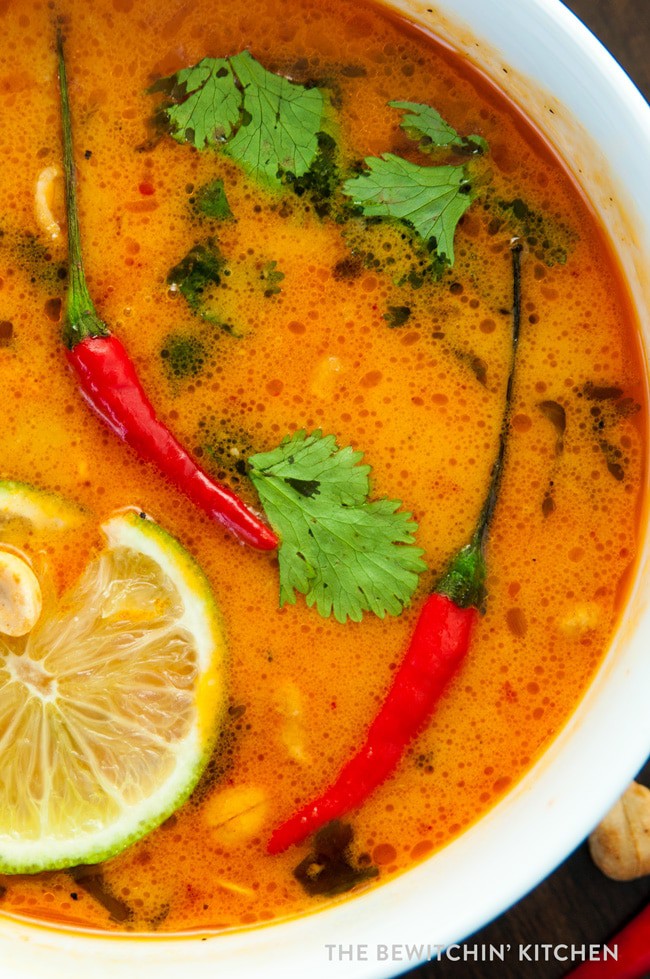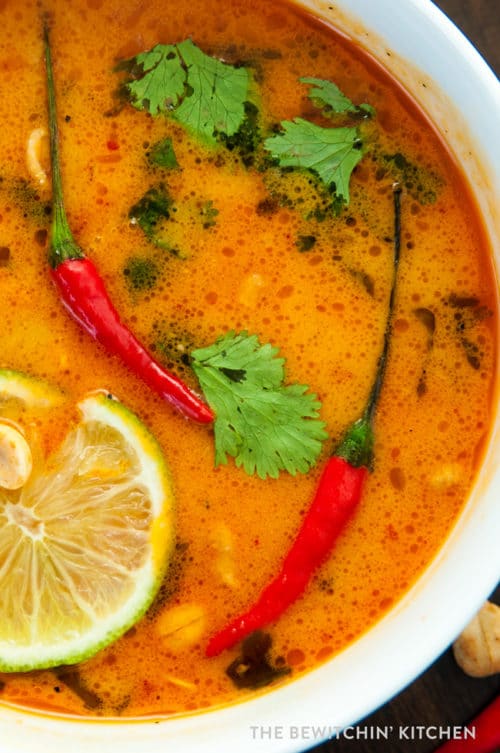 This list of ingredients in the Thai Coconut Peanut Soup is longer than the typical recipe here on The Bewitchin' Kitchen but don't let that stop you. The length may seem a little overwhelming, but it's not. It takes only a few minutes to throw it all together, I promise.
Check it out: If you like this recipe then you will LOVE these Coconut Curry Chicken Meatballs.
Thai Coconut Soup Ingredients
Here's what you need for this Thai coconut chicken soup
How to make Thai Coconut Peanut Soup
Thai Coconut Peanut Soup
This Thai Coconut Peanut soup recipe makes a delicious and easy dinner. Made with chicken, chili paste, peanut butter, coconut milk, and spices.
Servings 10 cups
Calories 333kcal
Ingredients
1 tbsp coconut oil
2 lb chicken breast cubed
5 cloves garlic minced
2 shallots diced
1 red pepper chopped
1/2 cup cilantro fresh, chopped
1/3 cup liquid aminos or soy sauce
Zest of 1 lime
1/3 cup peanut butter
1/4 cup lime juice
3 tbsp chili paste
2 tbsp soy sauce/liquid aminos
2 tsp dried cilantro flakes
1 tsp  cumin
1 salt pinch
1 black pepper pinch
6 cups chicken broth
2 14oz cans coconut milk
1/2 cup raw peanuts chopped
optional: bird's eye pepper sliced.
 
Instructions
In a large pot, heat the coconut oil over medium heat and saute the garlic, shallots, and red pepper until soft.

Add the chicken, cilantro, liquid aminos/soy sauce, lime zest and juice, peanut butter, chili paste, dried cilantro, cumin, salt, and, pepper. Combine over the heat for about 4-5 minutes, stirring constantly.

Add the chicken broth, coconut milk, and 2 tbsp of soy sauce and bring to a boil.

Reduce heat and simmer for 15 minutes.

Top with cilantro, peanuts and birds eye pepper.
Video
Nutrition
Serving: 1cup | Calories: 333kcal | Carbohydrates: 12.3g | Protein: 16.4g | Fat: 25.6g | Saturated Fat: 18.9g | Cholesterol: 33.3mg | Sodium: 892.5mg | Fiber: 0.9g | Sugar: 4.1g
Follow On Pinterest
Follow @bewitchinkitchen On Pinterest for more delicious recipes!