Treats For Toys Ends On December 22 #treatsfortoys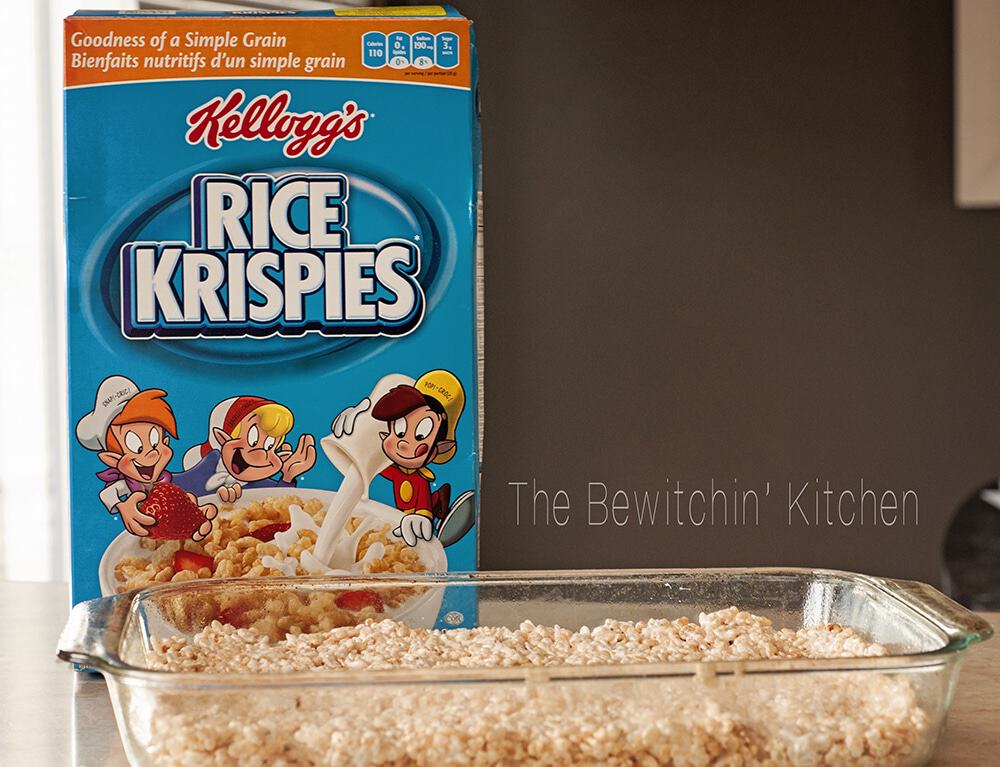 Treats For Toys is a wonderful campaign that I have been thrilled to be apart of. Not only have I learned that for every toy inspired Rice Krispie treat uploaded to their website, Kelloggs will donate $20 to The Salvation Army but I also learned that I'm not good at making 3D Rice Krispie treats.
The first toy I made was the Rice Krispies Robot, it looked cute for the minute it would stand up but it fell over right away.
A few weeks ago I was inspired by the Rice Krispies Special Occasions Holiday Cottage. I thought it would make an adorable toy house to upload to the Rice Krispies site.
Disclaimer: I had strep throat, a fever and the flu while making this. Yeah, that's why it didn't turn out 😉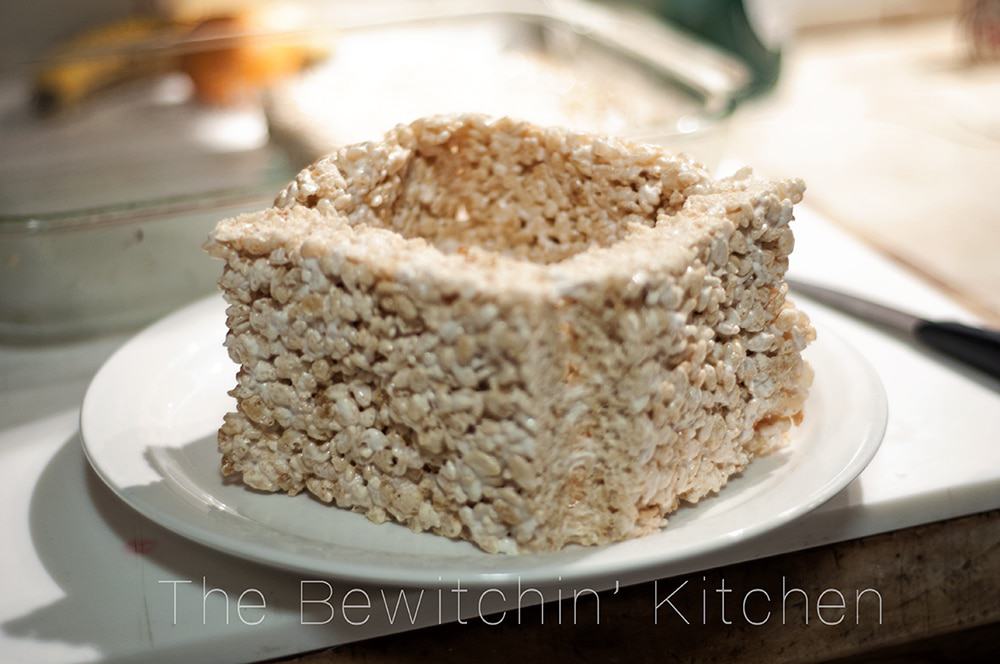 First I built the four walls, it was easy, I just folded it and sealed it with some royal icing. It was a good start.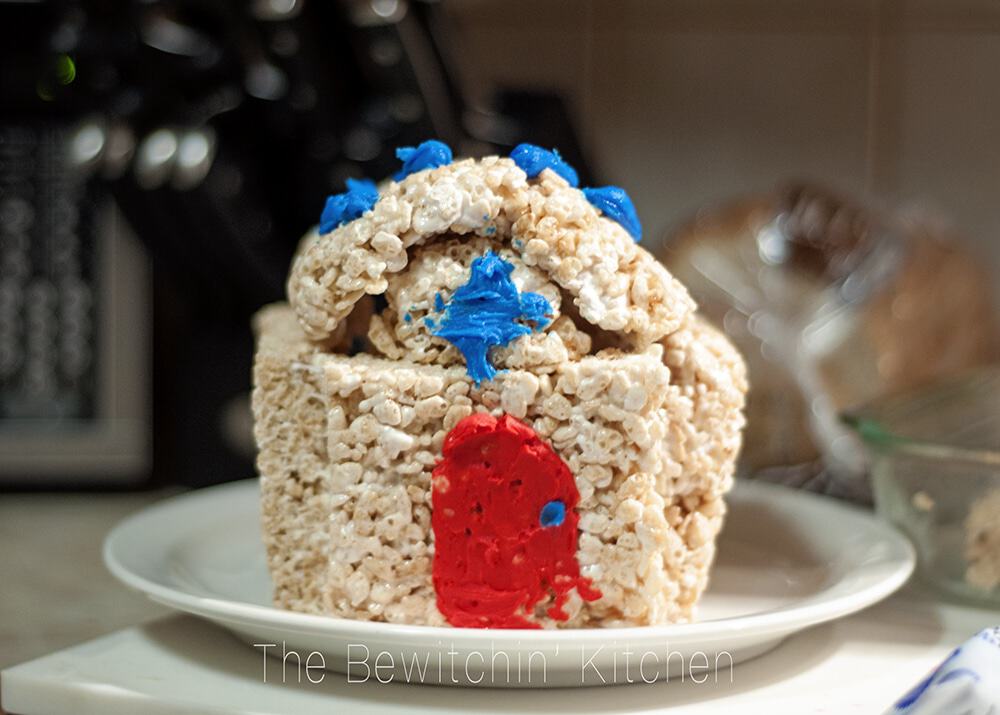 Then I made a roof, and didn't like the hole in the center. So I randomly cut some "fillers". This is where it started going down hill. Oh, did I mention that I ran out of decorating supplies and never realized it. All I had was colored frosting and with a sick baby (and I myself feeling 100% awful) I wasn't running to the store. So I had a new vision of a colorful and beautifully decorated house made with frosting. I assure you, it looked outstanding in my head.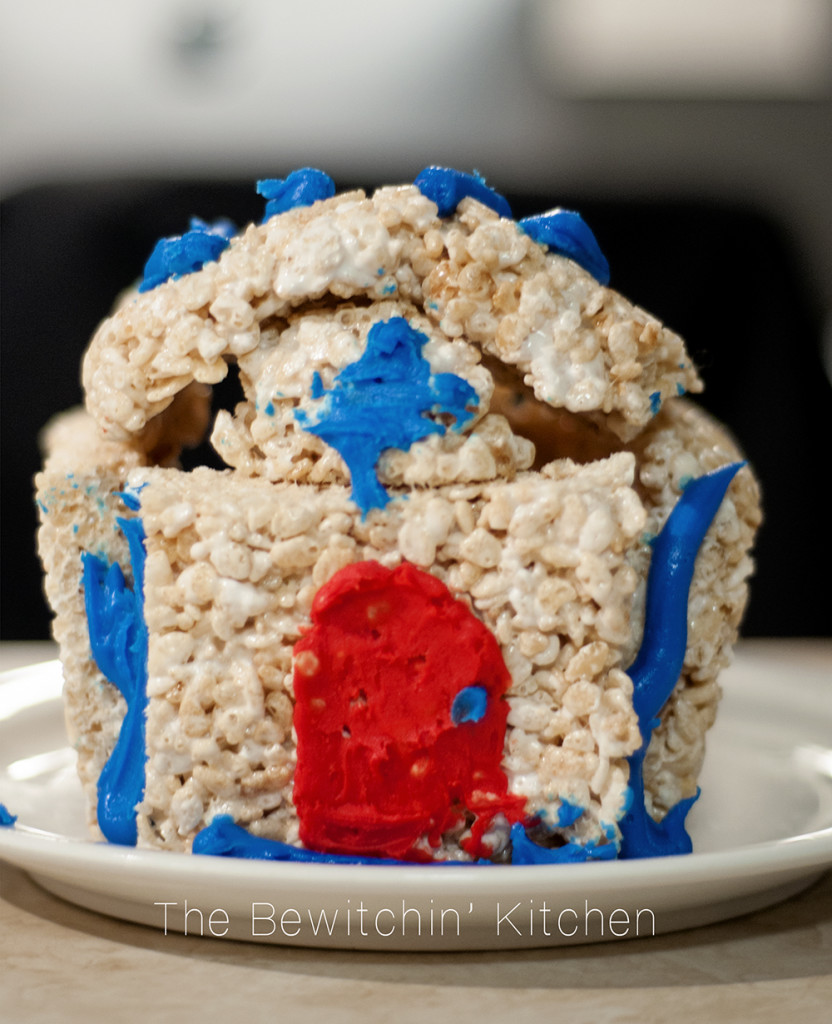 Quit laughing. Seriously, stop it. Haha, I know – it's pretty bad. So things went bad to worse. The royal icing wasn't holding at all and my walls started caving. I then panicked and wanted to finish it as fast as I could so I could take a photo and share it in this post for all of you. I still had high hopes that this could work. So there I was decorating with colored frosting with one hand, the other was holding the house together when the phone rang. I ran to grab it and it toppled. I did my best to put it back together but it ended up looking like this. It was smudged and falling apart. It was sad. I called it a day and took my feverish self to bed. I couldn't do it any longer. I was defeated.
Later that night, I showed my husband my disaster and he happened to be holding my 21 month old son. While my husband laughed, my son looked at it and said "wow" as if it was the most glorious thing he has seen. How sweet is that?
From now until December 22 Rice Krispies is partnering with The Salvation Army by donating $20 (to a maximum of $30,000) whenever a Canadian uploads a photo of a toy-shaped treat using Rice Krispies cereal. How cool is that? This is a fun project for the whole family to get involved in that has some positive (and delicious) outcomes. Simply upload your photo to
RiceKrispies.ca
and it's done.
HINT: if you're worried about doing this in 3D mode, make a toy laying down on a cookie sheet. I have seen many people do this and it looks great!
Disclaimer: I am apart of the Kellogg's Treats for Toys Campaign and I have been compensated. All opinions are my own.
FREE Recipe Binder
Are you constantly wondering what's for dinner?
When I don't meal plan I feel behind, and we usually end up ordering take out. This recipe binder will keep you organized and make life a little bit easier.