Truvia Review

I'm pretty careful when it comes to choosing a zero calorie sweetener. There are so many chemical-filled messes out there, and the majority of them have some nasty side effects. It has always been a battle, do I put a zero calorie sweetener in my coffee and endure the painful headaches/stomach aches that are damaging my health or do I just bite the bullet with the calorie laden sugar? Then I tried the stevia sweetener,  Truvia, and everything changed.
I have been hearing about stevia for years. I have seen it in many recipes on all the health and fitness boards I follow and have had it recommended to me by reputable fitness professionals numerous times. The problem was, I still found it gross. Through trial and error I had found that not all stevia is the same (I still don't know why) but I tried generic brands, and almost all the varieties found at my local grocery store. The only one I hadn't tried was Truvia, so when I had some sent to me for this review I was interested to see if there would be a taste difference.
There was.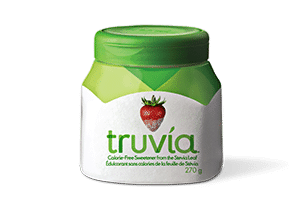 I had high expectations, I have seen Truvia's commercials and when they're claiming that you can sprinkle it on fruit (just like sugar) I assumed it had a sweet taste. You can't do that with any other sweetener out there. I first tried it in my coffee (it's my most common use) and I was instantly relieved. It's the closest sweetener to sugar I have tried. 1/3 of a teaspoon is the equivalent to a teaspoon of sugar, and to be totally honest I couldn't really tell the difference between Truvia and sugar.
Another great use for Truvia is in baking. I recently made a batch of Chocolate Carrot Cake Homemade Protein Bars and used Truvia as the sweetener, and they turned out awesome. There is no funny taste when you use Truvia in baking (unlike the aspartame loaded sweeteners) and the fact that the fitness professionals that I look up to use Truvia, makes me that much more confident in the product. The only downside to Truvia is the cost, I do find it quite pricy at the grocery store that I shop at.
I will continue to use Truvia, I like how it comes in either the tub (pictured above) or convenient single packs that you can easily put in your purse.
Have you ever tried Truvia?
FREE Recipe Binder
Are you constantly wondering what's for dinner?
When I don't meal plan I feel behind, and we usually end up ordering take out. This recipe binder will keep you organized and make life a little bit easier.