Turn Your Instagram Photos Into Magnets With Stickygram
Instagram has become an obsession of mine in the last few weeks. I use it to document my life in through my iPhone. Whether it's my family, fitness or just random it's on my Instagram. Having Instagram photos printed are a little bit of a pain. Some companies are beginning to jump on the wagon but it's not always easy for everyone to find. That's where StickyGram comes in.
StickyGram is an unique printing service that turns your treasured InstaGram photos into magnets. All magnets measure 50mm x 50mm (basically the same size you see from your phone) and are ordered in packs of nine. When you order from StickyGram your order is processed within 24 hours and is shipped via airmail from the UK, worldwide.
Ordering from StickyGram is easy. You connect to Instagram, and choose what photos you want printed. After you add your selection to the basket you can either check out or make another sheet. At check out you see your sheet and you're done. It's hassle free and anyone can do it. What I love – FREE SHIPPING.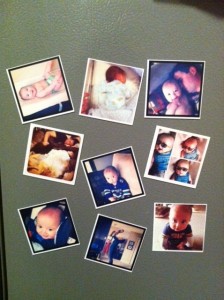 Within' two weeks of placing my order I received my package from StickyGram. After taking the sheet apart into nine individual squares I, happily, decorated the side of my fridge. I am NOT a magnet person. I like my fridge to be clear of clutter and un orderly things but these magnets are beautiful (well of course they are, they're of my little man).
I'm incredibly happy with StickyGram and I think these make the perfect stocking stuffers for everyone. Young, old, man or woman it doesn't matter. This is a sure fire gift this holiday season.
GET YOUR STICKYGRAM BEFORE CHRISTMAS!
If you want your stockings stuffer with StickyGram be sure to order before these dates:
UK: Order before December13th
Worldwide: Order before December 9th
FREE Recipe Binder
Are you constantly wondering what's for dinner?
When I don't meal plan I feel behind, and we usually end up ordering take out. This recipe binder will keep you organized and make life a little bit easier.