White Chocolate Raspberry Cheesecake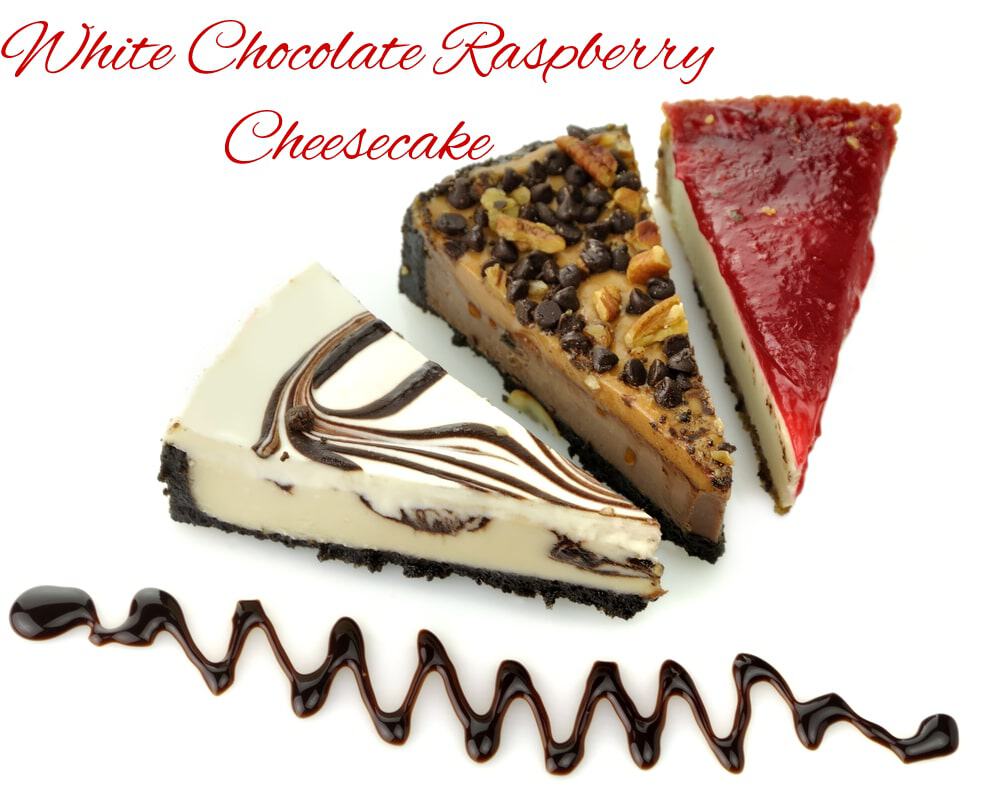 With Valentine's Day approaching we have the chance to surprise our loved ones with amazing recipes and food to touch the strings of their heart. What better way to show your honey they are the sweetness of your life than providing them with something amazing to sweeten their day? This wonderfully decadent and rich cheesecake will be a focal point in your Valentine's celebration. Allow yourself to experience the journey from making to to eating it with pleasure. Before you begin you need to gather together the following ingredients:
White Chocolate Raspberry Cheesecake
2 cups white chocolate chips
1 cup chocolate cookie crumbs
½ cup half-and-half cream
½ cup water
½ cup sugar
¼ cup melted butter
3 packages softened cream cheese
1 package frozen raspberries (or an equal amount of fresh ones)
3 eggs
3 tablespoons white sugar
2 tablespoons white sugar
2 teaspoons cornstarch
1 teaspoon vanilla extract
The sugar is provided in different increments as to suit the individual needs of every single part of your amazing cheesecake. You can begin by mixing the cookie crumbs, melted butter and three tablespoons of sugar into a medium bowl. Using a spring-form pan you must press the mixture down at the bottom. Make sure its smooth and well-made as you don't want to have lumps – they will only be a problem in the later stages.
Take a saucepan and combine the raspberries, cornstarch, water and two tablespoons of sugar. Bring the mix to a boil and continue boiling it for another five minutes until it has become thick. When the syrup is done make sure you strain it through so you can remove any seeds from it.
Preheat your oven to 325°F (165°C) and melt the white chocolate chips in a metal bowl over a pan of simmering water. Add the half-and-half cream and melt it into the mix carefully as you do that, stirring them together until they are smooth.
Next you need a large bowl to mix the cream cheese and half a cup of sugar until they are smooth. Beat in the eggs one at a time so you can manage working them into the mix, then blend in the vanilla and the melted white chocolate. Pour half the batter over the crust in your spring-form pan, then put 3 tablespoons worth of the raspberry syrup over that. Next you must pour the remaining batter on top of that and then another 3 tablespoons of the syrup on top. Swirl the batter with the tip of a knife to create an interesting visual effect or even pour it into a heart shape if you can manage that.
Bake it for about an hour and then leave it to set. Cool it off, cover it with plastic wrap and leave it in the fridge for eight hours before removing it from the pan. This will let it set nicely while also keeping in cool. Serve it with the remaining raspberry sauce on top.
Enjoy a wonderful evening with your brand new cheesecake and your love.
Bio: Amanda Johns is a dedicated blogger and housewife from Brompton. She is constantly searching for new sources of inspiration and motivation and she finds it in trying out new receipts that can be prepared at home and be a great delight for the entire family. Therefore her current article is focused on another special treat that can be a perfect last minute idea for celebrating the day of love.
Image provided by Amanda Johns.
FREE Recipe Binder
Are you constantly wondering what's for dinner?
When I don't meal plan I feel behind, and we usually end up ordering take out. This recipe binder will keep you organized and make life a little bit easier.