Clean Eating Chicken Chili (with Video)
This Clean Eating Chicken Chili is absolutely delicious! I've made it twice since I originally posted, and it's only been three weeks. I know it's hard to find healthy ground chicken recipes that aren't boring, but trust me when I say that this recipe does NOT disappoint. You are going to LOVE this healthy chili recipe (and the secret ingredient).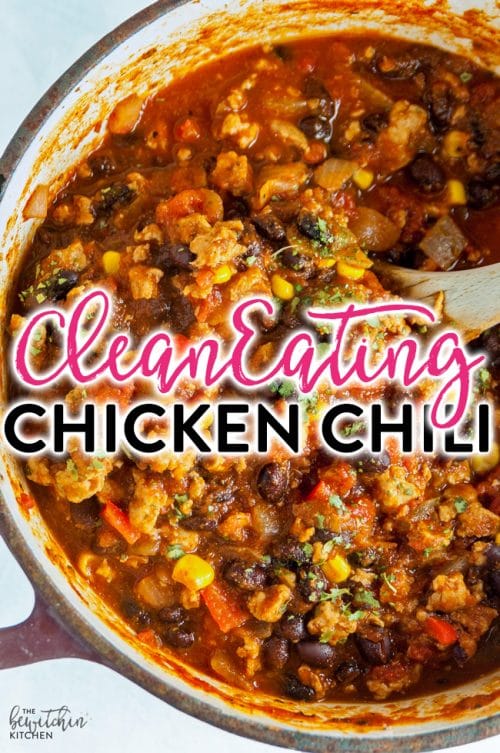 Healthy Chicken Chili Recipe
Disclosure: I received compensation in exchange for my participation in this campaign. The opinions on this blog are my own. This post contains affiliate links. This post contains affiliate links for your convenience. As an Amazon Associate, I earn from qualifying purchases.
I make a lot of chili, it's my go to for batch cooking for healthy lunches and freezer dinners.
I'm prepping and testing out recipes for the Whole30 challenge I'll be taking part of in January (after my Disney trip, of course – because come on, let's be real) and this Clean Eating chicken chili is winner winner chicken dinner.
Friends coming from Pinterest: Ah! I totally forgot that beans and corn are not Whole30! So I thought, maybe Paleo? However, a lot of people don't believe beans are so it's now Clean Eating Chicken Chili. This post has now been updated to reflect that.
I apologized, I totally missed that. However, you can make it a Whole30 chili by forgoing the beans and corn.
Repeat: This is not Whole30 Compliant.
Want more proof I love chili? My dog's name is Chilli, but truth be told my husband and I were going in between Chester and Billy, so we combined the two.
But let's just pretend it's because I love food.
My cat's name is Carl, is it because I love The Walking Dead?
Yes, so bad example.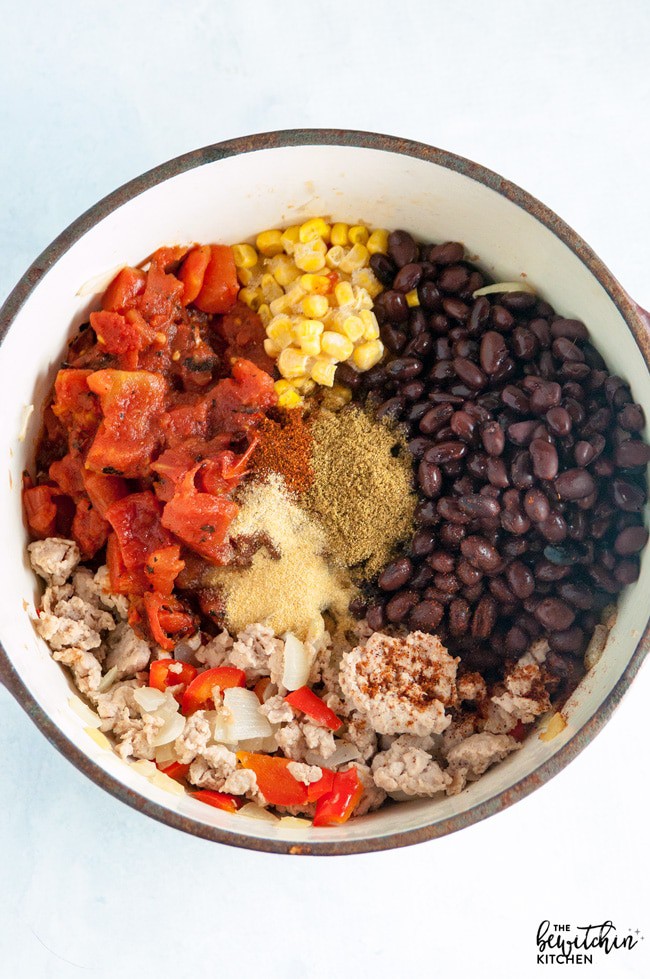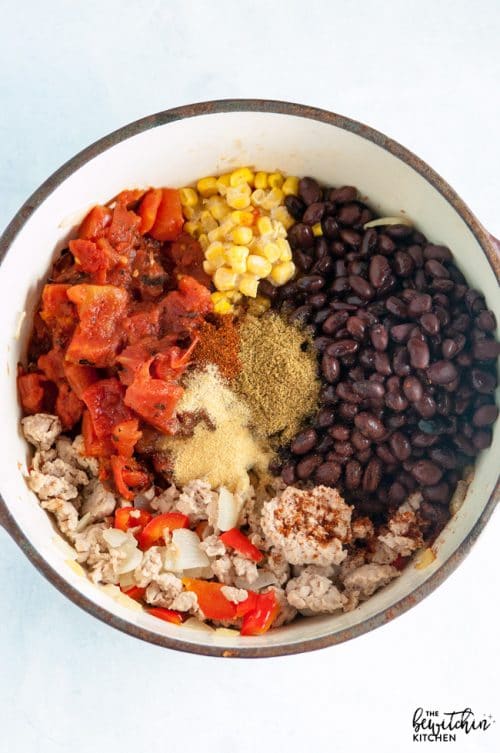 Love chicken recipes? Then don't forget to check out these yummy chicken recipes.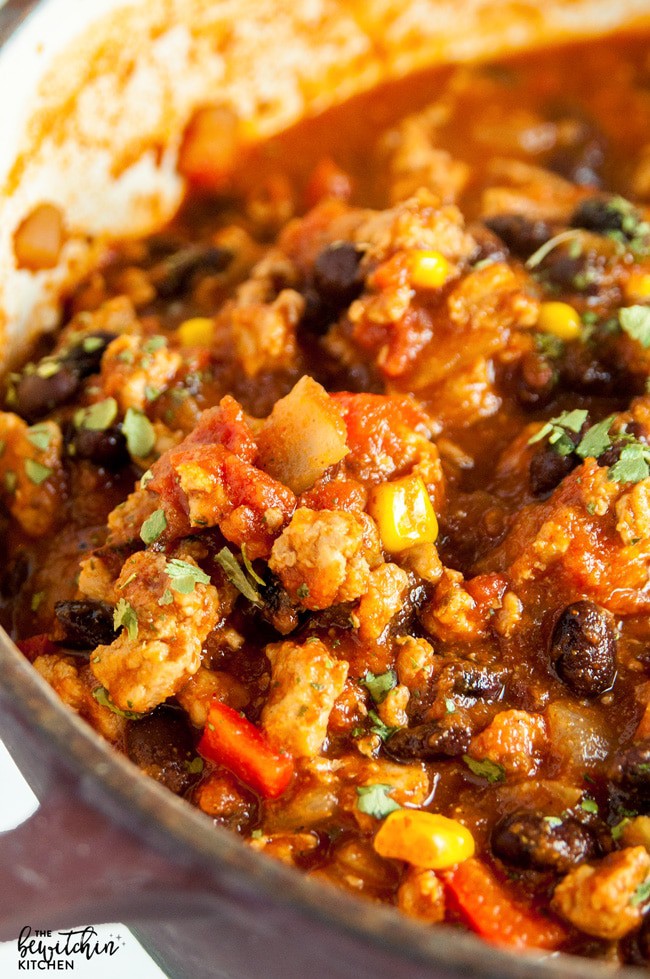 Just look at that hearty, chunky, chili glory.
Clean Eating Chicken Chili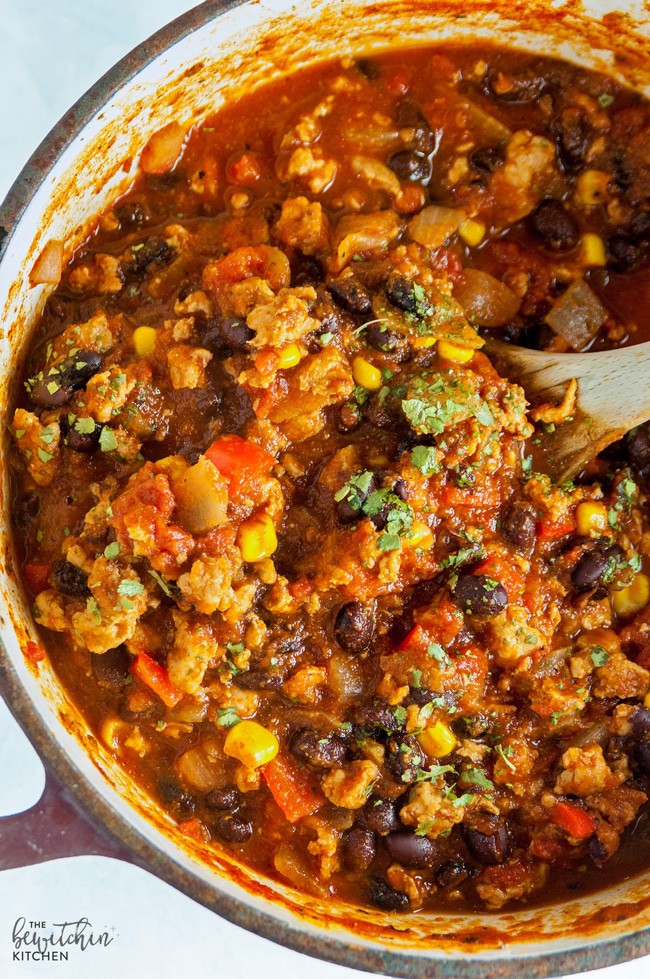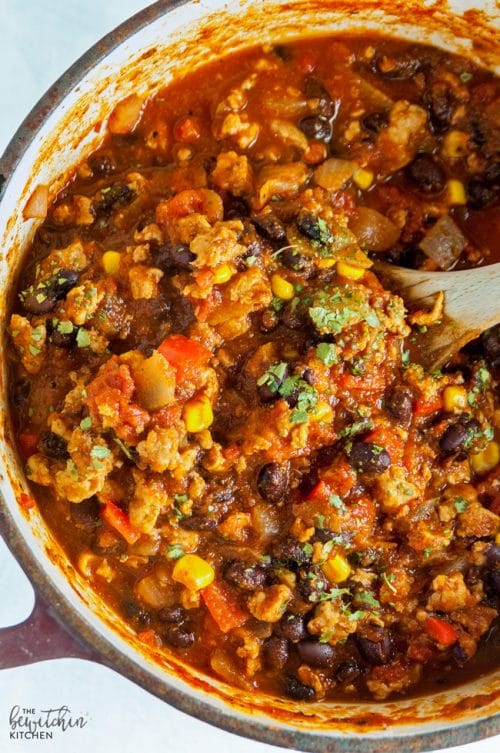 There is a secret ingredient in this clean eating chicken chili recipe, and it's an odd one.
I used applesauce, I know right?
I was tasting the chili and thought it needed a little sweetness, and being that I was practicing a Whole30 recipe, I didn't want to use Molasses (like in the Super Lean Chili recipe) or sugar.
I knew I had to get creative, and that's when I saw the applesauce sitting in my fridge. It worked really well, just use the unsweetened variety to make it Whole30 and Paleo approved. Again, If you want this whole recipe to be compliant with Whole30 and Paleo – no corn or beans.
TBK's Pro Tip: I use a ceramic pot (the one I have is a discontinued KitchenAid but this Lodge ceramic pot looks good) when I cook up this chili. It makes for an easy cleanup!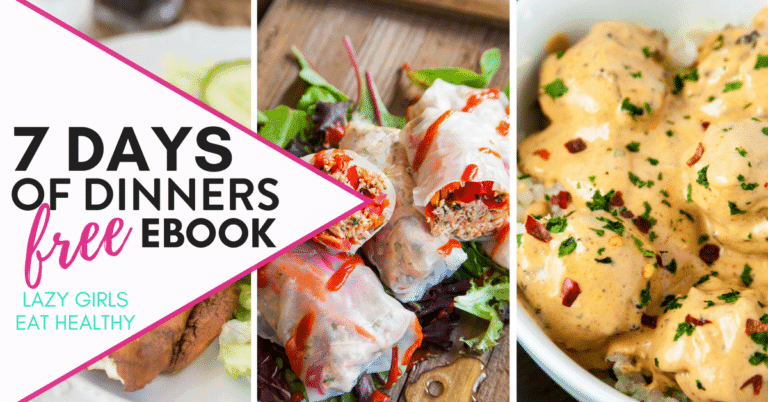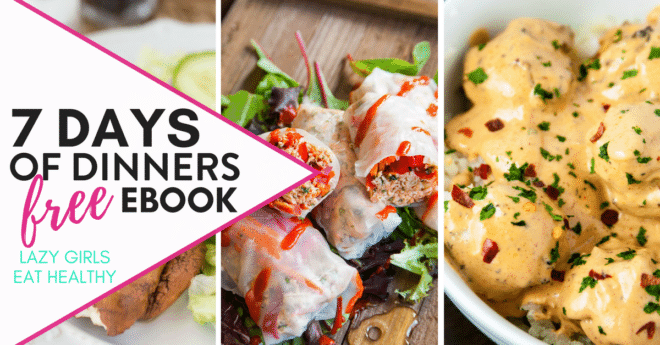 Psst –> Meal planning can be a drag, so I put together The Lazy Girls' Eat Healthy Guide to 7 Days of Dinners. It's a free eBook for you to download! Click here to access it. Or you can sign up for the Healthified Meal Plan service! Have a healthy meal plan delivered to your inbox every Friday for only $8.99/month!
Is Chili Healthy?
Yes! Whether it's turkey chili, beef chili, or chicken chili, yes chili is healthy.
It's full of fiber (thanks to the veggies and beans), proteins, and vegetables!
The high protein content, paired with the vegetables and fiber, keep you satiated (which means fuller for longer).
So eat up!
Chicken Chili Ingredients
Looking for what goes in chicken chili before you meal plan? Here's a quick list:
Ground chicken
Onion
Red bell pepper
Corn (fresh or frozen)
Tomato Paste
Chili powder
Cumin
Oregano
Thyme
Garlic
Cayenne
How to Make Chicken Chili
To show you how easy it is to whip up this chicken chili recipe, make sure to watch the quick video below.
TBK's Pro Tip: Save some money and instead of store bought applesauce why not try this healthy homemade applesauce recipe? It seriously takes less than a minute to prepare. All you need are apples, lemon juice, a pot, and a vegetable steamer.
Clean Eating Chicken Chili
This hearty and healthy chili recipe is lightened up with ground chicken and is a yummy clean eating recipe PLUS it's 21 day fix approved.
Servings 8 servings
Calories 191kcal
Ingredients
1 tbsp olive oil
1 lb ground chicken
1 onion chopped
1 red bell pepper diced
1 cup chicken broth
1 14oz can black beans
1/2 cup frozen corn
1 (14 oz) can fire roasted diced tomatoes
1 6oz can tomato paste roughly 1/4 cup
1/4 cup applesauce
1 tbsp ground chili powder
1 tsp cumin
1 tsp oregano
1 tsp thyme
1 tsp garlic
1/2 tsp cayenne
Instructions
Heat a large pot over medium heat and add the olive oil. Once that is heated add the ground chicken and scramble fry until it's cooked (about 7-8 minutes). Add the onion and red bell pepper and cook for 3 minutes.

Add the rest of the ingredients and bring to a boil.

Cover the pot and bring it down to a simmer for 50 minutes. Check on it at the 30 minute mark to give it a good stir.
Video
[adthrive-in-post-video-player video-id="ud5uQWPE" upload-date="2017-06-08T20:31:16.000Z" name="Clean Eating Chicken chili" description="Clean eating chicken chili recipe" player-type="default" override-embed="default"]
Nutrition
Serving: 1cuo | Calories: 191kcal | Carbohydrates: 19g | Protein: 15g | Fat: 7g | Saturated Fat: 2g | Polyunsaturated Fat: 1g | Monounsaturated Fat: 3g | Trans Fat: 1g | Cholesterol: 49mg | Sodium: 391mg | Potassium: 726mg | Fiber: 5g | Sugar: 5g | Vitamin A: 894IU | Vitamin C: 22mg | Calcium: 46mg | Iron: 3mg
Follow On Pinterest
Follow @bewitchinkitchen On Pinterest for more delicious recipes!