Yoga Jeans by Second Denim Co #giveaway

Raise your hand if you live in yoga pants and your jeans have been collecting dust (hand shoots straight up over here). It's a common dilemma in my house: wear yoga pants or dress it up a little and wear jeans. On a side note, I find it hilarious how I now associate jeans with "dressing up". I have great news to share, we no longer have to choose. Yoga jeans has given us the best of both worlds.
Y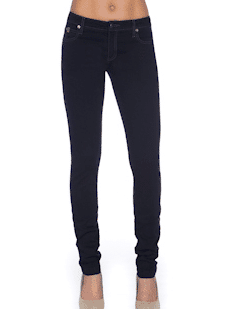 oga and jeans, I know those two words don't seem like they would go together (something about the idea of doing a deep warrior pose with skin tight jeans doesn't seem feasible) but the lovely people at Second Denim Co have made it possible. With Yoga Jeans you experience the flattering and "dressy" look of denim, but experience the comfort yoga pants. I'm beyond excited about this, it means I can wear heels and yoga pants at the same time!
The Yoga Jeans that I am being sent to review are the Mid Rise Skinny Jeans in Overdye Black. These specific jeans are made of 98% cotton and 2% lycra (but not all of them are, some are a mixture of cotton, spandex, and polyester). I haven't received them yet, but I'm so excited to try them. I have read other reviews on the internet and they're nothing but positive. Phrases like "the most comfortable jeans in the world" and "looks good on all body types: curvy, skinny, doesn't matter" makes the anticipation that much more urgent.
There are a lot of Yoga Jeans to choose from. There selection varies from colored yoga jeans, low to high skinny jeans, mid to high boot cut, straight cut and pull on jeans. There is simply a style for everyone.
When I received my Yoga Jeans, I plan on wearing them for day to day activities. Not for working out purposes. If I look good, I want to show it off uptown not just to Shaun T and Chalene Johnson on my TV. Be sure to follow me on Instagram for updates on my thoughts on Yoga Jeans.

For more information on Yoga Jeans visit the Second Denim Co website.
I have to ask, how often do you wear yoga pants? Would you try Yoga Jeans?
One of my readers will win their very own pair of Yoga Jeans! ARV $110 USD
Enter on the Rafflecopter form below.
Disclosure: I have been sent a pair of Yoga Jeans to review, all opinions are my own.