Zutano | Baby Gift Guide

Colorful, whimsical and uniquely versatile are the hallmarks of Zutano. Located in the green hills of Vermont, we carefully source only the softest cottons for each new product, creating a line of superior quality clothing and accessories in a rainbow of colors and prints, that are inspired by a love of babies and the belief that every child's individuality can be celebrated.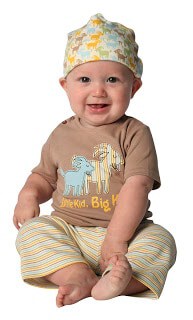 I want the best for my baby. Whether it's food, diapers or clothes I will do whatever it takes to provide those things. For all three topics I just listed, it's really important for me to provide those things in the most chemically free way possible.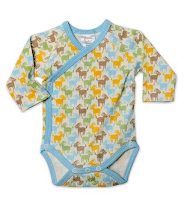 Zutano
sent me a three items to review that are made of organic cotton. I never really understood what organic cotton meant until today. If you have organic cotton you have eliminated the use of toxic chemicals in your cotton, which protects your baby's sensitive skin. Yes, you do wash the clothes before your baby even wears them; however, I learned today that there still may residual chemicals that can cause irritation (if not using organic).
One of the items Zutano sent me is the Bily Goat Organic Long Sleeve Onesie. This onesie is so adorable, I love all the goat graphics. I read the Zutano site that this onesie was inspired by a goat farm that was at the end of the founder's road. The snaps are easy enough to undo and I love how there are not too many of them to get through on those monotonous changes. I also love how the Bily Goat Long Sleeve Onesie is a kimono style. Not only do I find that the snaps on the side of the onesie look cleaner, but I also think it's easier to undress my baby. It's like I have more leverage then when the snaps or more traditionally down the front.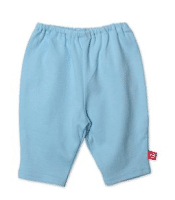 I was also sent the Blue Bird Organic Newborn Legging. I love how soft these pants are, perfect for baby's skin. I have a confession: these are the only pants I have for him. When I was baby clothes shopping I was so occupied with purchasing onesies and sleepers, I never really thought I needed leggings or pants. I'm so happy I have these Blue Bird Leggings because they are the perfect thing to put over the onesie for a quick little outfit. There are no buttons, no snap you just pull them up.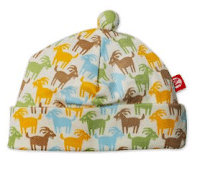 Along with the onesie and leggings, I was sent the Bily Goat Organic Cap to make this outfit complete. The little hat matches the onesie and pulls everything together. Unfortunately, the items that Zutano sent me, have yet to fit little Carter so I am unable to post a picture of him in these unique baby clothes. Which is really disappointing on my part because I cannot wait to see him wearing this collection. I will update this post in the months to come.
I love Zutano and how original their items are (be sure to check out their cozie hats – so cute). Be sure to check them out as Zutano would make a great gift for an expecting mother, especially one who doesn't want her baby wearing the typical, generic clothes you find everywhere.