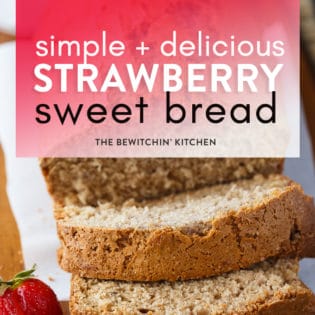 Print
Strawberry Bread
This simple strawberry bread recipe is an easy dessert bread using frozen strawberries and a few other ingredients. It's made with no milk or butter so it's dairy free! Bake it in a loaf pan or divide it into muffins.
Total Time
1
hour
5
minutes
[crfp enabled="1" displayStyle="" displayAverage="0" averageRatingText="Average:" displayTotalRatings="1" totalRatingsBefore="" totalRatingsAfter="" displayBreakdown="0" displayRatingNumber="0" filterComments="0" displayLink="0" id="" cssID="" cssClass=""]Preheat oven to 350F.
Grease a loaf pan and set aside.

In a bowl, stir together flour, baking soda, and sugar.

In another bowl, beat eggs and oil together. Add strawberries with juice and beat on low until combined. Add flour mixture and stir to combine.

Pour into loaf pan. Bake for 1 hour.
Serving:
1
g
|
Calories:
272
kcal
|
Carbohydrates:
43.6
g
|
Protein:
4
g
|
Fat:
9.2
g
|
Saturated Fat:
7
g
|
Cholesterol:
41.3
mg
|
Sodium:
156.9
mg
|
Fiber:
1.3
g
|
Sugar:
23.7
g