Strawberry Bread
Are you looking for something to bake with the bag of strawberries hidden in the back of your freezer? This strawberry bread recipe has minimal ingredients (six to be exact) and it's simple to throw together. Celebrate the summer with this dessert strawberry loaf. It's made with no milk or butter so it's dairy free!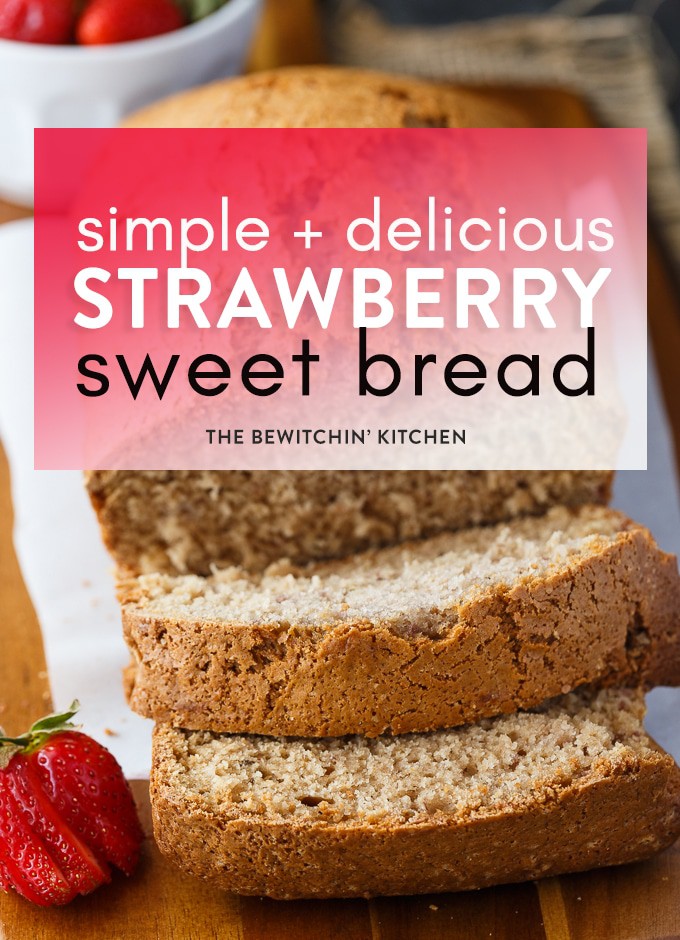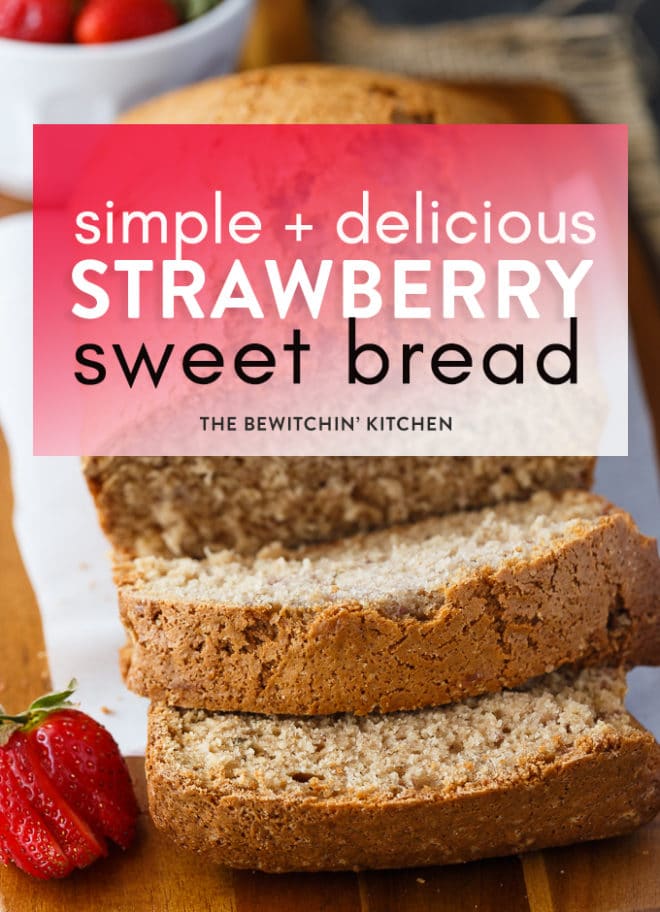 Disclosure: This post contains affiliate links for your convenience. As an Amazon Associate, I earn from qualifying purchases.
Strawberry Bread
At first, dessert bread recipes seem like an odd thing to me but then I remember banana bread, chocolate zucchini loaf, and really any muffin out there.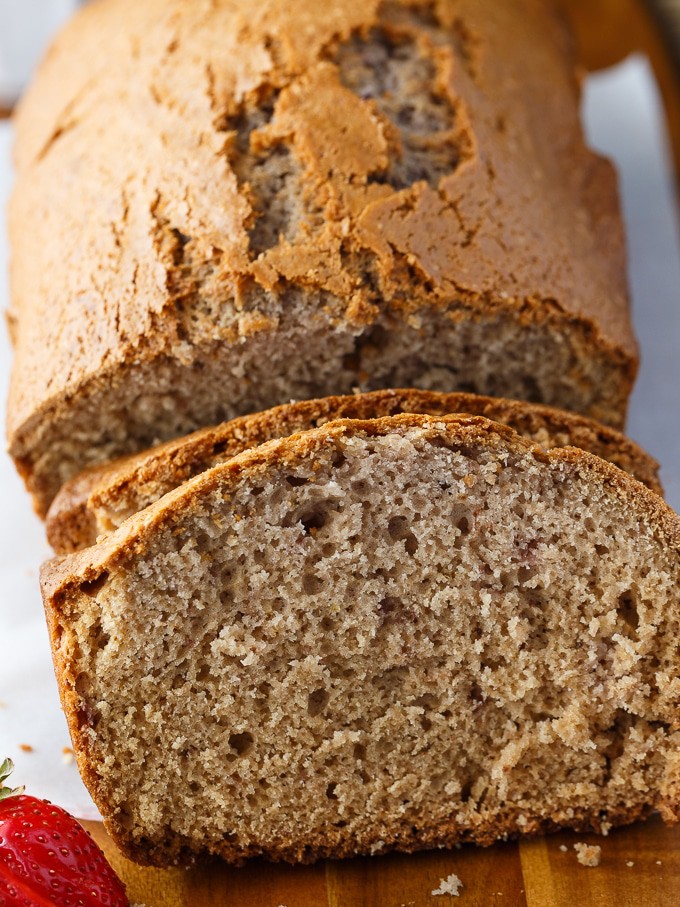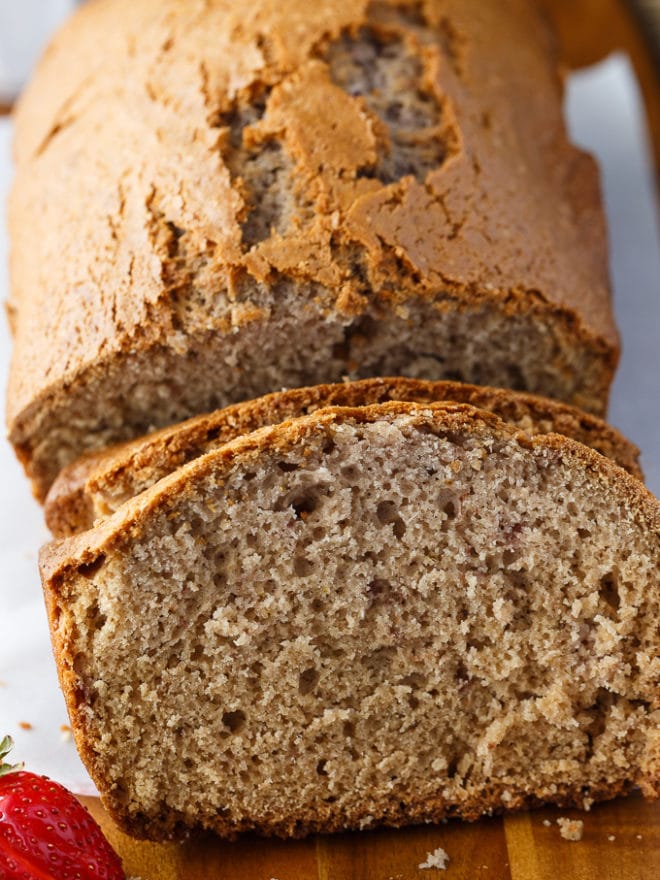 Strawberries happen to be my favorite fruit. I love them on cheesecake, dipped in dark chocolate, and even in the odd salad.
Now that I have them in a banana bread inspired recipe, there truly isn't anything this incredible summer fruit can't do (recipe wise of course).
How to make Strawberry Bread
This recipe for strawberry bread is incredibly easy! With just six ingredients, and an hour in an oven, you'll have this sweet bread ready to serve with very little effort.
I love the fact that this bread uses frozen strawberries, which is cost effective and budget friendly (at least where I live).
This recipe makes 9 slices, but it all depends on how thick you slice it. The smaller you slice it, the fewer the calories. All nutritional information is on the recipe card below and is based on 1/9 slices.
Easy Strawberry Bread Ingredients
All-purpose flour
Sugar
Cooking oil (coconut oil or canola)
Baking soda
Eggs
Frozen strawberries
You'll also need mixing bowls
and a loaf pan
.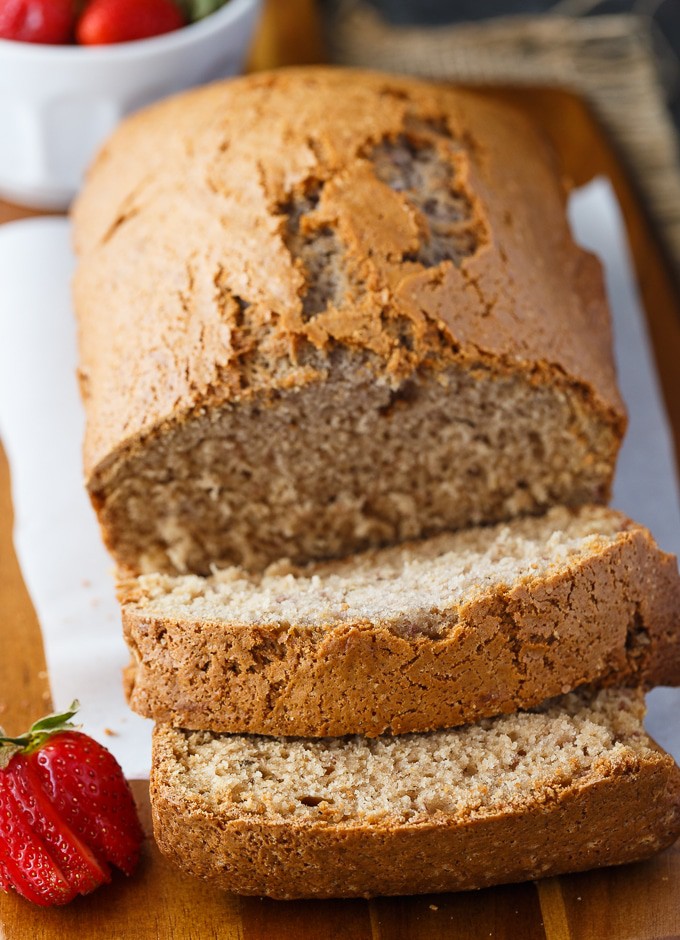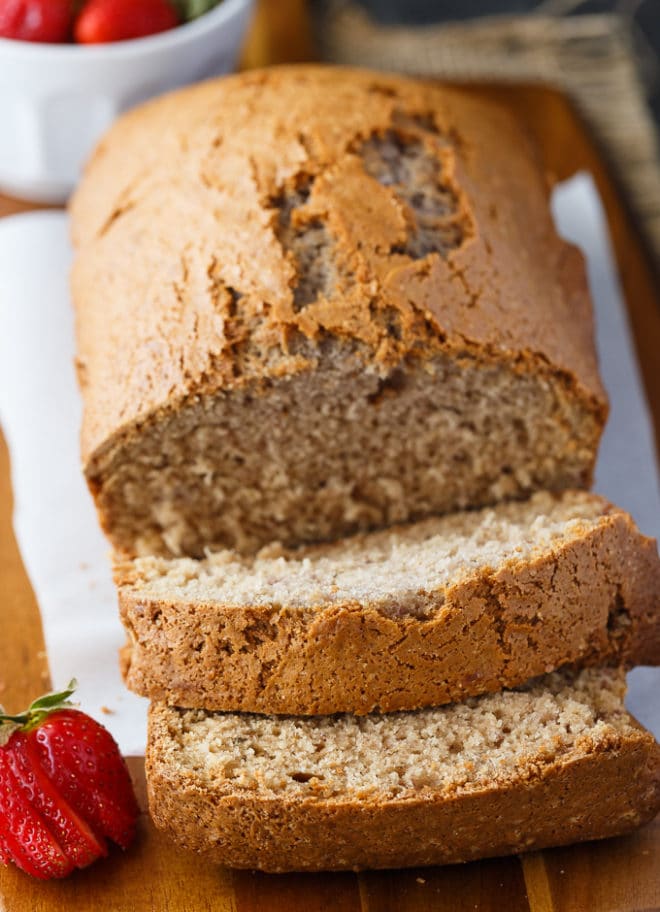 Strawberry Recipes on The Bewitchin' Kitchen
TBK's Pro Tip: This strawberry bread recipe would also make delicious strawberry muffins! Simply swap the loaf pan for muffin tins and bake 20-25 minutes (or until toothpick comes out of the center clean).
Another delicious recipe would be using this as a base for strawberry banana bread. Swap out the oil for a banana or two and see what happens! Want to put a little extra something into it? Make a strawberry glaze and pour it over and let cool (or you can try this white chocolate sauce).
There are so many ways you can make this sweet bread your own.
By the way, if you don't want to miss my newest recipes (or you simply want to check them all out with images) don't forget to follow me on Pinterest!
Strawberry Bread
This simple strawberry bread recipe is an easy dessert bread using frozen strawberries and a few other ingredients. It's made with no milk or butter so it's dairy free! Bake it in a loaf pan or divide it into muffins.
Servings 9 slices
Calories 272kcal
Ingredients
1 3/4 cup all-purpose flour
1 cup sugar
1/3 cup oil canola or melted coconut oil work fine
1 tsp baking soda
2 eggs
1 1/4 frozen strawberries thawed and undrained
Instructions
[crfp enabled="1" displayStyle="" displayAverage="0" averageRatingText="Average:" displayTotalRatings="1" totalRatingsBefore="" totalRatingsAfter="" displayBreakdown="0" displayRatingNumber="0" filterComments="0" displayLink="0" id="" cssID="" cssClass=""]Preheat oven to 350F.
Grease a loaf pan and set aside.

In a bowl, stir together flour, baking soda, and sugar.

In another bowl, beat eggs and oil together. Add strawberries with juice and beat on low until combined. Add flour mixture and stir to combine.

Pour into loaf pan. Bake for 1 hour.
Nutrition
Serving: 1g | Calories: 272kcal | Carbohydrates: 43.6g | Protein: 4g | Fat: 9.2g | Saturated Fat: 7g | Cholesterol: 41.3mg | Sodium: 156.9mg | Fiber: 1.3g | Sugar: 23.7g
Follow On Pinterest
Follow @bewitchinkitchen On Pinterest for more delicious recipes!
If you like this recipe, don't forget to pin it. You can do that by hovering over any of the images to save or by hitting the Pinterest logo at the top or bottom of this recipe.