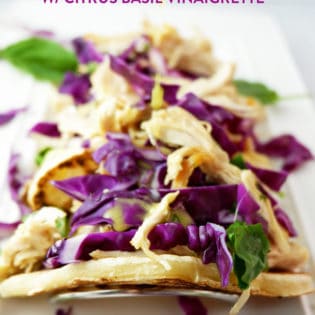 Print
Pulled Chicken Tacos with Citrus Basil Vinaigrette
If you're looking for a light and healthy recipe for homemade tacos, give these pulled chicken tacos a try. The subtle flavor of the citrus basil vinaigrette adds a summery twist on what's usually a heavy meal.
Preheat oven to 350
Add a tsp of Bertolli Extra Virgin Olive Oil to the bottom of an Instant Pot and lay the raw chicken breasts over top. Top the chicken with 3 basil leaves and two sliced kumquats. Seal the instant pot and pressure cook for 15 minutes.

Once that is done, take out the chicken, lay on a foil lined baking sheet and pull the chicken apart with two forks.

Spread the chicken out evenly throughout the pan and top with 3 basil leaves (torn up). Bake for 15-20 minutes, enough to crisp up the chicken a bit.

While the chicken is in the oven, 1/3 cup Bertolli Extra Virgin Olive Oil, kumquats, zest, and basil leaves to a blender and blend until smooth. Taste and adjust to the desired sweet/sour levels (the rind is sweet).

Take the chicken out, and pour 1/2 cup of the citrus basil vinaigrette over the chicken breast. Mix.
Assemble Tacos
Add the chicken, purple cabbage, more chicken to your tacos. Top with desired about of citrus basil vinaigrette.

Optional: serve with optional spicy dressing (mayo and hot sauce). 
Serving:
1
g
|
Calories:
268
kcal
|
Carbohydrates:
4
g
|
Protein:
30
g
|
Fat:
13
g
|
Saturated Fat:
2
g
|
Cholesterol:
90
mg
|
Sodium:
193
mg
|
Potassium:
577
mg
|
Fiber:
1
g
|
Sugar:
1
g
|
Vitamin A:
230
IU
|
Vitamin C:
13.3
mg
|
Calcium:
23
mg
|
Iron:
0.9
mg