Shredded Chicken Tacos
Shredded chicken tacos are a quick and easy dinner full of subtle flavors that combine together into a mouthwatering dish. Adding a vinaigrette dressing gives it a citrus flavor that provides a light and delicious twist.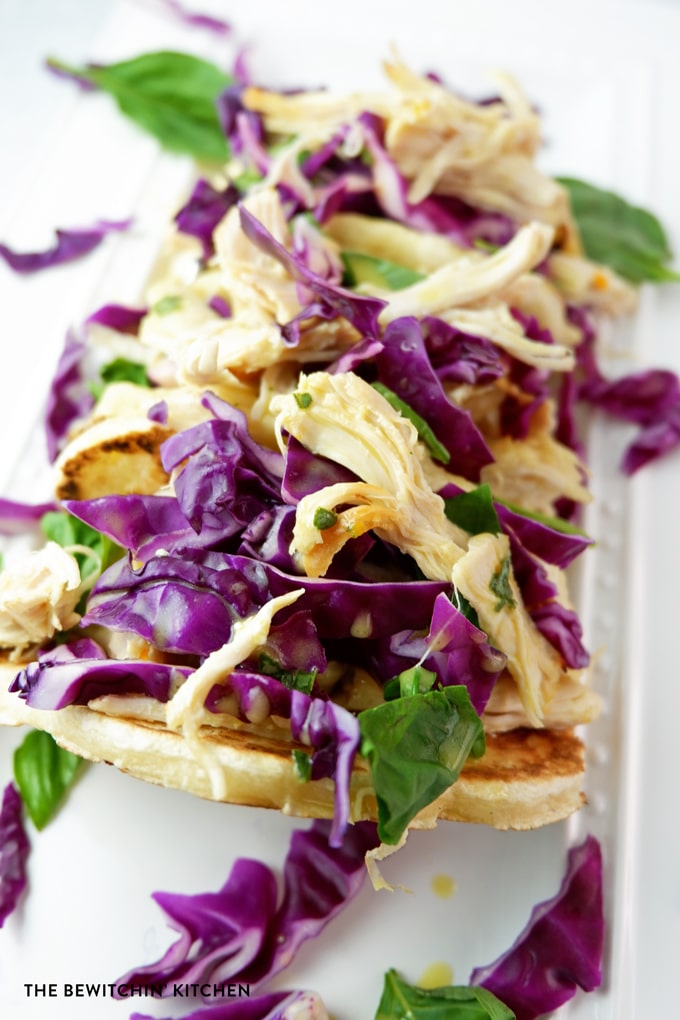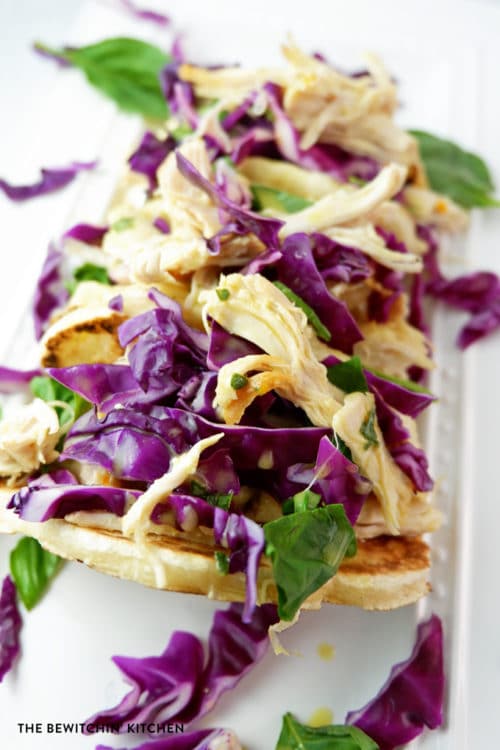 Shredded Chicken Tacos Recipe
Taco night is a regularly occurring theme at our house. Using shredded chicken in tacos is both easy and very tasty. Combined with the other vegetables this becomes a light and healthy alternative to other kinds of beef based tacos. The key is to get that chicken just right. I use a combination of an instant pot and the oven to get tender chicken with just the right consistency.
Why You Will Love This Recipe
Easy taco night meal
Bright and citrus flavors
Simple options for homemade tortillas or store bought
Healthy taco alternative to other beef based options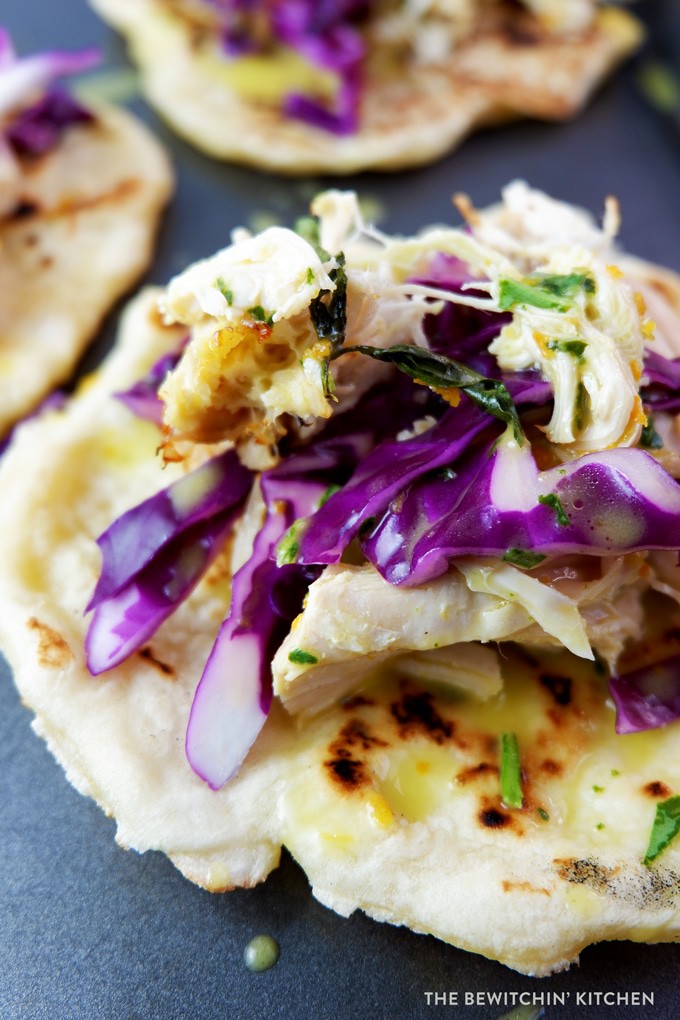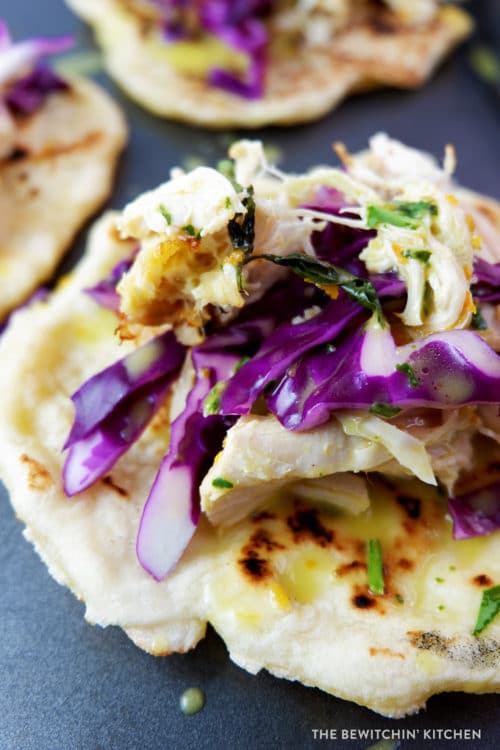 Pro Tips for Making Shredded Tacos
Use a combination of instant pot and oven
The instant pot will help keep your overall cook time down. The chicken needs about 15 minutes or so in the insta pot to be ready to shred. The consistency of the instant pot cooked chicken though will be kind of watery. To get it to be a little more of a Mexican taco meat texture the key is to season the meat and then put the pulled chicken in the oven for about 15 minutes. This will give it that grilled kind of texture in a quick and easy method.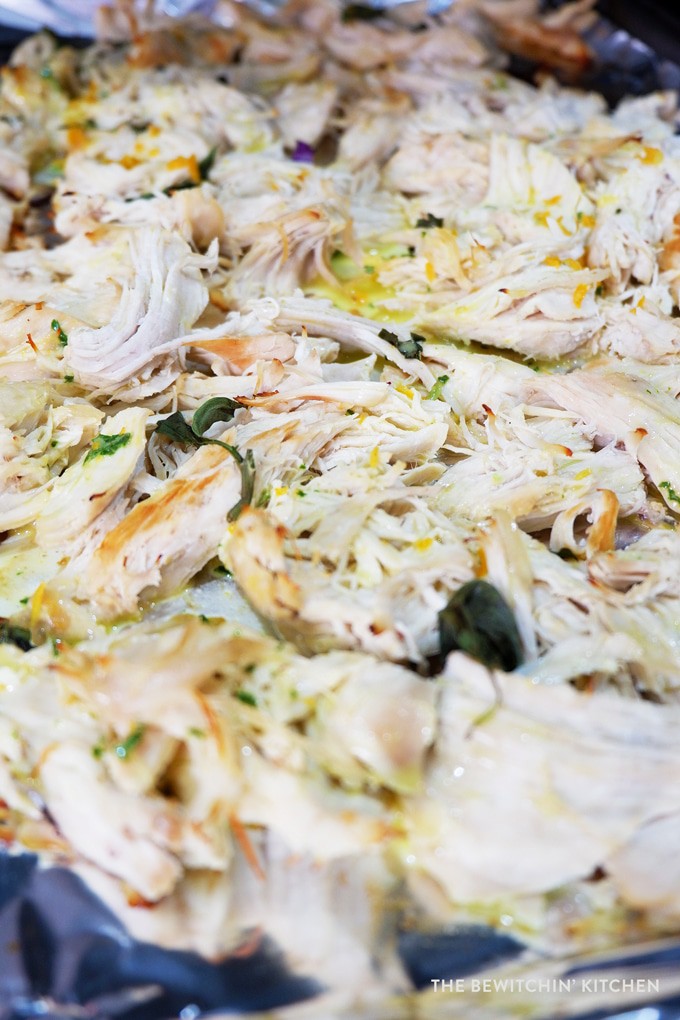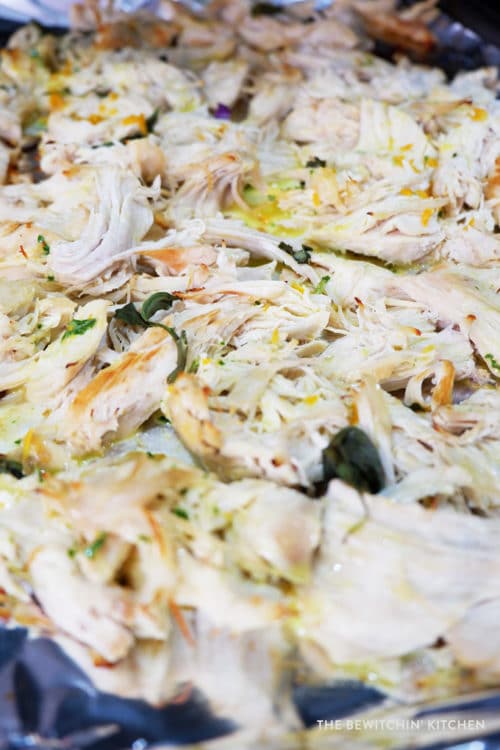 Use a slow cooker for a bit more flavor
I used an Instant Pot to cook the chicken breast to prepare everything in one session. You could easily use a slow cooker. Just prep the shredded chicken ingredients in the morning and set it on low for 8-10 hours or high for 4-6 hours.
I still recommend using the oven to finish the meat and give it that savory flavor and texture.
Lots of tortilla options
This recipe calls for flour tortillas. I recommend smaller flour tortillas if you are going to buy them at the store. 3 small tortillas makes the perfect dinner and the smaller portions allow the flavors to pop.
Alternatively, you could make my easy homemade flour tortillas recipe. In about 30 minutes you could have a really amazing set of tortillas you make yourself. It adds both flavor and a few "cool points" for the chef!
You can also use corn tortillas if that is more appealing to you. I recommend using 2 of them to hold things together well.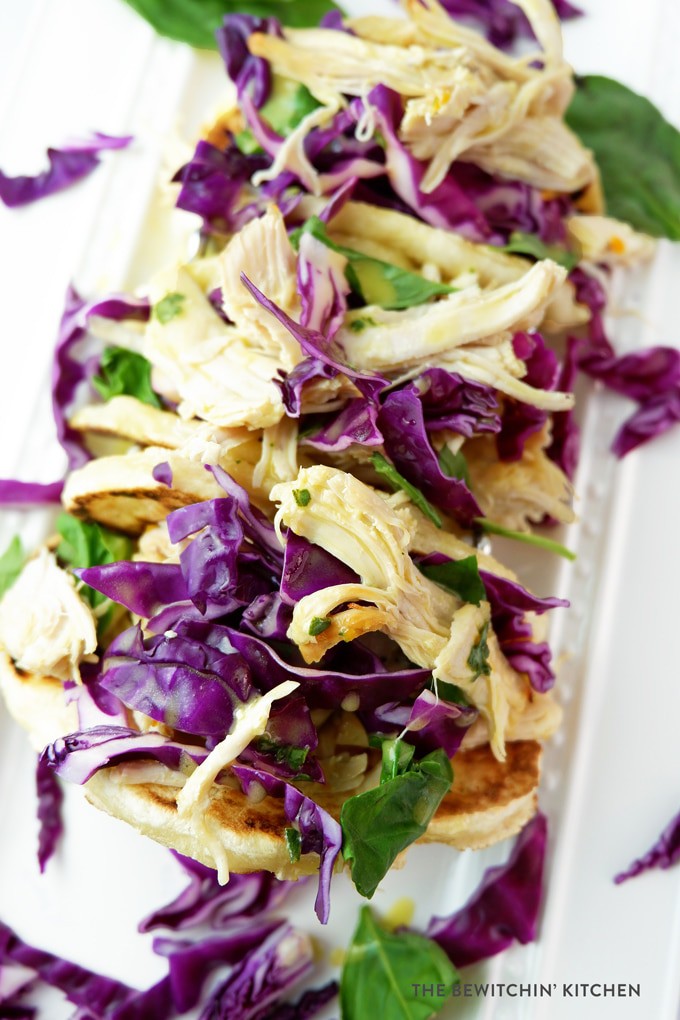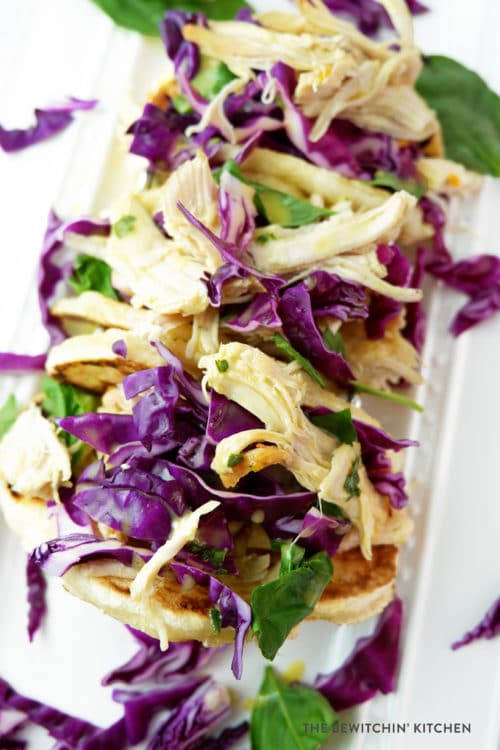 Shredded Chicken Taco Recipe FAQs
What is the best way to shred chicken?
The key to great shredded chicken is to ensure you get the chicken cooked right. Cook the chicken to about 165 degrees and then let it sit for a couple of minutes to cool. With the chicken still warm, you can shred it either by using two forks in a pulling motion or use a hand mixer on low. The target is generally for the chicken to be shredded into strips and chunks no more than 2 inches in length.
What temperature should my chicken be at?
The USDA recommends to cook the chicken to 165 degrees for at least 30 seconds. It is possible to overcook chicken and have it become tough and dry. Use a thermometer to pull the chicken from the heat source just as it hits 165 for the best results.
Will a slow cooker make the meat more tender?
Generally speaking, slow cooking meat is the best way to break down the meat fibers and present a really juicy and tender chicken. In pulled chicken recipes, similar results can still be achieved if using an instant pot or even boiling the chicken.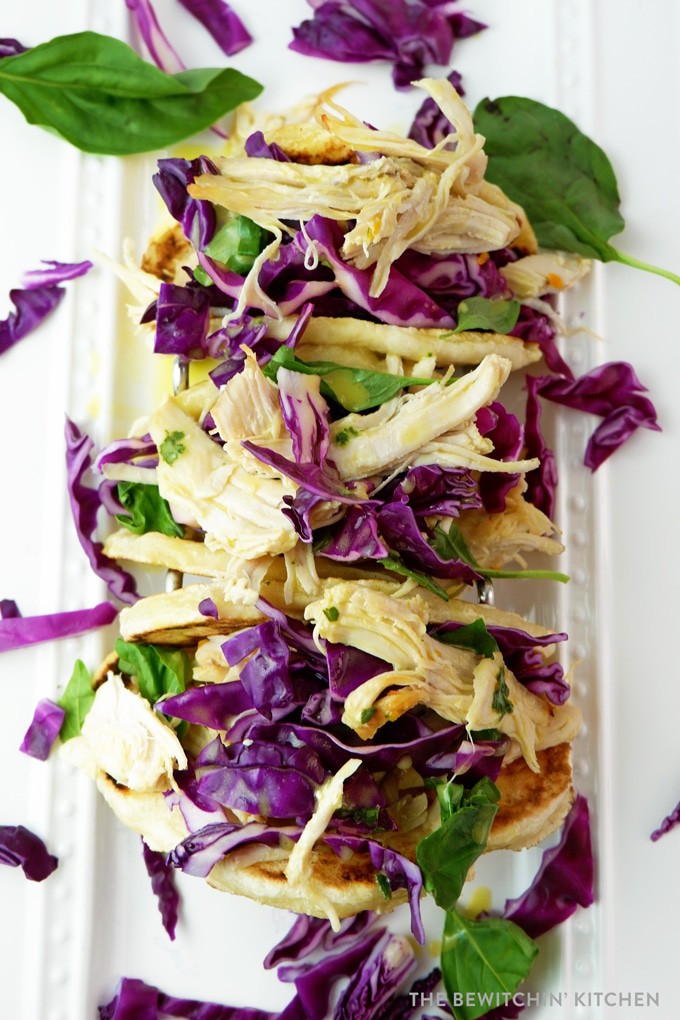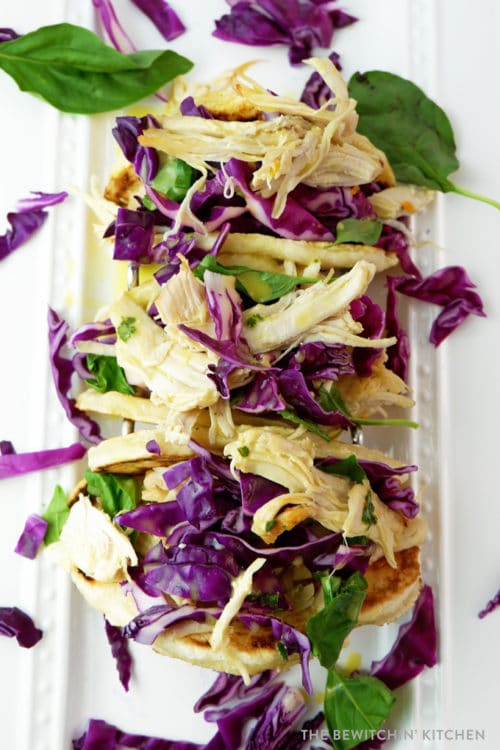 If you like this recipe, then you will LOVE these easy chicken tacos or slow cooker chicken tacos with spicy mayo.
Shredded Chicken Tacos
Shredded chicken tacos are a quick and easy dinner full of subtle flavors that combine together into a mouthwatering dish.  Adding a vinaigrette dressing gives it a citrus flavor that provides a light and delicious twist.
Servings 8
Calories 368kcal
Ingredients
1 tsp Bertolli Extra Virgin Olive Oil
5 chicken breasts
2 small kumquats
6 leaves basil
Kumquat Basil Dressing see below
1 cup shredded purple cabbage
1 batch of homemade tortillas
Citrus Basil Vinaigrette
1/3 cup Bertolli Extra Virgin Olive Oil
3-4 kumquats
2 kumquats zest
3 Basil leaves
Instructions
Preheat oven to 350
Add a tsp of Bertolli Extra Virgin Olive Oil to the bottom of an Instant Pot and lay the raw chicken breasts over top. Top the chicken with 3 basil leaves and two sliced kumquats. Seal the instant pot and pressure cook for 15 minutes.

Once that is done, take out the chicken, lay on a foil lined baking sheet and pull the chicken apart with two forks.

Spread the chicken out evenly throughout the pan and top with 3 basil leaves (torn up). Bake for 15-20 minutes, enough to crisp up the chicken a bit.

While the chicken is in the oven, 1/3 cup Bertolli Extra Virgin Olive Oil, kumquats, zest, and basil leaves to a blender and blend until smooth. Taste and adjust to the desired sweet/sour levels (the rind is sweet).

Take the chicken out, and pour 1/2 cup of the citrus basil vinaigrette over the chicken breast. Mix.
Assemble Tacos
Add the chicken, purple cabbage, more chicken to your tacos. Top with desired about of citrus basil vinaigrette.

Optional: serve with optional spicy dressing (mayo and hot sauce). 
Nutrition
Serving: 1g | Calories: 368kcal | Carbohydrates: 21g | Protein: 33g | Fat: 16g | Saturated Fat: 3g | Polyunsaturated Fat: 2g | Monounsaturated Fat: 9g | Trans Fat: 0.02g | Cholesterol: 90mg | Sodium: 429mg | Potassium: 624mg | Fiber: 2g | Sugar: 3g | Vitamin A: 241IU | Vitamin C: 15mg | Calcium: 74mg | Iron: 2mg
Follow On Pinterest
Follow @bewitchinkitchen On Pinterest for more delicious recipes!