Bacon and Mushroom Quiche
This bacon and mushroom quiche recipe has been written by TBK contributor, Renee! This looks so good. – Randa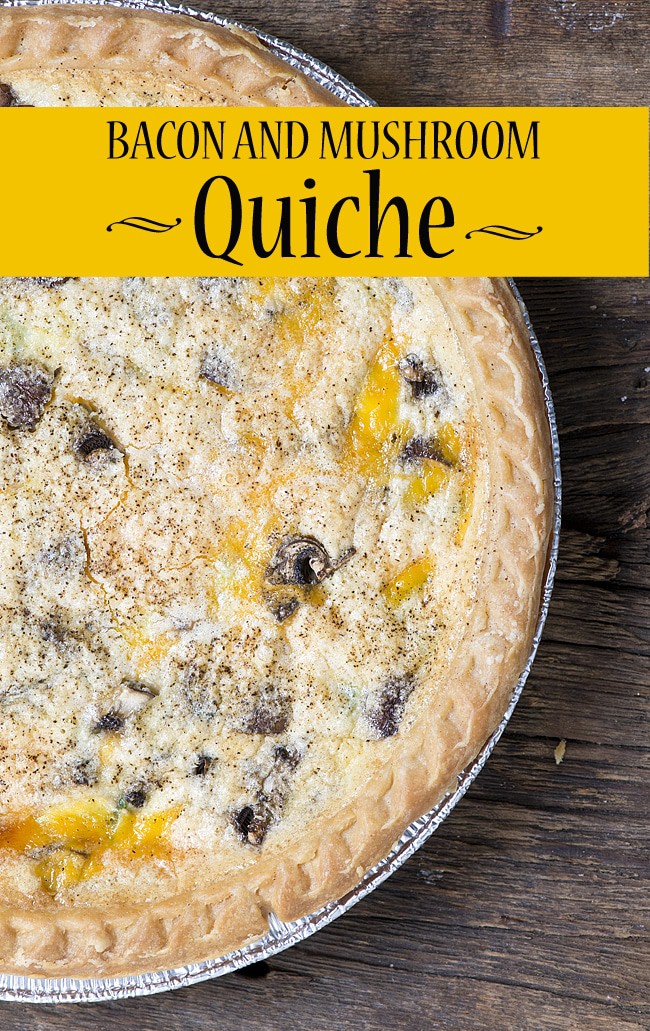 When I owned a bake shop, we had a booth every Saturday at our local market. Aside from our cakes, pastries and cupcakes, we sold an incredible amount of quiche. The idea was a suggestion from a lady who worked in the kitchen. She shared her recipe with me and told me to bake a few up to see how customers liked them. They were so successful, that we put them on our regular baking rotation and never looked back. Each Friday night we had staff who came in only to prepare and bake quiche in all sizes and flavors. It was always the first item to sell out on Saturdays. This Bacon and Mushroom Quiche was by far, one of our most popular items and for good reason! It's a smooth and creamy quiche base, loaded with Canadian bacon, cheddar cheese, mushrooms, and peppers.
One of the great things about quiche is that it comes together fairly quickly and dinner can be on the table in 40 minutes time. It pairs beautifully with some buttery toast and a fresh garden salad too, for a simple but delicious meal. They also freeze exceptionally and make a super quick and healthy reheated lunch. We sold hundreds of 5-inch quiches to customers who put them in the freezer for easy lunch and dinner meals throughout the week.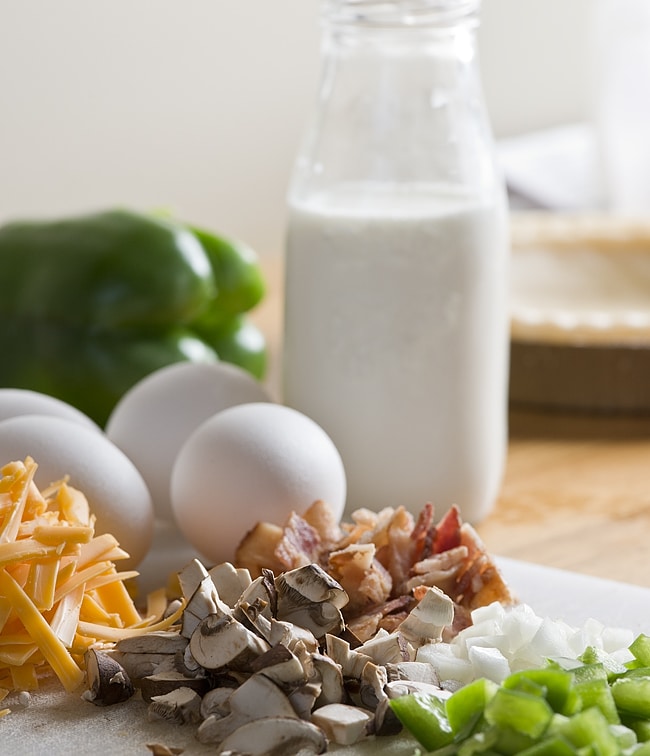 I still make quiche quite often at home too. The flavor options are limitless. And, quiche can be prepared ahead of time and warmed in the oven just before serving. Since we are a brunch loving family, quiche fits perfectly on the menu, so that we have time to focus on other food preparations that morning.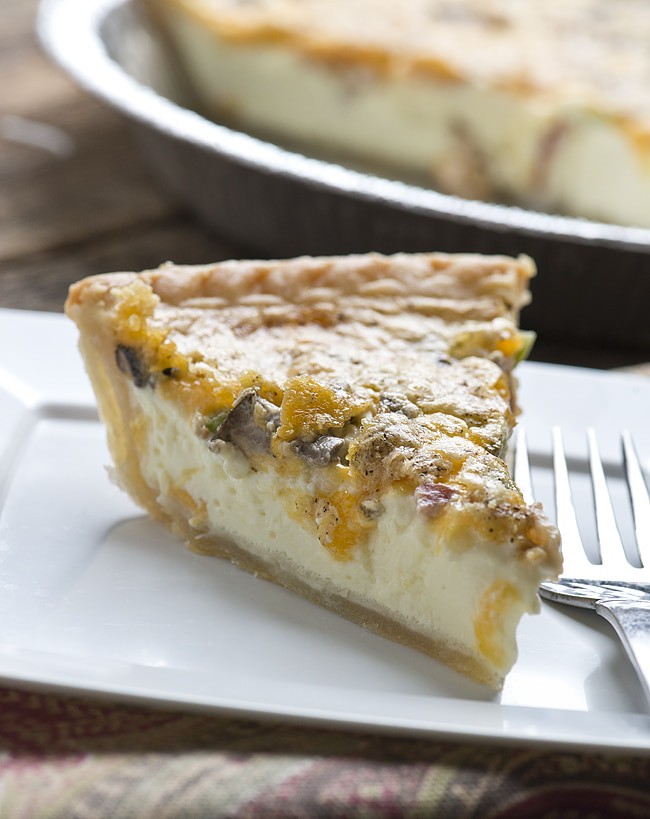 And guys, Canadian bacon? If I haven't told you all of the reasons why quiche is the best ever long weekend or weeknight dish, perhaps I've got your attention with little morsels of Canadian bacon? And pieces of cremini mushrooms and cheese? It truly is a fully loaded egg-ceptional meal to be shared. Had to throw that in there somewhere! Happy quiche making friends!
Bacon and Mushroom Quiche
Bacon and Mushroom Quiche
A bakery recipe for a top-rated Bacon and Mushroom Quiche that's loaded with Canadian bacon morsels, cheddar cheese and fresh mushrooms!
Servings 8 servings
Calories 108kcal
Ingredients
1 9" pastry shell raw
4 large eggs
1/4 cup milk
3/4 cup half and half cream
1/4 cup chopped green peppers
1/8 cup chopped onion
1/4 cup chopped cremini mushrooms
2 slices Canadian bacon cooked and crumbled
1/2 cup sharp cheddar cheese
salt and pepper
Instructions
Heat oven to 375°.

Use a fork to dock the pastry shell and pre-bake it for 8 minutes (it will not be fully cooked) and then turn the oven down to 350°; set aside.

Scatter the peppers, onions, mushrooms, bacon and cheese in the pastry shell.

In a blender, or using a whisk, combine the eggs, milk and cream and beat well until fully blended.

Poor the egg mixture into the shell and sprinkle the top with salt and pepper.

Bake for 30-35 minutes, just until quiche is set.  Let quiche stand for 10 minutes before serving.

Store remaining quiche in the refrigerator for up to 3 days.

If made ahead, reheat the quiche in a 325° oven for 15-20 minutes.
Nutrition
Serving: 1g | Calories: 108kcal | Carbohydrates: 2g | Protein: 7g | Fat: 7g | Saturated Fat: 4g | Cholesterol: 101mg | Sodium: 152mg | Potassium: 119mg | Vitamin A: 300IU | Vitamin C: 4.1mg | Calcium: 96mg | Iron: 0.5mg
Follow On Pinterest
Follow @bewitchinkitchen On Pinterest for more delicious recipes!