12 All Inclusive Resort Travel Tips
Before last month, I had never been to an all inclusive resort before. I had no idea what to expect, what to bring and what not to bring. I created this easy all inclusive resort beginners guide to help you know what to expect before you go.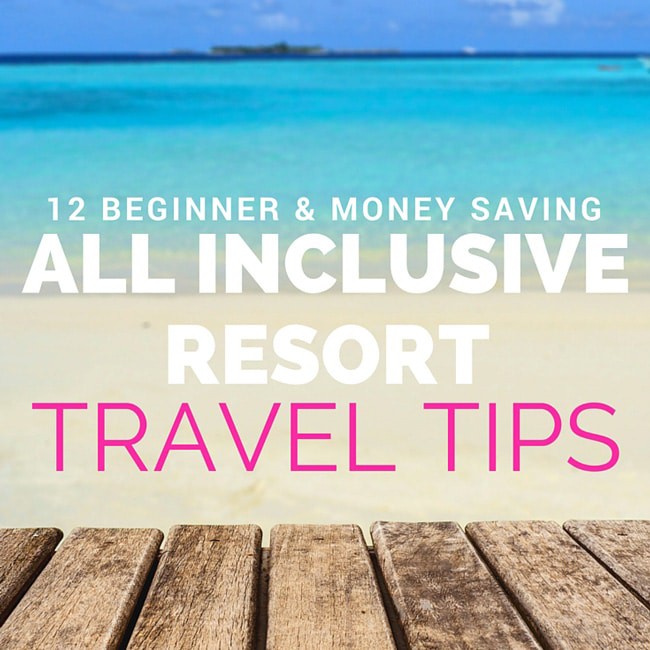 All Inclusive Resort Travel Tips
Tips are not included. Unless you bought a package that includes tips ahead of time, you need to tip. Google what an appropriate tip is in the country you're going to. I read that $2 USD is appropriate in Mexico, so I did that.
Find out what currency the resort accepts. Some resorts don't accept USD and Canadian cash. Go to the bank and pull what you need before hand to avoid ATM charges. Check to see if the resort you're going to has an ATM or another option for cash withdrawal.
Figure out bank and ATM charges before you go. At our resort, each cash withdrawal was $5 + conversion fee. Check with your bank and your credit card to see what your charges will be if you use it in the country you're travelling to.
Take a picture of the WiFi username and password with your phone. Our last resort's WiFi kept dropping and if we weren't in our room, we didn't have access. It took us a few days to catch on to this trick.
Research resort, find out what they have to offer. That way you don't miss out on anything. I didn't find out that my last resort offered free kayaking and boogie boarding until the last day. I missed out on a lot of free fun!
Bring your own OTCs. Pack Tylenol, Aspirin, Advil, and stomach-aids (Pepto, Tums and Immodium). Sometimes instructions are in another language and you don't know how much to take. Plus they charge an arm and leg. Don't forget Benedryl or another antihistamine, incase you have a surprise reaction.
Pack appropriate dress attire for the a la carte. Check the website to see what the dress code is. Some places require long pants and a long-sleeved shirt for men. Some resorts say they require a dress code, but are lenient once you get there. Don't assume that is the case, pack at least one semi-formal outfit.
Check to see if you have to book the a la carte ahead of time. If you do, book the moment you check in. That way you can experience the dining that is offered and won't have to be wait listed.
Look up the resort on Trip Advisor. Not only will you find the bad reviews to take into consideration but I recommend to look for resort tips. Experienced travellers will often find hidden gems, not just at the resort but in the neighborhood. You may just find the best shrimp tacos of your life.
Pack your own sunscreen and bug spray. They are so expensive at the resort, I've seen $22USD to sunscreen and I have heard of up to $30 for a little bottle.
Be prepared for the weather. Google the weather of your destination, if they're calling for rain – bring a rain coat and umbrella. Bring a light sweater for cooler evenings. Don't assume you'll have perfect weather because the photo on the website suggests so. Different times of season offer different types of weather. If it's sweltering hot, pack accordingly.
Make the most of it, whatever it is. This is the most important tip. If you're disappointed by the room or food, find something you do like and focus on that. Don't sit there and pout for a week because you don't like the outdated wall paper, you spent good money on this vacation – ENJOY IT.
My first all inclusive stay was at the Riu Palace Pacifico in Nuevo Vallarta and I had a great experience. I wrote about it in these posts:
Riu Palace Pacifico Room & Resort Review
Riu Palace Pacifico Food Guide
10 Reasons to Stay at the Riu Palace Pacifico
Do you have any all inclusive resort travel tips? Share them in the comments.