Food Blogging Resources
A big part of The Bewitchin' Kitchen is my recipe section. Although I write about travel and health, recipes drive the highest traffic. So I wanted to put together some food blogging resources that I personally use and like. For more blogging tips, check out my blogging resources page.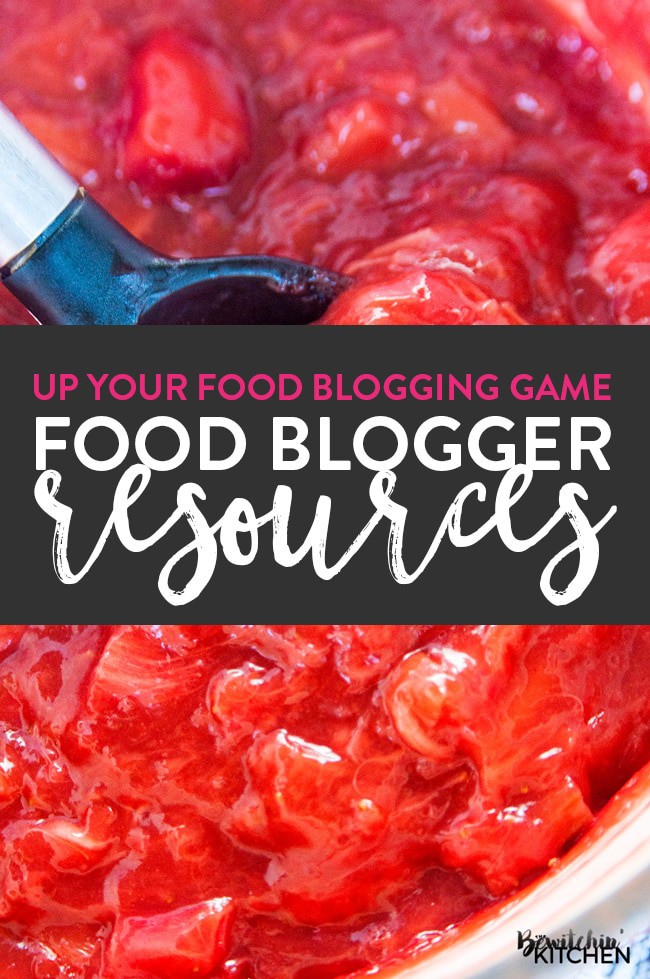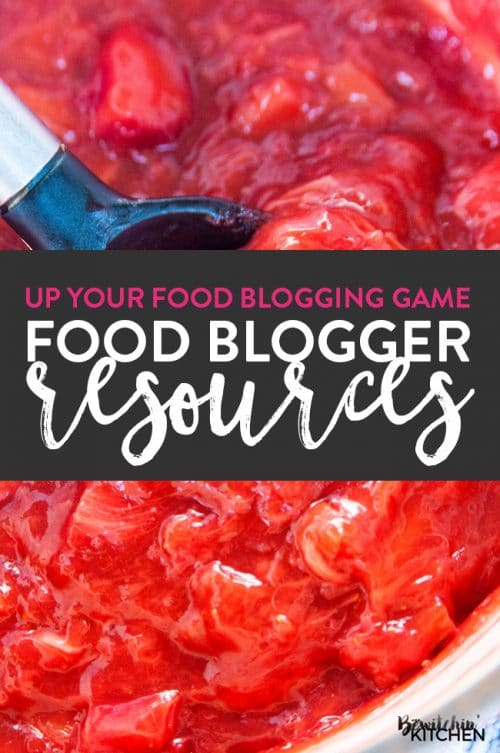 Food Blogging Resources
[clickToTweet tweet="Want to up your food blogging game? Check out my favorite food blogger resources. #bloggingtips" quote="Want to up your food blogging game? Check out my favorite food blogger resources."]
Food Blogging Education
Editing with Photoshop and Lightroom: Learn how to edit your photos and bring your images from drab to fab.
Food Blogger Pro: Food Blogger Pro has helped me improve my food photography immensely. Be sure to read how Food Blogger Pro improved my photography. They only open up registration twice a year, so you may have to sit on a waiting list, but, it's worth it.
Skyrocket Blog Pageviews with Google Analytics: Google Analytics confuses me, but this course has helped me understand it and use it to grow my pageviews. I have to go through it again, it's not a once go through. You can keep doing it over and over.
Dominate The Search Engines with Webmaster Tools: Once you go through Skyrocket, I recommend the Dominate course. Since completing my first round of this course, my search engine traffic has grown by 700-800 people a day!
CONQUER the Layers of Search Engine Optimization –  Conquer is a self lead course and I'm still going through it. I'm learning lots from this, there is always something to improve with SEO. This course is pricier than the above two, but it's an investment into my blog and I didn't hesitate.
Craftsy: . If you're a recipe blogger or a crafter/DIY'er, Craftsy is a fantastic resource. Think of it as education to better yourself! There are so many courses at cheap prices (sometimes $14.99!) and it betters your skill! You can also join their affiliate program, the payout is quite high. It's a win-win.
Food Blogging Tools
Nutrifox: This is newest blogging tool. It's a nutrition label generator for my recipes and I'm really liking it. Here's an example:
Tailwind: This Pinterest scheduler is API approved (meaning Pinterest has given it the thumbs up) and offers a lot of benefits, like Tailwind Tribes! I have been using it for a few years now and saves me so much time. Update: you can also use Instagram as an Instagram scheduler.
WP Tasty: Recipe plugin that has all your bases covered for SEO.
Social Warfare: Social Warfare is a sharing plugin, but offers more than the free option I used to use (Shareaholic). You can choose what images your readers Pin, insert a "Click to Tweet" and customize your sharing buttons all within this plugin.
Adobe Creative Cloud: Photoshop is a big part of my business, I use it for photo editing and creating title and Pinterest images. I have the $9.99/month(USD) plan and use it solely for Photoshop but you also get Lightroom (Food Blogger Pro – see above – has great tutorials on both).
Canva: There is a paid version and a free version of Canva. Start with the free version, it's probably all you'll need. It's a great alternative to Photoshop if all you need it for is to create title images and social media graphics.
Deposit Photos: I don't use stock images often but for generic posts (like my income reports) they're my go to. I watch for their big sale and buy 100 images for a low price point.
Buffer: I use the Chrome extension multiple times a day. If you see my tweeting my recipes, it's scheduled through Buffer. I also use it to easily share to G+.
AppSumo: This website brings you deals on blogging tools. I've bought a few things (like a Grum Instagram Scheduler lifetime membership for $49). Sign up for their email list and offers will be delivered to your inbox.
Grum: This is my favorite Instagram scheduler! I have tried Later and Schedu.gram but didn't like them. So far, I haven't had any issues with Grum.co. Another option is Tailwind, but I'm still experimenting with that.
Grammarly: This is a FREE extension for Chrome (or IOS) with an upgrade option. Get it, it proofreads and suggests corrections for your blog posts and emails!
Blogging Gear
The gear below is what I'm currently using on The Bewitchin' Kitchen.
Nikon D90. I bought this camera from Kijiji (used) and paid to have it sent to the province I was in. Upgrading doesn't have to cost a lot when you're starting out. This was a great starter camera, but I have my eyes set on a full frame option for my next upgrade. I'm looking at the Canon 6D for my next option.
Nikon AF Nikkor 28-105mm
 I use this lens the most with my food photography. My son knocked it off the table and now it's broken. It won't zoom in and out past a certain setting and the autofocus doesn't focus that well. I basically have to keep it on one sweet spot and work with it. It's still a beautiful lens. I saved money by purchasing it off eBay. By doing this, saved hundreds because part of the plastic on the lens was broken off.
Nikon Nikkor 50mm 1.8
 This was the lens I first started out with in food photography. It's affordable when it's brand new, but save more money and buy it on eBay (I bought mine for $67 + shipping).
Wireless Remote This with the tripod makes pour shots easier, although I don't use this as often as I should.
Lowel Ego Light. I haven't used it much since it's summer and I have had decent light, but I know this will be my best friend come winter. I have also used it for lighting YouTube Videos too. (See said video below – btw, if you travel for your blog like I do – this is heaven sent.)
White Foam Boards. These are available at Michaels or the dollar store. They're great for reflecting light and use as a clean background. My issue is I have to replace them often as I usually drop food on them (they're $5 at my Michaels, it can add up).
Swanky Prints. Vinyl backgrounds.
iPhone 7Plus I love this phone! The video quality is incredible (much better than my Nikon D90).
Disclosure: this post contains affiliate links.