How To Make Elmo Cookies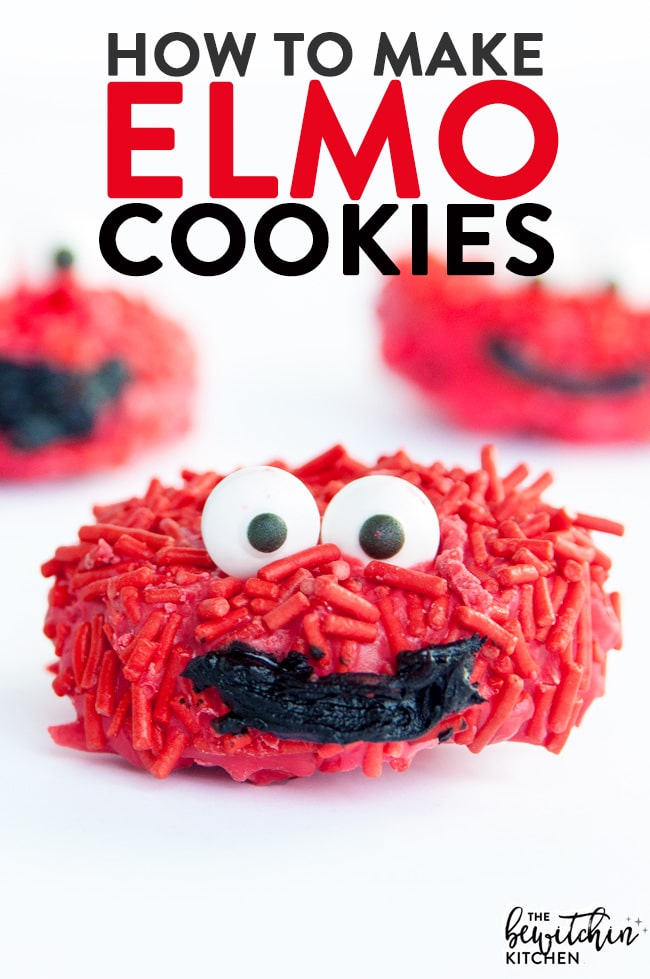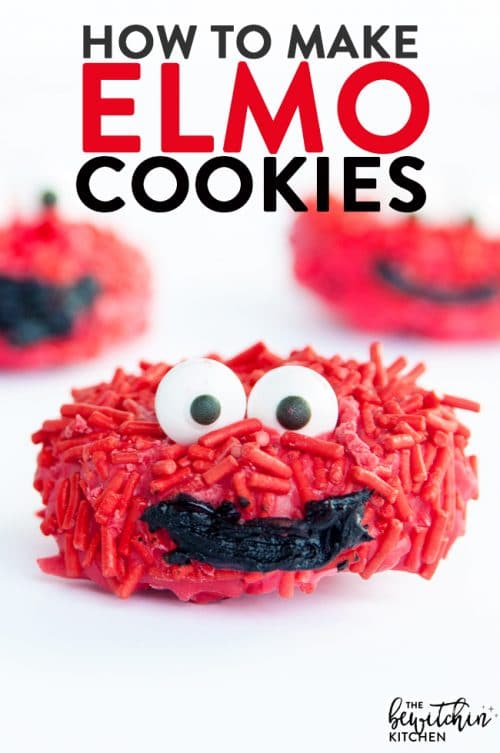 These Elmo cookies could very well be the cutest things I have ever made. I am so happy with them, and I put together this post (and a video) to show how easy these Sesame Street cookies are.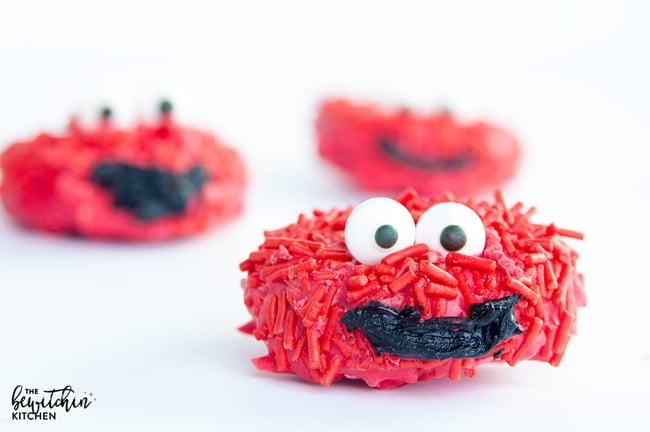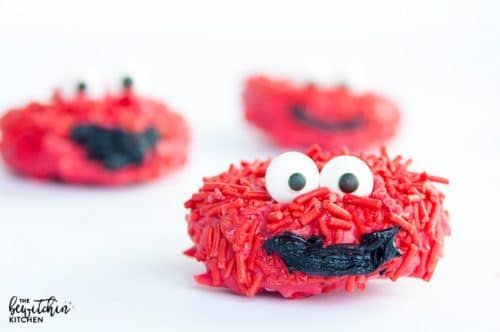 Not are they cutest cookies, but they very well could be the easiest cookies I have ever made.
Elmo Cookies | What's Needed:
How to make Elmo Cookies: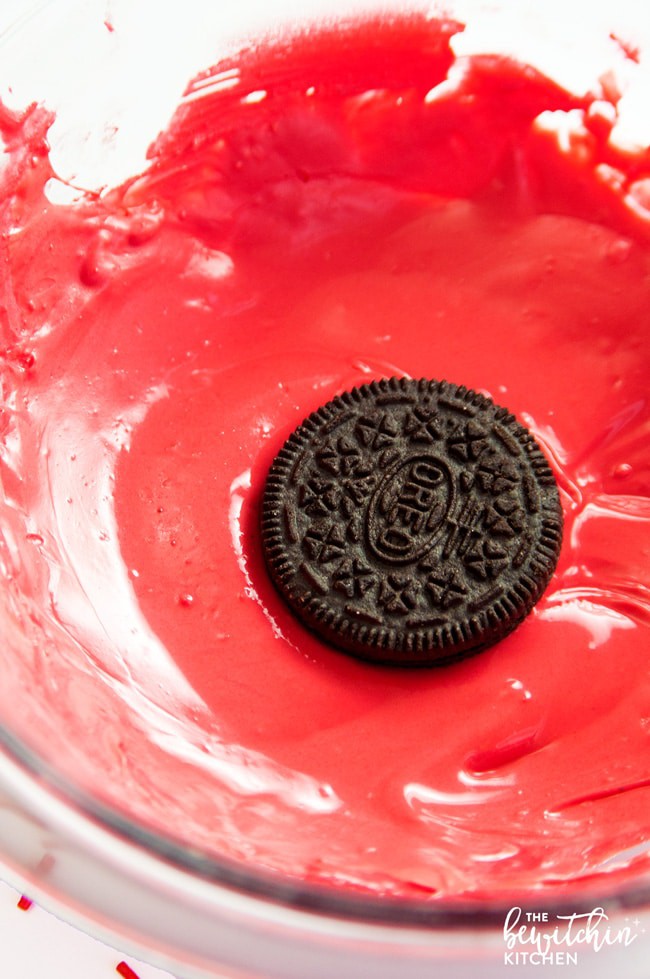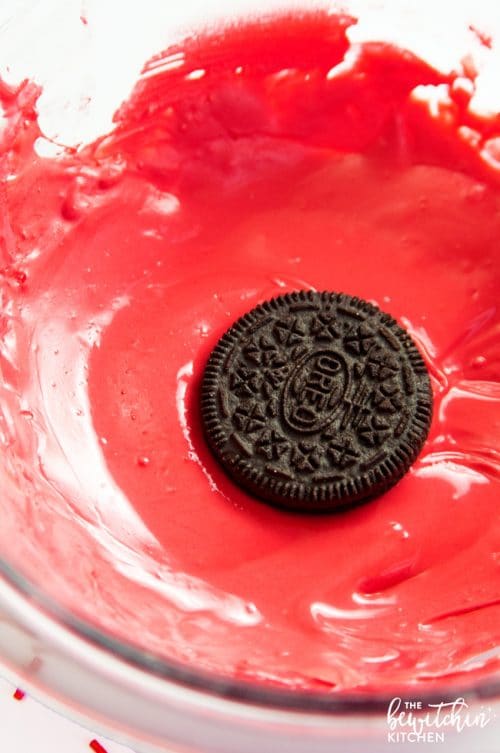 First things first – melt your candy melts (in a bowl) in the microwave for 30 seconds at a time, stirring in between. Don't over cook them. Sometimes you have to let them sit for a minute before you get a good consistency (this isn't like regular chocolate).
Take your Oreos and coat them in the liquefied candy melts.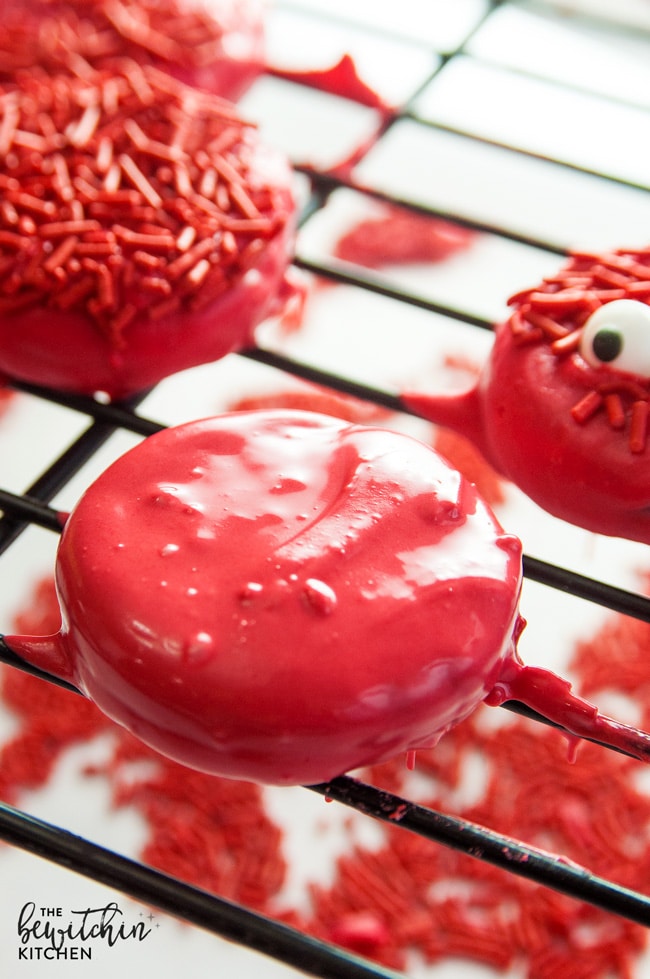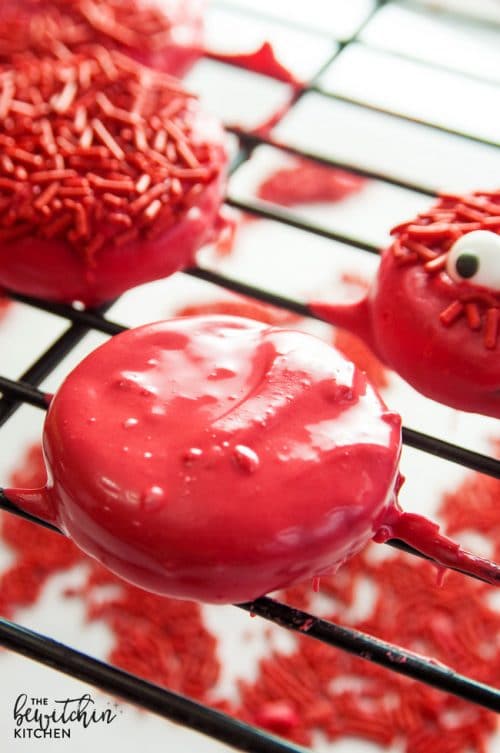 I tossed mine over a cooling rack with parchment laid under it. Let them harden for a few minutes.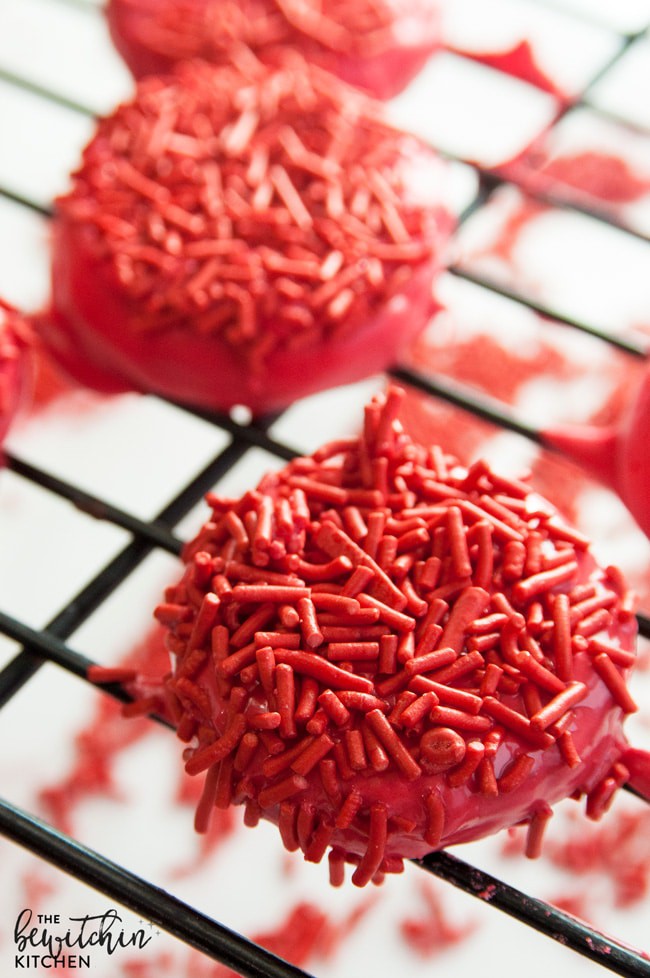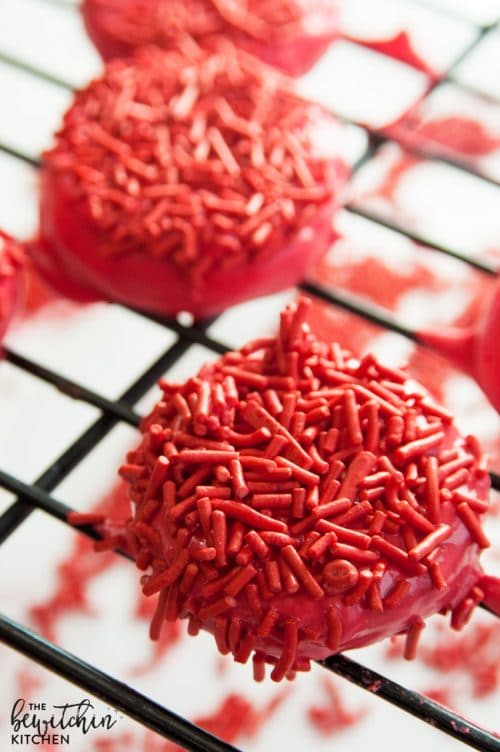 The sprinkle step has two options:
Option 1: sprinkle over top and push down.
Option 2: dunk in a bowl of sprinkles. I found this step to be the most effective, but the downside was the sprinkles underneath made it uneven on a flat surface (you're just going to eat them anyway – not everyone takes photos of their food like I do).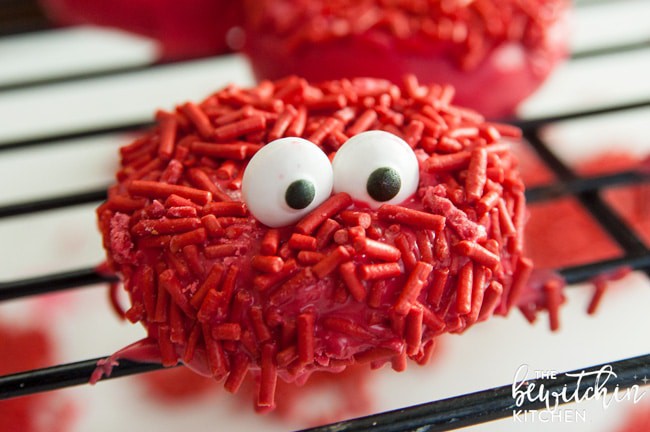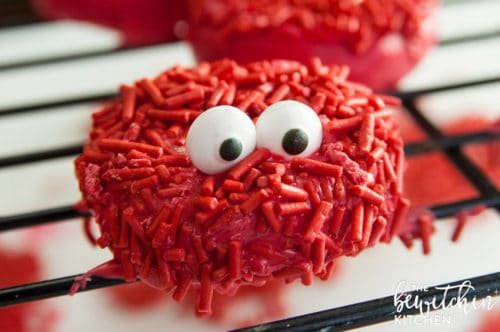 Add the candy googly eyes while the candy coating is setting. Not when it's first coated because they will fall and not when it's hard because they won't stick.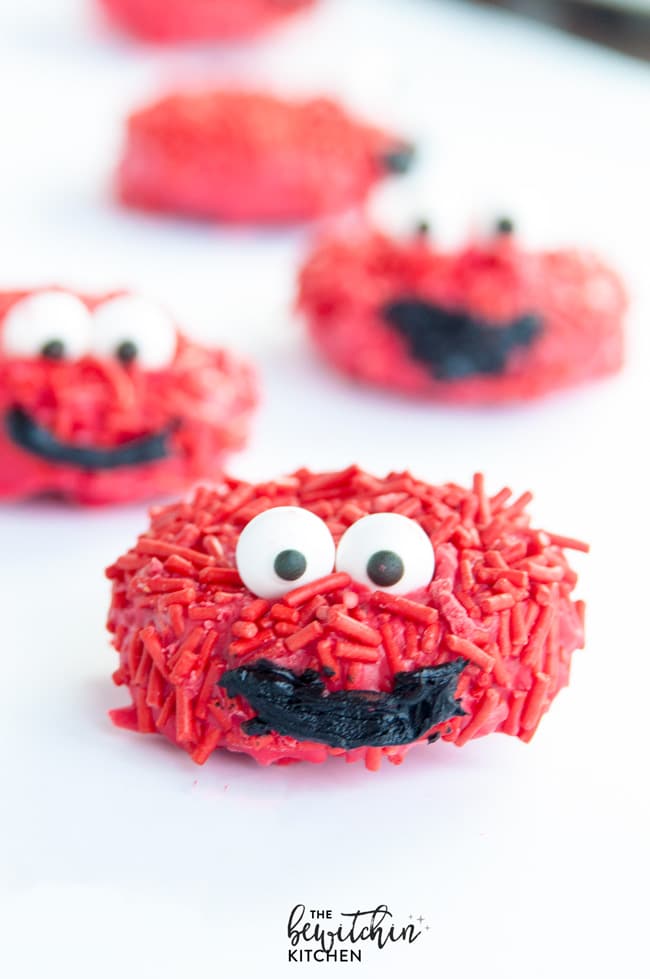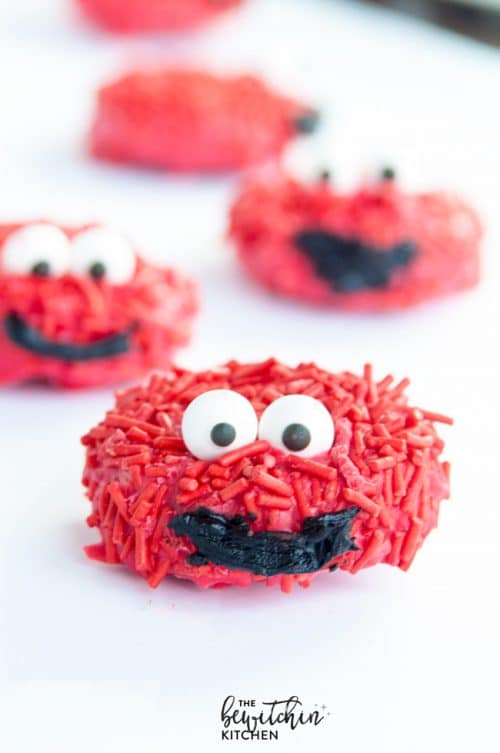 The last step is the smile! I found this to be the most difficult step, I did a happy face in black frosting and then tried to spread it to look like an open smile (like Elmo's) with a knife.
Elmo Cookies How To:

[adthrive-in-post-video-player video-id="95SdPfQU" upload-date="2016-10-26T04:47:46.000Z" name="How to Make Elmo Cookies" description="How to make Elmo cookies – super easy no bake cookies that would be great with a Sesame Street themed birthday party!" player-type="default" override-embed="default"]
Here's a video I made on putting these Elmo cookies together. There ate two options: sprinkle the sprinkles on or dunk the cookie in the sprinkles.
I recommend dunking, but give the cookie a few minutes to harden just a bit. Otherwise, it slides around and gets a bit heavy for the sprinkles to stay on.
Sesame Street Cookies
There is so much potential with these, I'll be doing some Oscar The Grouch cookies next (stay tuned).
These no bake cookies would be great for kids parties, especially a Sesame Street themed birthday or pre school class party!
Elmo Cookies
These no bake cookies would be great for kids parties, especially a Sesame Street themed birthday or pre school class party! Don't let the 5 hours total time scare you, it's because there's a lot of "set" time for the chocolate.
Servings 12 cookies
Calories 56kcal
Instructions
Heat up the candy melts in the microwave for 30 seconds at a time (50% power). Stir in between and give it time between each zap. This isn't chocolate, so it can take a minute or two to melt, just stir well.

Dunk each oreo in the candy melts and lay on a cooling rack (put parchment underneath to contain the mess).

After 10-15 minutes add the sprinkles using either option 1 or option 2 method (see above) and add the googly eyes.

Let set for 5-6 hours or until cookies are hard.

Draw an Elmo smile.
Nutrition
Serving: 1g | Calories: 56kcal | Carbohydrates: 8g | Fat: 2g | Sodium: 55mg | Potassium: 25mg | Sugar: 4g | Calcium: 3mg | Iron: 1mg
Follow On Pinterest
Follow @bewitchinkitchen On Pinterest for more delicious recipes!
If you like this tutorial, then please share it with your friends!


This post contains affiliate links.