World's Best Spaghetti Sauce Recipe + Video
The World's Best Spaghetti Sauce is a pretty big expectation to live up to! I firmly believe that this is truly the best homemade spaghetti sauce recipe, ever. It's full of savory meat, rich sauce, and seasoning to make your mouth water. It is so simple to make with a number of time-saving ingredients.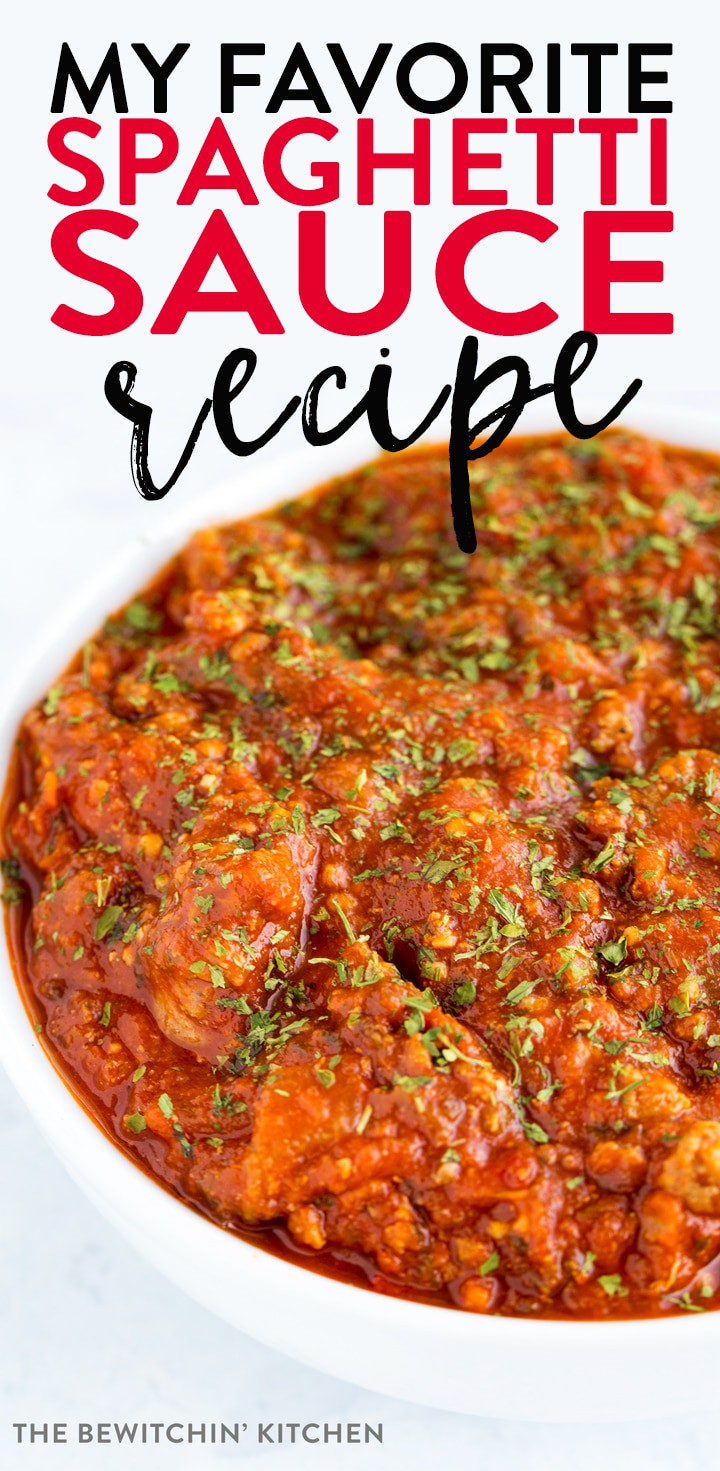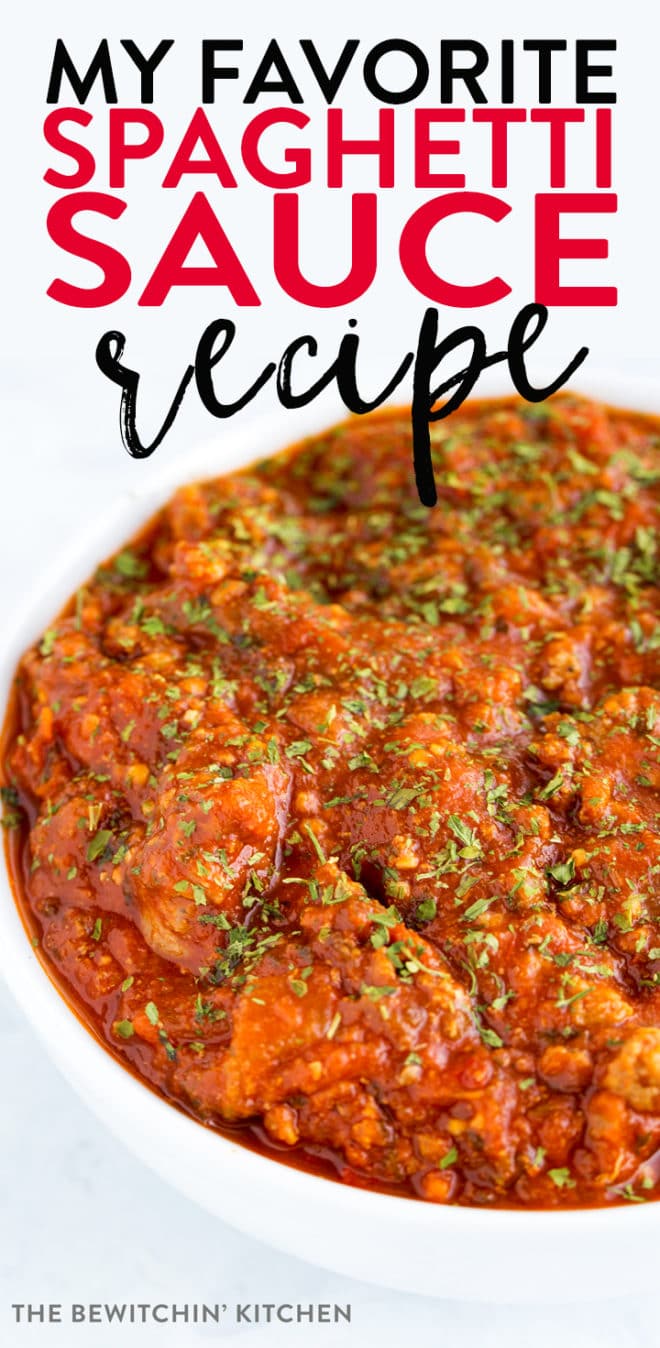 World's Best Spaghetti Meat Sauce Made Easy!
Making a bold meat sauce with a marinara base from scratch can be a little intimidating. This recipe simplifies the ingredients list and uses a jar of marinara sauce as one of the primary ingredients.
Using an off-the-shelf ingredient as part of the recipe makes the prep much easier and adds a little extra OOMPF into the sauce. Give it a try and see if your family gets hooked too!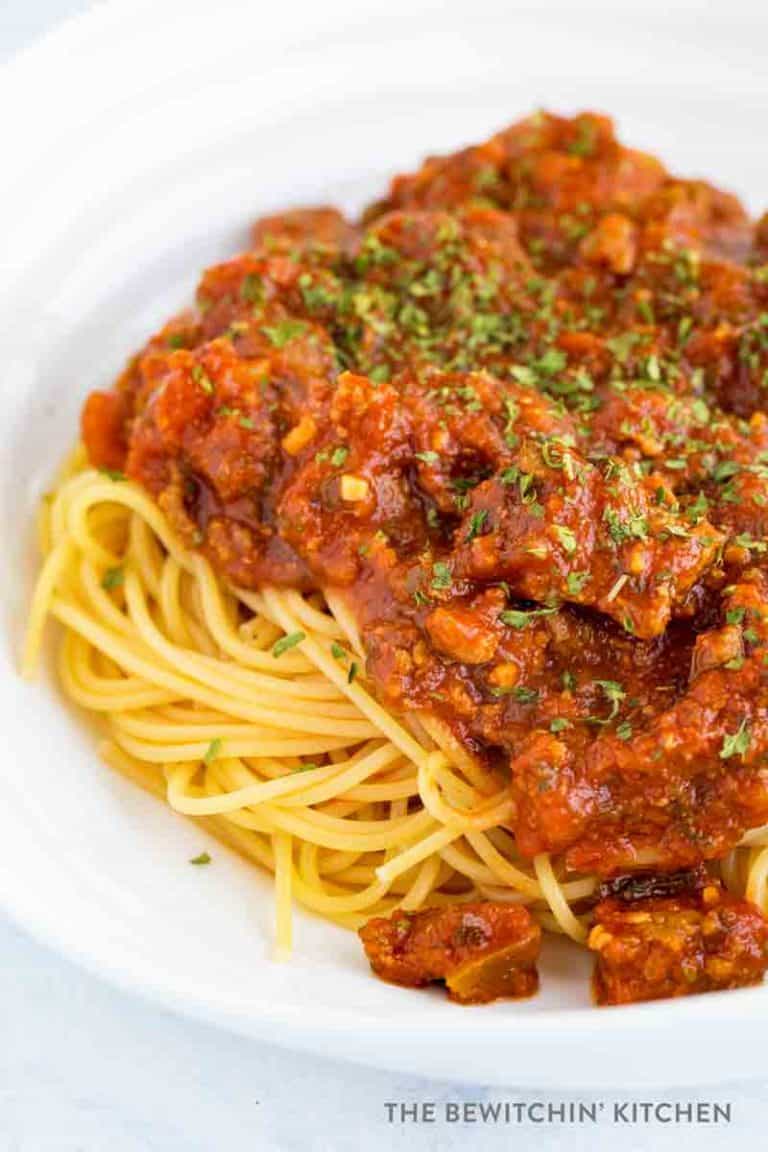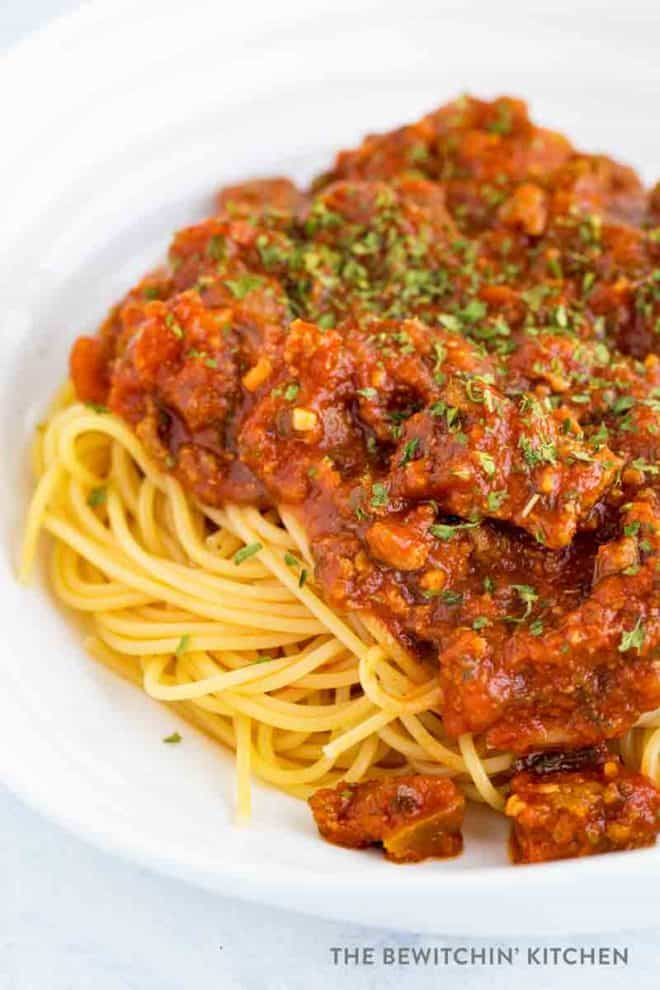 Why you will love it!
Super easy to make – can be prepped in a half hour or less if needed.
A fantastic bold flavor – rich and as spicy as you want
Full of protein – with sausage and beef ingredients
A healthy option – increase the vegetables to give it a different healthy flair
How To Make Perfect Homemade Spaghetti Sauce With Meat
Find the right meats
The meat in this recipe can really change the flavor. I generally use a lean ground beef and spicy Italian sausage. For less spice, choose a mild Italian sausage instead. You could also consider substituting turkey or if you want to get really creative, choose a meatless protein.
Any wine will do
While this may not be the case with your drink pairings, when it comes to the wine used in the sauce, it really doesn't matter what you use. Chardonnay, Pinot Grigio, or even Muscato will all work just fine.
Let it simmer
I have made this sauce many times in a hurry and had it finished in less than 30 minutes. Heat and serve! However, if you have a bit more patience and time, the more it can cook "slow and low" the better it will be. If you can transfer it to a crock pot and let it simmer for hours, it will be amazing!
Making it healthier
There are several things you can do to improve the healthiness of this recipe.
Use an alternative noodle like zucchini or spaghetti squash noodles.
Remove the added sugar. While it does add interest and flavor, you won't miss the Tablespoon of sugar if you are interested in reducing calories.
Increase the vegetables. Mushrooms, celery, carrots, zucchini, additional types of peppers….any or all of them will be great!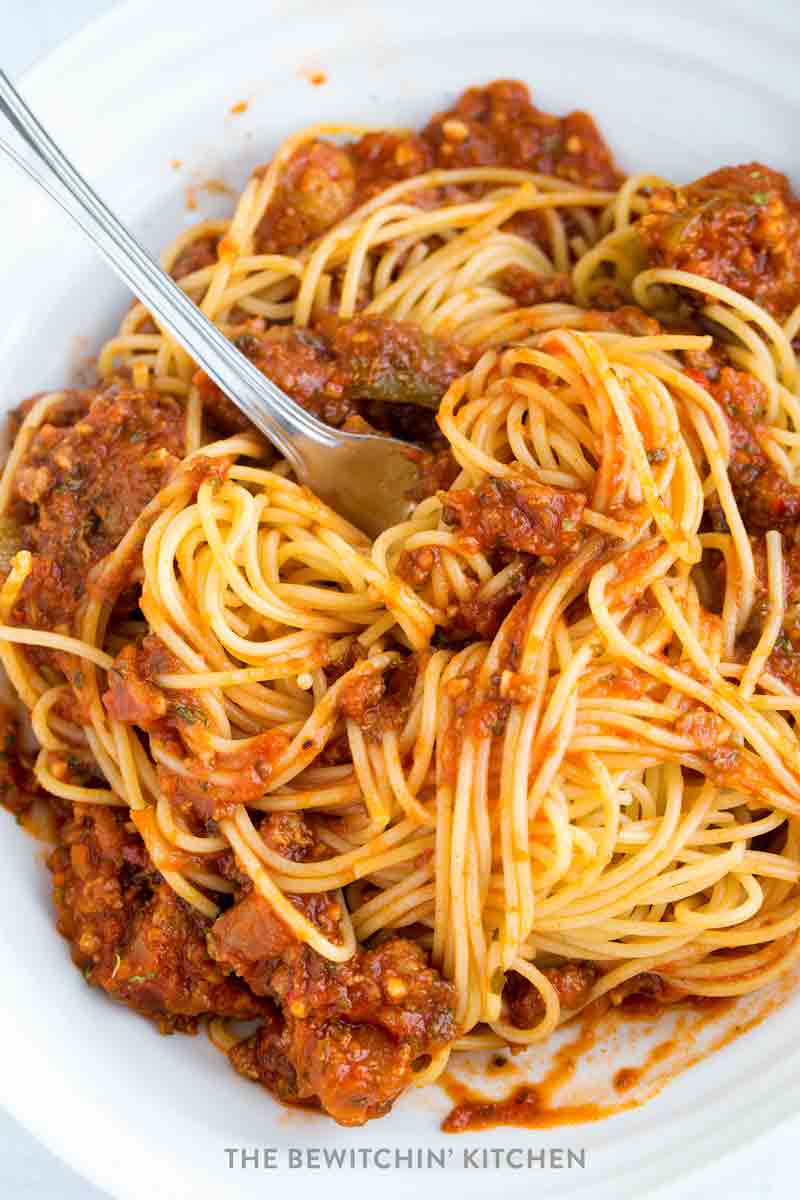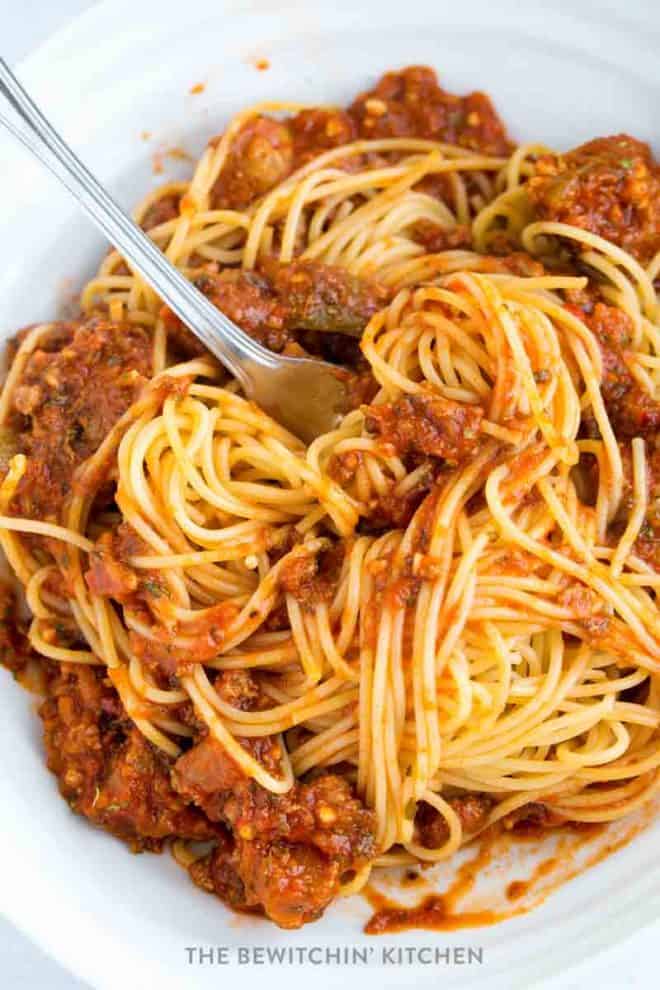 Frequently Asked Questions
Is Spaghetti Sauce Healthy?
I'm often asked of spaghetti sauce is healthy. The truth is, it depends. Anything can be "healthy" when it's in dished up in moderation. This sauce recipe qualifies as healthy for me. It's loaded with veggies and proteins.
If you want a low carb spaghetti option, use spaghetti squash instead of pasta. For a fun twist, make sure to check out my recipe for skinny baked spaghetti.
How long will spaghetti sauce last in the fridge?
It's easy to put leftover sauce in the in Tupperware and refrigerate it. It will last for 3-5 days refrigerated at normal temperatures. When you're ready to reheat, just put it back in a pan and heat! If you need to, you may add a little water to help it reconsitute.
Can I freeze spaghetti sauce with meat?
Pasta sauces in general are super easy to freeze. You can place them in Tupperware, glassware, or even a freezer proof bag. To use them later, just let them thaw in the fridge overnight and then warm up and serve!
Supplies to make cooking homemade pasta sauce easier.
WORLD'S BEST SPAGHETTI SAUCE
World's Best Spaghetti Sauce Ever from The Bewitchin' Kitchen. Filled with savory meats and vegetables. This is sure to be a hit!
Servings 10 cups
Calories 371kcal
Ingredients
1.5 lbs extra lean ground beef 2 lbs if not using hot italian sausage
1 lb Hot Italian Sausage casings removed
1 tbsp Olive Oil
1 large onion diced
1 green bell pepper diced
4 cloves garlic minced
1 cup white wine beef broth works too
1 28oz can crushed tomatoes
1/2 can tomato paste 4 oz can
1 jar marinara sauce I like Safeway O Organics
1 tsp oregano
1 tsp thyme
2 bay leaves
1 tbsp sugar
1 tsp sea salt
1/2 – 1 tsp tsp crushed red pepper start small and increase the heat by taste
2 tbsp dried parsley
1/2 cup parmesan cheese
Instructions
In a large pot, over medium heat, cook up your beef and hot italian sausage. When the meat is cooked, drain the meat and set aside (I leave it sitting in a colander over the sink).

Heat up the olive oil and add the onion and green pepper. Saute until the onion is soft (about 4-5 minutes) and then add the garlic. Give it a good stir for another minute or two (until fragrant).

Add the wine (doesn't matter what kind I have used Chardonnay, Pinot Grigio and even Moscato) and reduce for about two minutes.

Next up is the crushed tomatoes, paste, jar of marinara, oregano, thyme, sugar, bay leaves, crushed pepper flakes, and salt. I usually stir this together and let simmer a few minutes.

Add the meat. Stir and put a lid on.

Let this simmer on low – medium/low for at least an hour. If you can get away for longer, do it.

After your hour is up, add the parmesan cheese and parsley. Stir and simmer for another thirty minutes.

Serve with desired pasta (or spaghetti squash) and top with more parmesan cheese.
Nutrition
Calories: 371kcal | Carbohydrates: 17g | Protein: 26g | Fat: 21g | Saturated Fat: 8g | Polyunsaturated Fat: 2g | Monounsaturated Fat: 9g | Trans Fat: 1g | Cholesterol: 80mg | Sodium: 1249mg | Potassium: 1012mg | Fiber: 4g | Sugar: 10g | Vitamin A: 842IU | Vitamin C: 27mg | Calcium: 132mg | Iron: 5mg
Follow On Pinterest
Follow @bewitchinkitchen On Pinterest for more delicious recipes!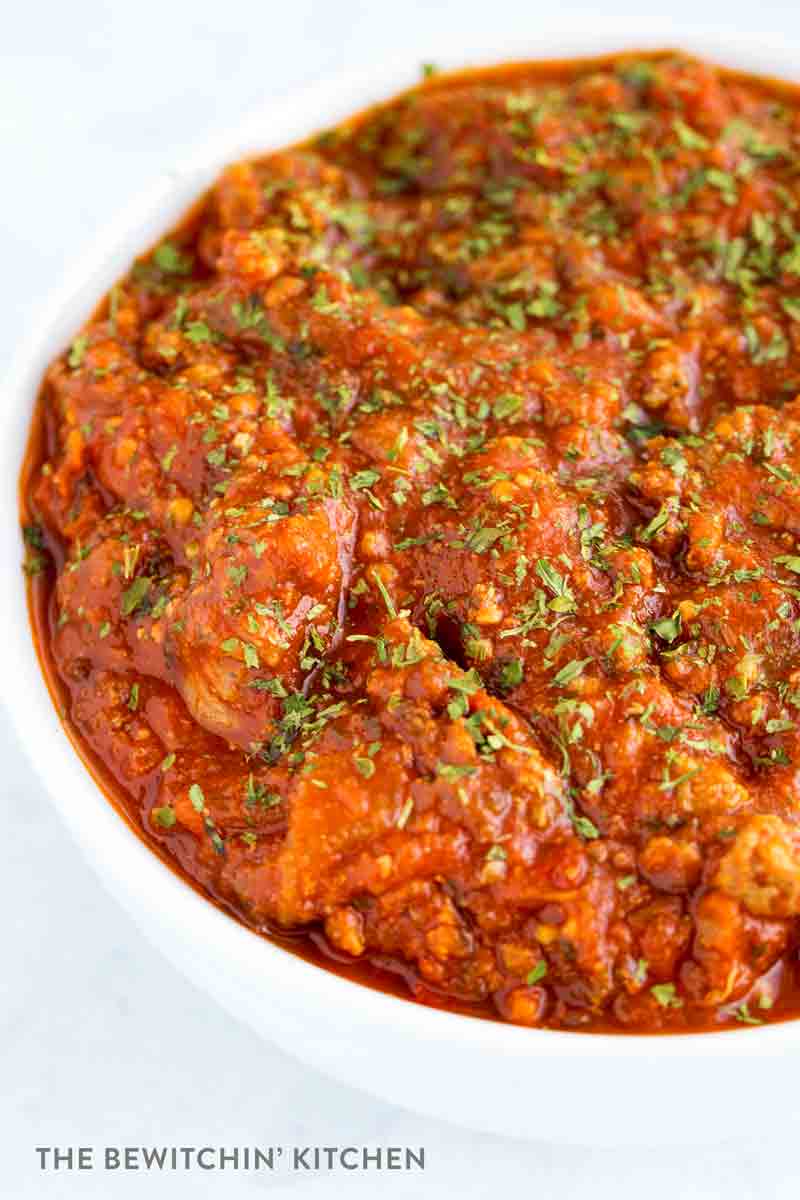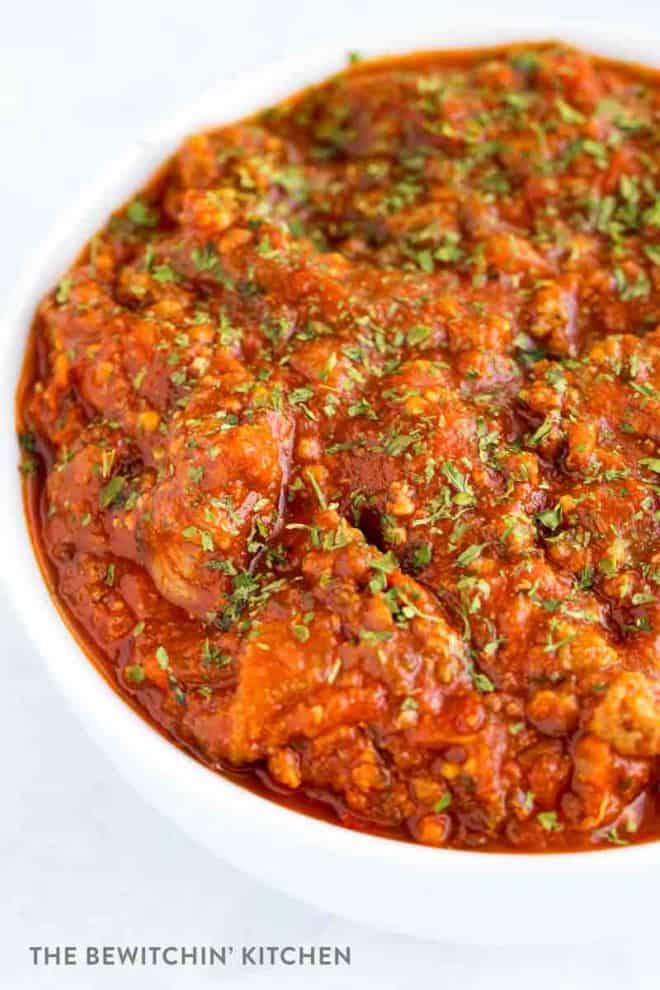 Looking for more great ideas? Click here to follow me on Pinterest!
Visit Randa | The Bewitchin' Kitchen's profile on Pinterest.