Penne + Tomato Basil Cream Sauce #CatelliFamilies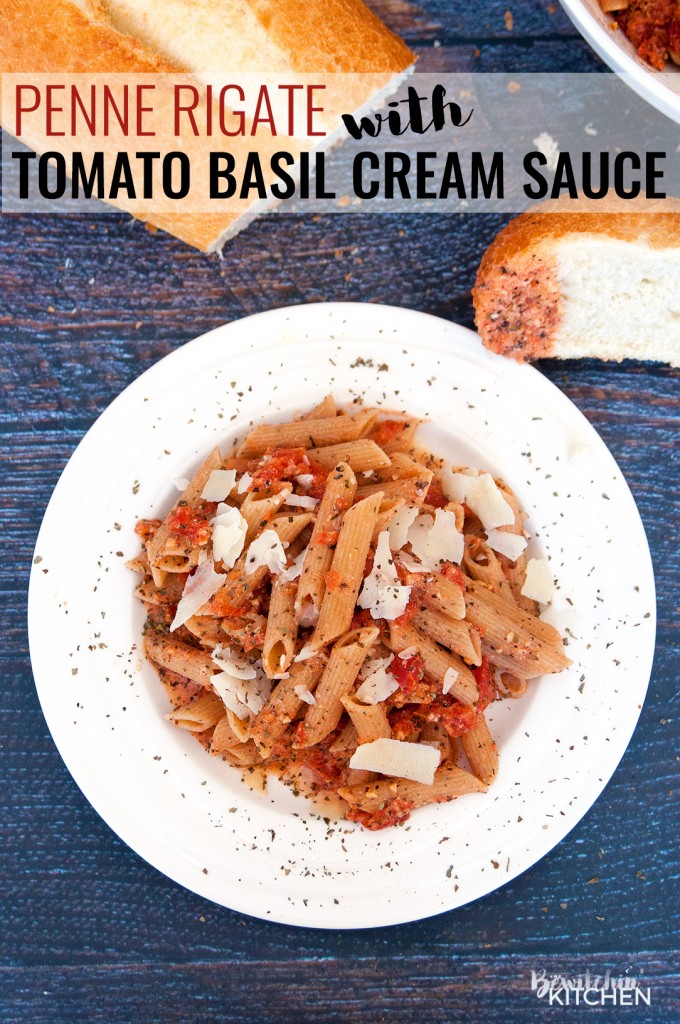 I have a huge love for pasta, it's a big comfort and it's an ingredient that has been with me since the beginning. Pasta was the first thing I learned how to cook. Back then I used to use jarred sauce, add some extra spices and pour it over a serving of penne. Today, I create recipes from scratch like this recipe for a tomato basil cream sauce.
The first meal my husband ever cooked for me was a classic penne with marinara. I was 16, he was 19 and fast forward almost 12  years, we still enjoy penne pasta as a staple in our home. It's my favourite cut of pasta, I absolutely love it.
Having a date night is something I strive for at least two times a month, but heading out for an expensive dinner isn't always in the budget. In that case, what I like to do is make a delicious pasta meal. Date nights bring on the nostalgia of my first home-cooked meal with my husband, and with that in mind I wanted to create something special for all the lovebirds who read my blog.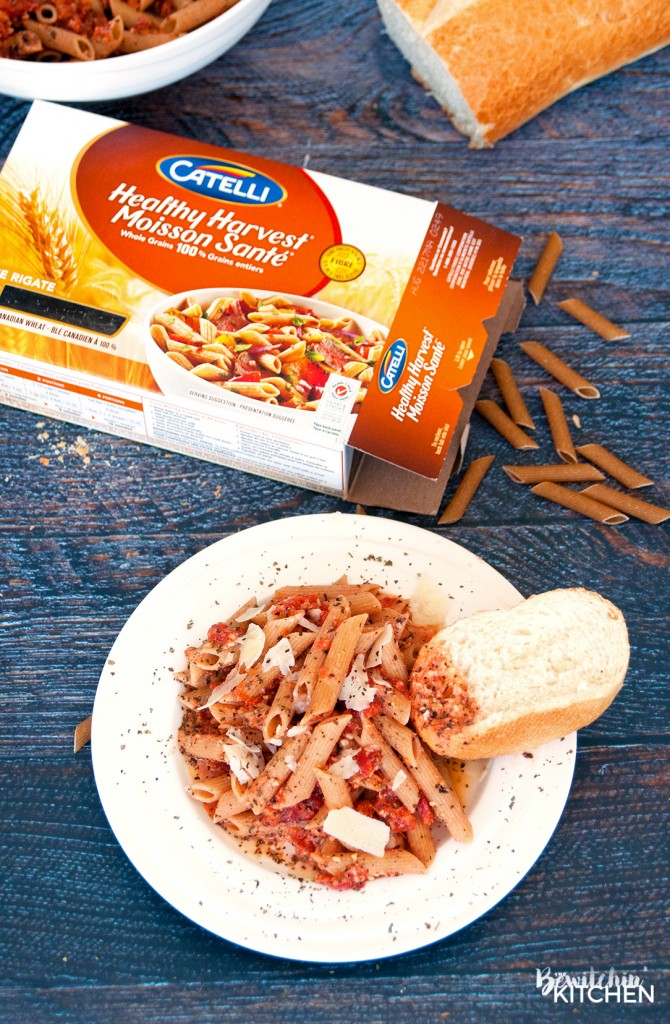 Pasta has been a constant comfort when it comes to cooking from our sweet beginnings as teenagers to our now small family of three. We have it at least once a week because it's so easy.Gone are the days of an elaborate pasta meal, pasta is a modern staple to keep up with the modern family.
In nine minutes, we have a meal. I can usually whip up a quick sauce or, if I'm really pressed for time, I'll toss some of my favourite pesto on top with pre-cooked chicken. It's perfect for those nights where you only have 20 minutes between extra-curriculars or for when you're husband is out of town and you're cooking for one. From single-person to dinner party, pasta works for any situation.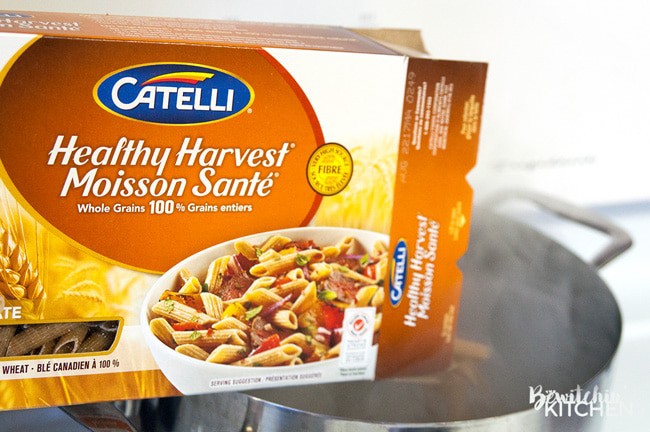 For my Penne with Tomato Basil Cream Sauce recipe, I used Catelli Healthy Harvest Penne Rigate. The Healthy Harvest brand has been a staple in my pantry for the 10 years I lived on my own. It cooks well, has beautiful texture and, because of the whole grains, keeps me satisfied and fueled for the rest of the day.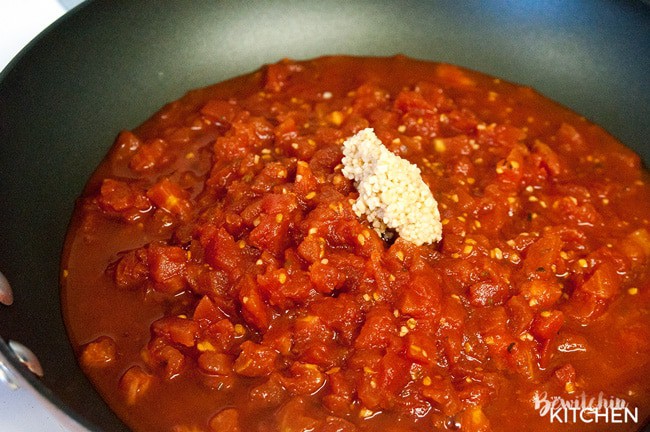 The sauce is incredibly easy as well. Simmer diced tomatoes in olive oil (it cuts a few steps by purchasing it with the oil already), add pre-minced garlic, basil, parmesan and cream and heat through. In ten minutes you have a delicious sauce that tastes like it's been simmering on the stove for hours.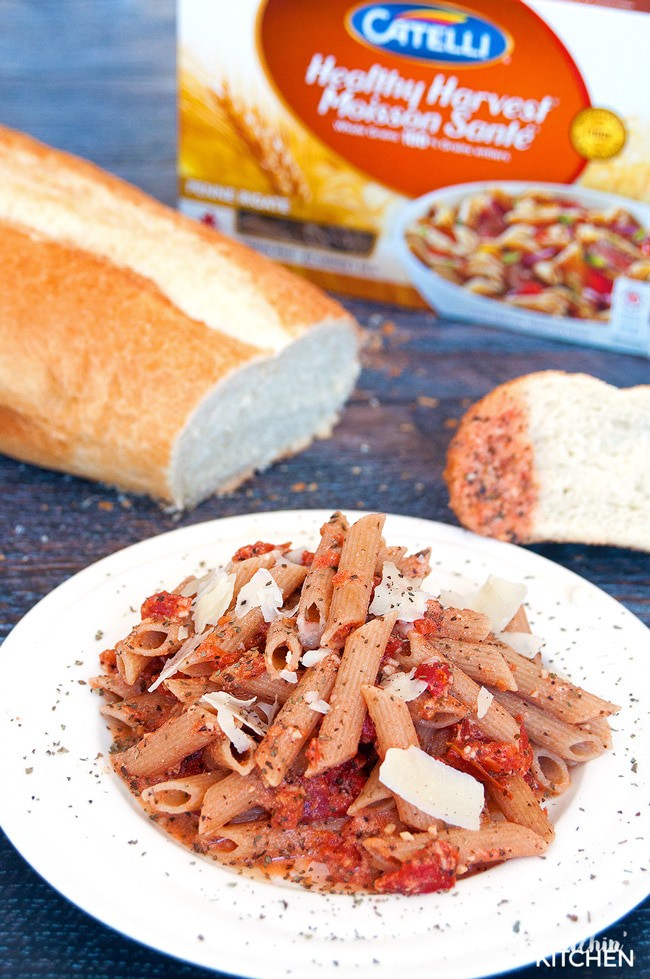 Serve with extra parmesan, dried basil and a hearty French loaf and you have a meal that's perfect for a romantic dinner in a matter of minutes.
Penne with Tomato Basil Cream Sauce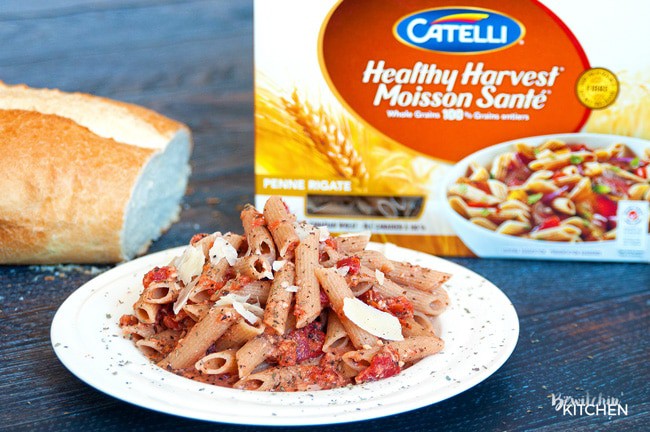 Fellas, if you came upon my blog looking for a romantic dinner to make for the lady in your life look no further. This is the one! Not only will it take the stress off you (because the recipe is seriously simple) but you'll also be a hero for such a delicious recipe.

Penne with Tomato Basil Cream Sauce
Servings 2
Ingredients
1/2 package Catelli Healthy Harvest Penne Rigate
1 can diced tomatoes in olive oil
1 tbsp minced garlic
1/4 cup parmesan cheese
1 tbsp basil
1/4 cup heavy cream
Optional: additional parmesan and basil for garnish
Instructions
Prepare the Catelli Healthy Harvest penne pasta as to the instructions on the box. (Add to boiling water, let boil for 9 minutes).

While the pasta is cooking, heat a medium pan over medium heat and add the can of diced tomatoes in olive oil and garlic. Let simmer for eight - ten minutes.

Add the basil, parmesan cheese and cream. Heat through, melt the cheese and transfer off the element.

Drain your pasta, and toss with the tomato basil cream sauce.
Follow On Pinterest
Follow @bewitchinkitchen On Pinterest for more delicious recipes!
To learn more about Catelli and the pasta products they offer visit 
http://www.catelli.ca/
.
I'm excited to be helping Catelli this year find out just what we love so much about this popular food. There are so many ways to enjoy pasta and I want to inspire you to enjoy pasta the way YOU like it! Be sure to snap a picture and share your family's favourite pasta recipe using #CatelliFamilies.
What's your favourite way to cook up pasta?
If you like this recipe, please Pin it to save it to your boards and share with your friends. Also, don't forget to follow my Pasta Recipes board for more healthy and comforting meals.

This recipe has been sponsored by my friends over at Catelli, all opinions and thoughts are my own.