Honey Dijon BBQ Chicken Bowls
These honey dijon bbq chicken bowls are a sweet, zesty, and delicious way to get in your daily vegetables and lean protein. Riced cauliflower, peppers, black beans, and chicken topped with a mustard bbq sauce make this a super yummy way to enjoy these healthy, summer flavors.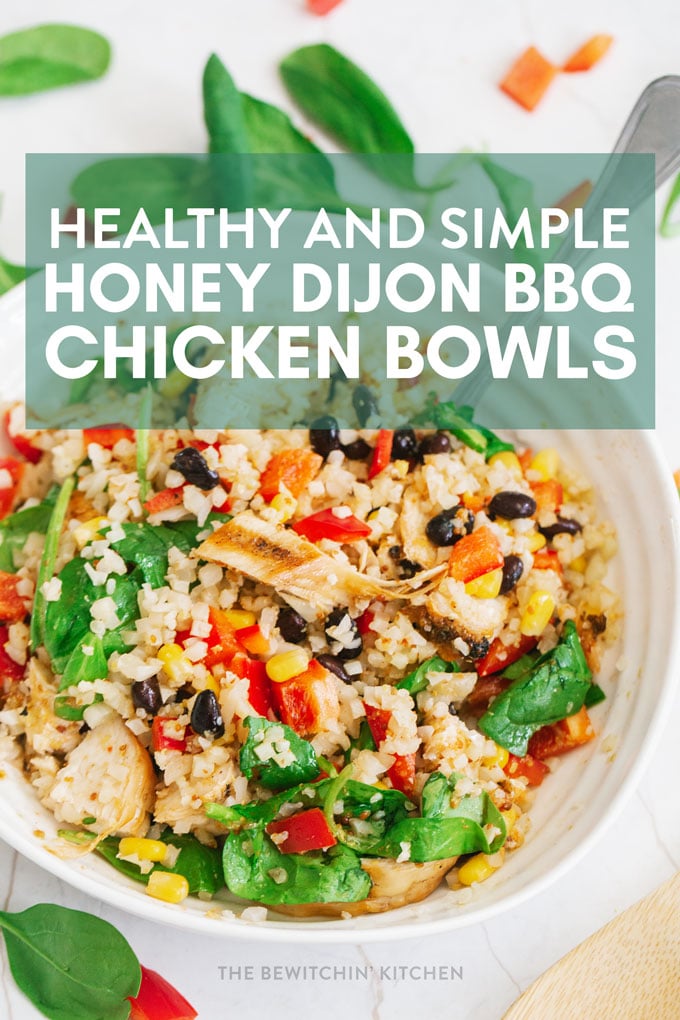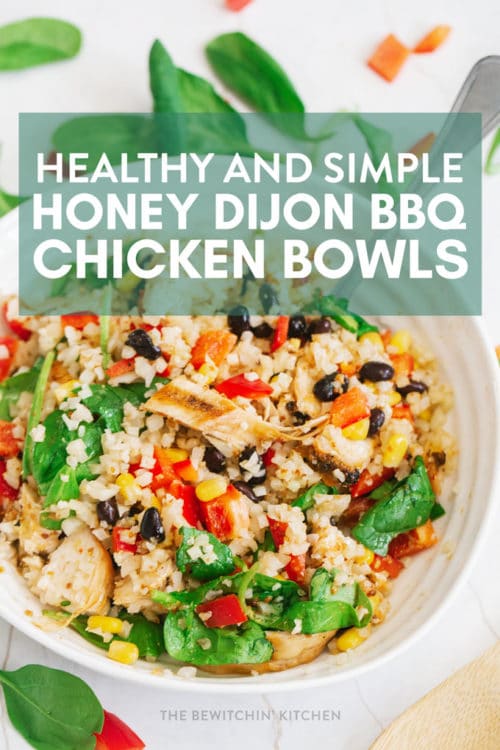 Honey Dijon BBQ Chicken Bowls
Disclosure: I am participating in the Chicken Farmers of Canada campaign managed by SJ Consulting. I received compensation in exchange for my participation in this campaign. The opinions on this blog are my own. This blog post may contain affiliate links.
The snow is FINALLY melting. Seriously though, am I the only one who feels like this winter drug on and on?
We still have a little snow in my back yard, but the patio is clear and the grill has been running.
I love a good bbq.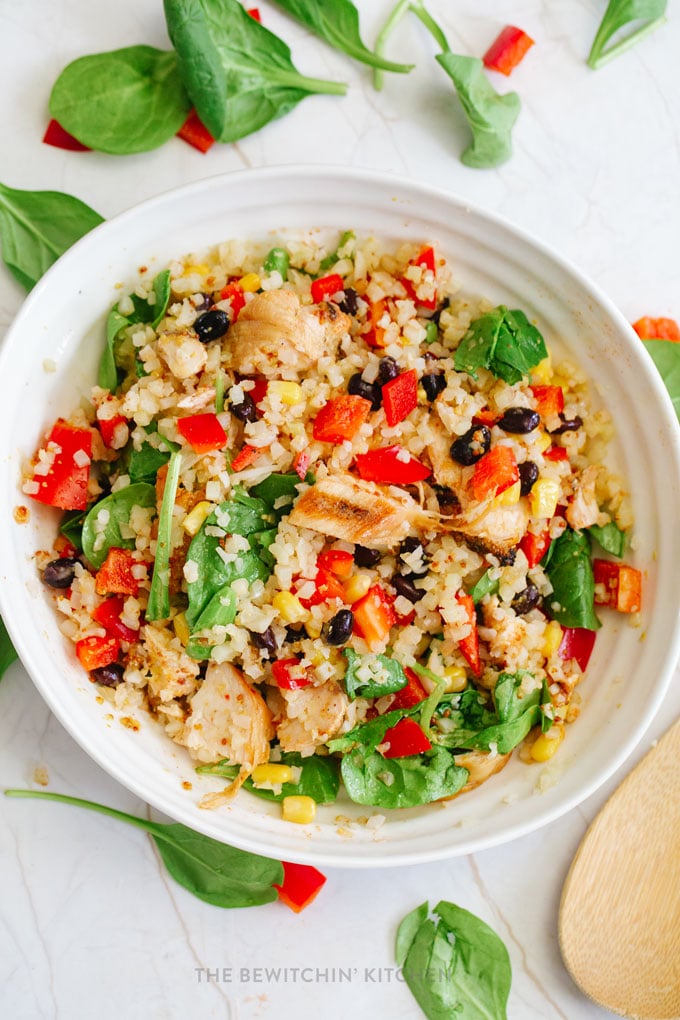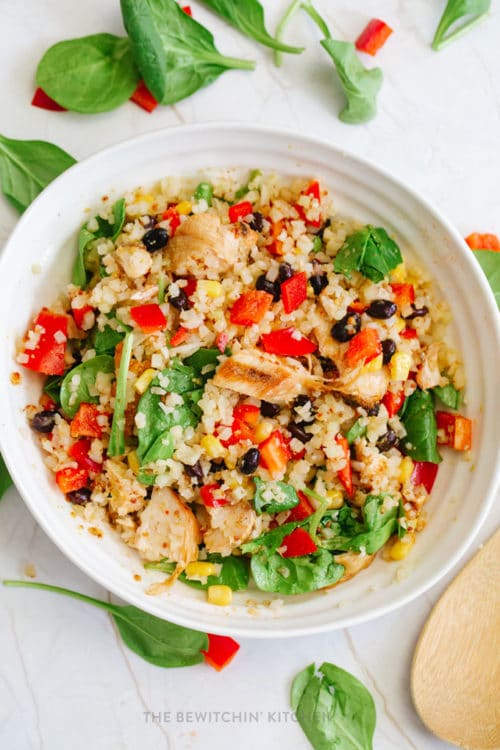 This past Monday, I bought a bunch of Canadian chicken and grilled them all. This led me to have a bunch of cooked chicken on hand for the week.
With that chicken, I made stir-fries, salads, and these honey dijon bbq chicken bowls.
What to look for when buying chicken breasts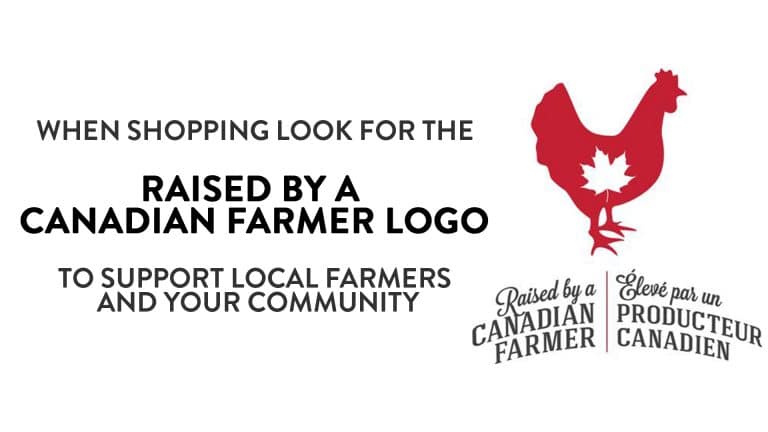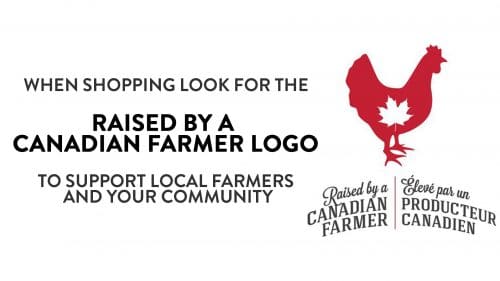 The first thing I look for when I buy chicken breasts is for the Raised by a Canadian Farmer logo.
This ensures that the chicken I buy has been raised by a Canadian farmer, and gives me peace of mind that the chicken I buy has been audited by a third party to ensure that the health and safety standards are high. It also lets me know that I'm supporting farms that give back to our communities, and by doing that supports the Canadian economy.
TBK's Pro Tip: Save time and money by using the Chicken App. This handy app stores your grocery list gives you recipe ideas and allows you to sync across your family. So if your loved one is at the store, they can check the app and see what needs to be brought home. LOVE this!
Learn more about Canadian chicken here.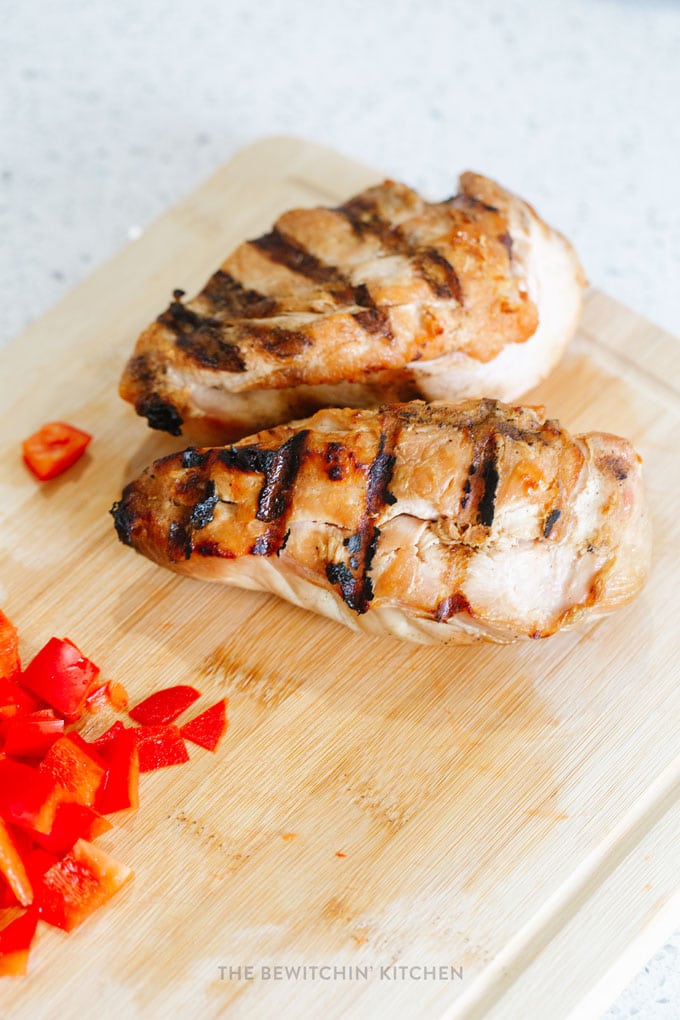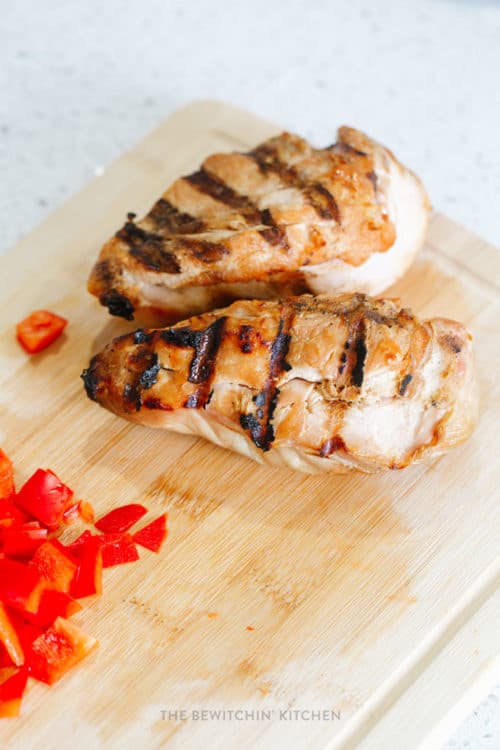 The next thing I look for is the best before date. I always shuffle the chicken around until I find the freshest option available (especially since it's usually a day or two before I cook it up with my grocery shop schedule).
Mustard BBQ Sauce Chicken Bowls
I'll be up front. I have never had a mustard based bbq sauce before. Carolina mustard bbq sauces are not common in my part of Canada but I like the sounds of them.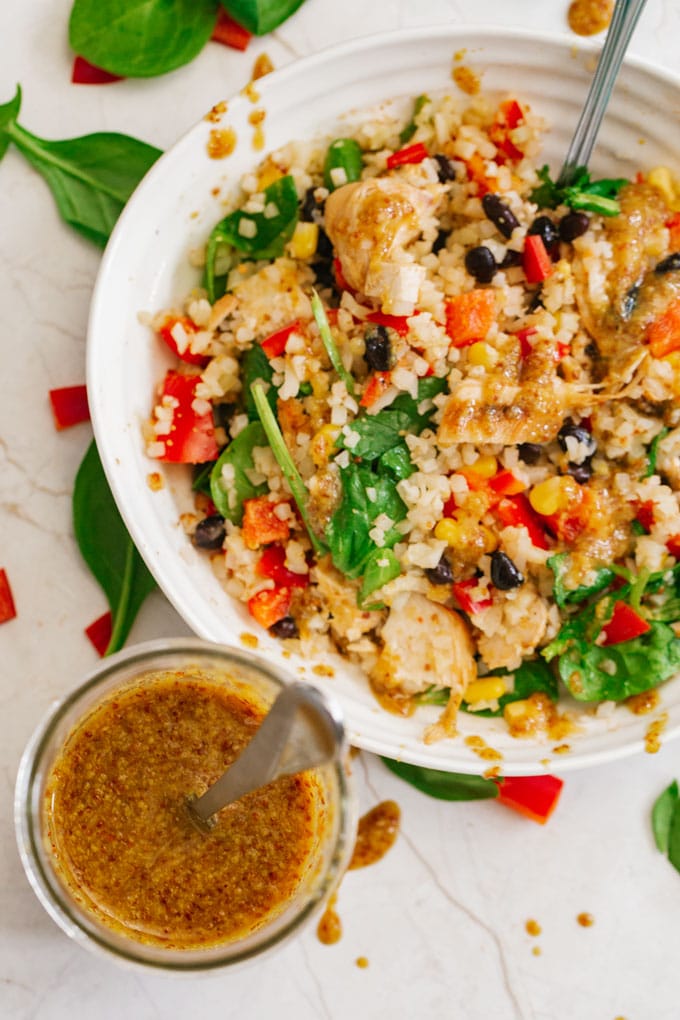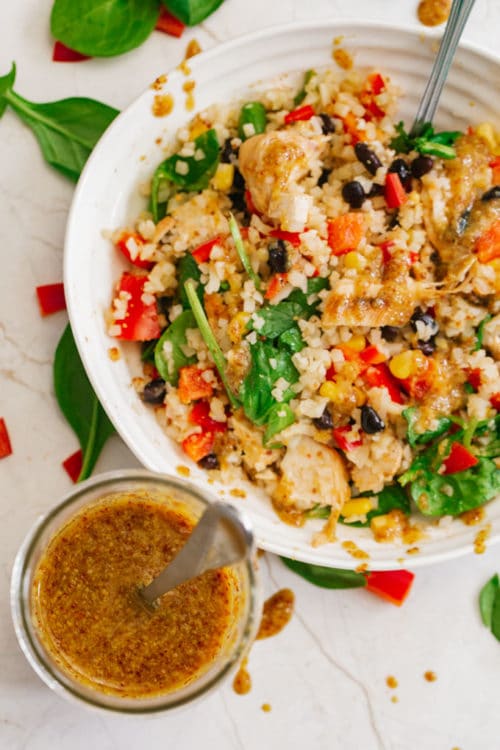 I used dijon mustard because I love the flavor and thought it would bring a kick to the sauce.
I used old dijon mustard (it's grainy), but a smooth dijon would work just as well.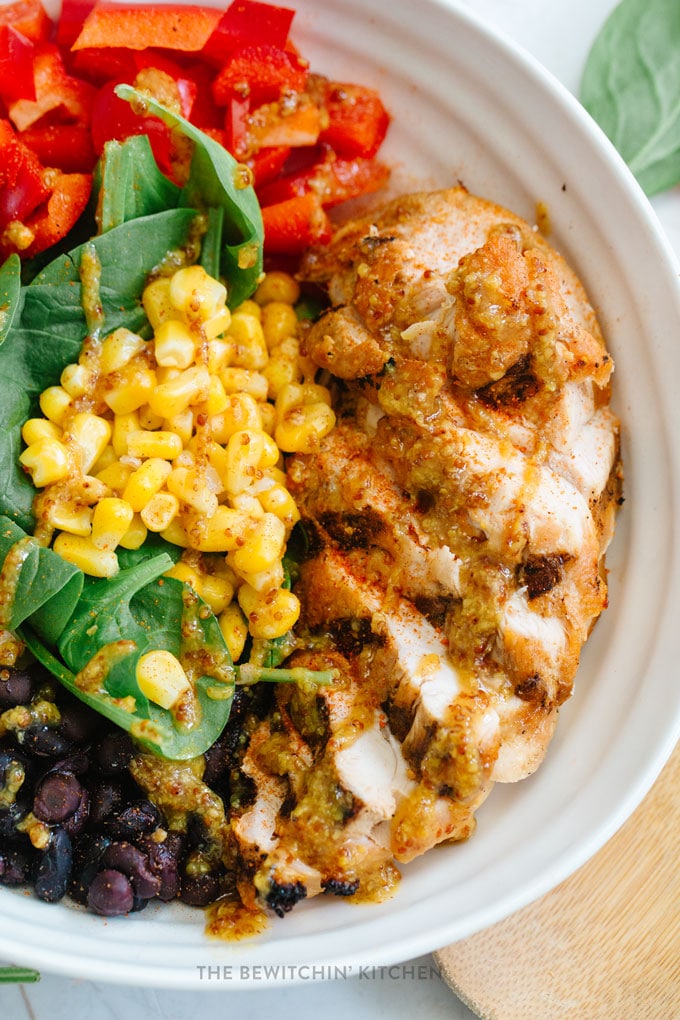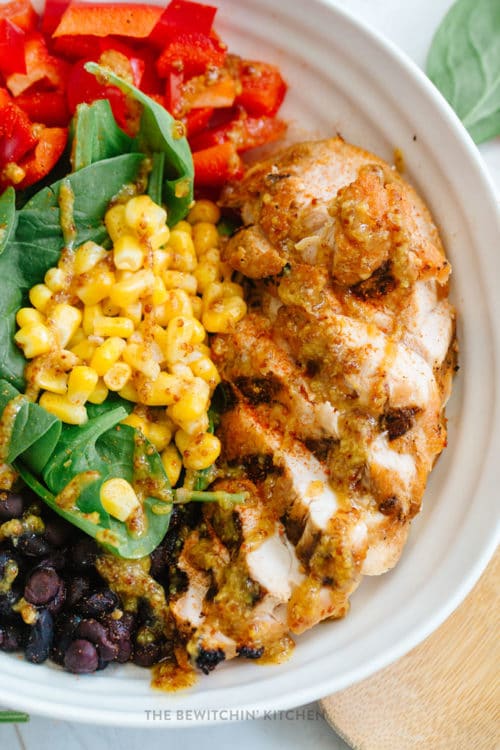 Summer Chicken Recipes
Here are a few more chicken recipes for the summer that I think you'll like.
How to Make BBQ Chicken Bowls
It's so easy to make healthy grilled chicken bowls.
Batch cook some grilled chicken and add whatever vegetables you have one hand.
I used frozen cauliflower rice, but regular rice works (and so does quinoa).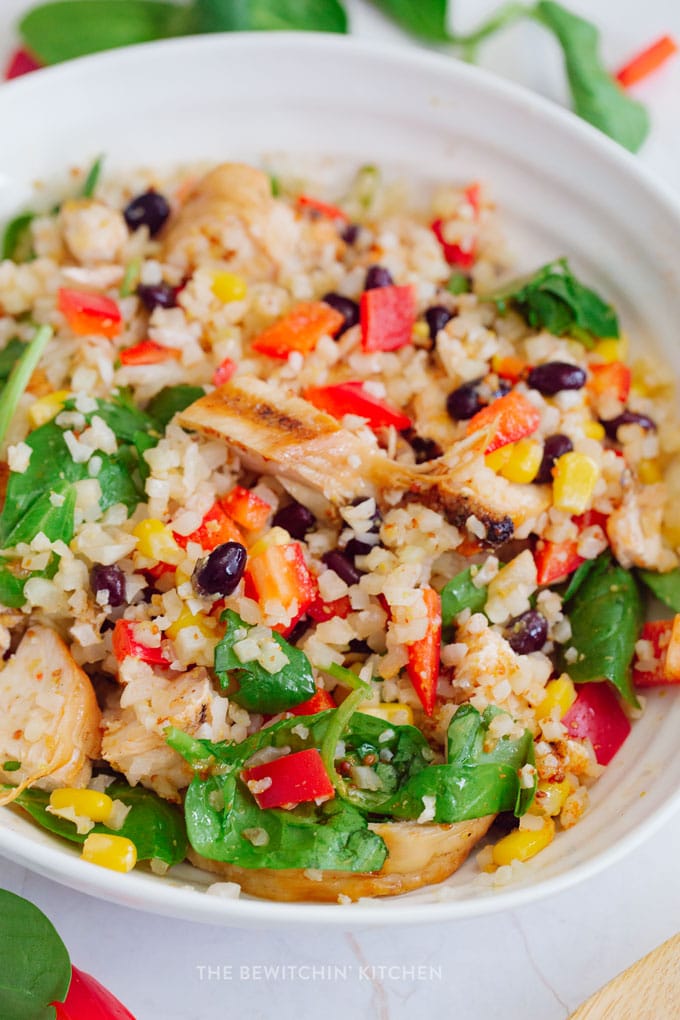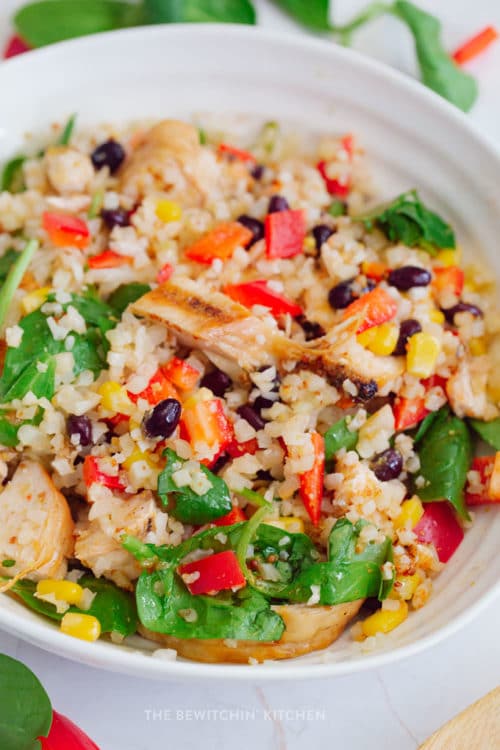 TBK's Pro Tip: The serving size for this chicken bowl recipe is one, but the best part is it's so easy to double, triple, or quadruple for how many people you need.
Looking for more? Search the recipe sections over at Chicken.ca to discover more healthy recipes. Don't forget to follow them over at Facebook, Twitter, Instagram, and Pinterest.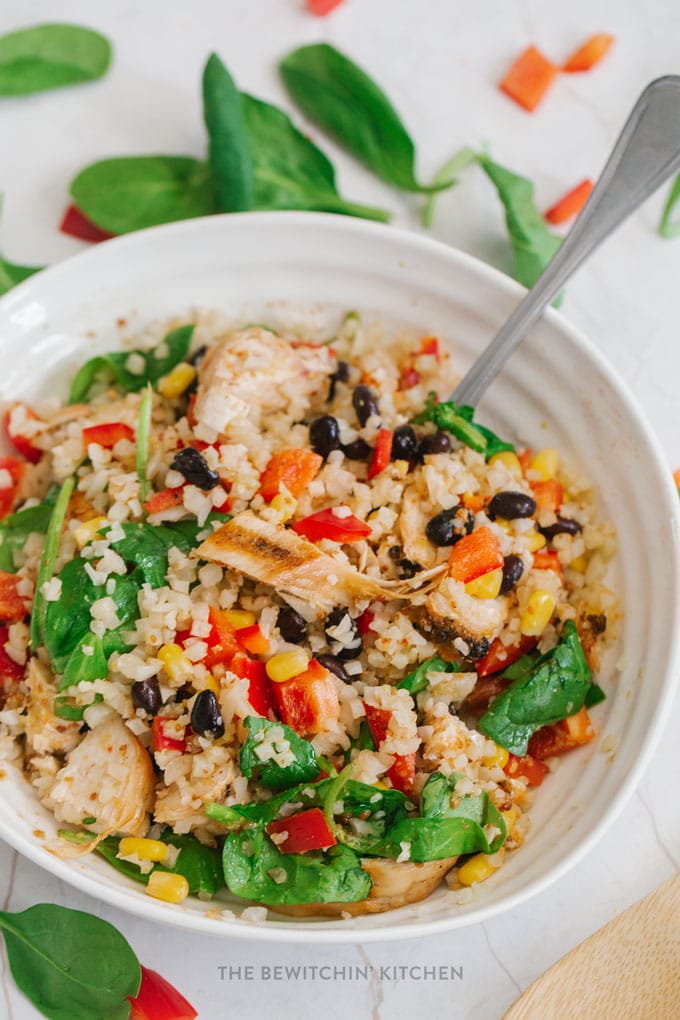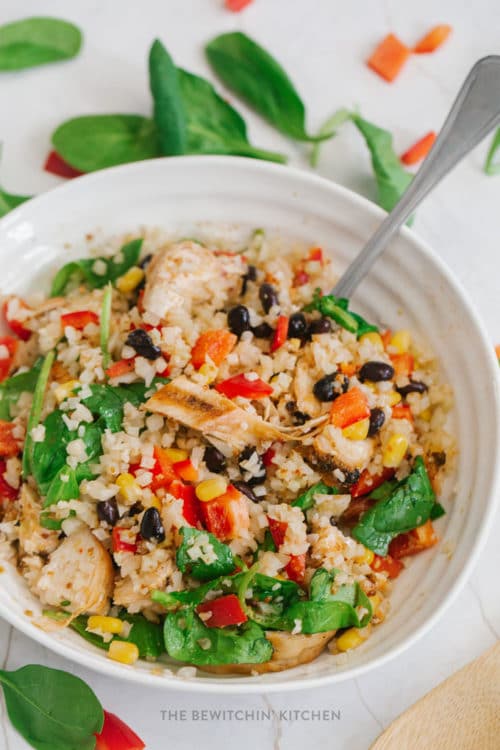 Calorie information: The nutritional information at the bottom of the recipe card is for the recipe if using 1/8th of the recipe for the mustard bbq sauce and a 5oz chicken breast.
If following Ultimate Portion Fix (which follows 21 Day Fix, 80 Day Obsession, LIIFT4, etc): 2 green, 1 red, 1 yellow
Honey Dijon BBQ Chicken Bowls
Easy to throw together grilled chicken bowls, made with cauliflower rice, bell peppers, black beans, and corn, topped with a sweet and zesty dijon bbq sauce. Delicious and super high in protein.
Servings 1 person
Calories 1174kcal
Ingredients
BBQ Chicken Bowls
1 5 oz chicken breast grilled, sliced
1 cup riced cauliflower cooked (mine was steamed in the microwave)
1/2 red pepper diced
1/2 cup baby spinach
1/4 cup black beans if using canned drain and rinse.
1/4 cup corn if using canned drain and rinse.
1 tsp Flavor God Fiesta Sweet and Tangy Seasoning optional
2 tbsps honey dijon bbq sauce see below
Instructions
For the honey dijon BBQ Sauce (make this first)
Add all of the ingredients into a saucepan and bring to a simmer over medium heat.

Turn down the heat and whisk until it reduces by almost half. This should take about 20 minutes. Whisk every 3-5 minutes.

Store in a glass mason jar in the fridge. Keeps for 2-3 weeks.
BBQ Chicken Bowls
This is so easy. Simply arrange all of the ingredients into a bowl and top with 2 tbsps of the bbq sauce.Enjoy.
Notes
If following Ultimate Portion Fix (which follows 21 Day Fix, 80 Day Obsession, LIIFT4, etc): 2 green, 1 red, 1 yellow.
Double, triple, quadruple the recipe to feed 2, 3, or 4 people. I highly recommend 4xing it and portioning it out for easy week day lunches.
Nutrition
Serving: 1bowl | Calories: 1174kcal | Carbohydrates: 197g | Protein: 70g | Fat: 17g | Saturated Fat: 2g | Polyunsaturated Fat: 4g | Monounsaturated Fat: 8g | Trans Fat: 1g | Cholesterol: 145mg | Sodium: 5928mg | Potassium: 2643mg | Fiber: 19g | Sugar: 153g | Vitamin A: 3645IU | Vitamin C: 172mg | Calcium: 291mg | Iron: 10mg
Follow On Pinterest
Follow @bewitchinkitchen On Pinterest for more delicious recipes!