Super Lean Chili Recipe from Feel Like a Fitness Model Cookbook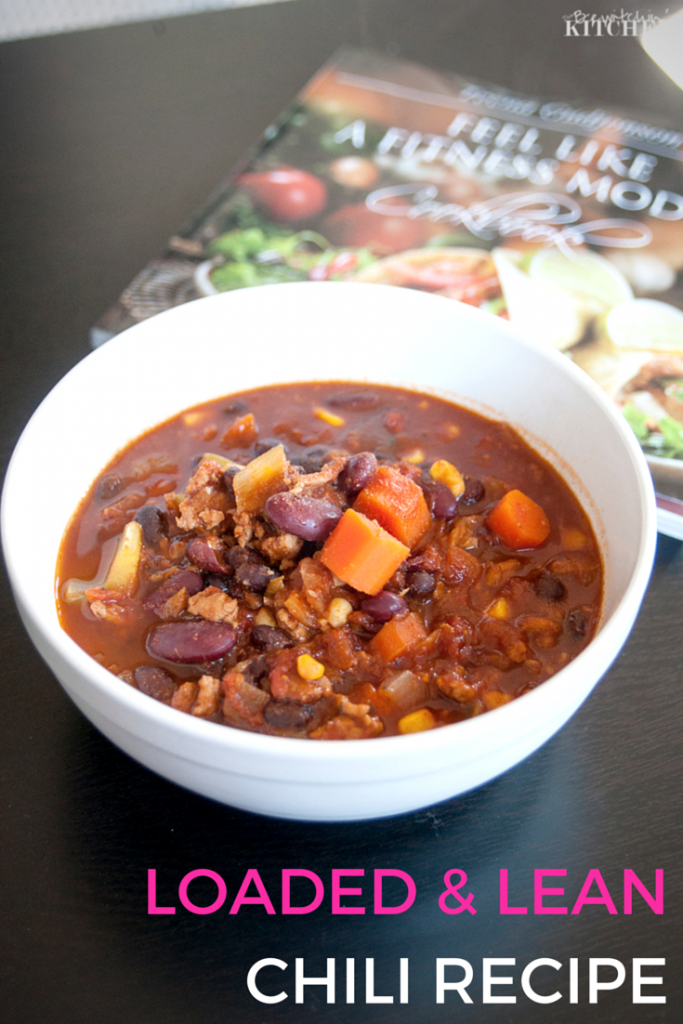 I have a new health and fitness must have for all of you, it's a cookbook. The cookbook is titled Feel Like a Fitness Model written by Teena Gudjonson and it has some of the best recipes I have ever tried, like this Super Lean Chili recipe.
Feel Like a Fitness Model Cookbook:
It's not often you see a book or cookbook review on The Bewitchin' Kitchen, as much as I love cookbooks those reviews are not typically something I like to do. When Teena from Teena's Fitness contacted me, I was hesitant in promoting her cookbook but after speaking with her and finding out what she was all about – I knew it was a match made in heaven.
It's so refreshing to find someone who has the same beliefs I have. I felt that Teena and I instantly connected on our phone chat and I couldn't wait to dive in, try out her recipes and spread the love with you. Teena is so refreshing, she believes in balance, not obsessing over everything that goes in her mouth and, living her life to the fullest potential.
Teena Gudjonson wears many hats. She's a dietary technologist, personal trainer, fitness model and competitor, writer and a devoted mother and wife. She has appeared in Oxygen Magazine twice, written articles for UMM's online magazine site and has now written her own cookbook and guide sharing her knowledge on health and fitness and lots of incredible recipes.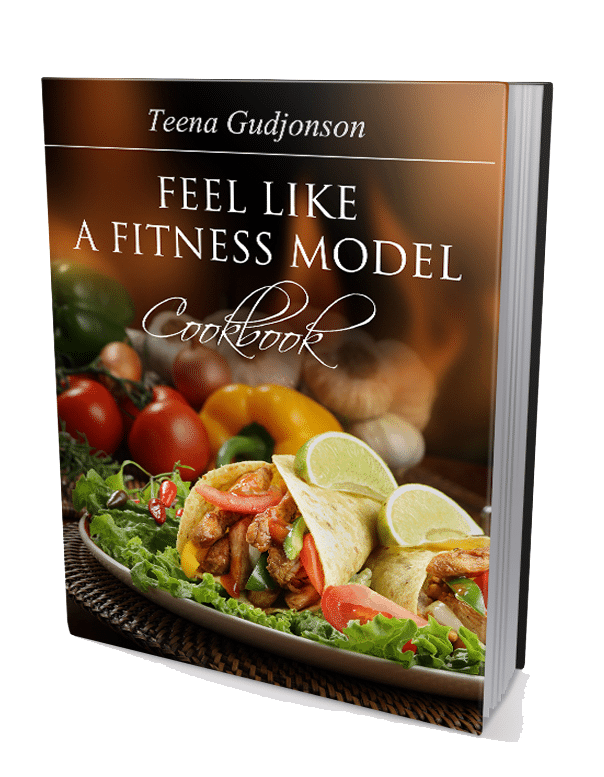 In her cookbook, Feel Like a Fitness Model, Teena shares her life philosophies, tips to increasing your metabolism and fat burning process, how to get lean without counting calories, nutritional tips (fueling for exercise and a wealth of knowledge on good fats and carbs), and lots of tasty and healthy recipes.
There is truly a recipe for everyone with every taste.
In Feel Like a Fitness Model you'll find recipes for:
Breakfasts & Snacks recipes: Protein Energy Bars, Protein Packed Bowls, Healthy French Toast & more.
Lunches & Dinner recipes: Buffalo Chicken Strips & Avocado Coleslaw, Thai Chicken Salad with Peanut Dressing, Wasabi Maple Salmon & many more delicious options.
Smoothie recipes: Banana Nut, Coconut Cream Pie, and Pumpkin Pie are a few of the desserts without the guilt.
Tasty Treats: Pumpkin Ginger Cookies, Protein, Carrot & Flax Muffins, Peanut Butter Balls are some of the healthy desserts you'll have access to.
I have tried a few recipes from Feel Like a Fitness Model now and I love them all. Last night I made the Peppered Steak and Rice Plate, I made lots hoping for lunch leftovers – there were no leftovers.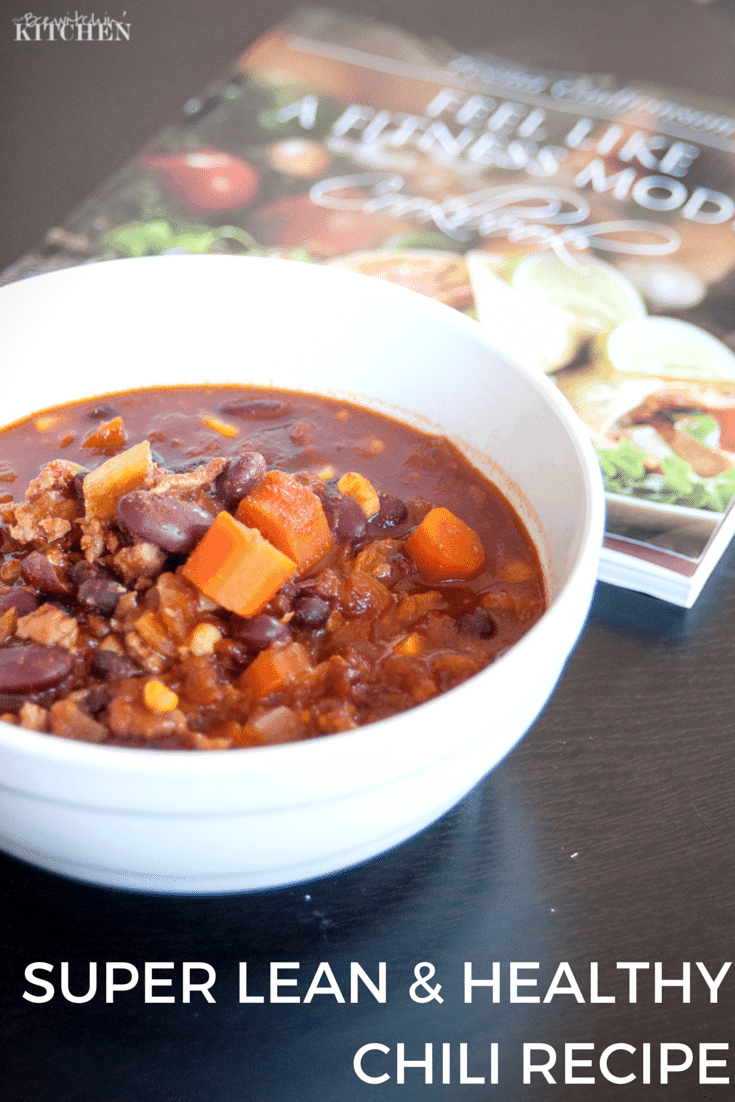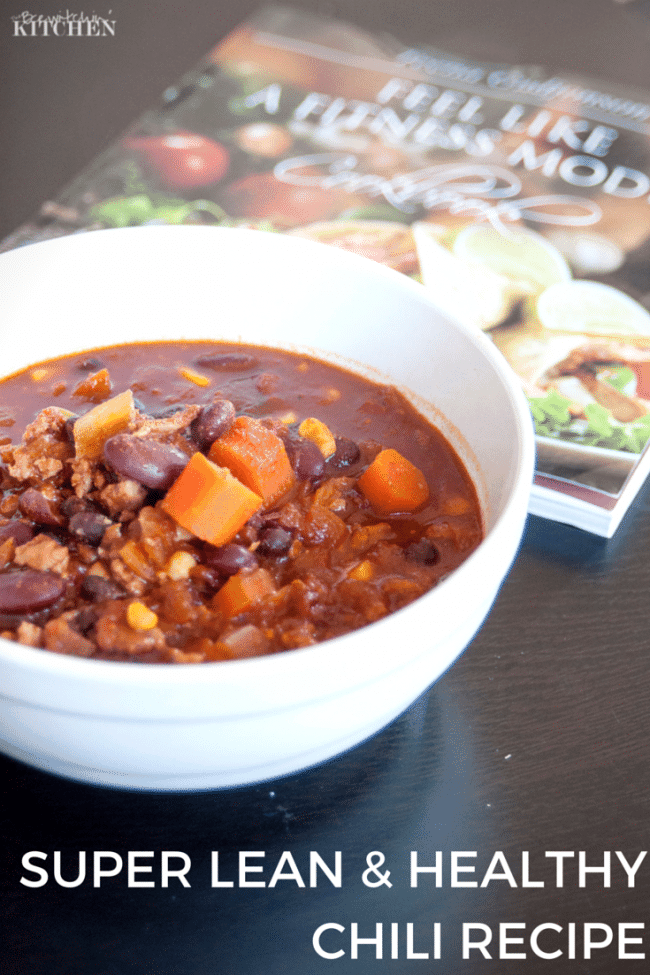 Super Lean Chili recipe:
My whole family loves chili. I have tried many recipes over the past years and Teena's Lean Chili recipe blows them all out of the water. The best part is that it's loaded with vegetables, and they're all hidden (the picky eaters won't even realize how much nutrients they're actually getting).
This Lean Chili recipe is the perfect blend of spicy and sweet. I have never baked with Fancy Molasses let alone cook with it, but I'm hooked. Cooking with molasses adds micro-nutrients (vitamins and minerals) and a few antioxidants whereas cooking with white sugar does not.
Super Lean Chili Recipe
Super Lean Chili Recipe
Super Lean Chili recipe from Teena's cookbook Feel Like a Fitness Model. This recipe is loaded with vegetables and tastes great. The best chili recipe I have tried.
Servings 8
Calories 215kcal
Ingredients
1 tbsp olive oil
1 lb ground chicken or turkey
1 cup zucchini diced
1 cup onions diced
1 cup carrots diced
1 cup celery diced
2 cups shredded cabbage I used pre-packaged coleslaw veggies
2 garlic cloves minced
1 14oz can diced tomatoes
1 6oz can tomato paste
1 14oz can white kidney beans drained and rinsed
1 14oz can red kidney beans drained and rinsed
1 14oz can black beans drained and rinsed
2 cups vegetable juice V8
1/2 cup fancy molasses
1 cup frozen corn
Chili powder cumin, salt, pepper, cayenne to taste.
Instructions
Heat 1 tbsp of olive oil in a large pot and add your ground chicken or turkey. Scramble fry over medium heat until cooked.

Add all of the diced and chopped veggies and saute with the meat until all the vegetables are tender (5-7 minutes).

Now you'll add the diced tomatoes (with the juice), the small can of tomato paste and stir.

Add the beans, vegetable juice, molasses, corn and seasonings bring to a low boil.

Simmer covered for 45 minutes over low heat. Taste and adjust seasonings as desired.

Remove cover and simmer for another 15 minutes.
Nutrition
Serving: 1g | Calories: 215kcal | Carbohydrates: 28g | Protein: 12g | Fat: 6g | Saturated Fat: 1g | Cholesterol: 48mg | Sodium: 175mg | Potassium: 965mg | Fiber: 2g | Sugar: 20g | Vitamin A: 3275IU | Vitamin C: 31.6mg | Calcium: 82mg | Iron: 2mg
Follow On Pinterest
Follow @bewitchinkitchen On Pinterest for more delicious recipes!
I love how Teena says that healthy doesn't have to be boring and dull. Every recipe is full of flavor and they're filling.
I urge you all to pick up or order a copy.
For more information on Teena Gudjonson and Feel Like a Fitness Model Cookbook please visit TeenasFitness.com. Don't forget to Like Feel Like a Fitness Model Cookbook and Guide on Facebook for updates and more information as well.
You can pick up the Feel Like a Fitness Model Cookbook online at Indigo or TeenasFitness.com and it's also available through your local bookstore, Save-On-Foods, Newsgroup and participating retailers.

I was provided with a copy of Feel Like a Fitness Model Cookbook and compensated for my time. Like always, I only post about products that I love and use myself. All opinions are my own.