Thai Chicken Pizza
Thai Chicken Pizza is ready in just 30 minutes and tastes better than anything from a box. Start with a layer of peanut sauce over a homemade crust, then pile on the toppings! Shredded chicken, mozzarella, matchstick carrots, and strips of bell pepper — plus fresh cilantro as it comes out of the oven — create a unique combination of flavors and textures in this Thai pizza recipe.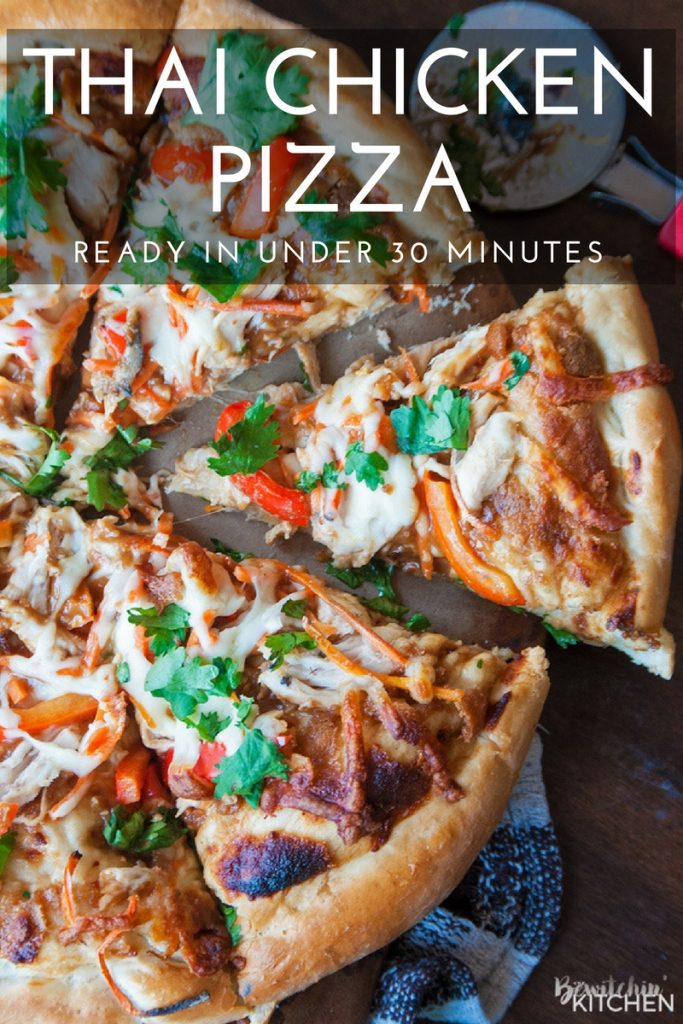 Easy Homemade Thai Chicken Pizza Recipe
This post contains affiliate links.
You guys, this Thai Chicken Pizza is THE BEST pizza I have ever made. Not only does it look incredible, but it tastes even better.
Each bite gives you a little bit of every flavor profile — salty, sweet, bitter, sour, and umami — that will leave you wanting seconds (or thirds!). The best part? It's ready in as little as 30 minutes and still made entirely from scratch.
I've included a homemade pizza dough recipe below, but this one is a real winner too (hint: it's the dried herbs). You can even use a cauliflower crust for this Thai pizza recipe as a gluten free or low carb alternative.
How To Make Thai Chicken Pizza (video)
I made a video to show how you can make this Thai chicken pizza recipe in under 30 minutes — I hope it helps!
Why You Will Love This Thai Pizza Recipe
Simply delicious – tastes better than takeout or frozen
Ready in 30 minutes – add a little extra time if making the dough fresh
Light, yet filling – enough for a meal without needing to unbutton your pants
Something different – it's nice to take a break from the same ol' pizza toppings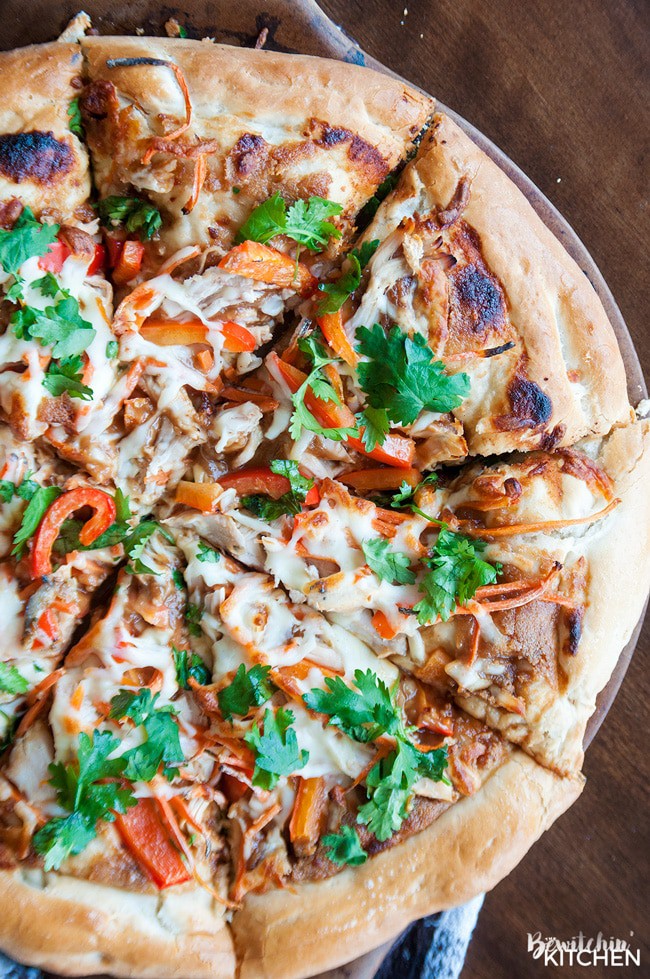 How To Make Homemade Thai Pizza
It doesn't get much simpler than this Thai chicken pizza recipe! While your homemade dough is rising, whisk up the peanut sauce and prep your toppings. Put it all together, toss it in the oven, then slice it up and dig right in!
Start With Your Favorite Dough
I'm partial to my own recipes, but any will do just fine. Because these aren't your typical pizza toppings, I'd steer clear of any dough that is heavily seasoned or spiced.
And if you'd rather grab a ready-made option from the store? I won't judge. Sometimes weeknights are just too busy to make everything from scratch. On that note…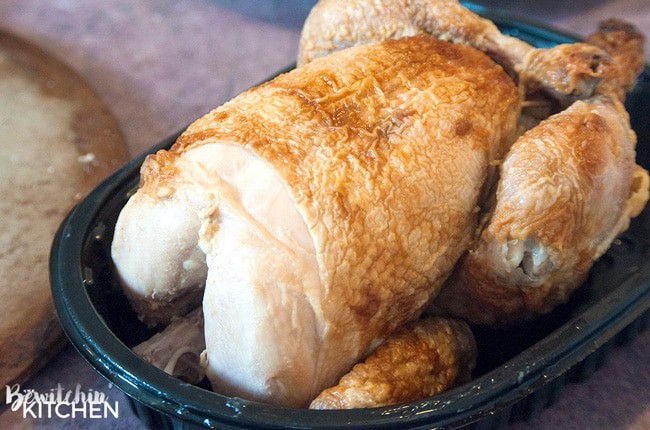 Save Some Time and Effort
No matter the meal, there's always one standout ingredient that saves you time and effort: rotisserie chicken!
Another option is to pre-cook a bunch of chicken breasts and use those instead — you can even shred them in advance too! Either way, pre-cooked chicken saves a lot of time so you can simply put your toppings on and chuck the Thai pizza in the oven. Can you say easy weeknight meal?
Need your Thai peanut pizza on the table in under 30 minutes? Make your dough ahead of time. Instead of letting it rise at room temperature, wrap it in saran wrap and toss it in the fridge. It will double in size overnight and be ready to go for dinner time!
Use Fresh Ingredients
If you're going to cut corners, do so with the veggies. You can purchase bags of matchstick carrots and sliced bell peppers from the store, saving you some extra prep.
However, I highly recommend shredding your own cheese. I know, I know — bagged shreds are easier. But they also contain anti-caking ingredients to prevent clumping, and that's never what you want on your pizza. Why? The shreds will be a bit waxy and won't melt down the way they should. Spend a few extra minutes with your cheese grater. You'll thank me later!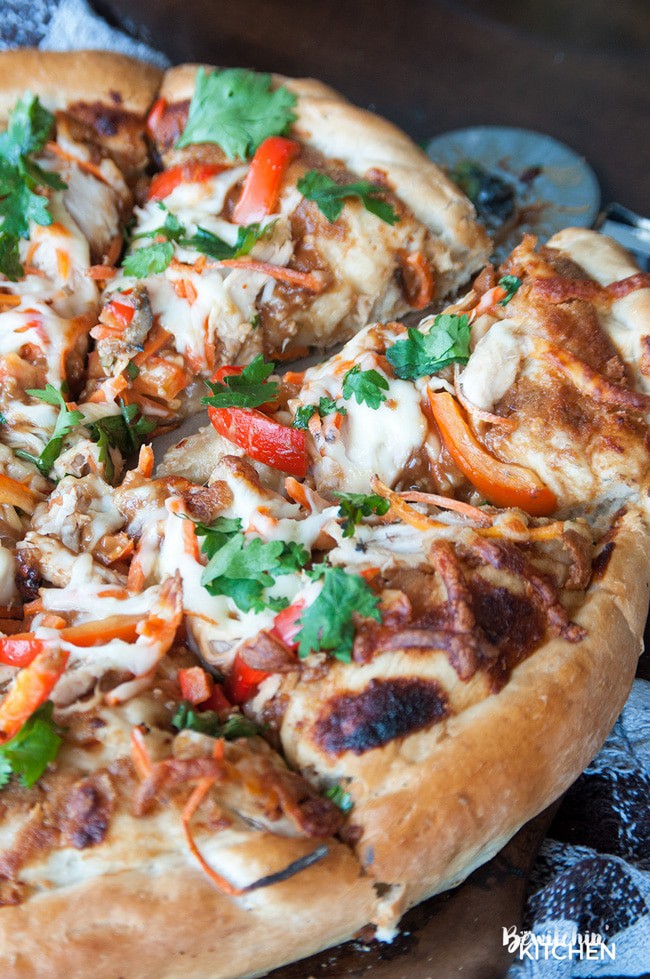 Frequently Asked Questions about Thai Chicken Pizza
What else goes on Thai chicken pizza?
Extra topping options are a bit limited if you still want those classic flavors, but here are a few ideas:
Red Onion – A great way to add extra crunch and a little more bite. A little goes a long way, so slice these thinly and add a handful at most.
Bean Sprouts – These are a common ingredient in Pad Thai, so why not toss them on your pizza too?
Chopped Peanuts – Enhance the salty nuttiness of your Thai peanut pizza with a sprinkle of roughly chopped dry roasted peanuts. Stick with unsalted if you can, or they will overwhelm the other flavors.
You could also swap the mozzarella cheese for Pepper Jack if you'd like! It melts down just as smoothly and adds some extra heat.
Can you freeze homemade pizza dough?
You bet! Be sure to let it rise first, then coat in oil and place in a freezer-safe storage bag. If you make a larger batch, you can also wrap individual portions in plastic wrap and store them in the same bag. Squeeze out all of the air and freeze for up to 3 months!
It's especially helpful when you want to make this Thai chicken pizza recipe at the last minute. Simply let the dough thaw on the counter, then roll it out and get cooking.
What is in Thai peanut pizza sauce?
Make your own peanut sauce with peanut butter (smooth, not chunky), soy sauce, red wine vinegar, toasted sesame oil, brown sugar, and garlic. Thai chili sauce and red pepper flakes add a little bit of heat, but you can leave these out if you're sensitive to spice.
It's a tantalizing combination of savory, salty, and sweet, making it the perfect base for our Thai pizza toppings!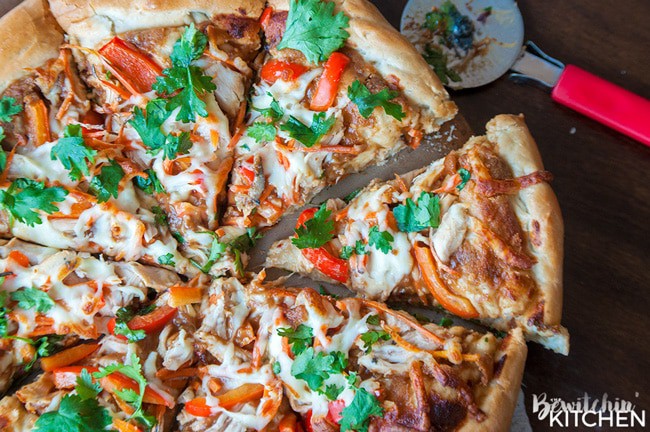 More Homemade Pizza Recipes:
Chicken Parmesan Pizza (Gluten Free)
Greek Pizza with Tzatziki Drizzle
BBQ Chicken Cauliflower Crust Pizza
Thai Chicken Pizza
Homemade Thai chicken pizza is better than takeout and can still be on the table in under an hour!
Servings 8 slices
Calories 537kcal
Ingredients
1 crust pre-cooked for under 30 minutes or use the recipe below
3/4 – whole batch peanut sauce batch recipe below
1 cup shredded chicken cooked
1/3 cup matchstick carrots
1/2 red bell pepper juilenned
1 cup pizza mozzarella
1/2 cup cilantro leaves
For the crust:
2 1/2 cups all purpose flour
1 tbsp quick rise yeast
1 tbsp olive oil
1 cup warm water
1 tsp sugar
1 tsp salt
For the peanut sauce:
1/2 cup peanut butter
1/2 cup soy sauce
3 tbsps toasted sesame oil
3 tbsps red wine vinegar
1 tbsps brown sugar
1 tbsp Thai chili sauce
2 tsps mined garlic
1 tsp red pepper flakes
Instructions
Pre heat the oven to 450F.

For the crust:

simply add all the ingredients, and let rise for 20 minutes. If you're making this in under 30 minutes than use a store bought crust or make this recipe ahead of time.

For the sauce: whisk it all together.

Assemble the pizza:

Spoon 3/4 of the batch (or the whole thing if you like it saucy) of peanut sauce and spread over the dough. Add the chicken, bell peppers, carrots and top with cheese.

Bake for 15-20 minutes and top with fresh cilantro.
Nutrition
Serving: 1g | Calories: 537kcal | Carbohydrates: 64g | Protein: 22g | Fat: 22g | Saturated Fat: 6g | Polyunsaturated Fat: 5g | Monounsaturated Fat: 9g | Cholesterol: 22mg | Sodium: 1578mg | Potassium: 279mg | Fiber: 3g | Sugar: 7g | Vitamin A: 1417IU | Vitamin C: 13mg | Calcium: 170mg | Iron: 4mg
Follow On Pinterest
Follow @bewitchinkitchen On Pinterest for more delicious recipes!
If you like this recipe, then please share it with your friends.