Santa Fe Chicken Salad
One of my favorite restaurants is Earl's, we eat there whenever we have a chance. It seems as though whenever I fall in love with one of their dishes, it gets taken off the local menu: roasted chicken, pad thai, bibimbap. Lately, I have been ordering the Santa Fe Chicken Salad so I wanted to recreate it, the best I could, just in case.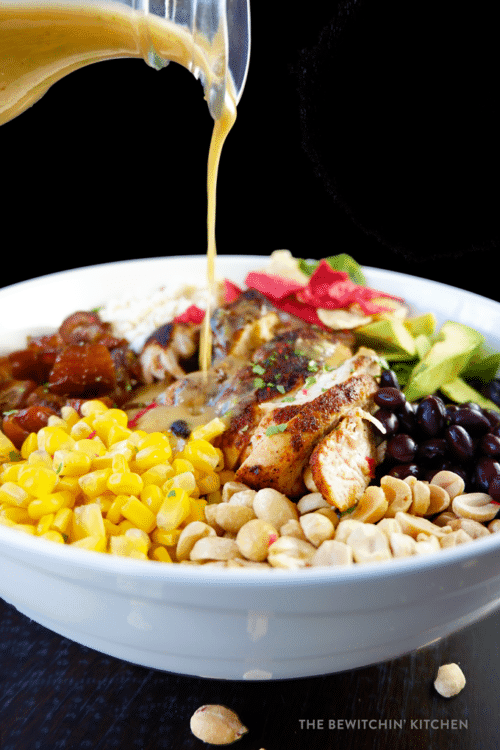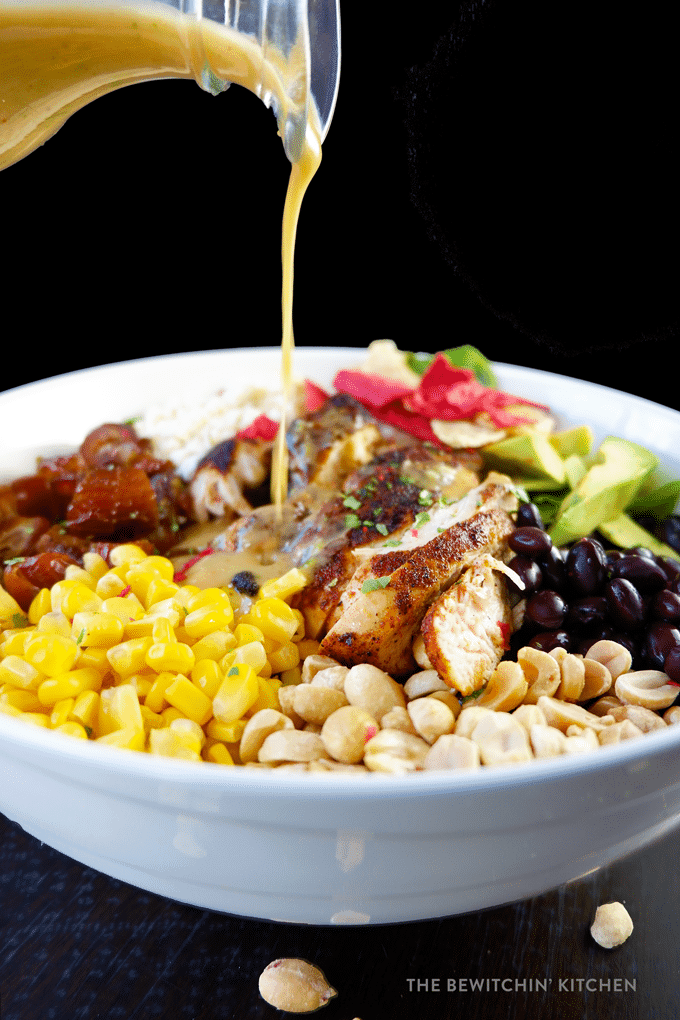 Santa Fe Chicken Salad
I'm trying to eat more salads. Why? Because I've been lacking in the vegetable department. I find salads are a delicious way to combine vegetables, protein, and healthy fats all into one quick (ande delicious) meal.

OUR LATEST VIDEOS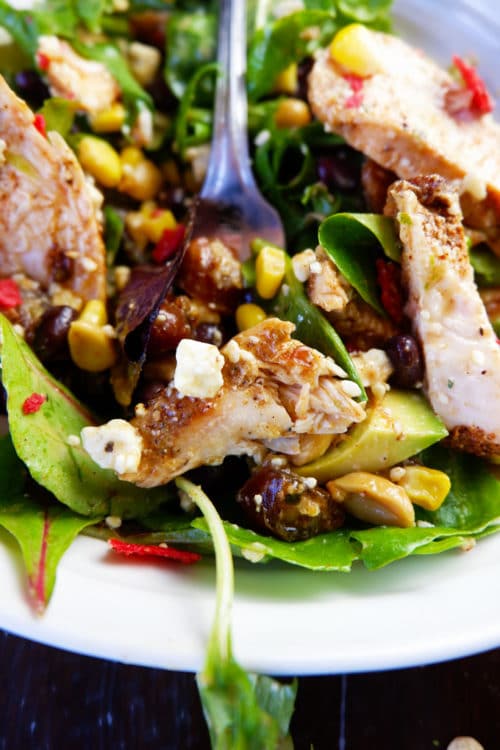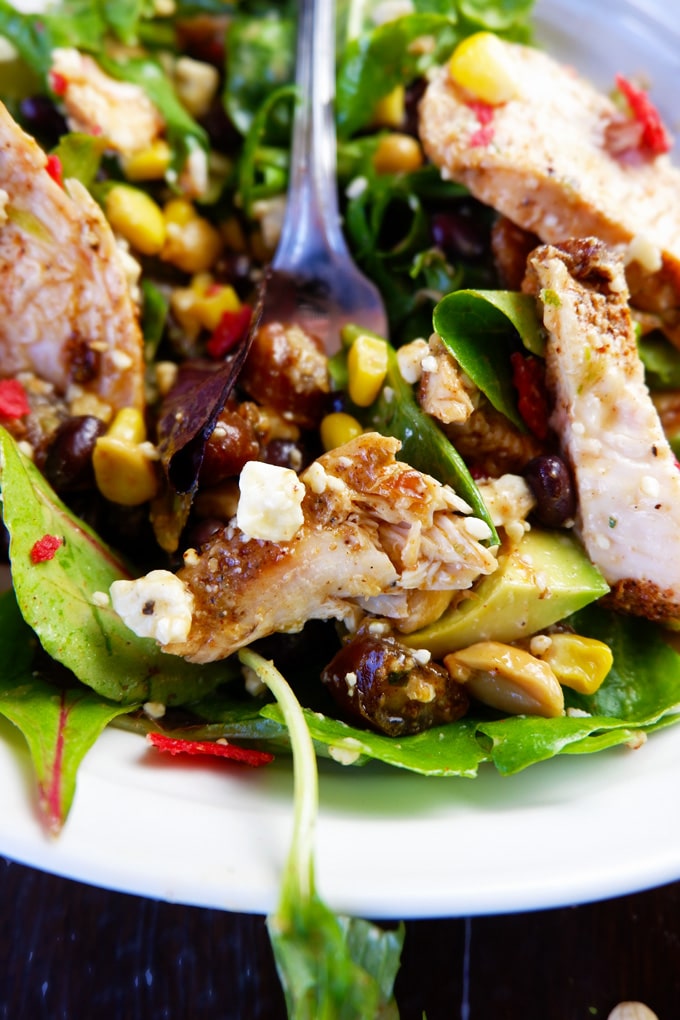 Usually, I grab bagged lettuce, toss some precooked chicken on it and call it a day but that gets old fast. So I'm really excited to share this winning recipe for Santa Fe Chicken Salad.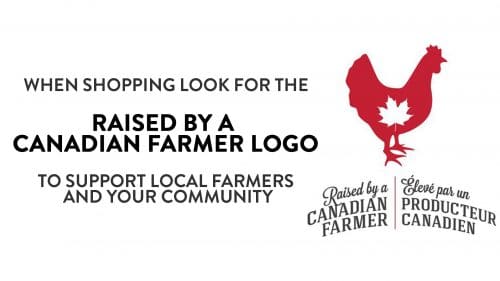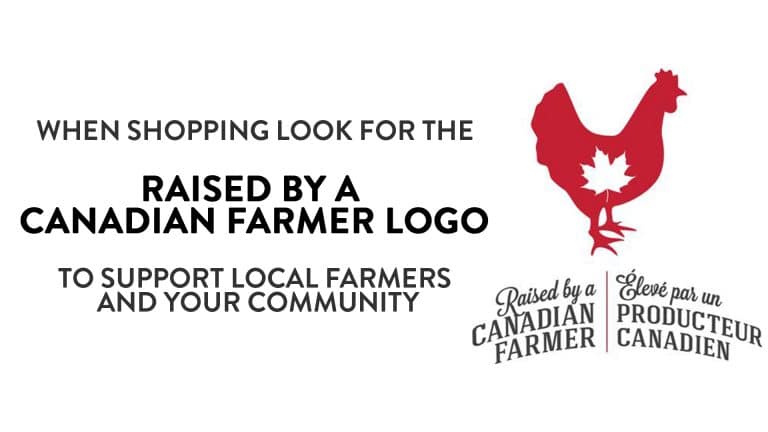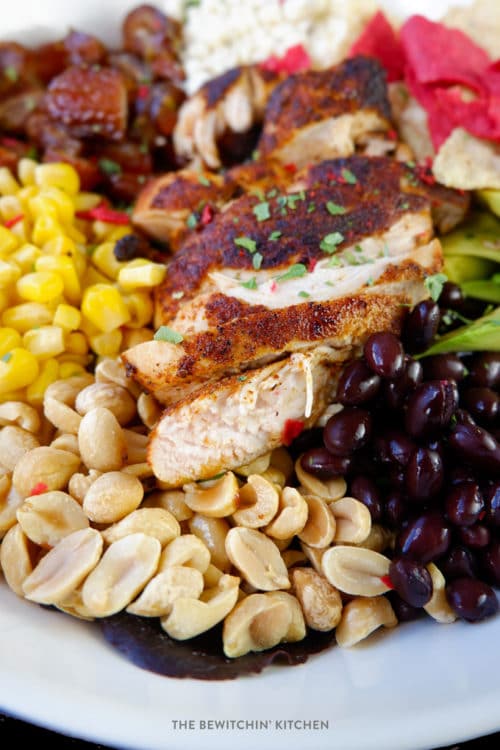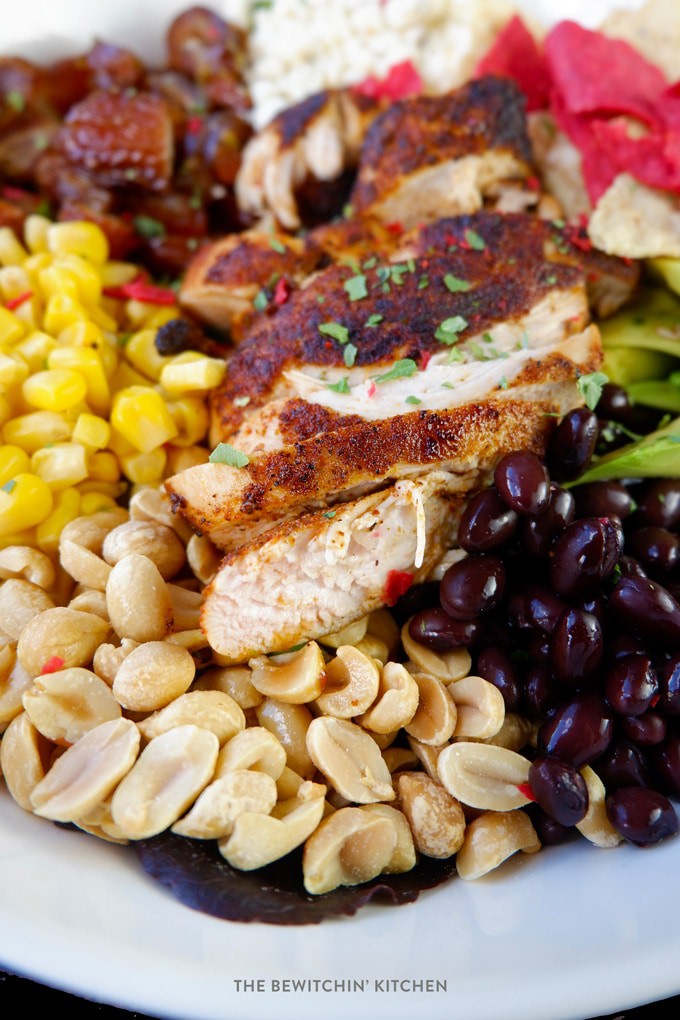 It's not often I have a salad with chicken, it's my go-to protein source for lunch, dinner, and I even eat chicken for breakfast. Being that I live in Canada, when I shop for my chicken I look for the Raised by a Canadian Farmer logo (see above). Why? Simple. This logo means that the chicken I serve my family is raised by a registered Canadian chicken farmer, who is subject to mandatory and auditable programming for things like food safety and animal care.
Randa's tip: If your store doesn't use the "Raised by a Canadian Farmer" brand, you can ask them to – let your store know that you want chicken raised by Canadian farmers who are held to the highest standards.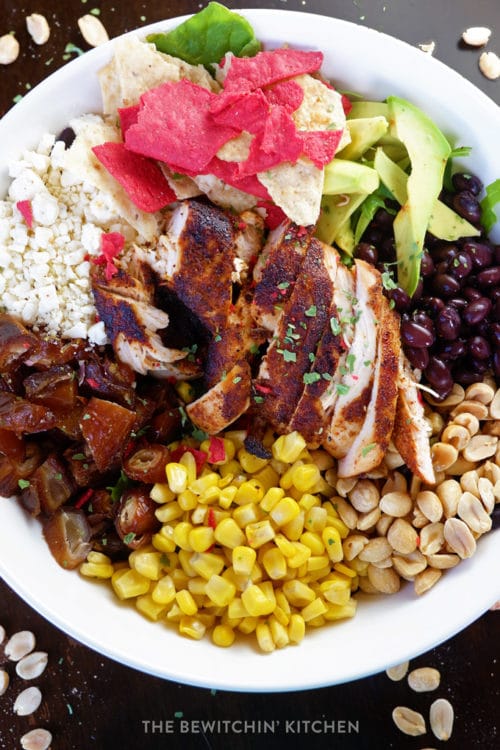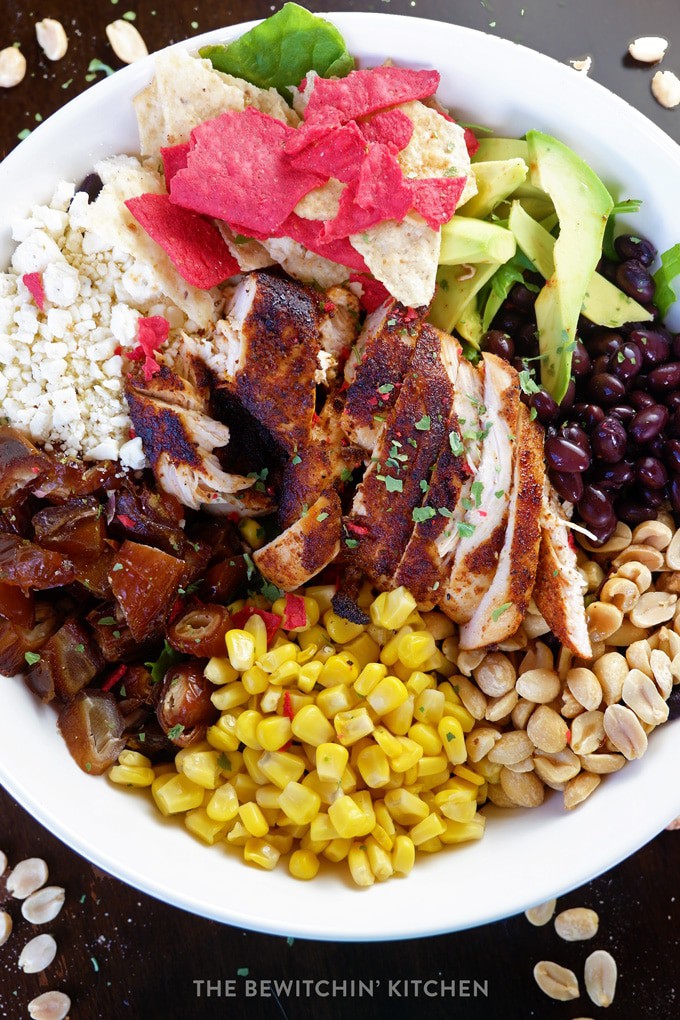 Santa Fe Chicken Salad Recipe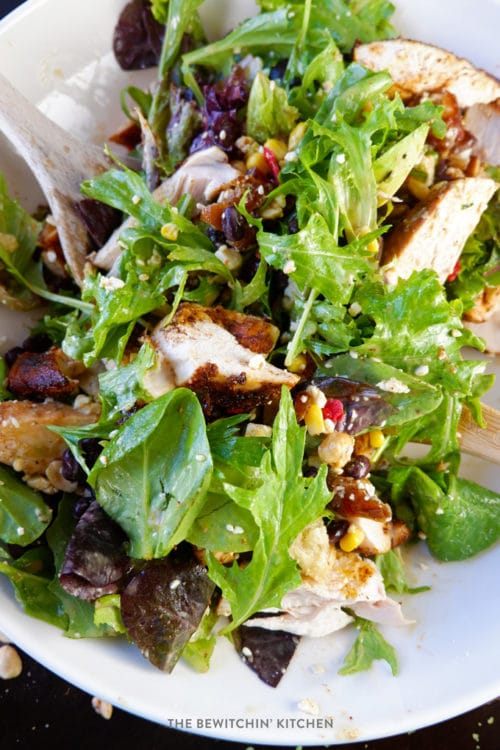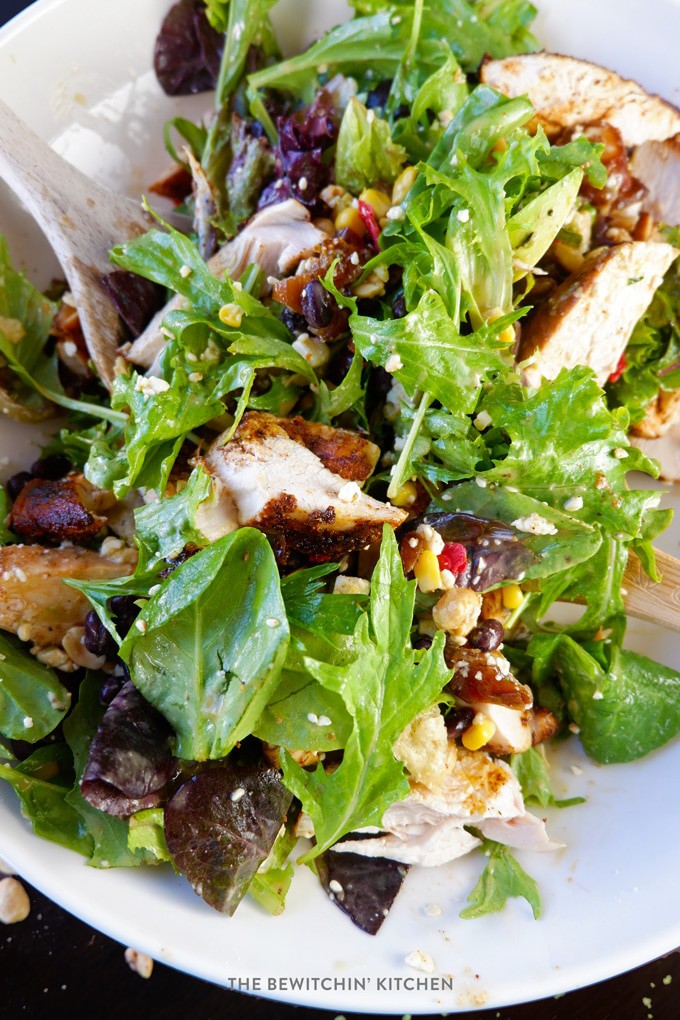 This recipe was inspired by one of my favorite dishes at Earl's. I wouldn't say it's a copycat, as there is a difference but this is a delicious alternative for one of my go to restaurant lunches.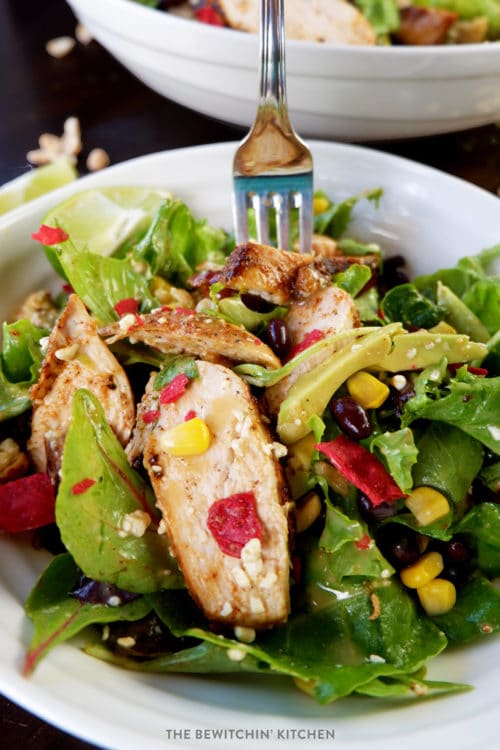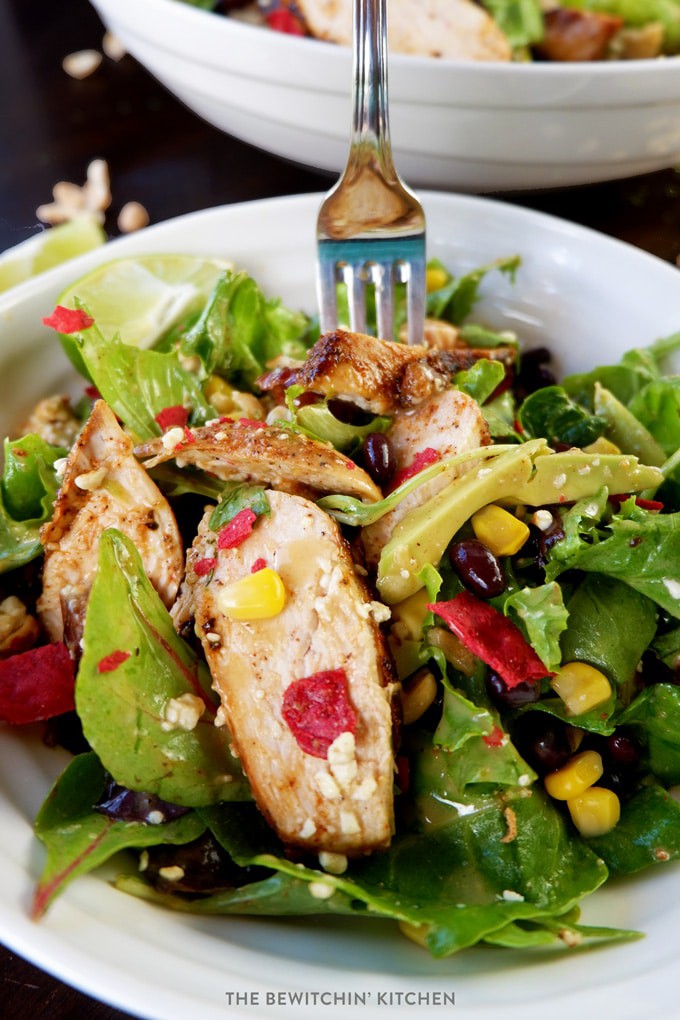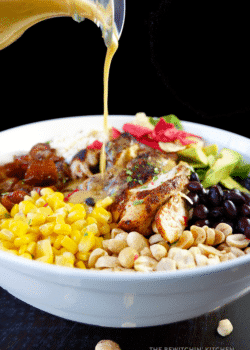 Santa Fe Chicken Salad
Inspired by the Earl's menu, this healthy salad recipe grilled blackened chicken, feta, peanuts, dates, tortilla strips, avocado, and topped with a peanut lime vinaigrette.
Ingredients:
Santa Fe Chicken Salad
4 cups mixed greens
2 blackened chicken breasts, sliced
1 avocado
1/2 cup feta cheese
1/2 cup dates
1/2 cup black beans
1/2 cup corn
1/4 cup tortilla strips
1/4 cup peanuts
Blackened Chicken
2 chicken breasts
1 tbsp olive oil
1 tsp chili powder
1/2 tsp paprika
1/2 tsp cumin
1/2 tsp onion powder
1/4 tsp garlic powder
1/4 tsp salt
1/4 tsp pepper
Peanut Lime Vinaigrette
1/4 cup olive oil + 1 1/2 tbsp
1/4 cup fresh lime juice
1 1/2 tbsps peanut butter
1 tbsp soy sauce
1 tsp dried cilantro
2 garlic cloves
Zest of 1 lime
1 tsp honey
Directions:
Santa Fe Chicken Salad
Combine all the ingredients in a large bowl, toss with the peanut lime vinaigrette.
Recipes for chicken and vinaigrette below:
Blackened Chicken
In a medium bowl combine the spices.
Flatten chicken in a Ziploc bag with a mallet (or a frying pan), dredge in the spices and add to a hot skillet with olive oil.
Fry for 2 minutes on each side and then bake for 15 minutes.
Peanut Lime Vinaigrette
Add ingredients to a blender and blend until emulsified.
Nutrition Information
Yield: 4, Serving Size: 1
Amount Per Serving:
Calories: 662 Calories
Total Fat: 49.2g
Saturated Fat: 11g
Cholesterol: 75.6mg
Sodium: 700mg
Carbohydrates: 31.8g
Fiber: 9.8g
Sugar: 8.7g
Protein: 29.1g
All images and text ©
.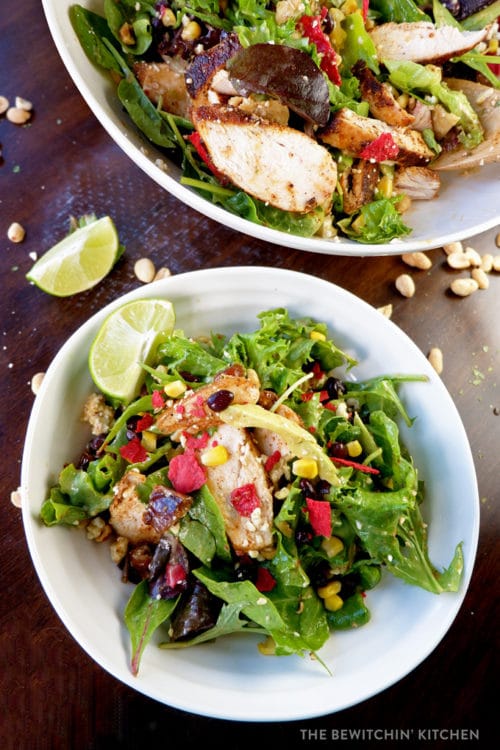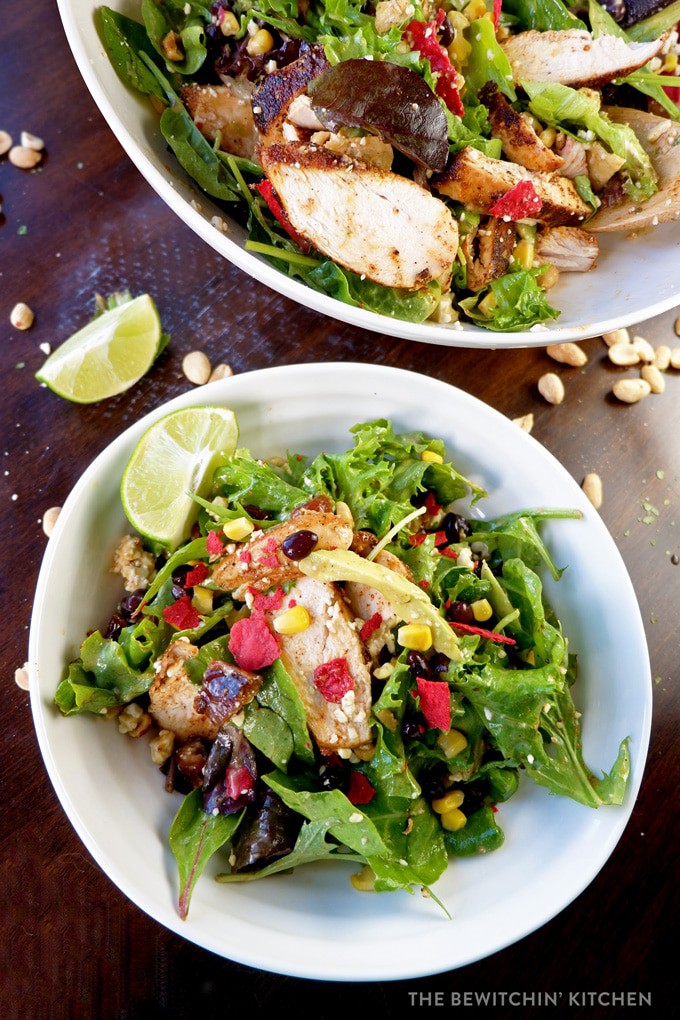 Disclosure: I am participating in the Chicken Farmers of Canada campaign managed by SJ Consulting. I received compensation in exchange for my participation in this campaign. The opinions on this blog are my own.
FREE Recipe Binder
Are you constantly wondering what's for dinner?
When I don't meal plan I feel behind, and we usually end up ordering take out. This recipe binder will keep you organized and make life a little bit easier.