Cherry Oat Breakfast Cake
I am a baker, so it comes as no surprise that I'm an advocate for breakfast cake. I'm not talking the overly sweet, full of icing kind of cake. This Cherry Oat Breakfast Cake is a super moist cake, made with oats and buttermilk and flavoured with whatever fresh or frozen fruit you might have on hand. If I haven't convinced you yet, I'll tell you that it requires no mixer, no creaming, and only 2 bowls. It's also finished with just a simple glaze and tastes even better the next day.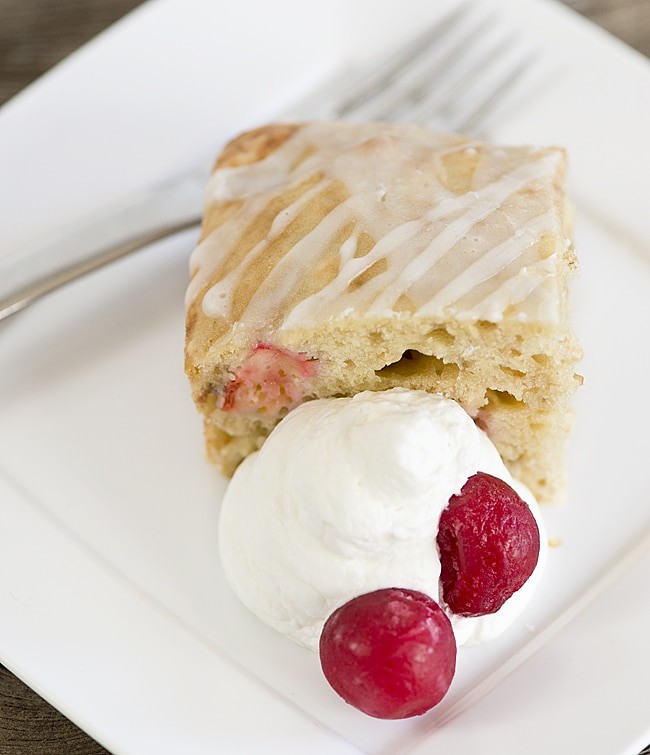 I've been making breakfast cakes for quite a while. I like that I can quickly mix up this fairly wholesome cake on a Sunday morning and maybe even sneak back into bed to read a few more pages while the oven does the rest. I always have some fresh or frozen fruit to throw in and recently, was just thrilled to find a bag of sour cherries that I tucked away in the freezer this summer. The kids were equally as happy when I wrapped a few squares for lunches for the week.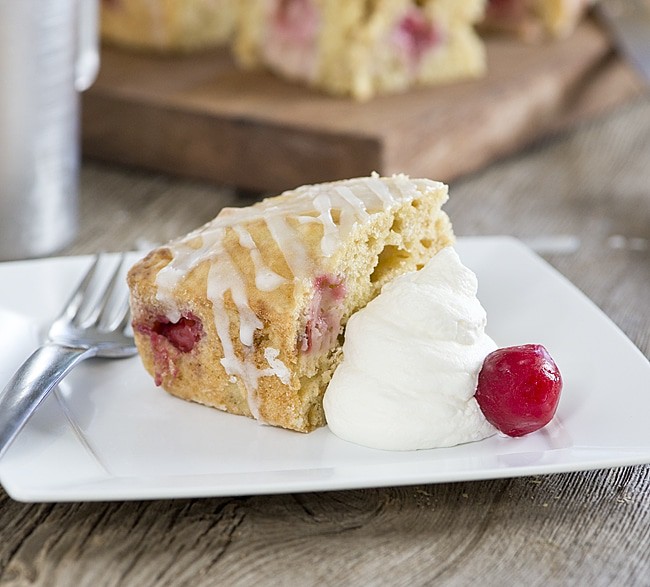 I love that this cake is literally no fuss. You could opt for a buttery sweet crumble on top, but I think the simple glaze suits it very well. And the simplicity is really what makes this breakfast or brunch cake so great. Having said that, I recently took this to a family brunch and decided to leave a jar of whipped fresh cream beside it for those who may be interested. The addition of the whipped cream along with the cherry dotted cake and some fresh hot coffee was perfect. This breakfast cake just flew off the table!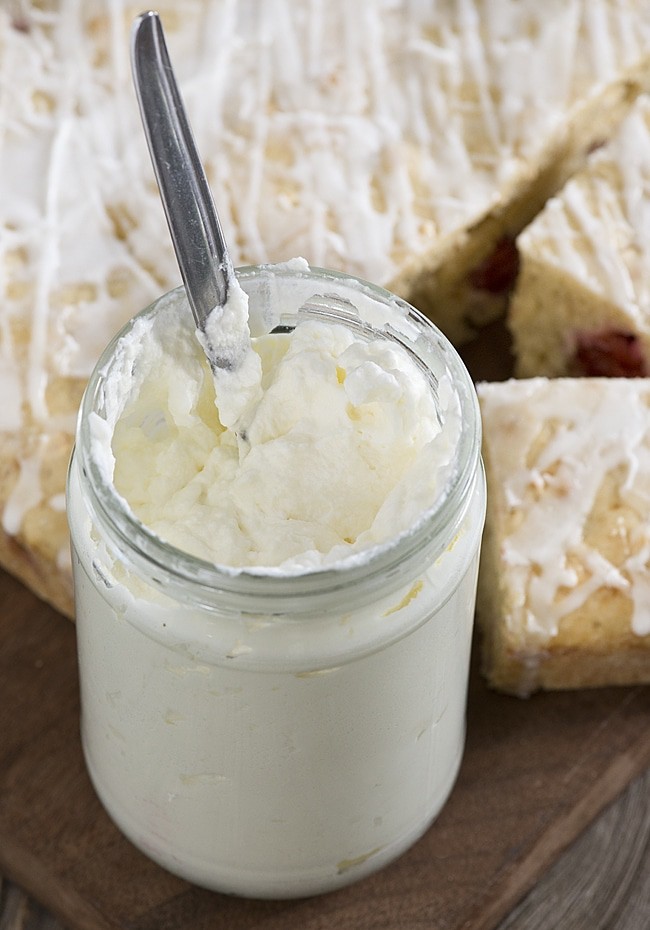 I've recently started substituting ingredients in baked goods more and more with oats and oat flour. By adding in some wholesome oats, I'm also adding in some texture, fiber and many other health benefits. I like the chewy crumb that it adds to cakes and quick breads too. And buttermilk is by far my favourite ingredient to add to cakes. It makes the cake so moist and adds just a slight tang to the flavor. You can use any frozen fruit here too and add spices or extracts to compliment your addition. Peaches and almonds are another family favourite as well as blueberries and cardamom. The options are endless!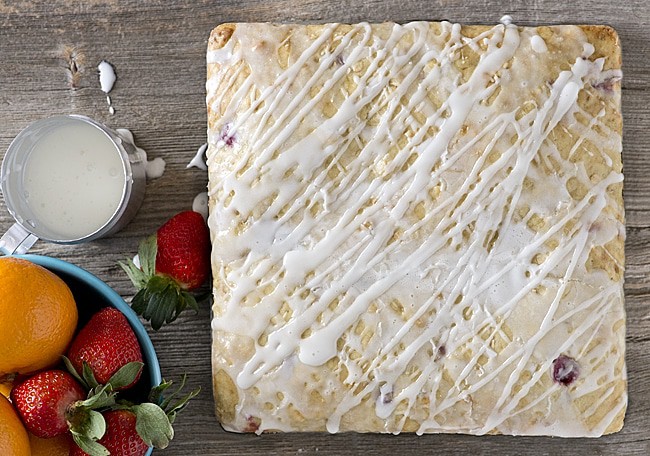 Cherry Oat Breakfast Cake
Cherry Oat Breakfast Cake
Cake for breakfast? Yes! This is an easy recipe for a slightly sweet breakfast cake full of wholesome oats, fresh or frozen fruit and finished with a simple glaze.
Servings 16 2" pieces or 12 3" pieces
Calories 248kcal
Ingredients
For the cake:
2 cups flour
1/2 cup oats
1/2 tsp baking soda
1/2 tsp baking powder
1/2 tsp salt
1/2 cup brown sugar
3 eggs
1 cup buttermilk
1/3 cup canola oil
1 tsp vanilla extract
1 tsp almond extract
2 cups frozen sour cherries
For the glaze:
2 cups powdered sugar
3 tbsp cream or milk
Instructions
Preheat oven to 350°
Spray an 8 x 8 pan lightly with non stick spray and line with parchment paper.

In a small bowl combine the flour, oats, baking powder, baking soda and salt; set aside.

In a large bowl whisk the brown sugar, eggs, buttermilk, oil and extracts until well combined.  Stir in the flour mixture just until incorporated and fold in the cherries.

Spoon the mixture into the prepared pan and bake for 35 minutes or until cake tester inserted comes out clean.

Let the cake cool in the pan for 10 minutes while you prepare the glaze.

In a small bowl, using a fork mix the powdered sugar and milk/cream until it reaches a smooth thick glaze.  Add more milk by the teaspoon if needed.

Remove the cake from the pan onto a cooling rack.  Drizzle the warm glaze all over the top.  Let the cake sit for at least 10 minutes to allow the glaze to set slightly.  Serve the cake warm or cool.  Store uneaten cake at room temperature in a cake dome, covered with saran or in an airtight container.
Nutrition
Serving: 1g | Calories: 248kcal | Carbohydrates: 42g | Protein: 3g | Fat: 7g | Saturated Fat: 1g | Cholesterol: 36mg | Sodium: 145mg | Potassium: 112mg | Sugar: 22g | Vitamin A: 340IU | Vitamin C: 0.7mg | Calcium: 43mg | Iron: 1.5mg
Follow On Pinterest
Follow @bewitchinkitchen On Pinterest for more delicious recipes!