Skillet Dill and Cheddar Buttermilk Scones
Over the last few years, I've really come to appreciate how much better food can be when it's enhanced with fresh herbs. They add so much flavor to dishes and when I have the option of using fresh I always take it. If it's not growing in my garden, it's definitely sitting somewhere in a pot in the kitchen. I've got assorted pots all over my open shelving with little herb plants in them. I just take a snip here and there as needed. We usually have an abundance of dill growing in our garden and this year is no exception. I use it all summer long for all sorts of things, jars upon jars of pickles included. I love putting fresh dill on salads and in dips and using it for sauces for fish. I especially love it in these cheesy Dill and Cheddar Buttermilk Scones.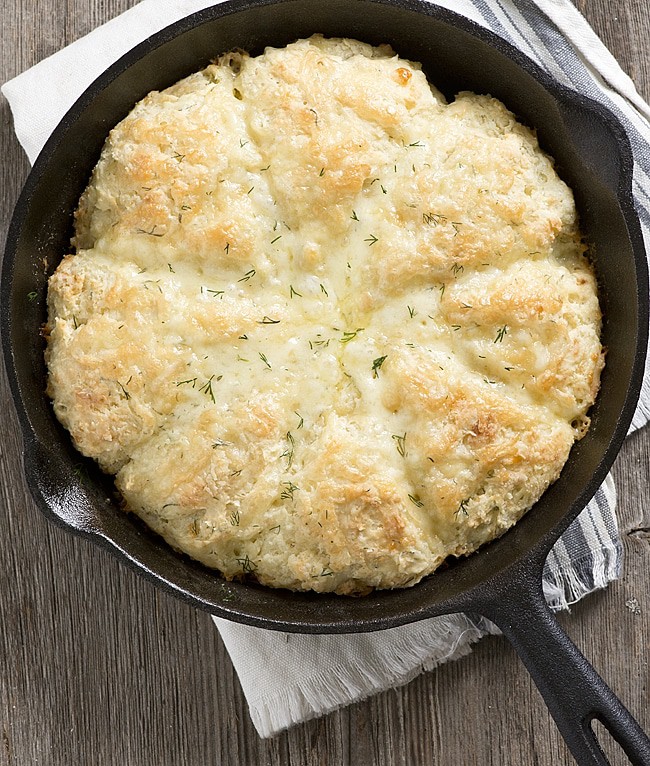 Buttermilk Scones
I've made about 400 million scone recipes in the last ten years (that's what it feels like). We sold them at the bake shop and brought them each week to 2 markets. People would sometimes be waiting in their cars for us to arrive and taking them off of our racks as we made deliveries. I'm not even kidding. They're that good. We filled them with all sorts of in-season fresh fruits and cheeses and of course fresh herbs. I think people have a tendency to believe that scones are really dry, but this recipe always yields a super flaky, rich and definitely moist treat. This flavor, with fresh dill and a good handful of extra old cheese, was always a hit, and still is in this house.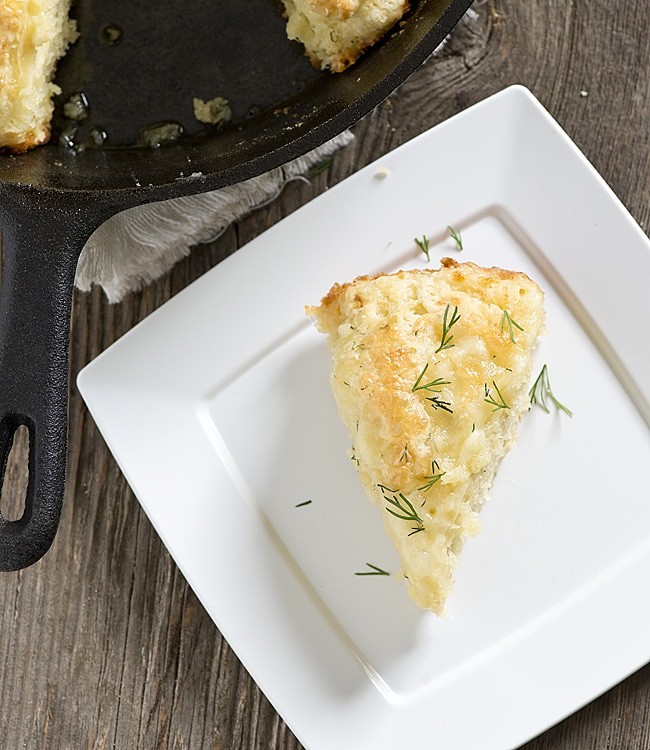 I'm kind of obsessed with my skillet as of late and often bake biscuits and breads in there (if it doesn't have our supper in it!). It's super easy to pat the dough into shape and then score the scones and throw them in the skillet for baking. Once baked, they pull apart so easily and are perfectly portioned. They take about 30 minutes from start to finish and in the warmer weather I'm quite happy with a scone and side salad for my lunch. I very often double the recipe and put half in the freezer unbaked. They freeze beautifully and go from freezer to oven in a snap. I freeze them on a baking tray and then keep them in freezer bags for easy storing. Don't be too upset if you don't have a skillet, these bake up just fine on a regular old sheet pan.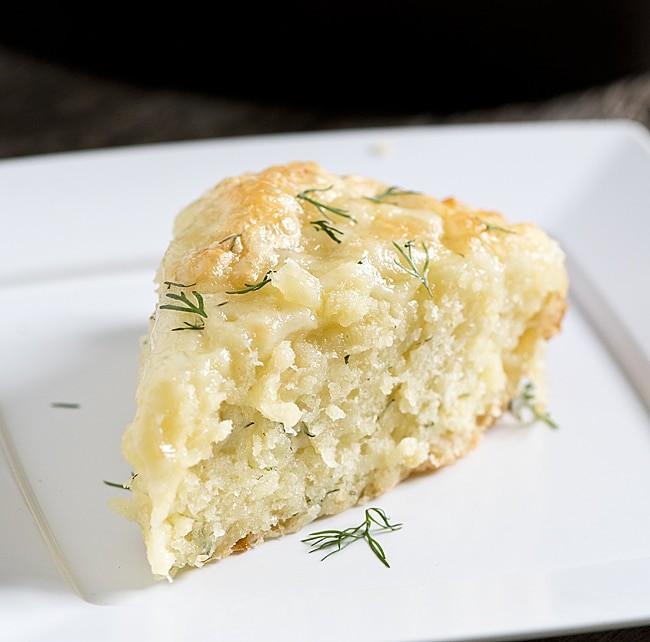 I think any biscuit recipe is outstanding with some melt-y gooey cheese on top. I use the best extra old cheddar I can find for the best flavor. When it comes out of the oven, I take a spoonful of chopped dill and scatter it all over so it sticks right to the melted cheese. Those first warm stringy pieces of scone are truly the best and no butter is ever required.
This base recipe is so versatile and easy to work with. Once you've made one batch you'll be experimenting with all sorts of flavor combinations!
Skillet Dill and Cheddar Buttermilk Scones
Skillet Dill and Cheddar Buttermilk Scones
An easy recipe for Skillet Dill and Cheddar Buttermilk Scones, using garden fresh dill and extra old cheese! The perfect lunch or tea break treat!
Servings 8 servings
Calories 366kcal
Ingredients
2 cups all purpose flour
3 tbsp sugar
2 tbsp baking powder
1/4 tsp baking soda
1/2 tsp salt
1/2 cup unsalted butter frozen
1 egg
1/2 cup sour cream
1/2 cup buttermilk
3 tbsp chopped fresh dill divided
1 1/2 cups extra old cheddar grated
Instructions
Preheat the oven to 400°

In a large bowl combine the flour, baking powder, baking soda, salt and 2 1/2 tbsp of the fresh dill.  Stir with a fork to combine; set aside.

Using a box grater, grate the frozen butter.  Add it to the flour mixture along with one cup of the grated cheese and gently use your hands to toss the flour and cheese around to coat the butter and cheese pieces (too much mixing will melt the butter).

In a small bowl, whisk together the egg, sour cream and buttermilk.

Make a well in the center of the flour mixture and add the egg mixture.  Use a fork to mix and gradually form a sticky dough.

Lightly flour the counter top and dump the scone mixture out on top.  With floured hands, knead the mixture about 10 times to form a shaggy, sticky dough.

Lightly flour the top of the dough and pat it into a rough circle 7 inches in diameter (I'm using an 8" skillet here).   Use a scraper or long knife to score the circle into 8 even wedges (similar to cutting a pie) and still keep it in a circular shape.

Transfer the dough to a cast iron skillet. Bake for 18 minutes.  Top with the remaining 1/2 cup of cheese and bake for 5 more minutes.  As soon as the scones come out of the oven, sprinkle with the remaining 1/2 tbsp of dill.  Serve immediately.

Store leftover scones at room temperature.
Nutrition
Serving: 1g | Calories: 366kcal | Carbohydrates: 31g | Protein: 10g | Fat: 22g | Saturated Fat: 13g | Cholesterol: 82mg | Sodium: 356mg | Potassium: 405mg | Sugar: 5g | Vitamin A: 720IU | Vitamin C: 0.2mg | Calcium: 327mg | Iron: 2mg
Follow On Pinterest
Follow @bewitchinkitchen On Pinterest for more delicious recipes!