Fajita Pasta Salad
Hello summer! You're beautiful, my friend, and I'm so glad you're back. If you're like me, that's what you're saying to the sunshine after a long winter. I've said this a few times, but one of my favorite things about summer is the BBQ, and it dawned on me: I have a lot of grilling recipes, but never anything for a side dish. With that in mind, I created this Fajita Pasta Salad.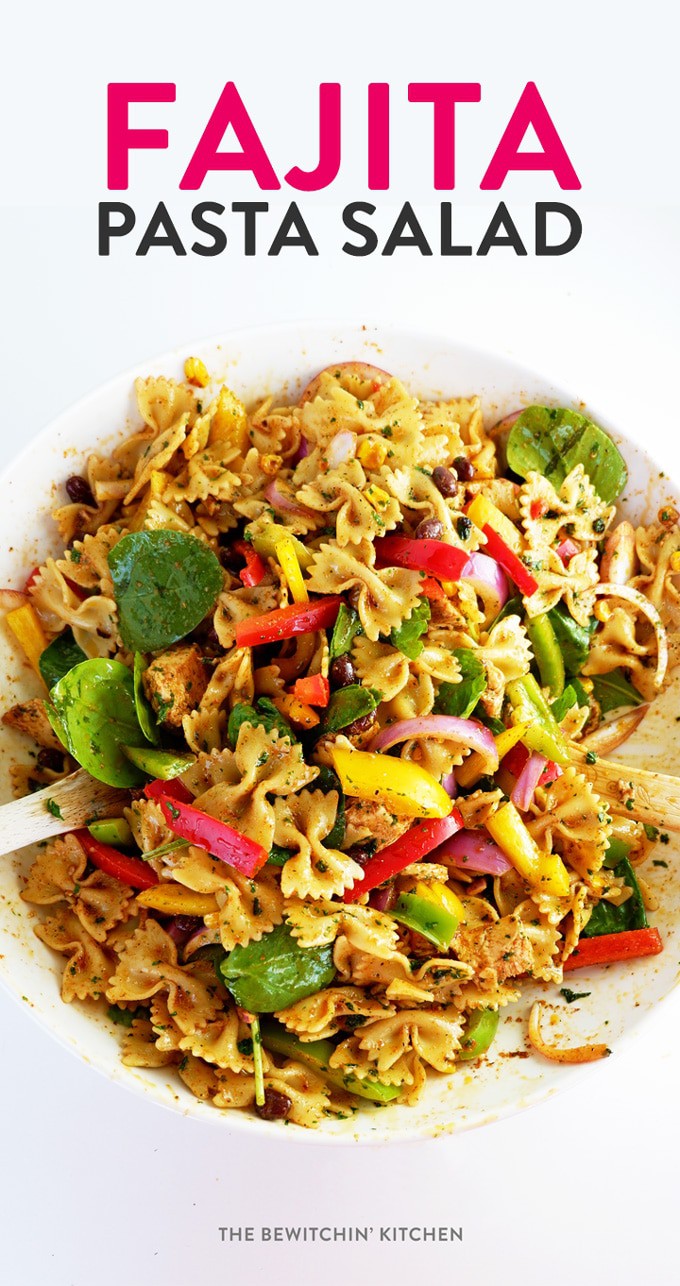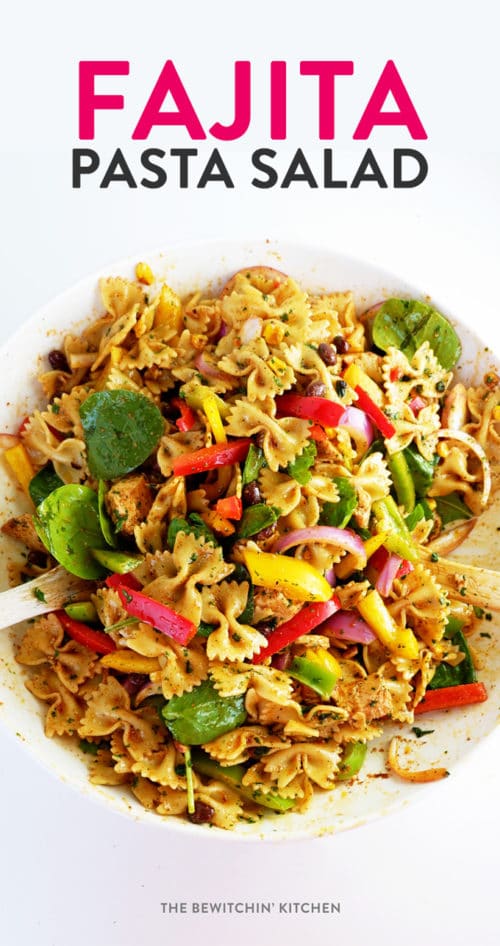 Fajita Pasta Salad Recipe

[adthrive-in-post-video-player video-id="uf7cuLFe" upload-date="2017-06-28T18:47:55.000Z" name="Fajita Pasta Salad" description="Fajita Pasta Salad – easy summer bbq recipe" player-type="default" override-embed="default"]

BBQ's are fun, and I like them because I can use leftovers for picnics. My son came across the idea of a picnic at pre-school. The little ones would gather around outside and enjoy their snacks, it was the highlight of his day. Now that school is over, I wanted to do something special for him and have a little family picnic this afternoon.
Nothing beats a picnic during a hot, summer month of July.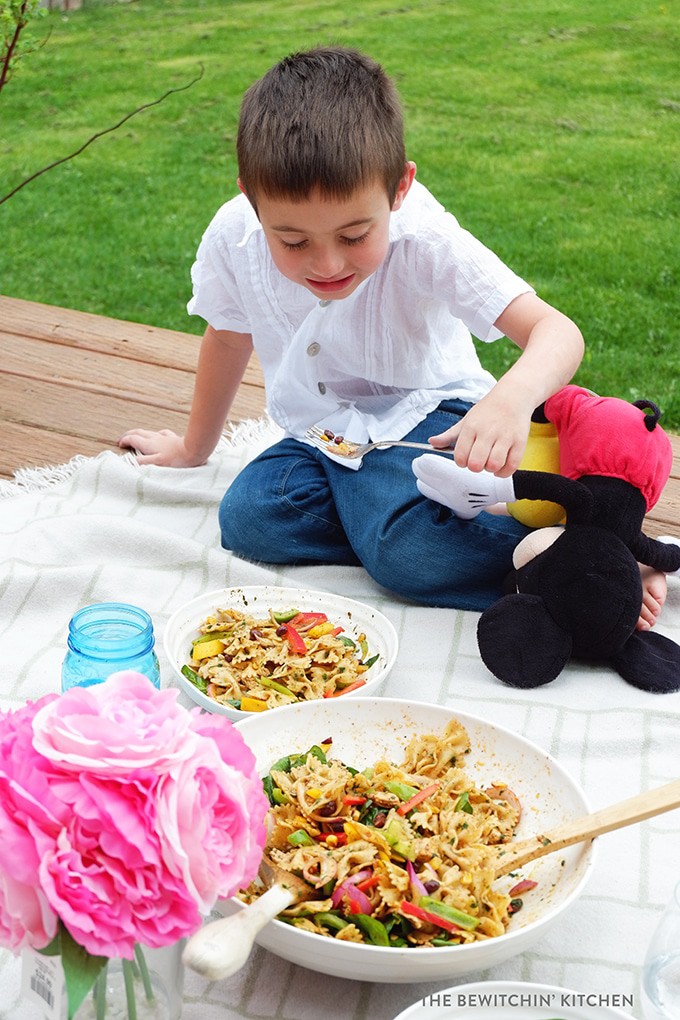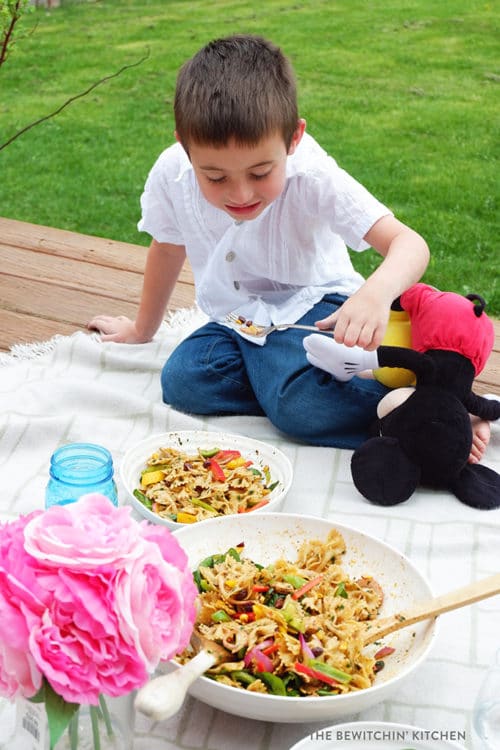 6 Tips for packing a picnic:
Bring a blanket. When I picture a picnic, I envision a classic checkered blanket. However, I don't have one. Instead, I used a throw that I didn't mind getting a little dirty.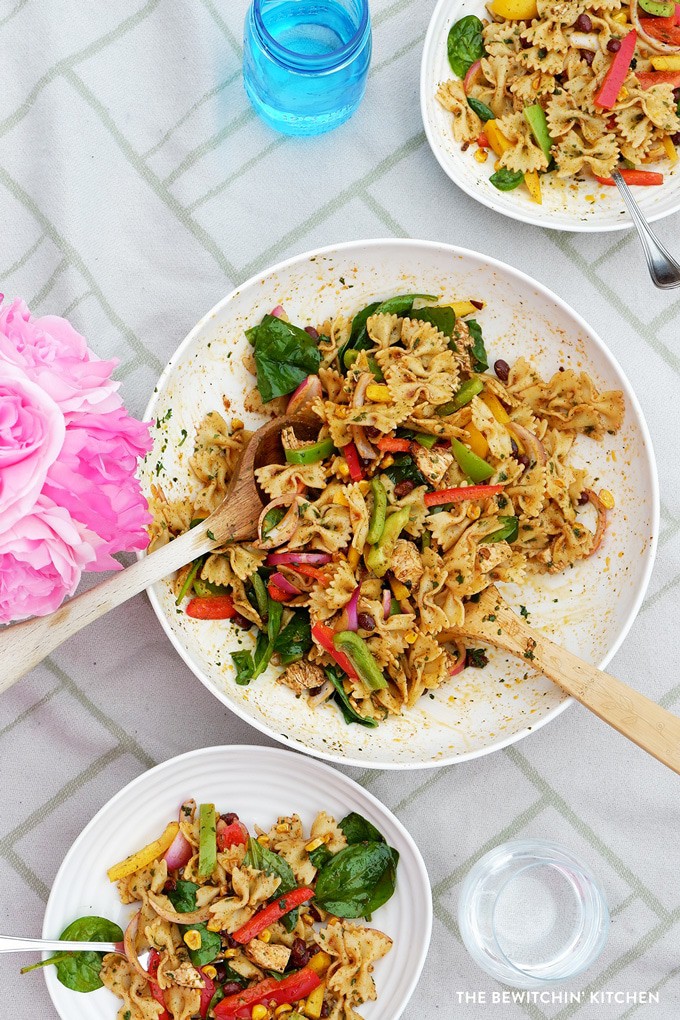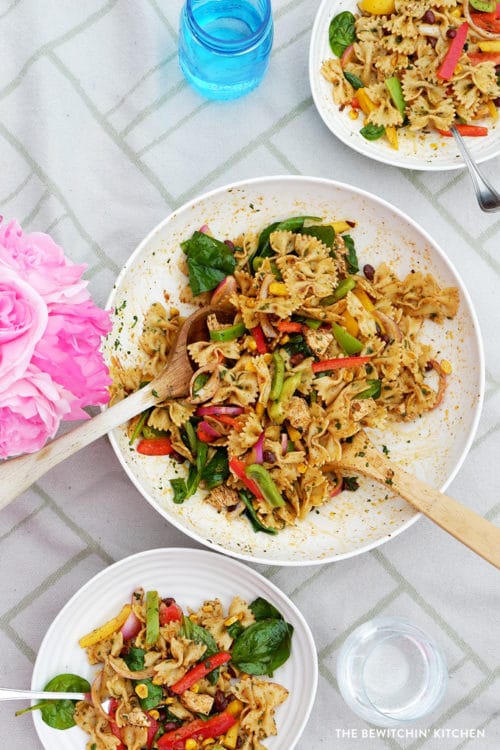 Pack dinnerware according to your location. Our picnic wasn't too far from our house, it was actually on our patio. Since it was about twenty steps from my kitchen, I used our usual plates. However, if I was packing up to go to the park or playground I would pack paper plates from the dollar store. The same goes for utensils.
Don't forget your drinks. Since it was simply my son and I on this gorgeous afternoon, I skipped the wine and served sparkling water and juice. If you're having an adult picnic, you can grab those mini wine bottles from the liquor store. Don't forget the corkscrew and wine glasses!
Bring your food on ice in reusable containers. If that's not an option, avoid packing foods with products that will spoil: yogurt, mayonnaise, etc.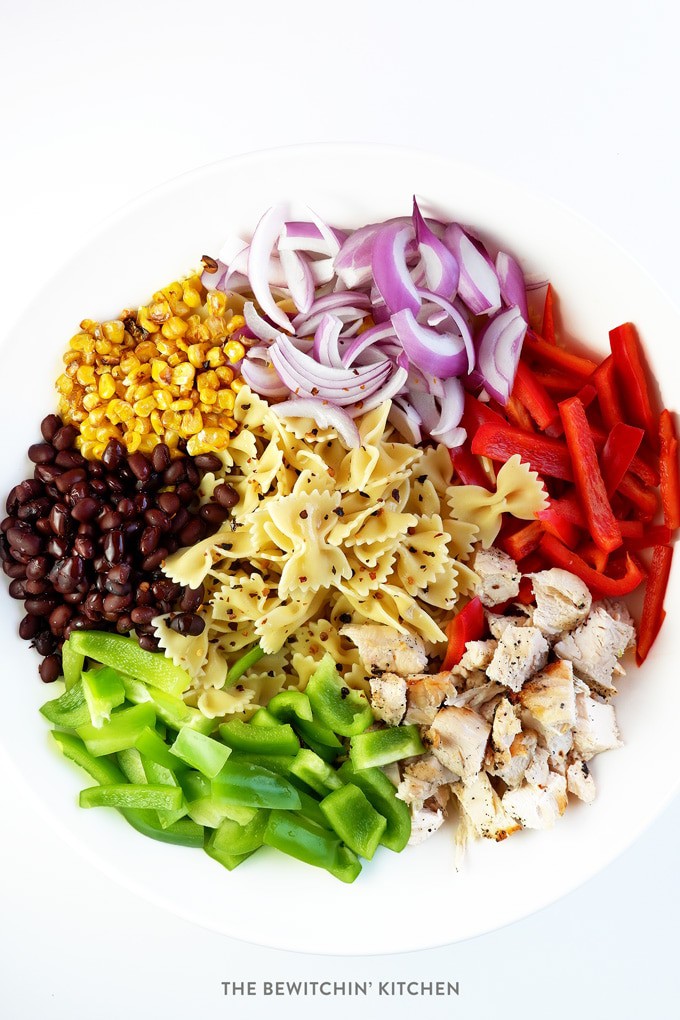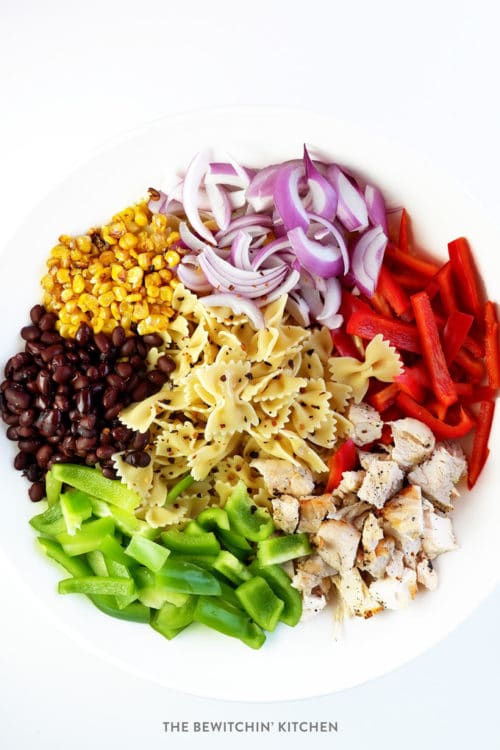 Make it easy. Nothing is easier than a pasta salad (like the fajita pasta salad recipe I have shared with you below)!
Think about clean up. There may not be a garbage can where you're going so bring a bag, just in case. Another good idea is to bring some wet wipes for your hands and your kid's sticky faces.
If you want more ideas, check out these picnic essentials for a perfect picnic.
Our picnic was a unique way to unplug and spend time with my son and see how he's shaping up. I had a lot of fun hearing about what he had to say on different subjects and hear him reflect on our recent Disneyland trip).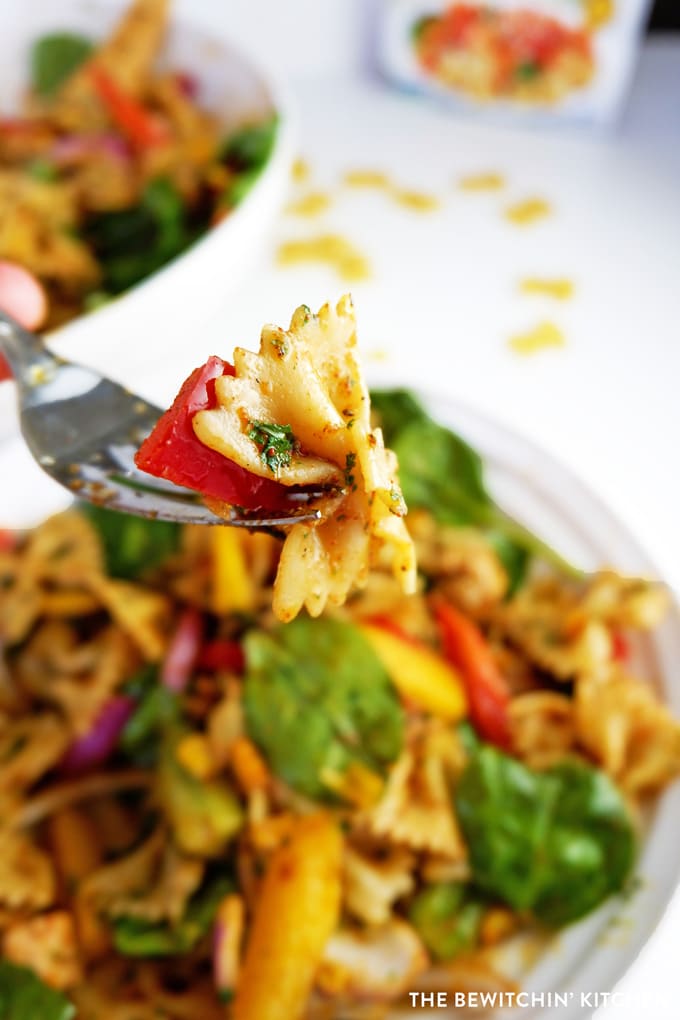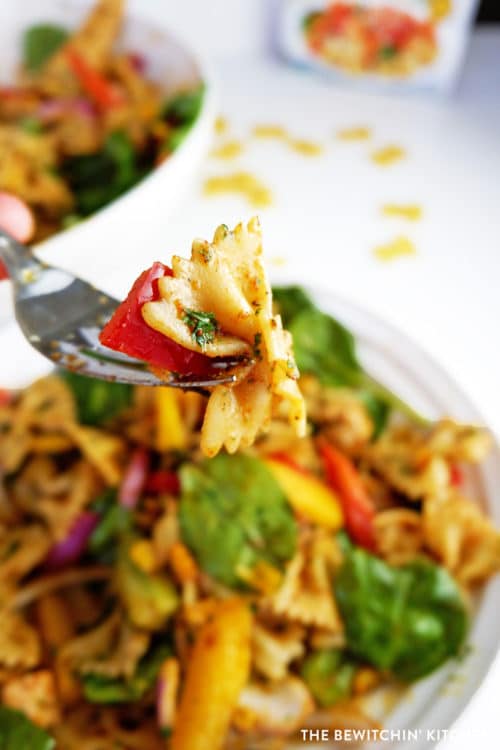 Fajita Pasta Salad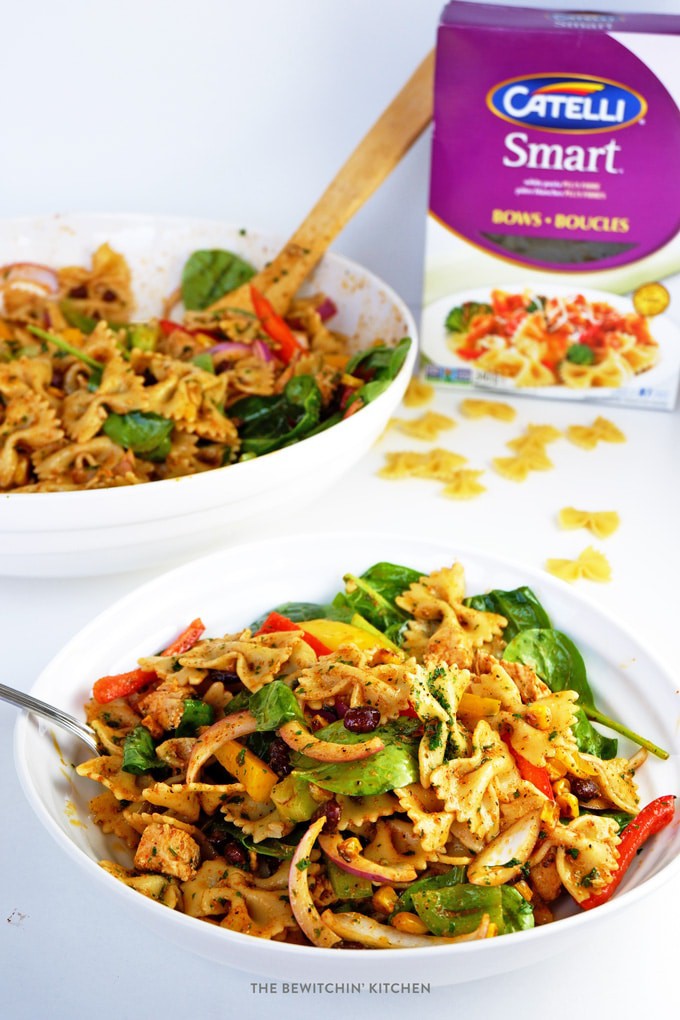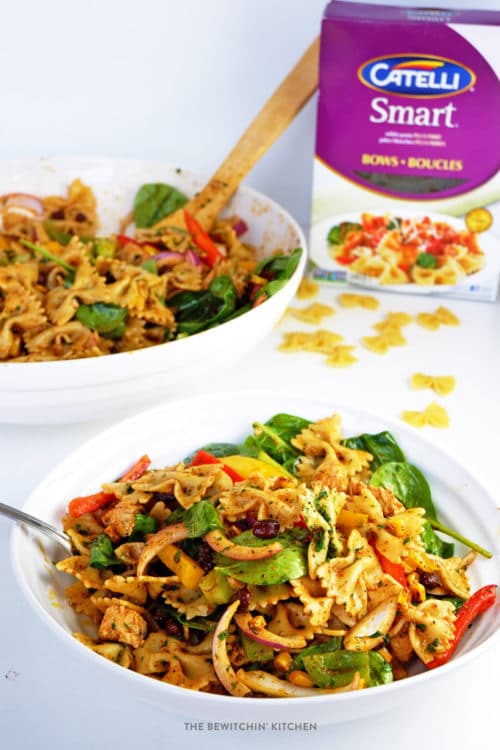 I used Catelli Smart Bows for the fajita pasta salad. I like using the Catelli Smart line for pasta salads because it tastes just like white pasta, but offers so much more. One 85 gram serving offers 32% of your daily recommended intake of fibre, which helps keep me full and satisfied all day.
Want to find out more? Visit Catelli's website.
Summer Pasta Salad Recipes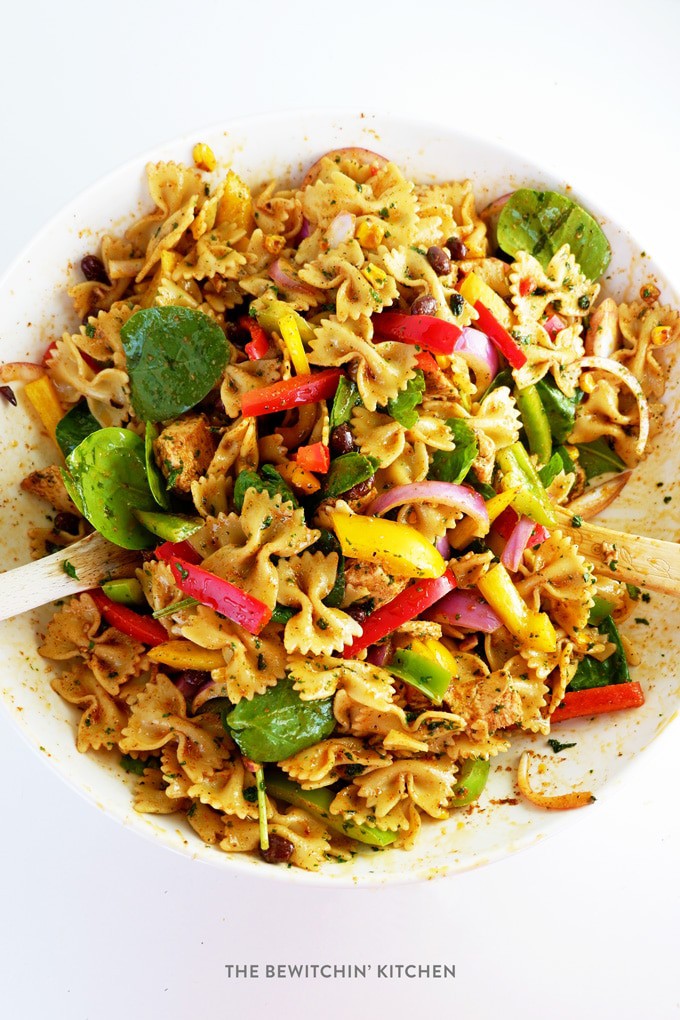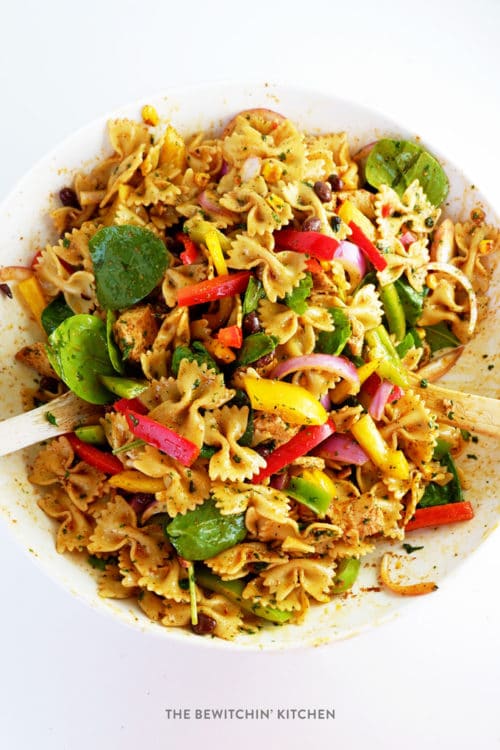 Fajita Pasta Salad
This fajita pasta salad is a delicious vegetable filled salad recipe that's high in protein and makes a great BBQ side dish.
Servings 10 servings
Calories 286kcal
Ingredients
1 package Catelli Smart Bows
2 cooked chicken breasts sliced
1 green pepper sliced
1 red pepper sliced
1 yellow pepper sliced
1 cup spinach
1/2 cup corn roasted
1/2 cup black beans
1/2 purple onion
Optional: cilantro
Fajita Vinaigrette
1/2 cup avocado oil
1 lime juiced
4 tbsps red wine vinegar
1 tbsp chili powder
1 tsps cumin
1 tsp paprika
1 tsp garlic powder
1 teaspoon sea salt
1 teaspoon ground black pepper
1/4 tsp cayenne pepper
 
Instructions
Cook the Catelli Smart Bows according to the directions on the box, drain and add to a large bowl.

Add the cooked chicken, spinach, sliced peppers, onion, corn, and black beans

Mix together the fajita vinaigrette ingredients and pour over the fajita pasta salad. Mix.

Cover with saran wrap and refrigerate, stirring every hour, until cold.

Top with optional cilantro
To roast corn
Preheat oven to 425. Place corn (I used frozen) on a baking sheet with a sprinkle of salt and roast for 5 minutes or until it starts to golden up
Nutrition
Serving: 1g | Calories: 286kcal | Carbohydrates: 33.2g | Protein: 11.3g | Fat: 12.6g | Saturated Fat: 1.6g | Cholesterol: 16.5mg | Sodium: 88.9mg | Fiber: 5.8g | Sugar: 2.9g
Follow On Pinterest
Follow @bewitchinkitchen On Pinterest for more delicious recipes!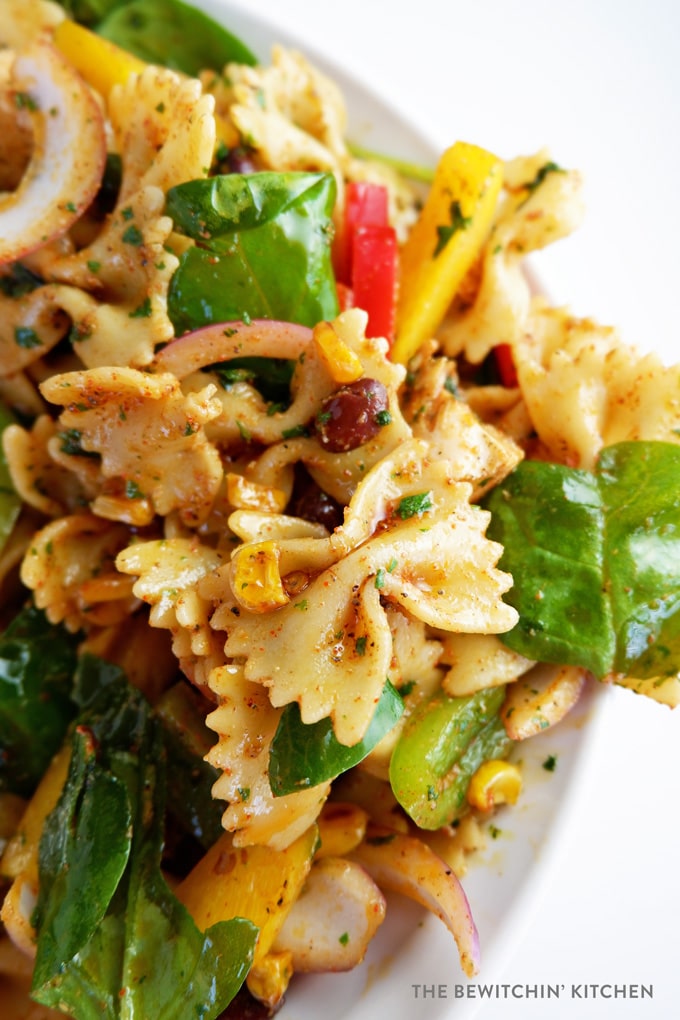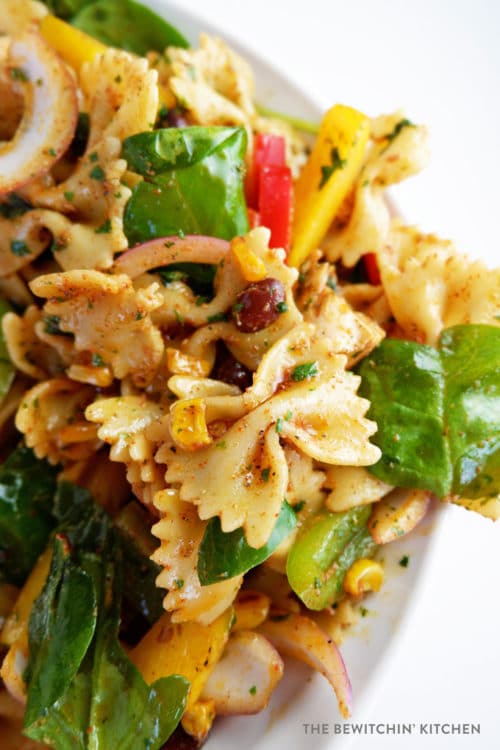 Disclosure: this fajita pasta salad recipe has been sponsored by my friends at Catelli. All opinions are my own.