Roast Turkey with Prosciutto, Rosemary and Roasted Garlic
Turkey dinner is big in my family. We have it multiple times a year: Easter, Thanksgiving, Christmas, Birthdays or any opportunity for celebration. This Roast Turkey recipe kicks it up a notch with prosciutto, rosemary, and roasted garlic.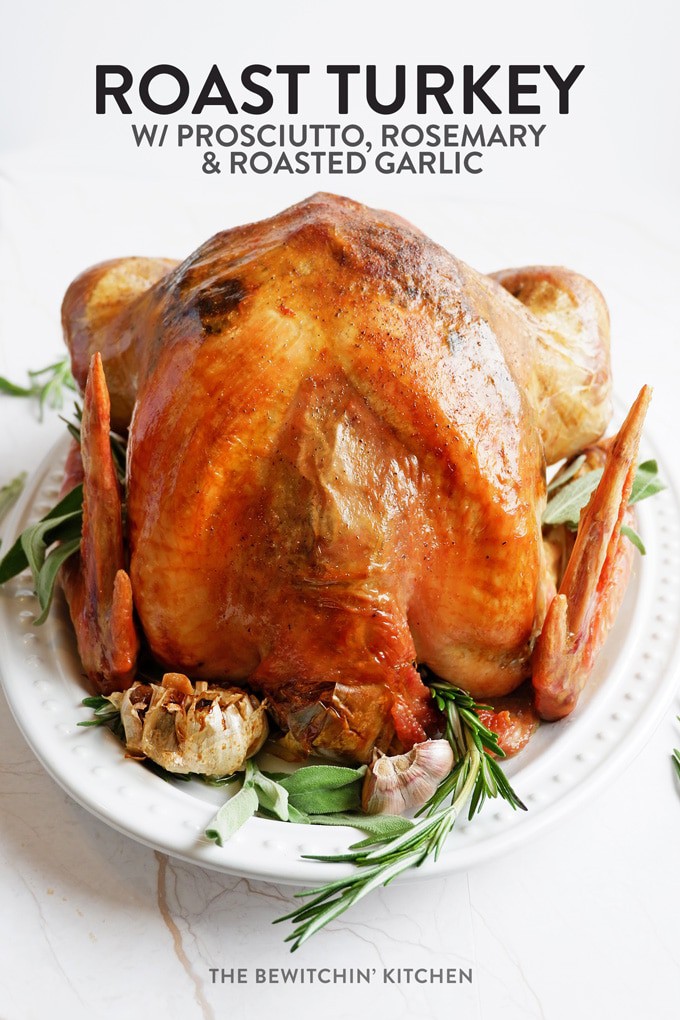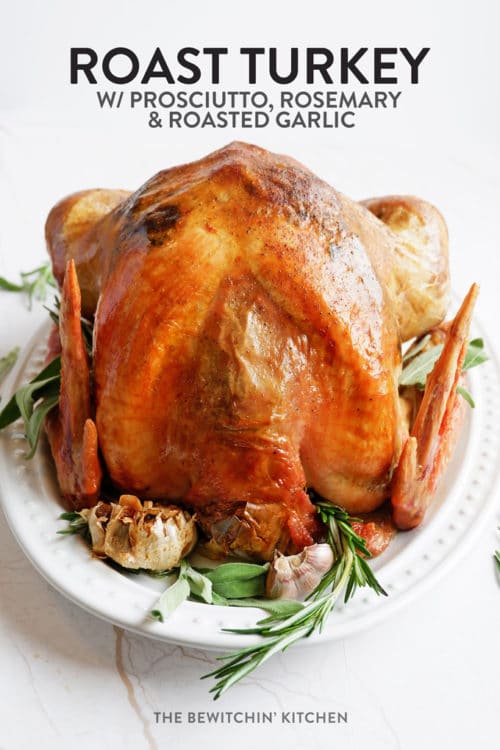 Roast Turkey
Disclosure: This post contains affiliate links for your convenience. As an Amazon Associate, I earn from qualifying purchases.
This roast turkey recipe was first published on The Bewitchin' Kitchen 9 years ago, back in 2009, it was my first Thanksgiving recipe. I wanted to bring it back, and revamp it a bit with a few new ingredients to make it perfect for The Bewitchin' Kitchen. I've learned a lot about cooking since 2009 and it's crazy to see how different my life is now. Honestly, I didn't even think I would still have a blog almost ten years later – but here we are.
PS: If you've never cooked a turkey before, I highly recommend reading how to cook a turkey. It's a great post that has a lot of positive feedback and outcomes.
Prosciutto Turkey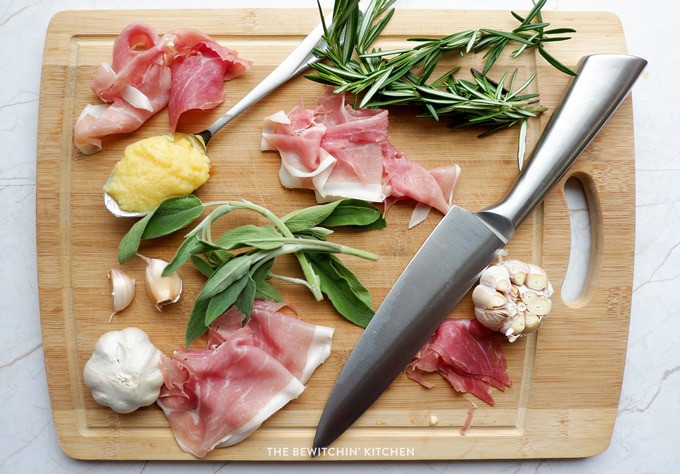 I can still remember the first time I made this recipe. Isn't it crazy how a smell can bring you back to a moment and you remember random things? I distinctly remember laying the prosciutto over the turkey (it was the first time I ever bought prosciutto).
It was also the first time I ever cooked with sage.
Now the two of those are some of my favorite ingredients.
Supplies to Roast a Turkey
Out of everything I'm about to suggest this turkey lifter is my favorite buy. I have had it for years and it has saved my butt a few times (could you imagine if I dropped a turkey after all that hard work?).
Aside from that, here are my recommendations for an easy turkey dinner:
Turkey roaster Make sure you get a roaster with a lid, take it from someone who had both options and the lid is much better.
Cooking twine For tying the legs together if you bread the skin the legs go under.
Meal prep containers These are great for leftovers (they freeze well too)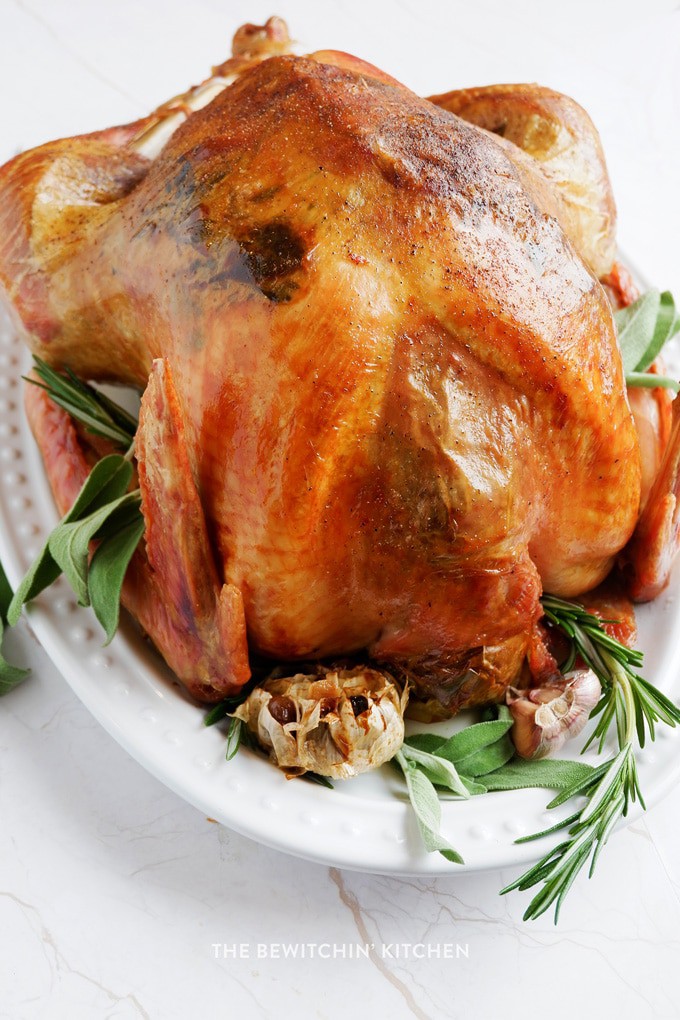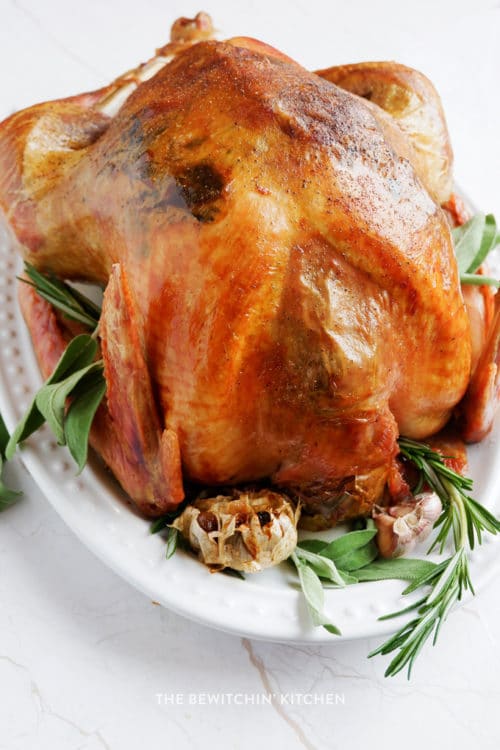 How to Roast a Turkey
Every turkey is different, as they all differ in weights but I do have a chart and full details for you over at how to cook a turkey.
Stuff or Not to Stuff a Turkey?
If you want to eat quicker, don't stuff. If you don't stuff a turkey it doesn't take near as long to roast in the oven. Also, when you stuff a bird it also cooks unevenly.
Let's talk about the most important deciding factor, stuffing a turkey can be unsanitary.
Roasted Garlic Turkey Recipe
I love that this recipe has a subtle hint of roasted garlic in with the turkey and gravy. Roasted garlic isn't overly strong and in your face as raw garlic is, so don't be scared when I recommend two heads of garlic in this roast turkey recipe.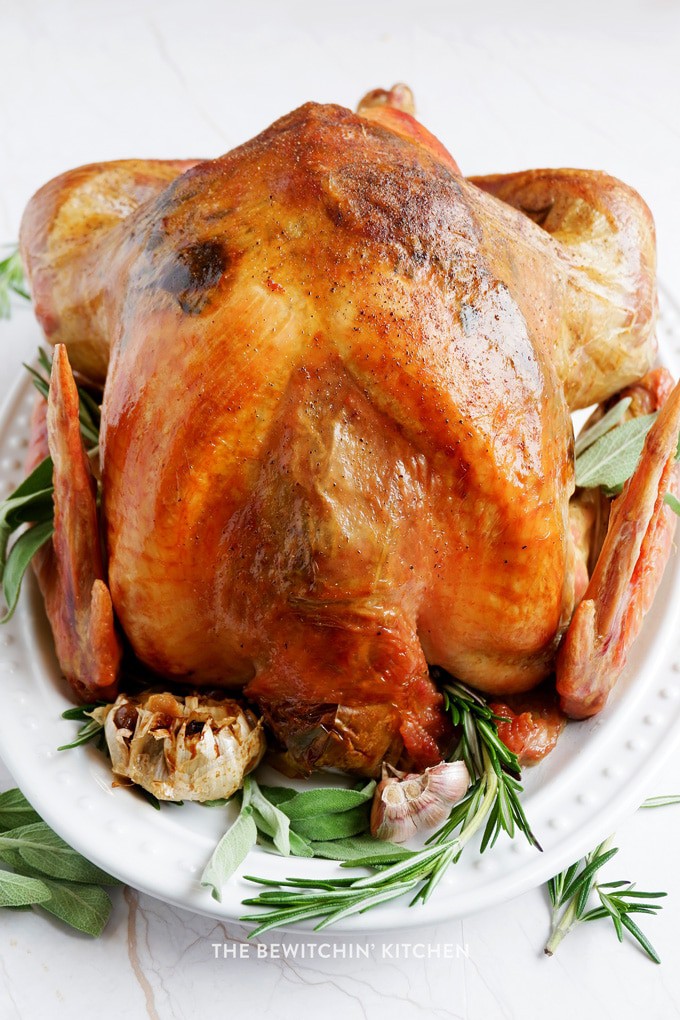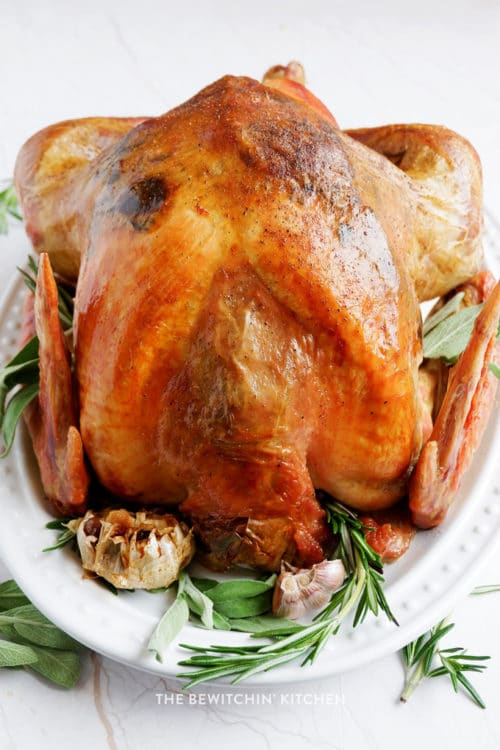 Turkey Dinner Sides
Homemade Stuffing – This is the stuffing my grandma used to make. It's a large recipe, and perfect if you're looking for comfort food.
Gluten Free Stuffing – A simplified and healthier option to traditional stuffing that is also gluten-free.
Best Scalloped Potatoes Ever – I'm not a potato fan but I LOVE these. This is the recipe I was given at Disneyland for Blue Bayou's potatoes.
Turkey Gravy – Just plain ol' regular gravy (if you don't want to do the roasted garlic gravy listed below).
Curried Cauliflower Casserole – I know, that seems like an odd side dish to pair with turkey. Again, it's what I grew up on. Pure comfort food, but if you're looking for a healthy side dish, keep reading.
Three Pepper Salad – One of my favorites, definitely make this.
Balsamic Bacon Brussels Sprouts – Bacon makes everything better
Leave me a comment and let me know if you have any secret turkey roasting tips?
What to do with turkey leftovers:
Roast Turkey with Prosciutto Rosemary and Roasted Garlic
Looking to switch up Christmas or Thanksgiving turkey this year? Try this roast turkey with prosciutto, rosemary, and roasted garlic recipe. Add this to your traditional turkey dinner menu! Perfect for a crowd!
Servings 8 people
Calories 546kcal
Ingredients
1 13-15 lb turkey
3 springs rosemary
4 sprigs sage
1 onion halved
10 slices prosciutto
2 heads garlic + 3 cloves
1 tbsp olive oil
2 tbsps butter ghee if dairy free
1 tsp salt
1 tsp pepper
1/2 cup white wine
3 tbsps arrowroot powder or all purpose flour if not gluten free
1 tbsp chicken base I use this one
Instructions
Preheat oven to 350
Clean and prep turkey as outlined in the guide on how to cook a turkey like a boss. Place turkey in a roaster.

Separate the skin of the turkey from the breast and rub the butter/ghee, salt, 1 tbsp of sage (chopped), two springs of rosemary and pepper over the breasts and legs.

Arrange the prosciutto under skin and over the breasts. Add the three cloves of garlic.

Insert the onion, a sprig of rosemary and sage, and one of the heads of garlic in the cavity.

Add the additional head of garlic to the roasting pan and drizzle with olive oil, rub skin with leftover butter.

Tie turkey legs together with skin.

Roast for 1 hour, uncovered. Add the cover and roast for an additional 2-3 hours (depending on size) basting once. To ensure turkey is cooked, use a meat thermometer at the thickest part of the breast. It's cooked when it's at least 165.

Remove from the oven and let the turkey rest for thirty minutes.
For the gravy
Pour the drippings into a pot, add the wine and squeeze the roasted garlic from the turkey cavity into the gravy mixture.

Bring to a boil over medium-high heat.

Add the arrowroot flour (or ap flour if not gluten free) to a cup of water, mix and slowly add it to the pan.

Whisk until thick. Taste and adjust seasoning. Add chicken base if needed.
Notes
Weight Watchers Freestyle Points: 0 – for turkey breast only.
Nutrition
Calories: 546kcal | Carbohydrates: 5g | Protein: 71g | Fat: 24g | Saturated Fat: 6g | Cholesterol: 238mg | Sodium: 868mg | Potassium: 786mg | Sugar: 1g | Vitamin A: 190IU | Vitamin C: 1.2mg | Calcium: 45mg | Iron: 3.1mg
Follow On Pinterest
Follow @bewitchinkitchen On Pinterest for more delicious recipes!