Paleo Banana Bread Recipe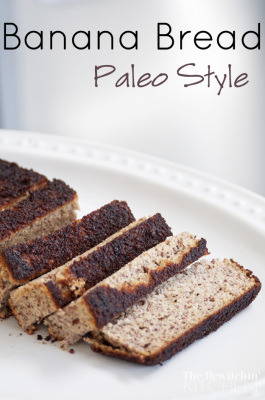 I had some overripe bananas sitting on the counter that I had no idea what to do with, then it clicked. I decided to make Paleo Banana Bread.
I wanted to take it one step further and instead of making regular banana bread (which I love), and make it paleo style.
I did that because I recently found out I have a few food sensitives and wheat was one of them (along with roughly 124 other items).
I wasn't sure on where to start, but since I currently had Cheddar and Pear Gluten Free Scones in the oven I knew that I would use more of the almond and coconut flours. I still needed a guide and after a Google Search I found a blog called Gutsy By Nature and used her recipe as inspiration.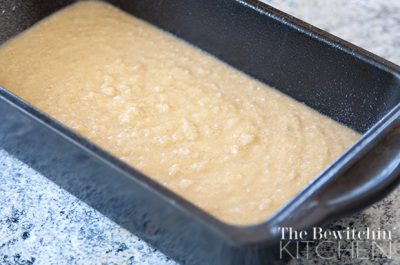 After mixing together my ingredients, I was a little worried. The batter was really liquid-ish, it actually resembled apple sauce.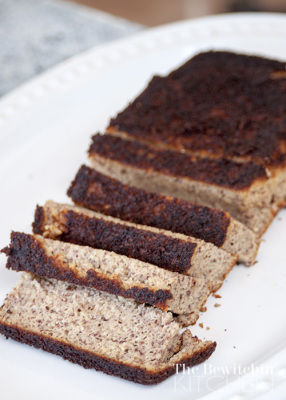 It seemed to turn out fine. The end results wasn't as tall and "fluffy" as I would have liked but it tastes amazing. Seriously, this recipe for Paleo Banana Bread melts in your mouth and is moist (I hate that word but it's the only one coming to mind) and full of flavor!
As delicious as this recipe for paleo banana bread is, I did make a mistake and I didn't notice it until about five minutes ago. As I was adding the photos into this post I couldn't help but think that my banana bread kind of resembled meatloaf. The bottom portion of the banana bread darkened (looking burnt, but it's not) and that's when I realized it – all those photos are of the banana bread loaf upside down.
While I was plating the paleo banana bread, I was on the phone. I then preceded to take photos while chatting it up with my friend Deni, not realizing I needed to flip the loaf back over to show the beautiful color on top. Whoops!
I wish I could say I could go grab a couple slices and re take some images but it's all gone. My son and I ate the whole darn thing within a few hours (don't judge me). However, I did make a spread and took photos for another campaign: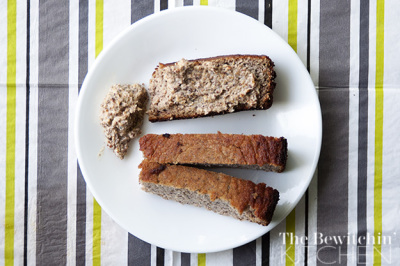 That color looks much better!
Here's the recipe:
Paleo Banana Bread Recipe
Paleo banana bread is fun to make and super good!
Servings 8 slices
Calories 251kcal
Ingredients
2 mashed bananas
1/4 cup pure maple syrup
4 eggs
1/4 cup coconut oil
1 tsp vanilla
1/2 cup unsweetened coconut milk
1/2 cup almond flour
1/2 cup coconut flour
1/2 tsp baking soda
1/2 tsp baking powder
1/2 sea salt
1/4 tsp cinnamon
Instructions
Preheat oven to 375 degrees.

Combine wet ingredients, and beat until mixed together, I used a blender and it worked perfectly.

In a large bowl sift together all the dry ingredients. Once all the dry ingredients are together, pour the wet ingredients in and mix well.

Pour the batter into a greased loaf pan and bake for 40-45 minutes. Let cool in the pan.
Nutrition
Serving: 1slice | Calories: 251kcal | Carbohydrates: 20g | Protein: 6g | Fat: 17g | Saturated Fat: 11g | Polyunsaturated Fat: 1g | Monounsaturated Fat: 1g | Trans Fat: 1g | Cholesterol: 82mg | Sodium: 291mg | Potassium: 199mg | Fiber: 5g | Sugar: 11g | Vitamin A: 138IU | Vitamin C: 3mg | Calcium: 57mg | Iron: 1mg
Follow On Pinterest
Follow @bewitchinkitchen On Pinterest for more delicious recipes!
Have you made a cooking "oops" lately?