Healthy Fruit Popsicle Recipe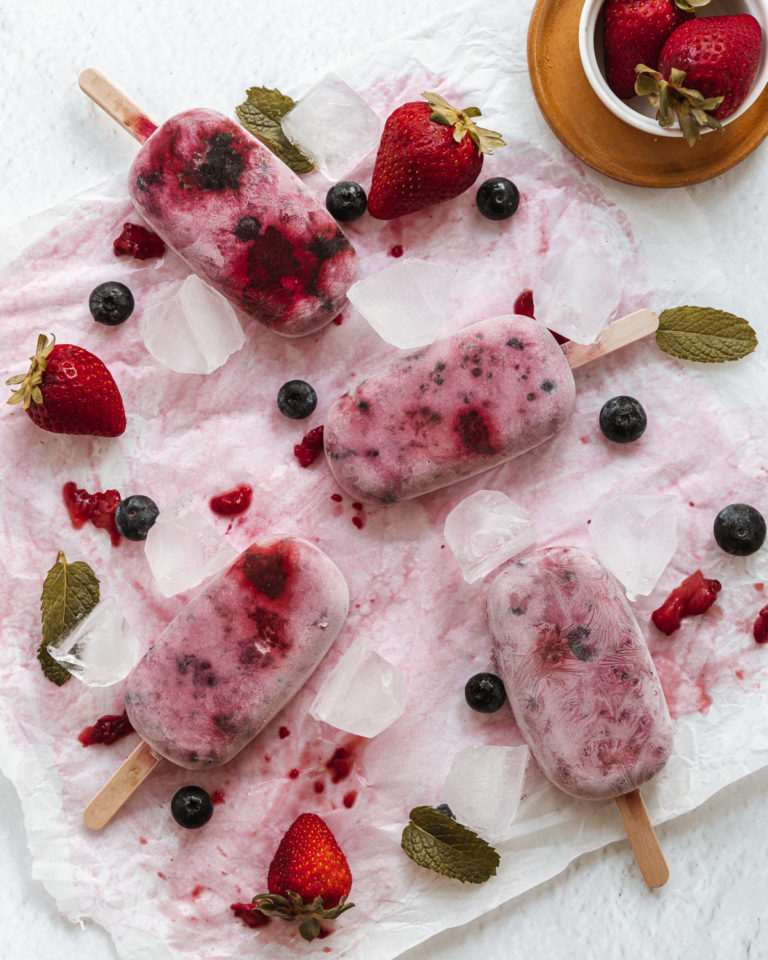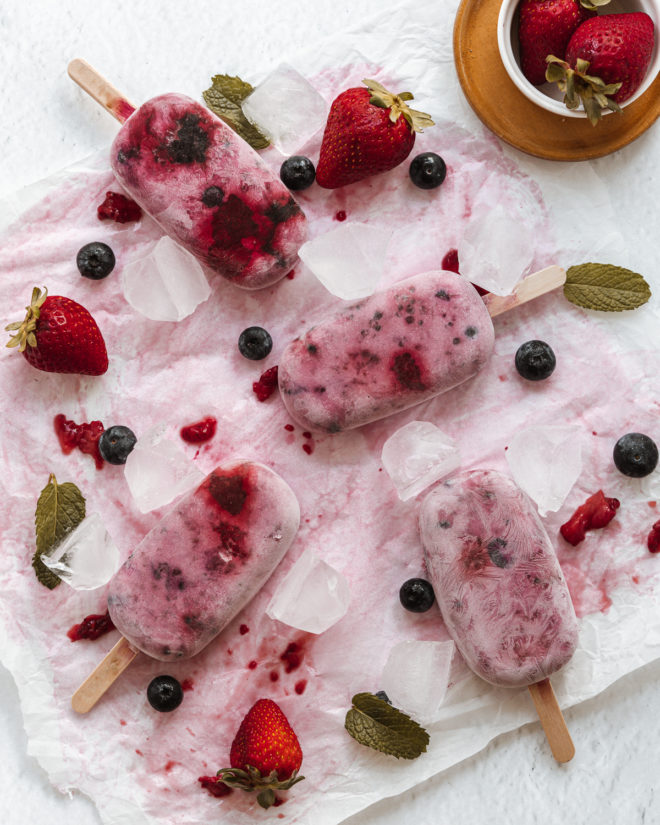 A yummy fruit popsicle is the best on a hot day. This recipe takes your favorite fruit and mixes it with cream for a sweet treat that's hard to beat!
Recipe Features
5 Simple Ingredients
5 Easy steps, done in 15 minutes!
Healthy ingredients that can make different variations.
This fruit popcicle recipe tastes a lot like a creamsicle but with chunks of fruit that you like best. For this homemade recipe, I used a mixed berry that my family loves! But you can substitute soft fruits like peaches, mango, kiwi, or nectarines.
When combined with a heavy cream, the fruit makes a delicious, sweet cream popsicle that you or your kids will love to both eat and make!
Fruit Popsicle Ingredients
Fruit- Use any of your soft favorite fruits. In this recipe, I use a mixed berry that includes raspberries, strawberries, and blueberries. However, you can use blackberry, mango, kiwi, banana, peaches or more. If the fruit can be softened and mashed, it will work.
Heavy Cream- Heavy cream or heavy whipping cream will work. The cream forms the base that creates the creamsicle consistency.
Maple Syrup- maple syrup is used as a sweetener in this recipe. You could also substitute agave or honey.
Vanilla Extract
Cornstarch- This ingredient is optional. It will make your popsicle more creamy instead of icy.
How To Make Fruit Popsicles
Step 1 – Save a half cup of fruit and set it aside. Place 1 cup of mixed berries with maple syrup and vanilla extract in a saucepan over the stove.
Step 2– Cook for 10 minutes until you see a jam consistency. Mash any bigger pieces that remain.
Step 3– Add the saved berries to the popsicle moulds.
Step 4– Pour the berries and cream into the moulds.
Step 5– Freeze them for 4 hours or more until frozen.
Pro-Tips
If you use bananas, do not boil. Instead blend all of the ingredients until smooth and then freeze. You can cut up chunks of banana and add it to the molds if you choose.
Leave a space at the top of your popsicle mold for the fruit to expand while freezing.
Before serving, run the mold under hot water. This will loosen the mold from the popsicle, so it will open more easily.
Your popsicle molds matter! I like this one.
Taste your puree to make sure that the flavor is intense enough for you. Your popsicle shouldn't be bland.
Add a tablespoon of cornstarch to make them creamier.
Are real fruit popsicles healthy?
Fruit popsicles can be healthy if you are using healthy ingredients like real fruit. When making homemade popsicles, you can control the portions and you can control what types of sugar go into your sweet treat.
Are Popsicles healthier than ice cream?
Homemade popsicles are healthier than ice cream because they use less sugar, and they use real fruit.
Why are my homemade Popsicles icy?
Homemade popsicles are icy because they are wholefood based. If you want a creamier popsicle, add cornstarch to the recipe and freeze at a lower temperature.
How do you make popsicles freeze faster?
The only way to make your popsicles freeze faster is to lower the temperature of your freezer. Most freezers have an adjustable knob to take the temperature down. Depending on your temperature and molds, your recipe should freeze between 4 and 8 hours.
Fruit Popsicle
Fruit popsicles are a delicious and healthy treat. They are easy to make for your whole family!
Servings 6 Popcicles
Calories 220kcal
Ingredients
1.5 cup mixed berries
1.25 cup heavy cream
3 tbsp maple syrup
1 tsp vanilla extract
Instructions
Set aside a half cup of mixed berries

Mix the mixed berries with maple syrup and vanilla in a saucepan over the stove. Cook on low for ten minutes or until you reach a jam-like consistency. Mash the bigger pieces that remain. Optional: Stir in one tablespoon of cornstarch. This will make a creamier consistency when the popsicles freeze, but is not necessary.

Remove the saucepan from heat and whisk in heavy cream.

Place the remaining berries int the popsicle molds.

Pour the berries with cream into the molds.

Freeze the popsicles for at least 4 hours or until completely hard.

Freeze for up to two months.
Nutrition
Calories: 220kcal | Carbohydrates: 13g | Protein: 1g | Fat: 19g | Saturated Fat: 11g | Polyunsaturated Fat: 1g | Monounsaturated Fat: 5g | Cholesterol: 68mg | Sodium: 20mg | Potassium: 82mg | Fiber: 1g | Sugar: 9g | Vitamin A: 747IU | Vitamin C: 1mg | Calcium: 46mg | Iron: 1mg
Follow On Pinterest
Follow @bewitchinkitchen On Pinterest for more delicious recipes!
More popsicle recipes: Berry and Beet , Creamy Paleo Coffee, Chocolate Strawberry , Cherry, Coconut and Coffe, Zoku and Pineapple, Irish Cream