Sriracha Deviled Eggs
These Sriracha Deviled Eggs are a delicious, spicy twist on a traditional party appetizer. They're easy to make and a hit with guests.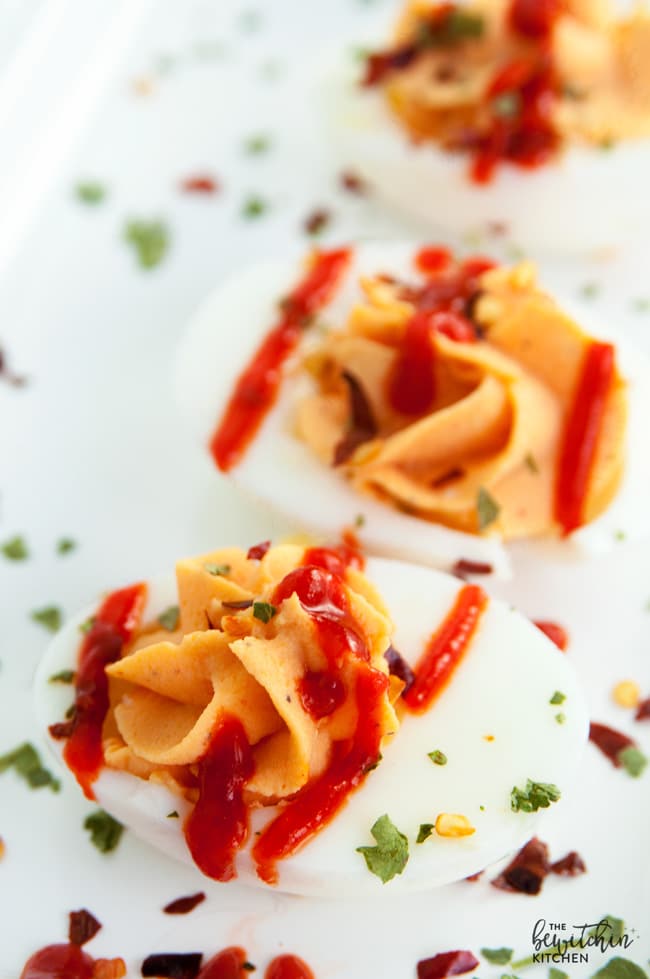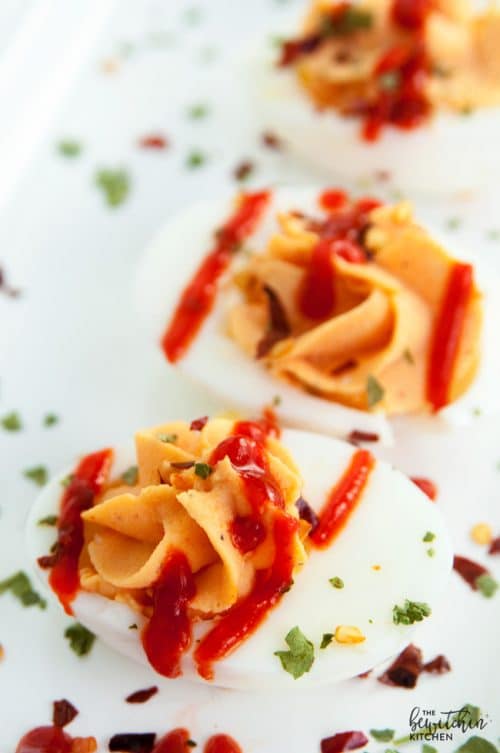 Sriracha Deviled Eggs
Let's be honest here, my favorite thing about a good party is the food. I love appetizers or "appies" and deviled eggs always top my eating list. So I decided to put a spicy twist on the classic.
First a question:
Is it deviled eggs or devilled eggs? 
Spell check is telling me that it's devilled eggs, but Google is telling me it's a mixture of both. So I'm keeping the Sriracha deviled eggs spelling.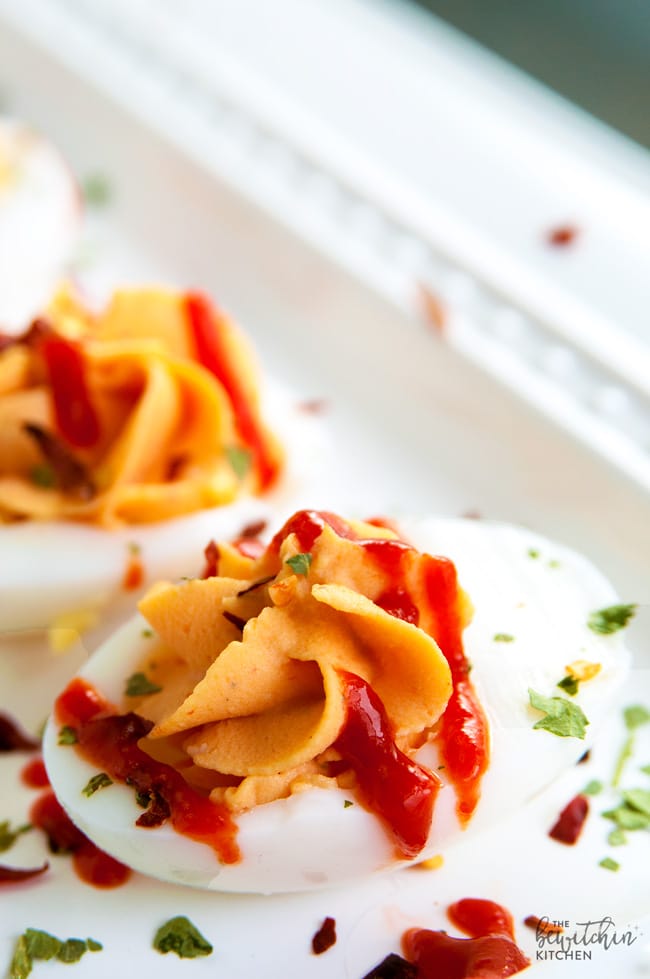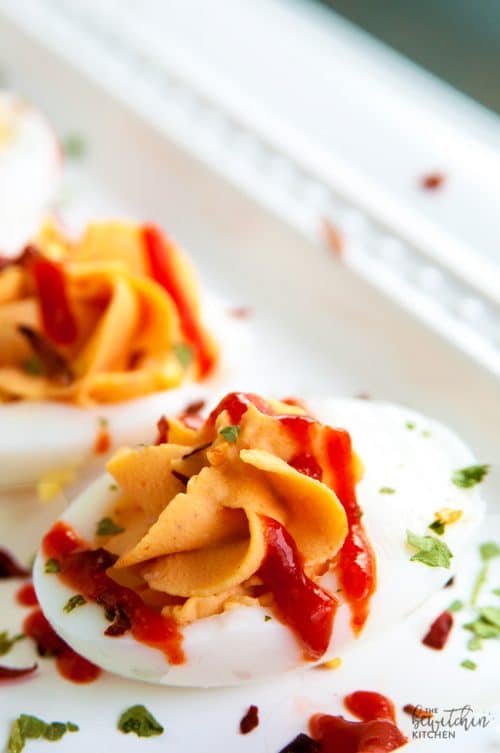 Second, a tip. My husband has always complained whenever I have bought the "cheap eggs" at Walmart. He has said (countlessly) that the shells are weak and they crumble. I finally understand what he means! When I placed those eggs in the boiling water, they instantly cracked and the whites were not as strong as they usually are when I make deviled eggs. There must be something to his cheap egg theory. I don't buy those eggs often and now I won't be buying them at all.
So what do you think? Have you noticed a difference in the quality of eggs before from brand to brand?
Spicy Deviled Eggs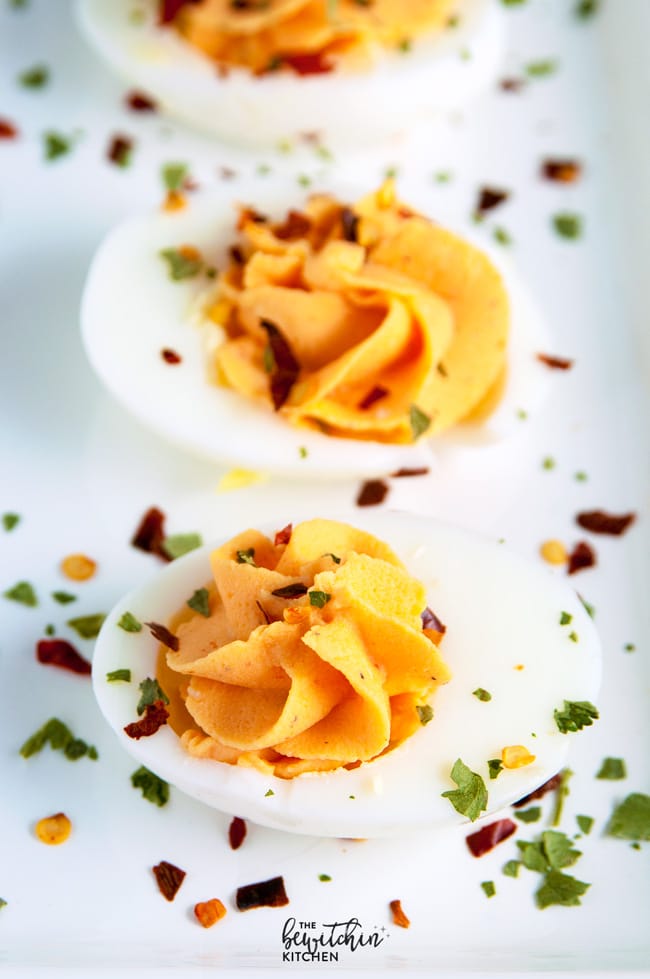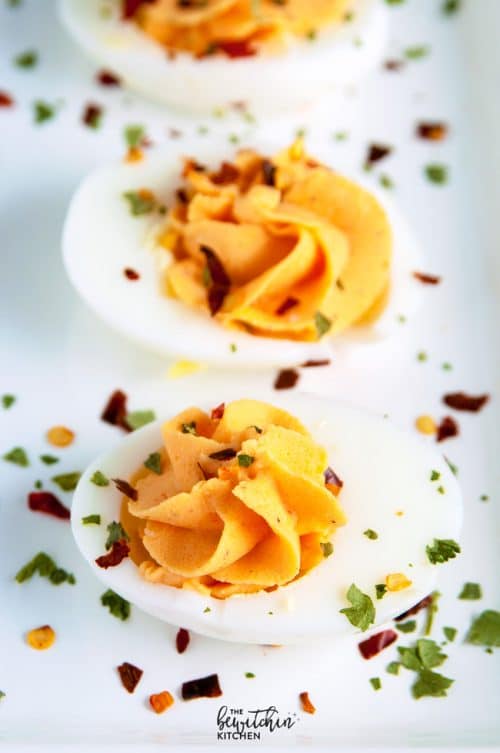 These Sriracha Deviled Eggs are a fun (and spicy) twist on the traditional deviled eggs appetizer recipe. Top them with cilantro and red pepper flakes for a bonus addition of flavour.
Sriracha Deviled Eggs
These yummy appetizers are so easy to make and are a party hit. This spicy 21 Day Fix approved recipe is a high protein snack.
Servings 12 deviled eggs
Calories 36kcal
Ingredients
6 eggs
1/4 cup Miracle Whip
1 tsp Sriracha
1/4 tsp pepper
Garnish: cilantro and red pepper flakes
Instructions
Bring a pot of water to a boil on medium-high heat.

Add your eggs and boil for 12 minutes.

Drain your pot and fill it back up with cold water. Drain it and fill it again. You want to cool down the eggs, so feel free to put them in the fridge for 30-40 minutes. 

Shell the eggs and split them in half.

Toss the yolks into a bowl, add the Miracle Whip and Sriracha and mash with the fork.

Fill the yolk holes with the Sriracha mixture.

Garnish with cilantro and red pepper flakes.
Nutrition
Serving: 1g | Calories: 36kcal | Carbohydrates: 1g | Protein: 2g | Fat: 2g | Cholesterol: 82mg | Sodium: 83mg | Potassium: 30mg | Vitamin A: 120IU | Vitamin C: 0.3mg | Calcium: 12mg | Iron: 0.4mg
Follow On Pinterest
Follow @bewitchinkitchen On Pinterest for more delicious recipes!
Do you have a twist on deviled eggs? How do you make them?
I have partnered up with my friends, Stacey and Julie, to bring you some twists on deviled eggs for our HolidayEntertaining2016 guide. Here are their takes on this classic recipe.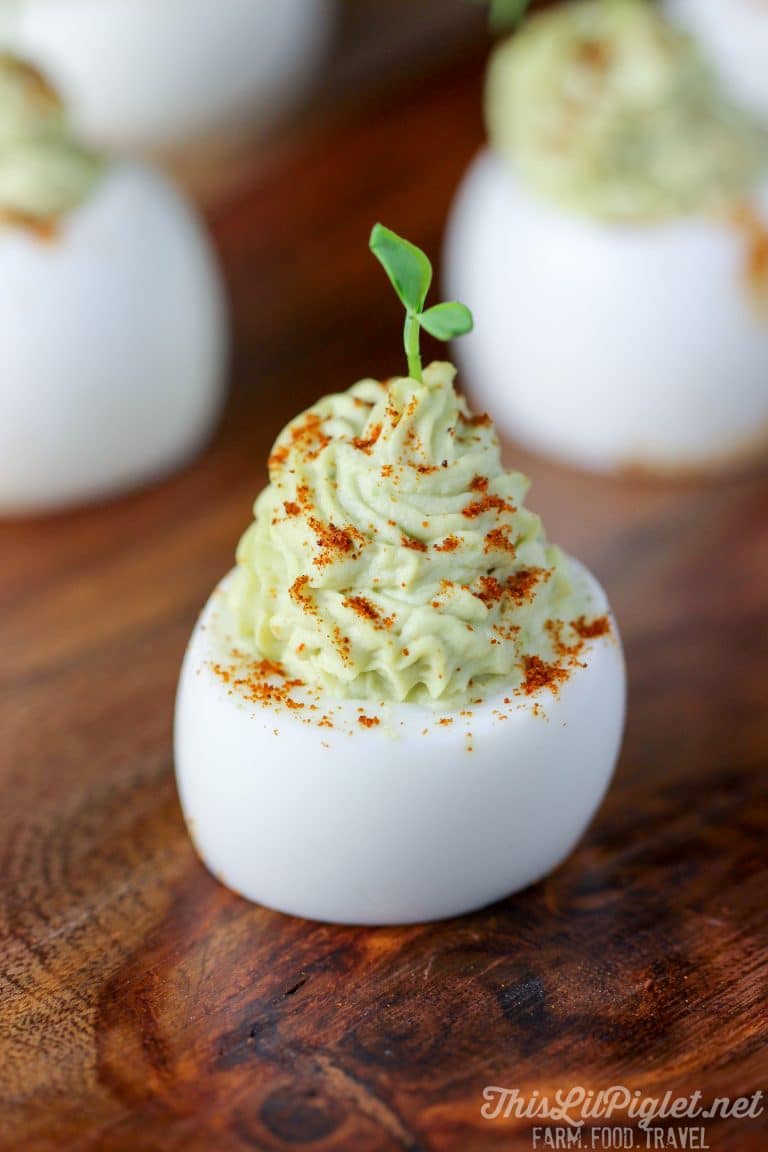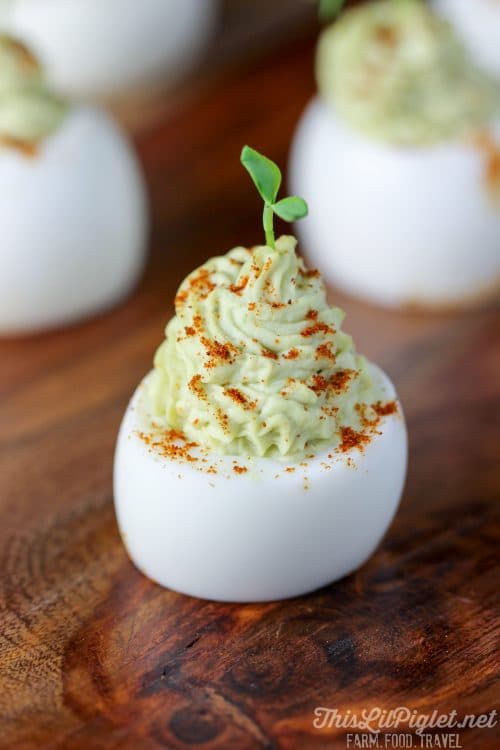 Avocado Devilled Eggs via This Lil Piglet.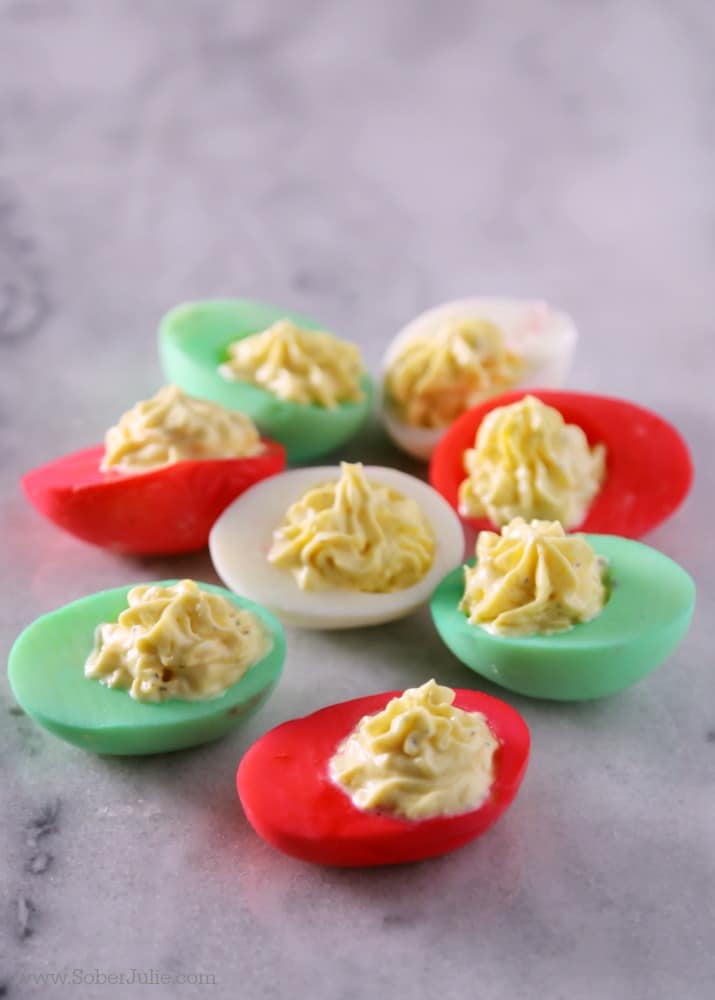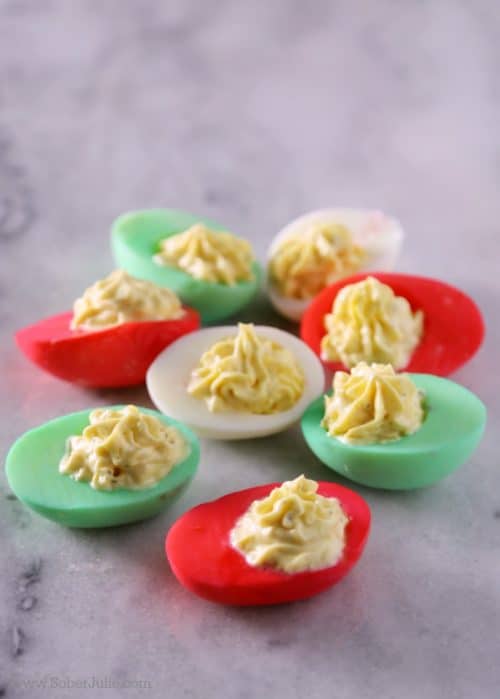 Classic Devilled Eggs with a Holiday Twist via Sober Julie.
If you like this recipe then please spread the love and show your friends.