How I Made Over $12k Blogging | May Blogging Income Report
What goes up, must come down and what goes down shoots right back up! It seems as though I'll have a high month, then a lower month and then it shoots back up! I had the best month of my life in May and I'm so excited to share it. Here's the May Blogging Income Report.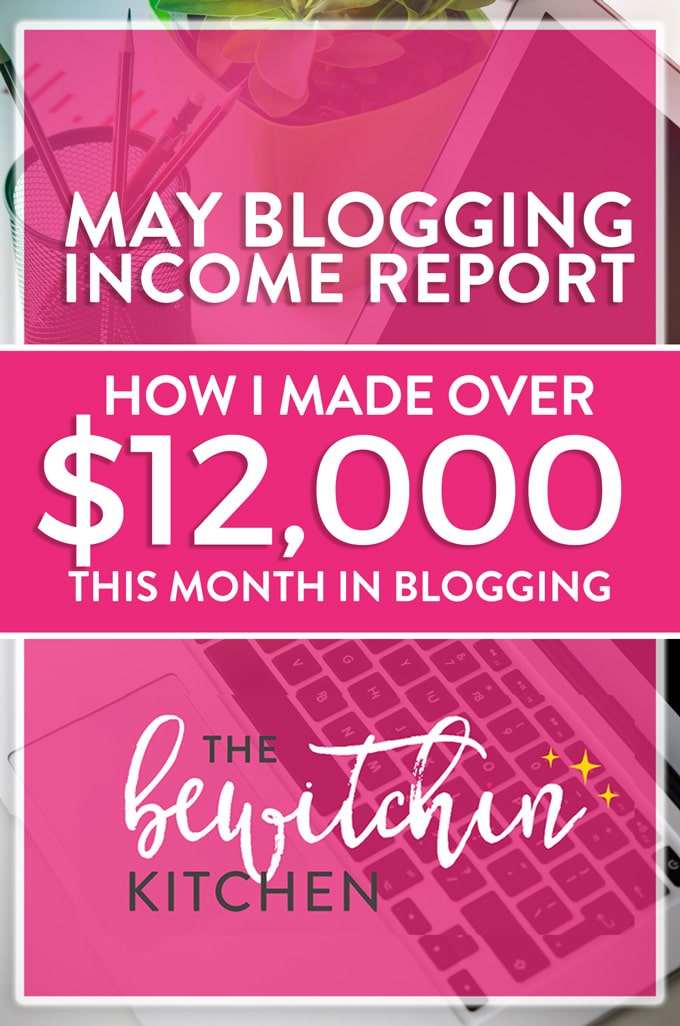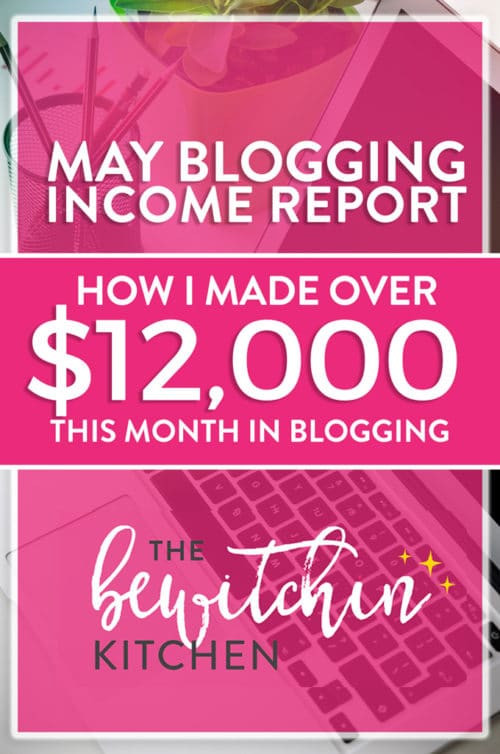 New Expenses:
As always, the more money I make – the more I spend. I have a huge list of expenses that I need to dive into and when I make a little extra, it's the time I do it. Updates to my design, SEO updates to my recipe card, supplies, equipment, education, it all works in there.
Milotree: I've been hearing about Milotree for months now, so I finally bit the bullet. It's affordable (I think it's $9 USD a month) and it produces results. I'm really happy with it so far.
Teachable: Teachable is the platform of the Click Start Club courses. As we're rolling out a beta test group for the Editing with Photoshop course, w're using the basic plan of Teachable to do so.
Hashtag Jeff SEO Course: These past few months I've been focusing on SEO. I enrolled in Hashtag Jeff's beta group to test out his SEO techniques. It's only been a month (not even) but I feel pretty confident in this investment.
CrashPlan: CrashPlan is an automatic backup of your computer. I paid for the year, so now it's done. What I like is it backs up my computer, even when I don't tell it too. I have too much valuable business and personal things on my Macbook and I don't know what I'd do if it was lost. It's peace of mind insurance.
Blogging Income Report (May)
This post contains affiliate links.
INCOME
Everything is in Canadian dollars, all US currency was converted using the PayPal converter. All expenses are used for The Bewitchin' Kitchen. Any other businesses are separate. 
Sponsored Posts: $8544.69
Sponsored Social Media: $600
The Healthy Grail + Delish Dressings: $53.64
Shareasale: $0
AdThrive: $2847.01
Amazon: $239.24
BBTV: $17.17
Other affiliates: $0
Total Income: $12,301.75
BLOG EXPENSES
Virtual Assistants: $1191.62
Supplies (Office supplies, supplies for blog projects, and groceries for recipe development): $216.66
Adobe Photoshop CC: $15.50
ConvertKit: $139.43
FlyWheel (Host): $171.43
GSuite (Email): $5.00
Instapage: $54.92
Gumroad: $14.09
MiloTree: $12.71
Teachable: $278.25
Imagify Plugin: $7.06
CrashPlan: $83.87
Facebook + Pinterest Ads: $63.83
Pinterest Management: $342.86
Developer Updates: $413.42
Hashtag Jeff SEO Course: $34.87
Total Expenses: $3045.52
This expense report does not include house bills, utilities, and data plan. 
See all past income reports, also check out the inspirational blogger income reports I wrote for Click Start Club.
Blog services that I've paid for and that I couldn't live without or have made a difference:
Tailwind, Buffer, Skyrocket Blog Pageviews with Google Analytics, Dominate The Search Engines with Webmaster Tools, Food Blogger Pro, CONQUER the Layers of Search Engine Optimization.
This post contains affiliate links.
products I used to make this happen Shop This Post
(may include affiliate links)