Strawberries with Coconut Cashew Crumble (Whole30 Dessert Recipe)
This simple recipe for Strawberries with Coconut Cashew Crumble is a delicious (and Whole30 approved) snack that can also double as a breakfast side.
However, I used this recipe to ward off the sugar dragon and wean myself off late night treats.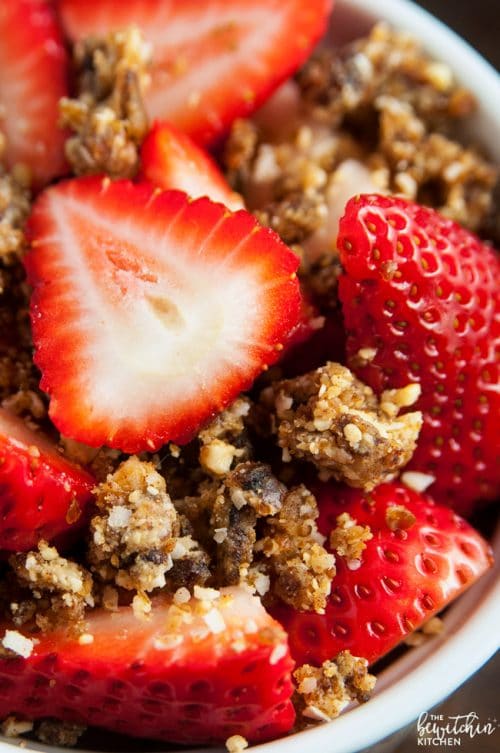 Whole30 Desserts
Since starting Whole30, I have noticed that my taste buds have changed. Food is sweeter, and I'm finding myself satisfied with simple fruit.

OUR LATEST VIDEOS
It may be a little premature to say this but, I'm no longer under the rule of chocolate (hooray).
As I write this, I'm only a week in – so maybe I'm being positive. I don't know, I'm not sure what to expect. Call me optimistic!
The night I made this recipe for Strawberries with Coconut Cashew Crumble was the day I made the Coconut Cashew Bars. I was cutting up strawberries, and prepping them for snacks for the week when I thought that the two would work together nicely.
I was right.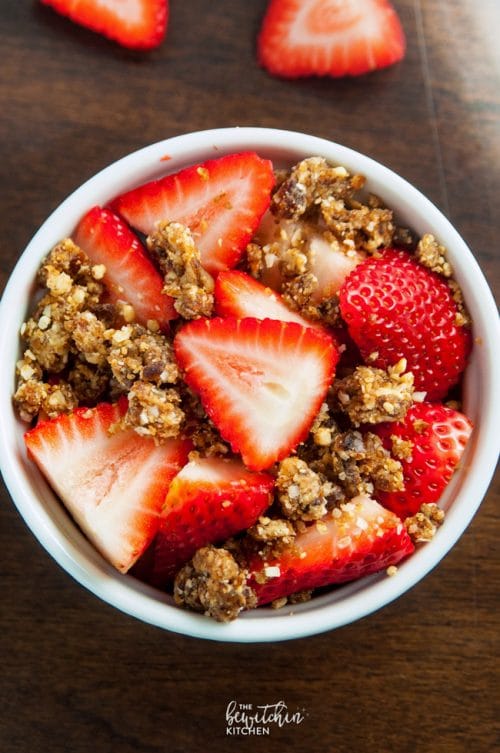 Healthy Cashew Crumble
It's a sweet treat that fills me. Yay! I'm satisfied with how I felt after, meaning it didn't spark any further sugar cravings, or as Melissa Hartwig calls it "feeding your sugar dragon" so I'm confident I'll make this again (probably tomorrow).
However, if you find that it sparks your inner sugar dragon (meaning you crave sugars) and you're on a Whole30, then don't make it again. What works for me, may not work for you so please remember that. We're all different 🙂
Not Whole30? This recipe also falls under a paleo dessert too.
The best part – there are only four ingredients in it!
Looking for a #Whole30 dessert? Check out these strawberries topped w/ coconut cashew crumble.
Click To Tweet
Strawberries with Coconut Cashew Crumble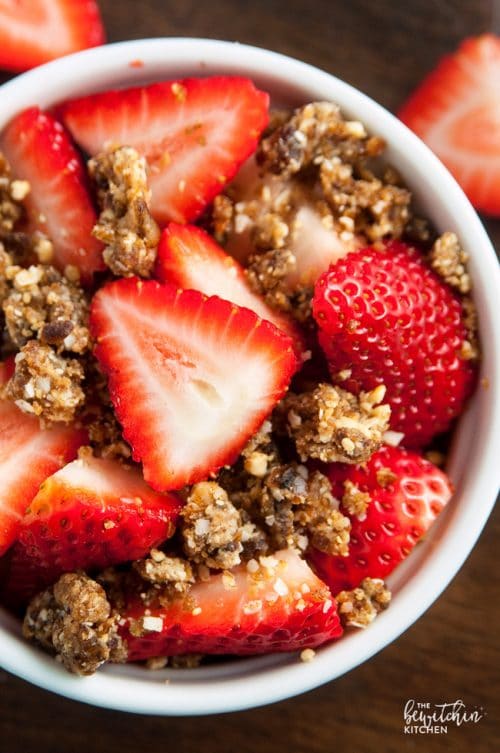 This delicious (and healthy) snack not only satisfies my hunger but makes me feel good about what I'm eating. I'm not sure if it's my tastebuds changes or if I'm going crazy but I taste a sweet vanilla note, yet there is no vanilla in the recipe. It's magical.
Want to kick it up a bit? Add some coconut cream, it's super easy to make!
Simply add a can of coconut milk in the fridge, after a few hours scoop the waxy fat (I know that sounds unappealing, just go with it) out and whip it up. It's really good.
Coconut Cashew Crumble Options
Other ways you can incorporate this Whole30 dessert into other meals:
Use in place of granola and top coconut yogurt with it.
Eat it with almond milk.
Swap the strawberries with another fruit: blueberries, pineapples, raspberries, bananas.
If you're not Whole30 or dairy free, try frozen yogurt or ice cream.
Squeeze into balls for coconut cashew balls.
Whole30 Tools
Here are some Whole30 tools that have helped me in my Whole30 challenge:
Strawberries with Coconut Cashew Crumble
This simple recipe for Strawberries with Coconut Cashew Crumble is a delicious (and Whole30 approved) snack that can also double as a breakfast side.
Prep Time 1 minute
Total Time 1 minute
Servings 1 serving
Calories 327kcal
Instructions
It doesn't get any easier than this.

Arrange your strawberries in a bowl and crumble a coconut cashew bar over top of it.

Optional: whip the fat from a can of coconut cream and place on top.
Nutrition
Serving: 1g | Calories: 327kcal | Carbohydrates: 56g | Protein: 5g | Fat: 12g | Saturated Fat: 5g | Polyunsaturated Fat: 1g | Monounsaturated Fat: 4g | Sodium: 6mg | Potassium: 91mg | Fiber: 7g | Sugar: 44g | Vitamin C: 42.8% | Iron: 1.4%
Follow On Pinterest
Follow @randaderkson On Pinterest for more delicious recipes!
FREE Recipe Binder
Are you constantly wondering what's for dinner?
When I don't meal plan I feel behind, and we usually end up ordering take out. This recipe binder will keep you organized and make life a little bit easier.