Coconut Curry Baked Chicken Meatballs
Let's kick off the year right with these healthy Baked Chicken Meatballs! Ground chicken meatballs are packed with veggies, fresh herbs, and spices and coated in an incredible coconut curry sauce. This coconut curry chicken meatballs recipe is so incredible, and it's a Whole30 dinner recipe that makes really great leftovers.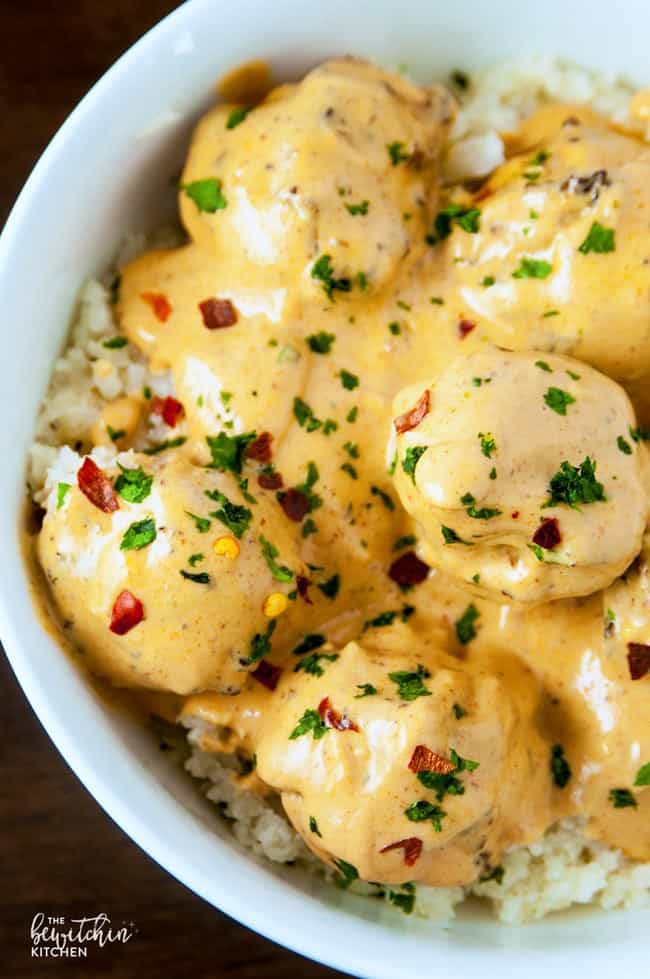 Baked Chicken Meatballs with Coconut Curry Sauce
Disclosure: This post contains affiliate links for your convenience. As an Amazon Associate, I earn from qualifying purchases.
I'm writing this on day 1 of my Whole30 challenge. Working with chicken is perfect because it's so versatile.
I can make any recipe I want with it, and it's easy to create healthy paleo or Whole30 approved recipes. These Baked Chicken Meatballs with Coconut Curry Sauce were really tasty. I served them with a simple cauliflower rice.
The best part about these coconut curry chicken meatballs is that the recipe makes plenty for leftovers! Each batch yields about 20 meatballs total, so you can easily enjoy another meal or two without any extra work.
TBK's Pro Tip: If you're a sauce girl, like me, I recommend doubling the coconut curry sauce. Yum!
Want more healthy Whole30 meal ideas? Visit my Whole30 recipes section.
Why You Will Love Chicken Meatballs in the Oven
Better than Takeout — Plus, these coconut curry meatballs are healthier too.
Easy Prep — Prep these coconut curry meatballs with just 5 minutes of chopping and mixing.
Incredible Flavor — Bright herbs and savory spices in a creamy sauce make this a recipe even kids love!
Clean Eating — Paleo and Whole30 approved, plus dairy and gluten-free!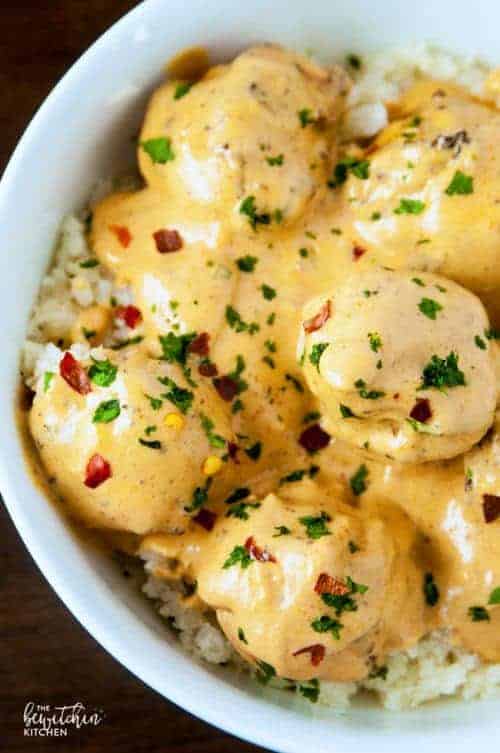 Coconut Curry Chicken Meatballs Ingredients
I have included some affiliate links of specific ingredients I used below for your convenience.
How to Make Coconut Curry Meatballs
Recipe note and a little F.Y.I: the raw part of this recipe is very sticky and goopy, but the curry chicken meatballs come together nicely when baked up, so don't worry if the texture seems off when you first start.
Prep Ingredients
While the red onion and carrots help to hold these meatballs together, it's important that both are chopped into teeny tiny pieces. Especially because you don't want to bite into a large, crunchy piece!
Toss both into a blender or food processor with lime juice, coconut aminos, garlic, herbs, and spices. Pulse (don't blend!) until everything is chopped and combined, then transfer to a bowl and mix in the ground chicken.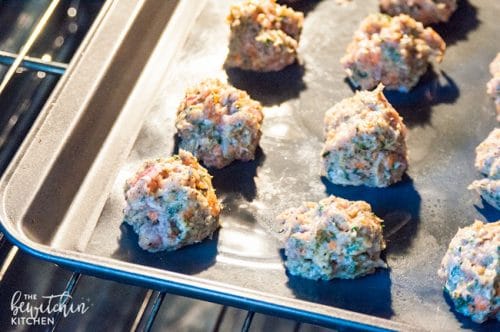 Carefully Form Meatballs
First, mix everything just until thoroughly combined. Overmixing can cause these curry meatballs to come out tough and dry. Scoop out portions with your fingers or a spoon and gently roll each into a ball.
You can also use a 1 to 1.5 tablespoon-sized cookie scoop for portioning — this helps to keep each meatball the same size, which guarantees an even bake. Be sure to lightly coat your hands with oil or water to prevent the ground meat from sticking and to create a smooth surface.
Bake to Perfection
Toss your chicken meatballs in the oven and bake for 35 minutes.
Baked chicken meatballs won't really change shape or size, but it's still a good idea to space them out on your baking sheet. This simply allows them to brown evenly all over and keeps them from sticking to each other.
For easy cleanup, line your baking sheet with parchment paper. And don't forget to roll each meatball over around the halfway mark!
While your chicken meatballs are in the oven, simmer the coconut milk with the rest of the sauce ingredients until silky and smooth. Toss the cooked meatballs in the sauce to coat and simmer for a few minutes, then serve over a bed of cauliflower rice!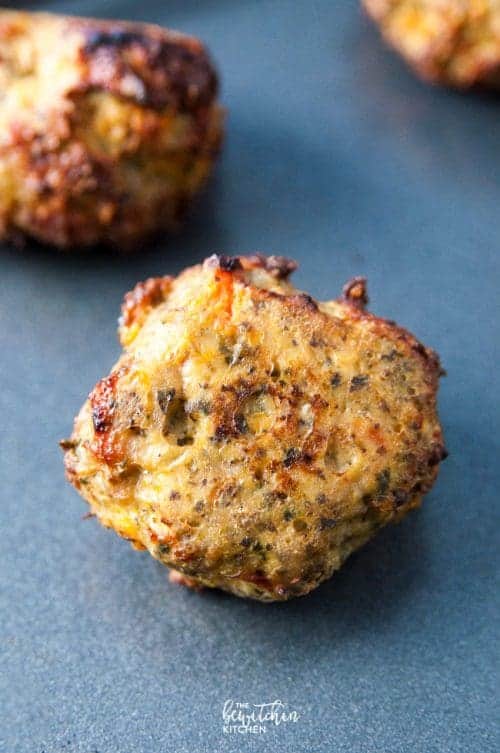 Frequently Asked Questions about Ground Chicken Meatballs
How do you keep chicken meatballs from falling apart?
Every good meatball needs a binding ingredient and plenty of moisture. Eggs and breadcrumbs (often soaked in milk) are the most common binders, but I did something a little different for these healthy curry meatballs.
Chopped carrots and onions release plenty of natural juices and help to hold everything together while adding extra nutrients to this dish.
Why are my baked chicken meatballs tough?
The key to tender and juicy ground chicken meatballs starts with proper mixing and formation. Mix the poultry with the other ingredients just until combined and not a second more. Also, use a delicate touch when rolling each ball — tightly packed meatballs tend to be tough and dry when cooked.
Baking your chicken meatballs in the oven for too long will also make them tough. You can always pop them in for a couple more minutes if they're under cooked, but you can't take cooking time back. When it doubt, start with a lower cook time and cook to temp.
How do you know when ground chicken meatballs are done?
All poultry should be cooked to a safe internal temperature of 165 degrees F. Simply test this by inserting a digital meat thermometer into the center of one of your meatballs!
You can also use your senses — baked chicken meatballs should be firm to the touch with a browned exterior. When sliced, there should be no pink in the center and the juices should run clear.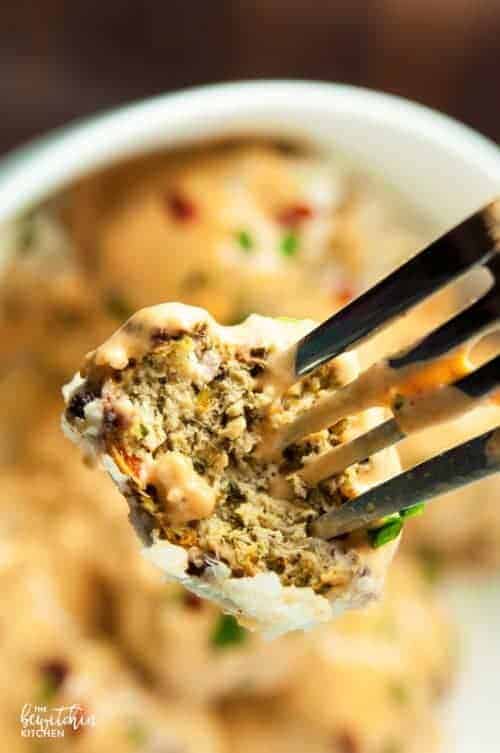 More Healthy Curry Recipes:
Curry Quinoa with Kale and Roasted Cauliflower
Turmeric Chicken Stir Fry with Sweet Potato Noodles
Coconut Curry Baked Chicken Meatballs
Baked Chicken Meatballs are packed with veggies and herbs, coated in a creamy coconut curry sauce, and served over cauliflower rice.
Servings 20 meatballs
Calories 280kcal
Ingredients
Meatballs
1/2 cup roughly chopped carrots
1/4 red onion chopped
2 tbsps freeze dried cilantro
Juice of 1 lime
2 tbsps basil
1 tbsp coconut aminos or soy sauce if not Whole30
1 tsp ground ginger
1 clove garlic
1/2 tsp ground cumin
1/4 tsp red chili flakes
1/4 tsp each sea salt and pepper
1 lb ground chicken
Sauce
1 14oz can coconut milk
1 tbsp red curry paste
1 tbsp almond butter
2 tbsp lime juice
1 tsp minced garlic
Instructions
Meatballs
Place all the ingredients (but the chicken) into a high-powered blender or food processor and pulse until chopped.

Add the chicken and mix well.

Roll into 1 1/2 – 2″ balls and place them on a lined or greased pan.

Bake for 20 minutes, roll the meatballs over and bake them for an additional 15.
Sauce
In a large skillet, over medium heat, heat the coconut milk.

Add the rest of the ingredients and simmer for 10 minutes, stirring constantly.
Putting It Together
Add the meatballs to the sauce, stir them around and simmer for 2-3 minutes.
Video
Nutrition
Serving: 3meatballs with sauce | Calories: 280kcal | Carbohydrates: 6.2g | Protein: 15.7g | Fat: 22.9g | Saturated Fat: 15.3g | Cholesterol: 65.3mg | Sodium: 122.6mg | Fiber: 1g | Sugar: 1.5g
Follow On Pinterest
Follow @bewitchinkitchen On Pinterest for more delicious recipes!