Coconut Curry Chicken Meatballs (with Video)
Let's kick off the year right with these healthy Coconut Curry Chicken Meatballs. This curry chicken recipe is so damn good, and it's a Whole30 dinner recipe that makes incredible leftovers.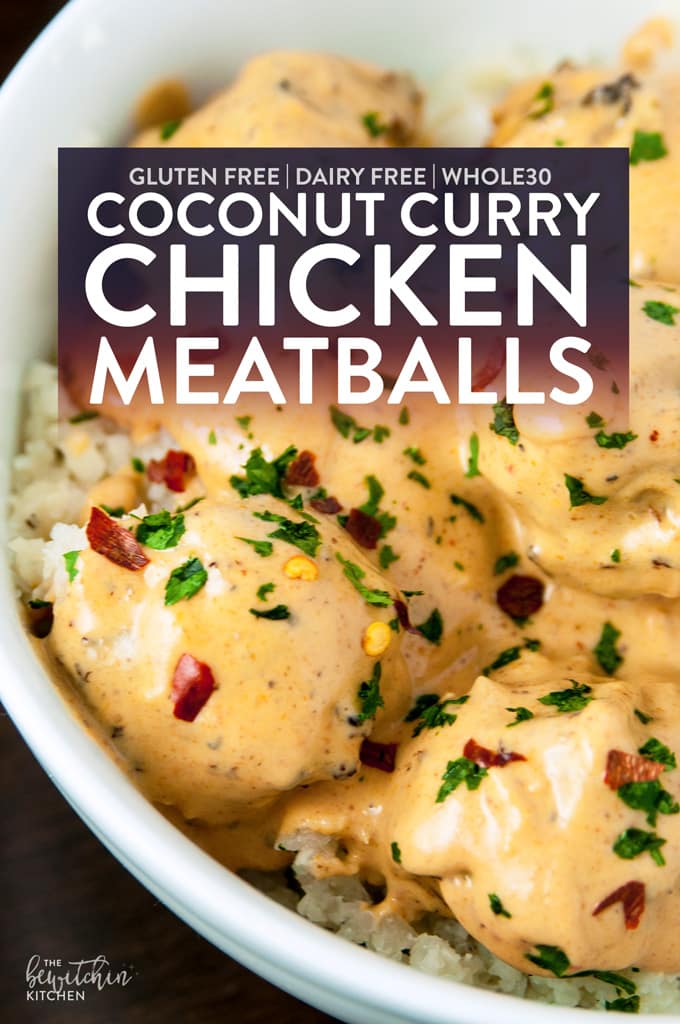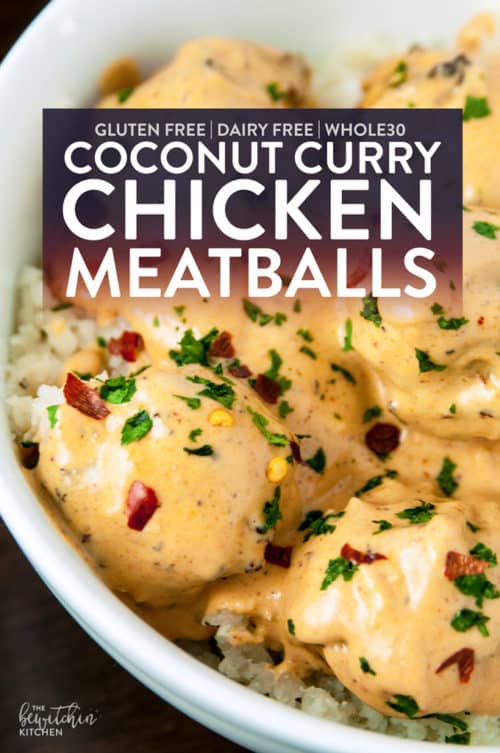 Coconut Curry Chicken Meatballs
Disclosure: I am participating in the Chicken Farmers of Canada campaign managed by SJ Consulting. I received compensation in exchange for my participation in this campaign. The opinions on this blog are my own. This post contains affiliate links for your convenience. As an Amazon Associate, I earn from qualifying purchases.
I'm so excited to announce that I'm joining forces with Chicken Farmers of Canada again this year to bring you some amazing Canadian chicken recipes.
I was a brand ambassador for Chicken Farmers in 2016 and I'm thrilled that I was chosen to share all things chicken again.
Not only do I get to create new chicken recipes, but I also get to learn alongside you about farming practices when it comes to raising chickens. Did you know that there are several farming methods?
I talked about these methods in this recipe for Southwestern Chicken Stuffed Peppers but I'll list them here again:
Free Range: Free range birds must have access to the outdoors (varies from farm to farm).
Free Run: Free run chickens do not need to be raised outside but they are required to be able to move around freely within the barn. All chickens raised for meat in Canada are free run.
Grain Fed: This is mostly for marketing. All chicken in Canada is given a feed that consists of at over 88% grain.
Halal: Meat that comes from chicken that follows the Muslim guidelines.
Hormone Free and/or Steroid Free: Hormones have been banned from chicken since the 1960's in Canada.
Tweet this: Did you know that hormones have been banned from farm raised chickens in Canada since the 1960s?
Kosher: Kosher means that this fits the dietary requirements of Jewish law.
Organic Chicken: Organic chicken is raised to a specific standard as laid out by the Canadian General Standards Board, in addition to the standards set by an organic certification board. Generally, chicken must be raised with certified organic feed that contains no animal by-products or antibiotics and any supplements, such as vitamins, must be approved by a certification body.
Vegetarian Grain Fed: This means that the feed has no animal by-products. For the protein source, soy is included but keep in mind that it can alter the taste and color of the meat.
Raised Without Antibiotics: This means that the chicken was raised without any antibiotics.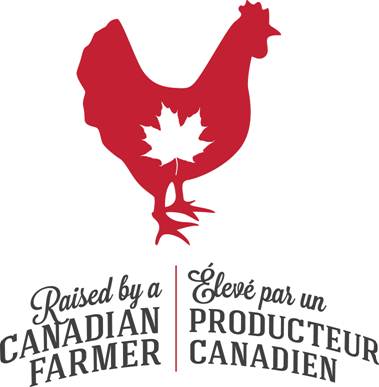 PSST, Canadians: When you're shopping, keep your eyes peeled for the logo seen above.
That's how you know that your chicken has been raised by a Canadian farmer, which not only helps out our economy but gives peace of mind knowing that our chicken is regulated through auditable programming.
If you don't see this symbol, ask your store to get it in! We need our voices to be heard that Canadians want Canadian raised chicken.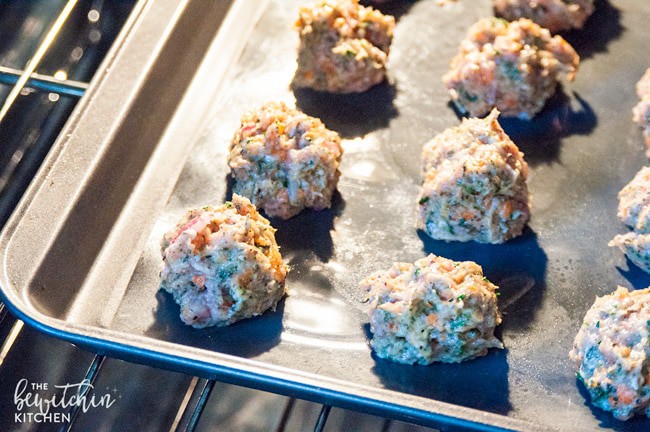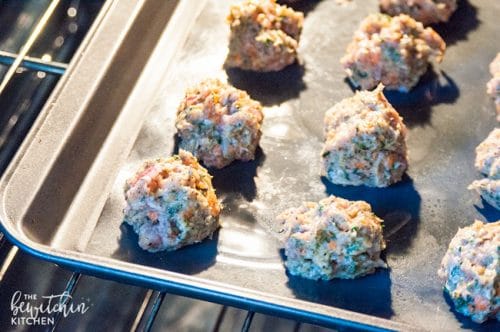 Curry Chicken Meatballs
I'm writing this on January 9th, which is day 1 of my Whole30 challenge. Working with chicken is perfect because it's so versatile.
I can make any recipe I want with it, and it's easy to make healthy, paleo, or Whole30 approved recipes. These Coconut Curry Chicken Meatballs were really tasty. I served them with a simple cauliflower rice.
Want more healthy Whole30 meal ideas? Visit my Whole30 recipes section.
TBK's Pro Tip: If you're a sauce girl, like me, I recommend doubling the coconut curry sauce. Yum!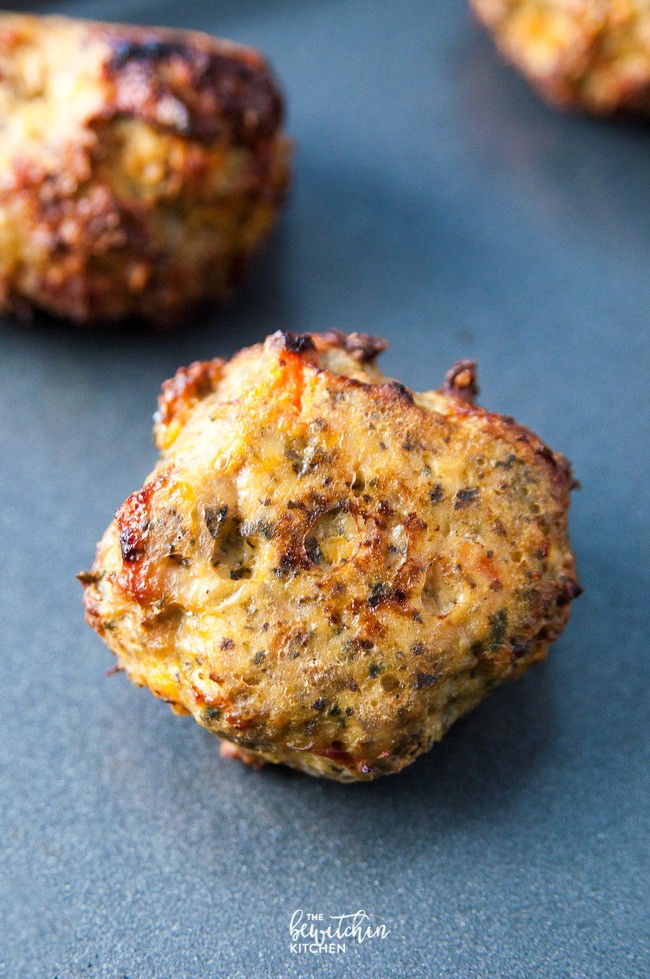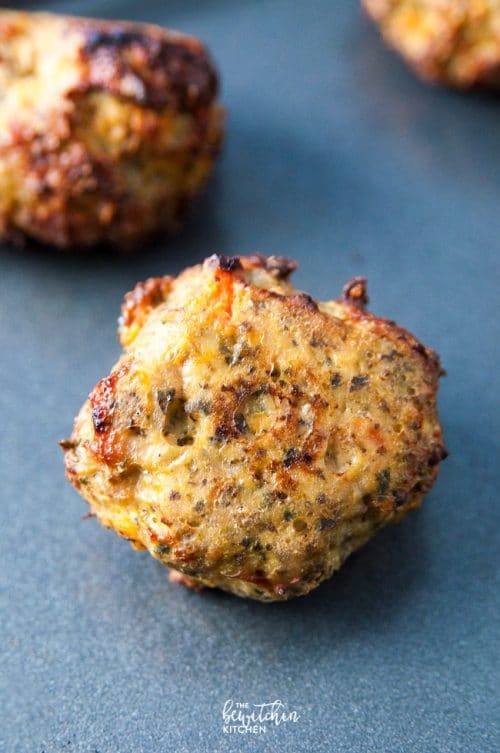 Recipe note and a little F.Y.I: the raw part of this is very goopy, but they come together nicely when baked up, so don't worry when you start it.
Psst –> I put together this Low Carb 7 Day Meal Plan. It's a free eBook for you to download! Click here to access it.
Coconut Curry Chicken Meatballs Ingredients
Specific Ingredients I used for the recipe:
I have included some affiliate links of what I used below for your convenience.
Attention Weight Watcher Freestylers, I had this converted into points and here you go:
The meatballs are 0 points. The sauce is 7 points for the whole thing, and it makes 20 meatballs so less than 1 point each.
Healthy Curry Recipes
How to Make Coconut Curry Chicken Meatballs
[adthrive-in-post-video-player video-id="xxrMofW4″ upload-date="2017-06-22T11:59:31.000Z" name="Coconut Curry Chicken Meatballs" description="Coconut Curry Meatballs" player-type="default" override-embed="default"]
Did you know that I have a separate nutrition blog, Randa Nutrition? I am so excited about teaching women realistic nutrition that I put together a free mini membership! Click the image below to join.
Coconut Curry Chicken Meatballs
These clean eating meatballs are so darn good. Creamy curry with a hint of lime makes this paleo dinner a favorite of the whole family. 21 Day Fix approved!
Servings 20 meatballs
Calories 280kcal
Ingredients
Meatballs
1/2 cup roughly chopped carrots
1/4 red onion chopped
2 tbsps freeze dried cilantro
Juice of 1 lime
2 tbsps basil
1 tbsp coconut aminos or soy sauce if not Whole30
1 tsp ground ginger
1 clove garlic
1/2 tsp ground cumin
1/4 tsp red chili flakes
1/4 tsp each sea salt and pepper
1 lb ground chicken
Sauce
1 14oz can coconut milk
1 tbsp red curry paste
1 tbsp almond butter
2 tbsp lime juice
1 tsp minced garlic
Instructions
Meatballs
Place all the ingredients (but the chicken) into a high-powered blender or food processor and pulse until chopped.

Add the chicken and mix well.

Roll into 1 1/2 – 2″ balls and place them on a lined or greased pan.

Bake for 20 minutes, roll the meatballs over and bake them for an additional 15.
Sauce
In a large skillet, over medium heat, heat the coconut milk.

Add the rest of the ingredients and simmer for 10 minutes, stirring constantly.
Putting It Together
Add the meatballs to the sauce, stir them around and simmer for 2-3 minutes.
Video
Nutrition
Serving: 3meatballs with sauce | Calories: 280kcal | Carbohydrates: 6.2g | Protein: 15.7g | Fat: 22.9g | Saturated Fat: 15.3g | Cholesterol: 65.3mg | Sodium: 122.6mg | Fiber: 1g | Sugar: 1.5g
Follow On Pinterest
Follow @bewitchinkitchen On Pinterest for more delicious recipes!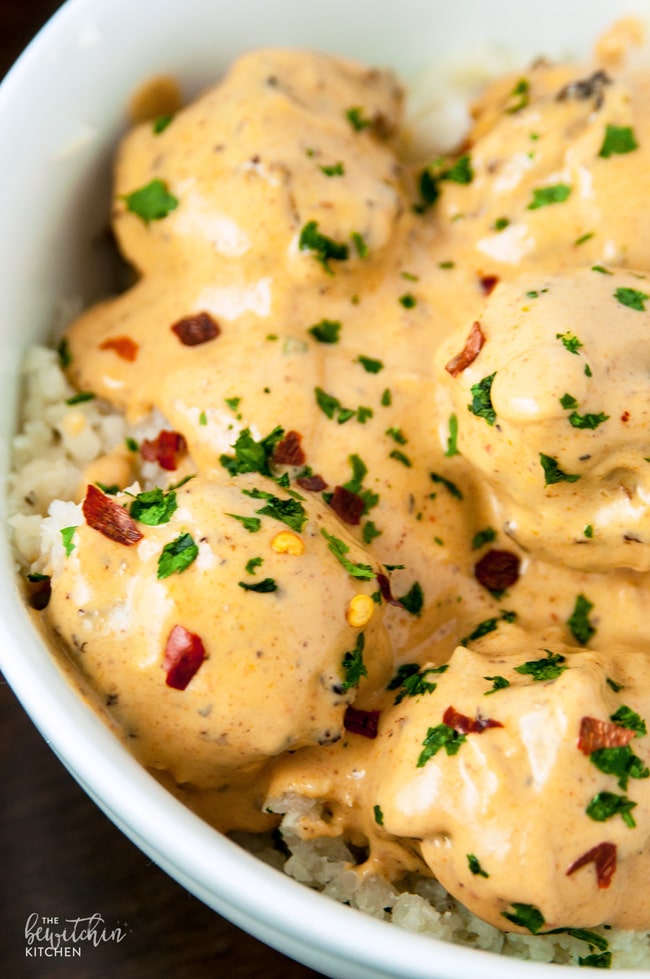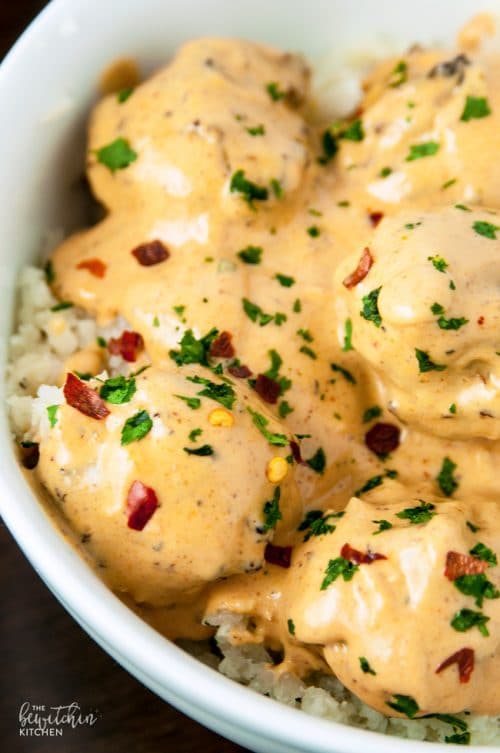 Want more healthy recipe inspiration? Head to Chicken.ca and search for their recipes. Regardless of your dietary needs or what you're craving, you can search the site based on what you're looking for. Check out and follow the Chicken Farmers of Canada on the following social profiles: Facebook, Twitter, Instagram and Pinterest.