Blueberry Breakfast Bars
I just love these blueberry breakfast bars! They're super easy to throw together and hit the spot when I want a sweeter breakfast or a little snack with my coffee.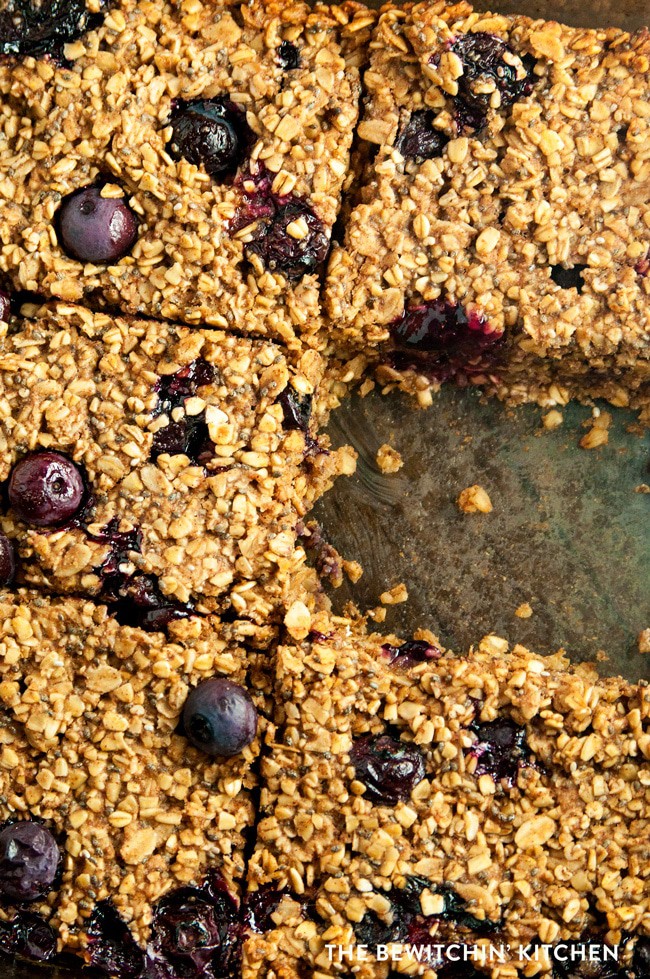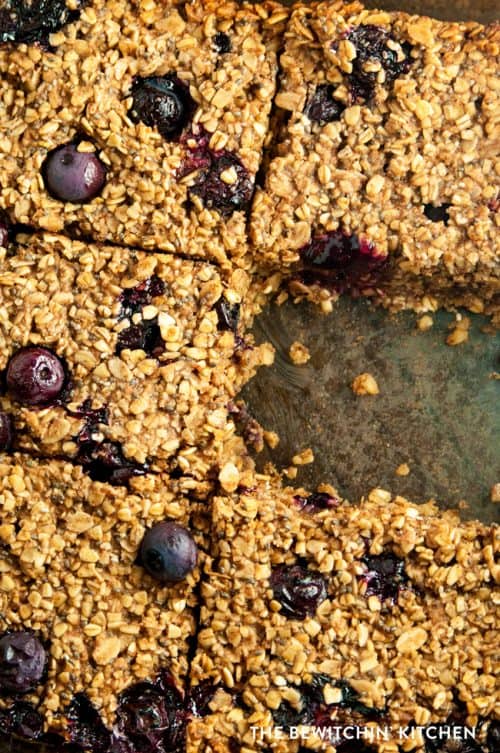 Blueberry Breakfast Bars
I don't buy blueberries often, I live in Northern British Columbia (actually, it's central if you look on the map but it's classified as Northern) and blueberries don't last long. There have been occasions where I would open the fridge to grab some blueberries only to see they were white and fuzzy after only two days! It's a huge pet peeve of mine. Not only is it a waste of money but it's a waste of good food (and a nutritious food that my four-year-old will actually eat).
I have a solution to the blueberry dilemma and I'm dying to share it with you.
Eat Cleaner Fruit and Vegetable Wash 
This post contains affiliate links.
No, I'm not telling you to "eat clean, train mean" I'm sharing a product that I personally use.
I'm a huge podcast fan, and I have listened to my girl Chalene Johnson since she began both her podcasts (Build Your Tribe and The Chalene Show). One podcast that always stuck with me was with Mareya Ibrahim. Mareya was discussing food borne illnesses and how her product (Eat Cleaner) not only prolongs the life of your produce but reduces your changes (by 99.9% of getting sick). You see, washing your fruits and vegetables doesn't get them all that clean! I first learned about this when I was studying nutrition and tried some home remedies but never felt confident in what I was doing (it's not like there was any science backing my DIY attempts). Science backs Eat Cleaner.
I urge you all to listen to the podcast episode, it's eye opening.
At the time, us Canadians cannot get Eat Cleaner. Knowing that I was heading to the US for my Disneyland trip, I reached out to Mareya's team to ask how I could get my hands on it. I was going to stop at Whole Foods to grab a few bottles, but I was invited to Eat Cleaner HQ to meet Mareya and she graciously gave me a bottle to try. I wish I remembered to stop at Whole Foods to stock up on a few more bottles before I left California.
Update: Great news! Canadians are now able to get Eat Clean on Amazon.ca as of this week! Stay tuned. 
I conducted a little test.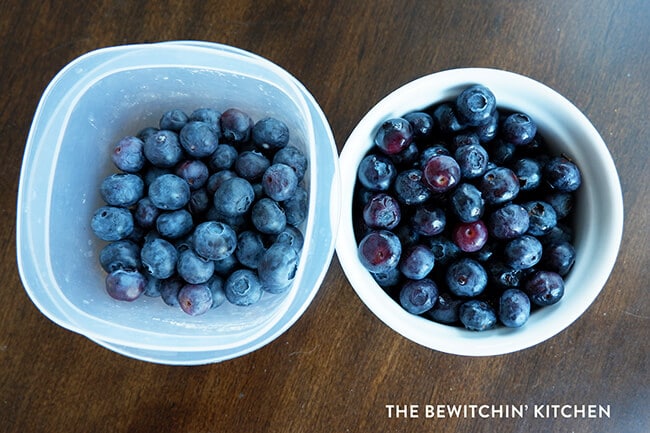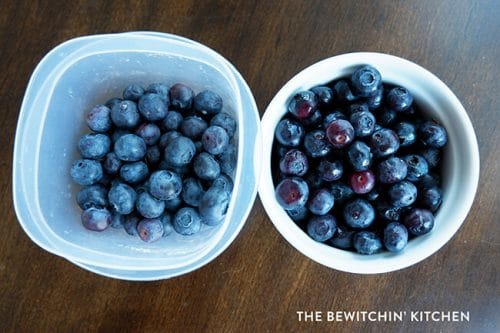 The above photo is 1 day after washing the left blueberries with water and the right with Eat Cleaner.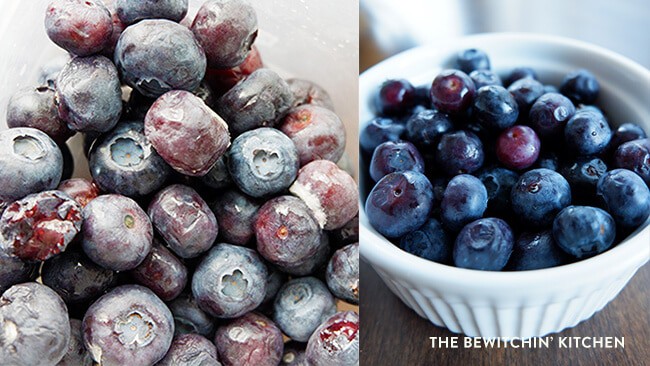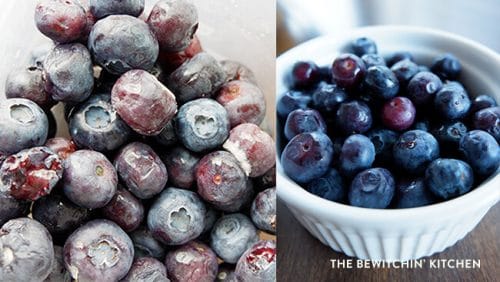 This photo is a week and a half after washing the left blueberries with water and the right with Eat Cleaner. Yes, blueberries go bad that fast at my house. SOLD. Grab your Eat Cleaner here.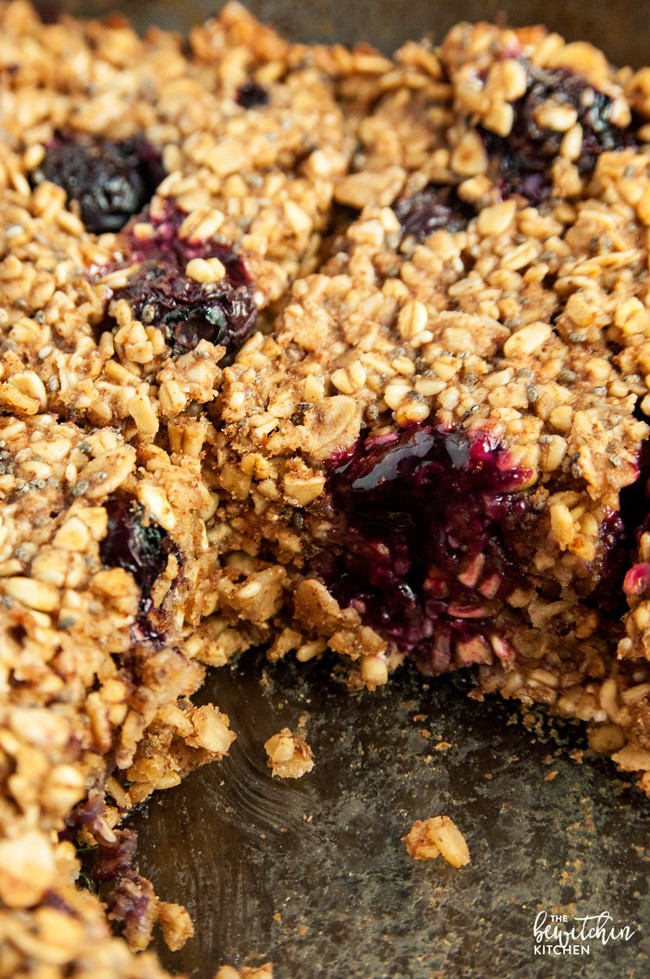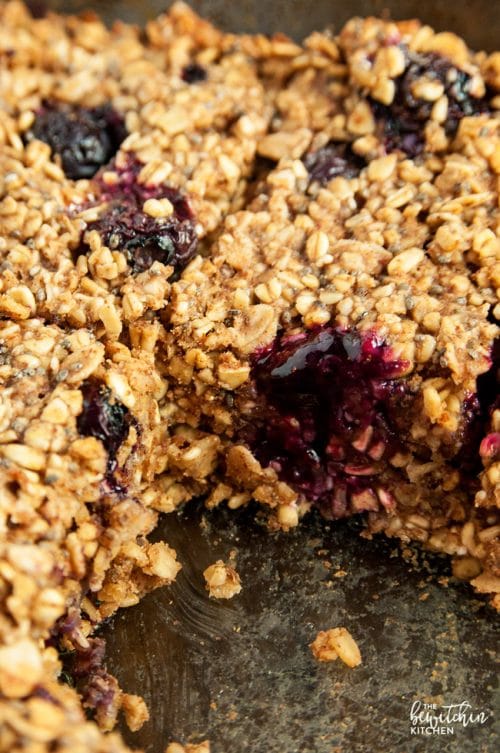 Full disclosure: this is not a sponsored post. I was not paid to write about Eat Cleaner, but I love this product. So I applied to be an affiliate and I'm sharing this with you because I want to.
Blueberry Oatmeal Bars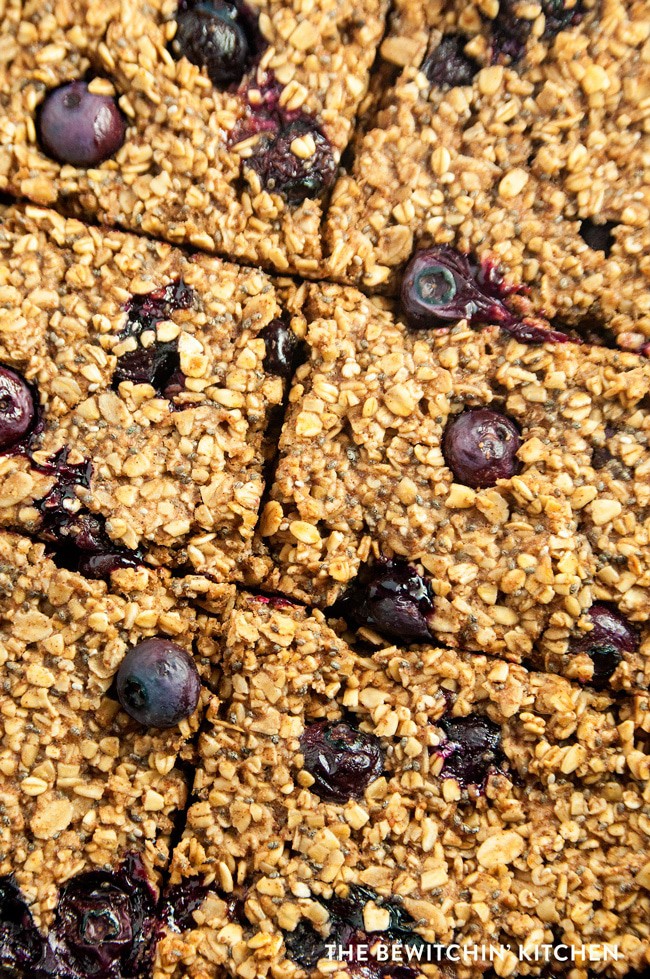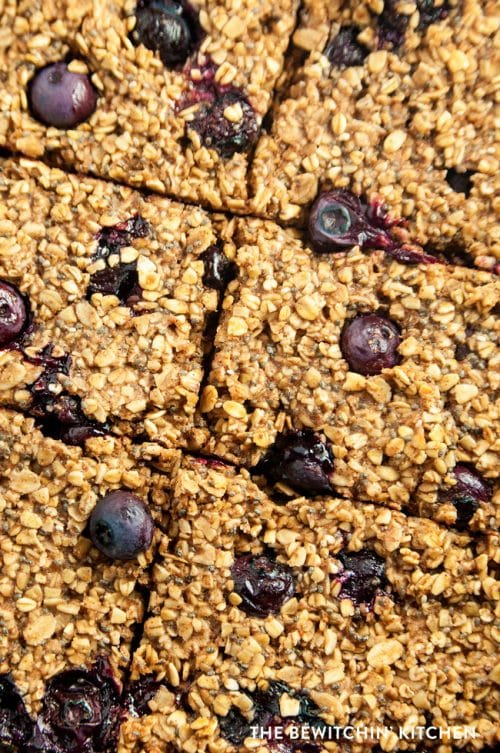 These wholesome blueberry breakfast bars are a healthy, sweet alternative to blueberry oatmeal. They're filling and offer loads of fiber. Want them less sweet? Don't add as much honey, simple as that!
Blueberry Breakfast Bars
These wholesome blueberry breakfast bars are a yummy and healthy alternative to blueberry oatmeal. They're filling and offer loads of fiber. Serve one with coffee for a yummy afternoon snack.
Servings 12 squares
Calories 209kcal
Ingredients
3 cups rolled oats
1/2 cup fresh blueberries
2 teaspoons ground cinnamon
1 teaspoon  sea salt
1/2 cup almond butter
1/4 cup chia seeds
1/2 cup unsweetened blueberry apple sauce
1/2 cup honey
3 tablespoons  unsweetened almond milk
1 teaspoon vanilla extract
Instructions
Preheat oven to 350°.

Combine dry ingredients in a medium sized bowl.

Combine wet ingredients into a large bowl, add the dry ingredients and mix well.

Add blueberries and lightly mix.

Add to a 9x9 pan and spread evenly.

Bake for 30 minutes.

Let cool and cut into 12 squares.
Nutrition
Serving: 1g | Calories: 209kcal | Carbohydrates: 31.1g | Protein: 5.5g | Fat: 8.2g | Saturated Fat: 0.8g | Sodium: 200.2mg | Fiber: 4.9g | Sugar: 13.3g
Follow On Pinterest
Follow @bewitchinkitchen On Pinterest for more delicious recipes!
Disclosure: this post contains affiliate links. 
FREE Recipe Binder
Are you constantly wondering what's for dinner?
When I don't meal plan I feel behind, and we usually end up ordering take out. This recipe binder will keep you organized and make life a little bit easier.