Creamy Sundried Tomato Stuffed Chicken Breasts with Tomato Parmesan Sauce
I have been wanting to make this recipe for Creamy Sundried Tomato Stuffed Chicken Breasts with Tomato Parmesan Sauce for a very long time. I'm so excited to share it with you!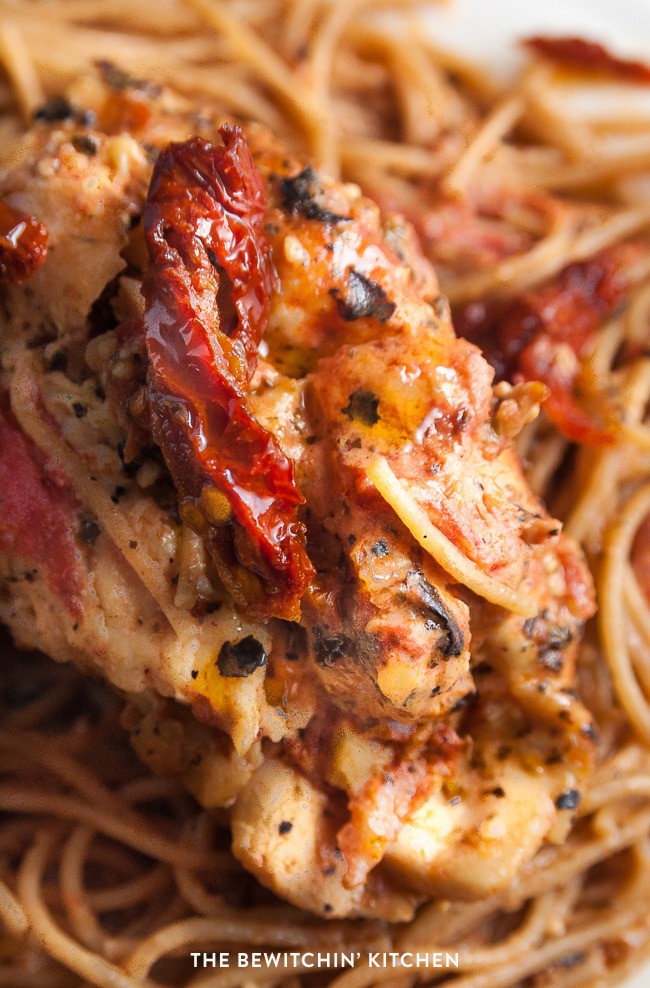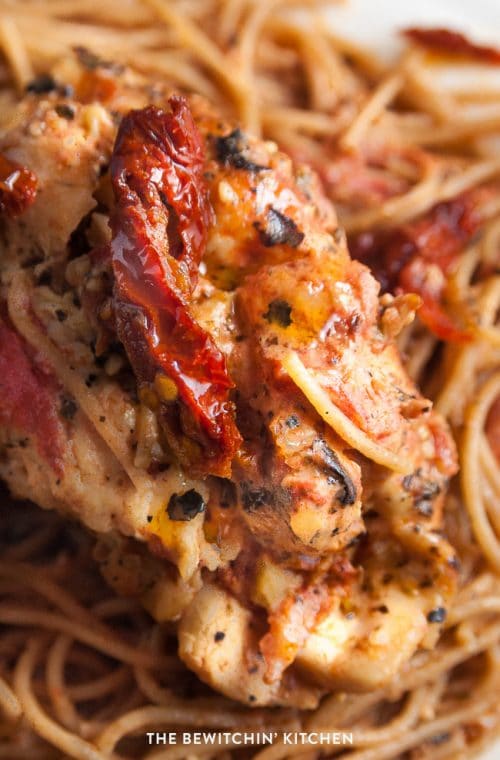 Two years ago, my husband and I went on a little date night to see Jurassic World. Before the movie, we stopped at a restaurant and he ordered a sundried tomato stuffed chicken. I had a bite, it was amazing so I went to the specials board and took a photo. That photo has been transferred to two phones since then and I FINALLY made it.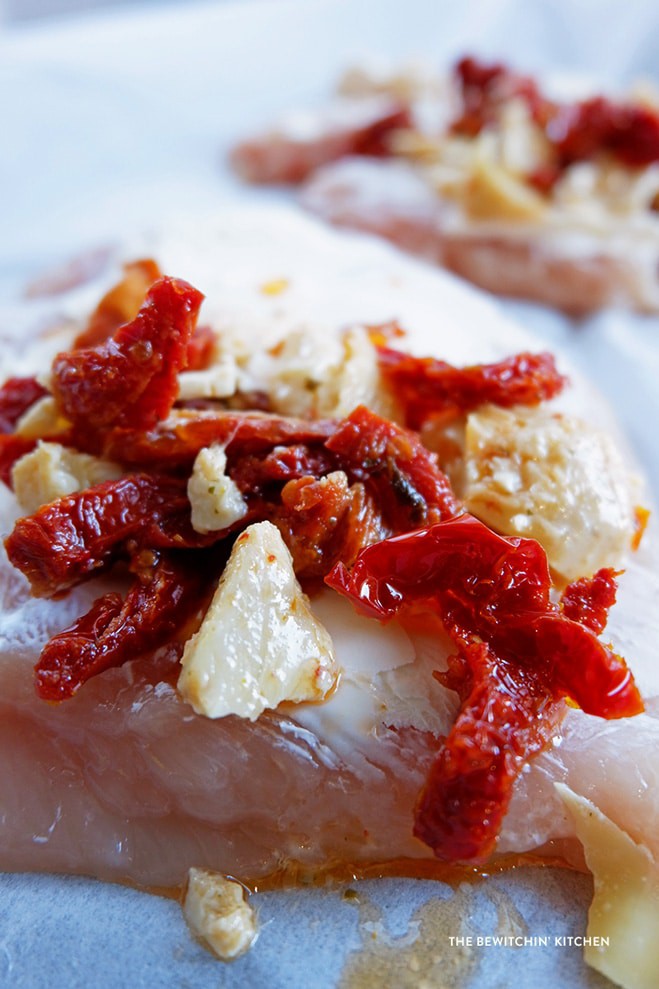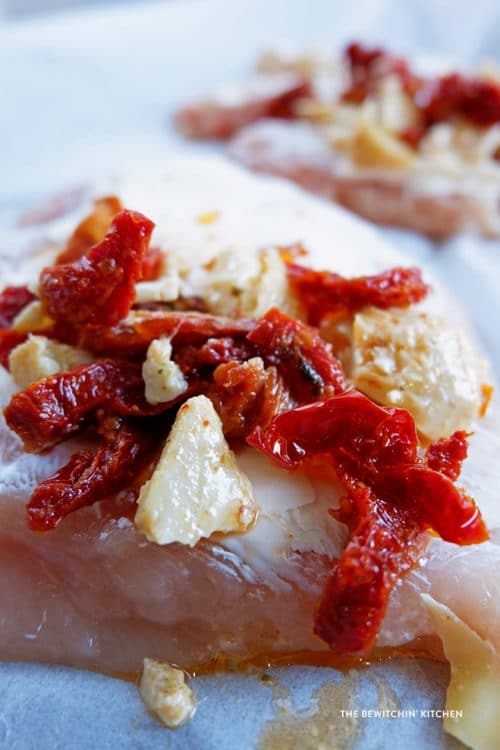 I'm sure this is going to come as a huge surprise to you (insert sarcasm here) but I'm not a formal cook. I don't do things by the book.
So when I flattened the chicken breasts, I laid the chicken between two pieces of parchment paper and used a heavy bottomed skillet to smack the heck out of it. If you're fancy, you'll use a kitchen mallet. I smashed it until it was about 1/4″ to 1/2 inch thick. There is no right or wrong, if it's thicker it simply means you have to cook it longer.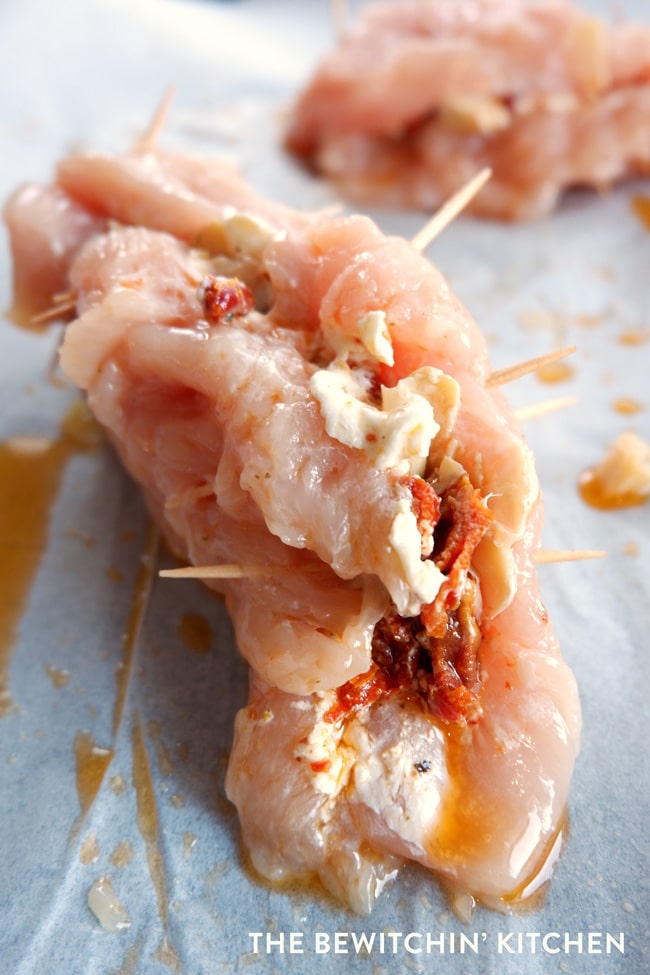 After I spread the cream cheese and topped the chicken breasts with sun-dried tomatoes and marinated artichokes I folded it up and stabbed it a whole bunch with toothpicks. I went a little overboard with the toothpicks, but it worked! Just remember to take them out when it serve it. I'm almost embarrassed to admit that I swallowed a little piece of toothpick, but if you ever ate with me you'd expect it. I inhale my food, especially when it's as delicious as this sundried tomato stuffed chicken.
Sundried Tomato Stuffed Chicken Breasts with Creamy Tomato Parmesan Sauce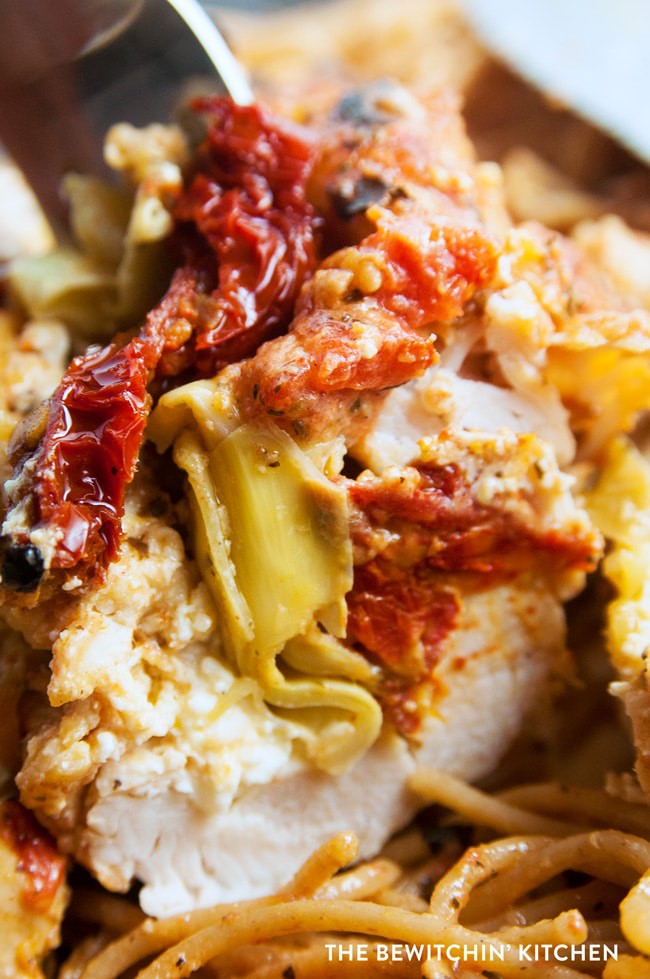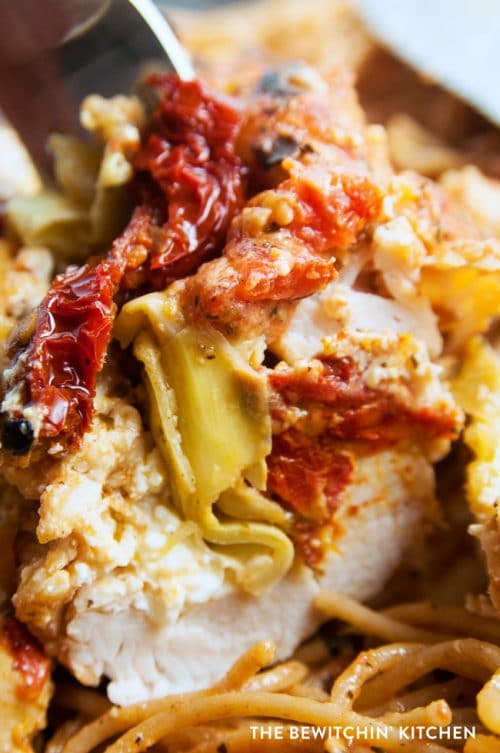 Creamy Sundried Tomato Stuffed Chicken Breasts with Tomato Parmesan Sauce
Servings 4
Ingredients
Creamy Tomato Parmesan Sauce
1 can fire roasted tomatoes
1/4 cup cream cheese
1/4 cup parmesan cheese
2 cloves garlic minced
1 tbsp basil
Instructions
Preheat oven to 375°

Sandwich the raw chicken breast in between two sheets of parchment paper and flatten with a mallet (or in my case, a heavy pan). You want the chicken to be an even thickness and roughly 1/4" thick.

On each chicken breast spread 2 tablespoons of cream cheese and divide the artichokes and sundried tomatoes between them all.

Fold the chicken breast in half and set in place with toothpicks (cut off the ends of the toothpicks that stick out).

Heat a large heavy bottomed pan over medium-high heat. Season chicken with salt and pepper.

Brown the chicken on each side, roughly 4-5 minutes per side. Set the chicken aside on a clean plate.

Add all of the ingredients of the sauce to the pan, heat through.

Transfer the stuffed chicken breasts back to the pan and bake for 30-35 minutes.

Serve over broccoli, pasta, or enjoy with a side salad.
Follow On Pinterest
Follow @bewitchinkitchen On Pinterest for more delicious recipes!
Want more family recipe inspiration? Head to Chicken.ca and search for their recipes. Regardless of your dietary needs or what you're craving, you can search the site based on what you're looking for. Check out and follow the Chicken Farmers of Canada on the following social profiles: Facebook, Twitter, Instagram and Pinterest.
Disclosure: I am participating in the Chicken Farmers of Canada campaign managed by SJ Consulting. I received compensation in exchange for my participation in this campaign. The opinions on this blog are my own.