Homemade Greek Vinaigrette
I love a good homemade greek vinaigrette. The best part is how easy it is to make! In less than two minutes you can have a tasty and flavor-packed dressing for your salads, marinades or whatever else you want to use it for.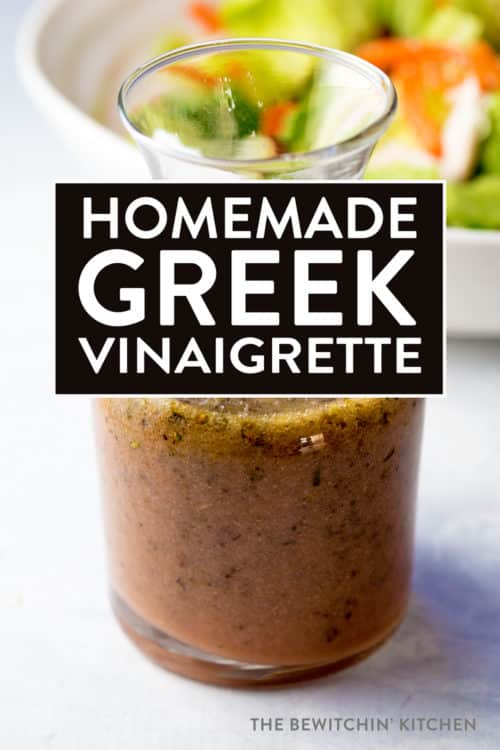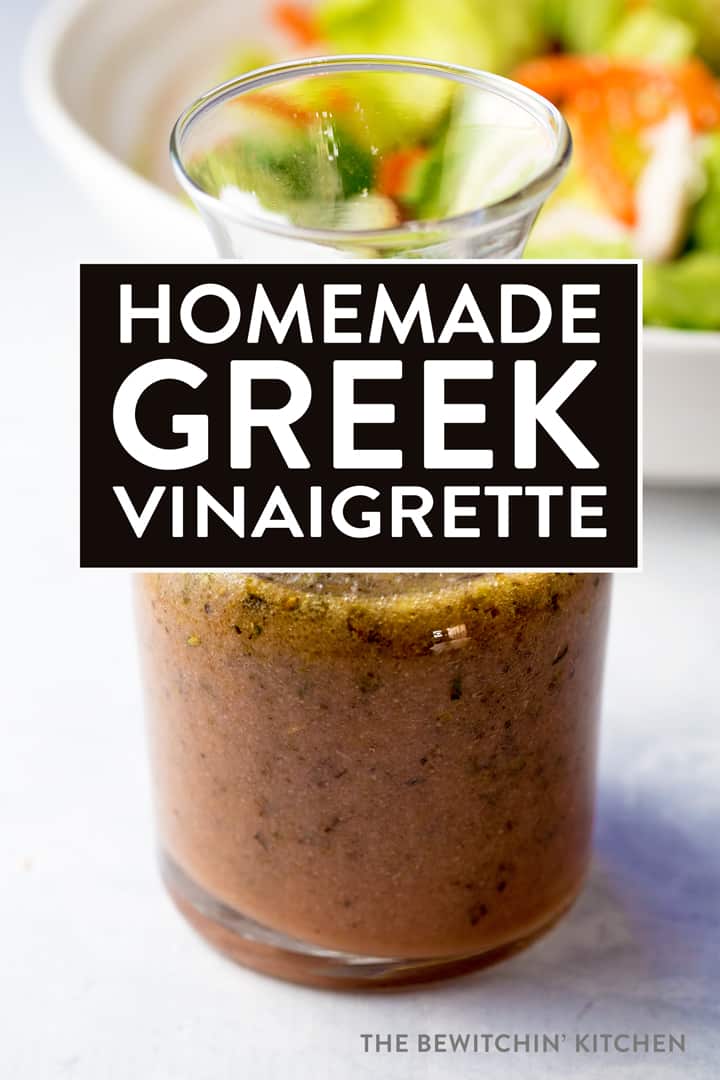 Homemade Greek Vinaigrette
This post contains affiliate links for your convenience. This post has been refreshed from its original post date of December 2015! Fresh photos plus the "remix" includes the use of Raw Spice Bar spices. I have been paid to include Raw Spice Bar and reshoot the photos but the recipe is the same as before.
In all honesty, I originally made this homemade Greek vinaigrette for the Greek pizza recipe but after pouring it on my salad for lunch today I knew I had to share it with you all as a separate post (and hey let's be honest here, it's an extra post so win-win for everyone).
I've said a few times over the past few weeks that I'm craving a lot of zest lately. To reach my cravings I added more dijon that what was needed but since that's not really all that Greek I cut it in half. If you're craving a lot of zest (like me) or you love dijon – the extra teaspoon is delicious! Dijon mustard is one of my favorite things to put in homemade salad dressings and soup!
I know the soup comment may have thrown you off a little bit, but trust me, throw some dijon in broccoli cheddar soup and your life will be forever changed.
PS, if you like this recipe then you'll love the Pesto Vinaigrette that I put together.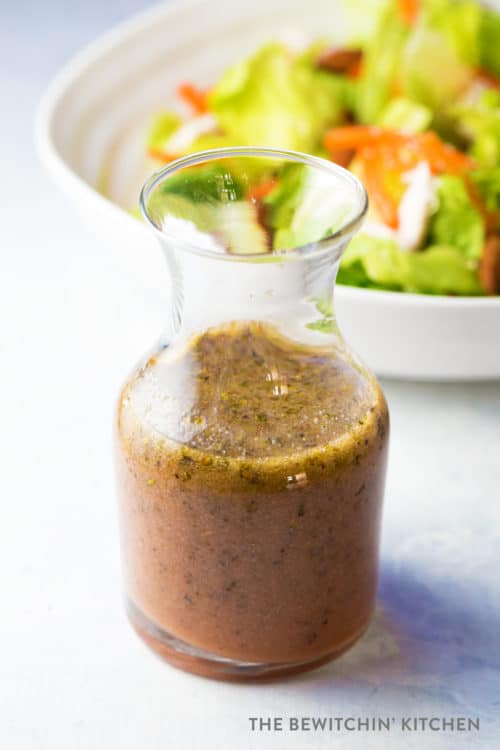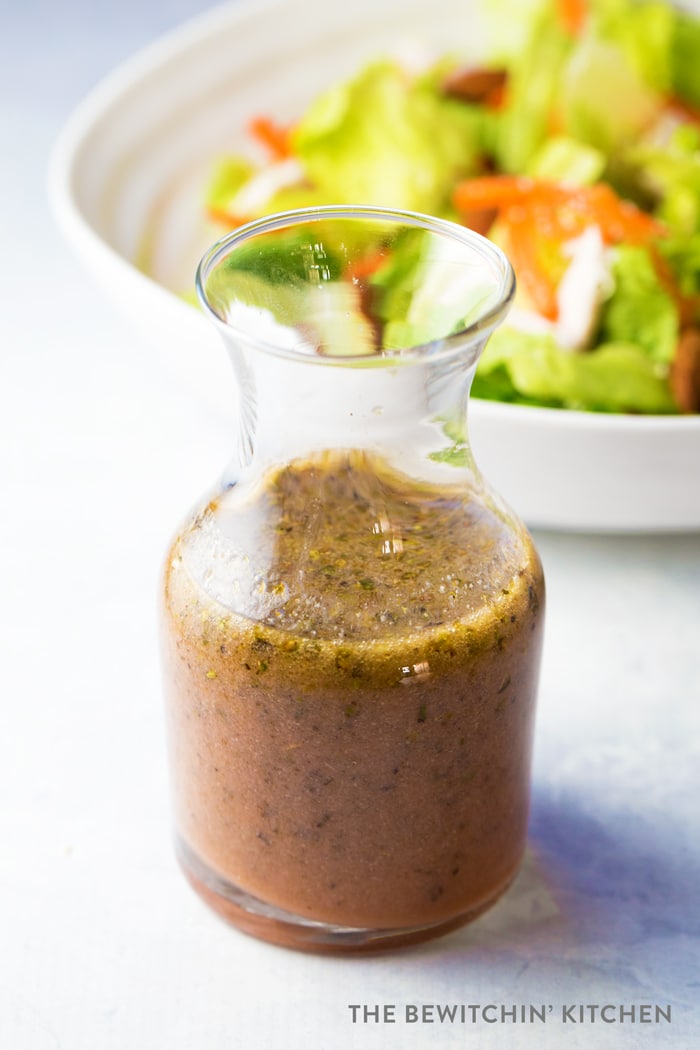 I really like this salad dressing shaker. Easy to shake, easy to pour and you can measure! Easy peasy (plus it has awesome Amazon reviews).
How to Make Vinaigrette
Curious about how to make homemade vinaigrettes and dressings? Sign up below to get a free sample recipe from Delish Dressings and Vinaigrettes!
Get a free sample recipe
Receive a sample recipe from Delish Dressings & Vinaigrettes straight to your inbox.
Check out my new eBook – Delish Dressings & Vinaigrettes.
Homemade vinaigrettes from The Bewitchin' Kitchen:
Greek Vinaigrette Dressing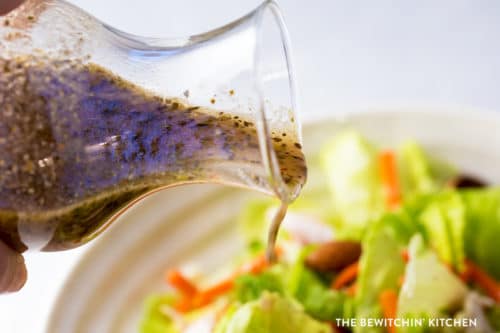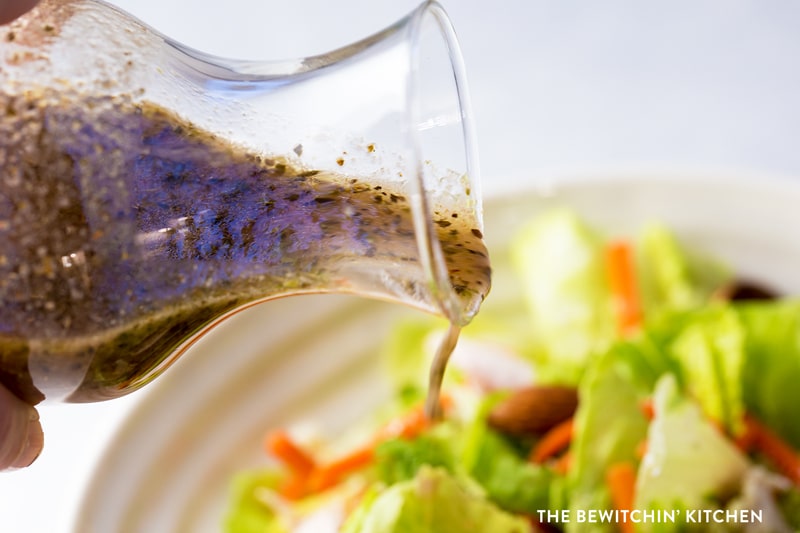 This homemade greek vinaigrette is perfect on salads, as a chicken marinade or on a Greek pizza. It's the most popular recipe here on The Bewitchin' Kitchen and I can see why – it's delicious.
This makes a delicious greek salad dressing recipe, but here's the thing: I don't like Greek salad (can't do tomatoes or cucumber) so I like to pour it over a bed of spinach complete with feta, chicken, and when I'm feeling dangerous: bacon.
Randa's Tip: Check out Raw Spice Bar! It's great place to get fresh spices shipped quartly in a fun box at a low price! You can experiment with new spices or have some of your favorites to make amazing recipes (like this one) taste even better. *I'm an affiliate for Raw Spice Bar and I do receive a small comission from their sales but it's a product I recommend.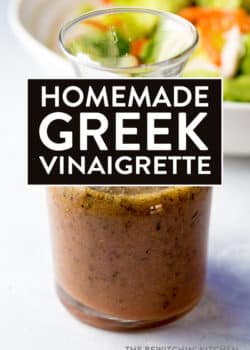 Homemade Greek Vinaigrette
Homemade Greek Vinaigrette. This homemade salad dressing is delicious over salads, as a marinade, and on a greek pizza! This healthy recipe packs a clean eating punch!
Ingredients:
1/2 cup red wine vinegar
1/4 cup olive oil
2 tsps garlic powder
2 tsps oregano
1 tsp basil
1 tsp onion powder
1 tsp dijon mustard
1/4 tsp ground sea salt
Pinch of pepper
Directions:
Combine all of the ingredients in a mason jar and shake until combine.
Store in the fridge for a week.
Note: when you take it out for your salads either take it out a few minutes before you need it or microwave it for fifteen seconds to soften it.
Nutrition Information
Yield: 6, Serving Size: 1
Amount Per Serving:
Calories: 90 Calories
Total Fat: 9.4g
Saturated Fat: 1.3g
Sodium: 11.8mg
Carbohydrates: 1.4g
Fiber: 0.3g
Sugar: 0.1g
Protein: 0.3g
All images and text ©
.
Do you make your own vinaigrettes and salad dressings?
Popular recipes on The Bewitchin' Kitchen: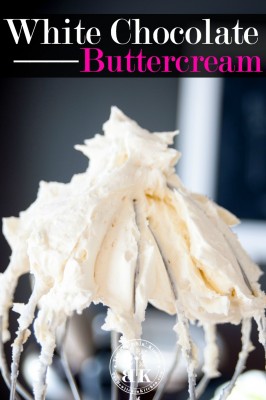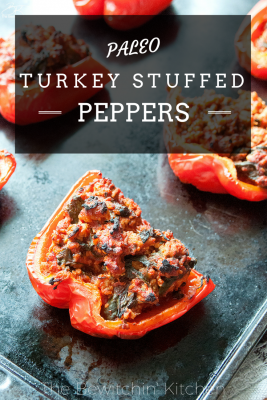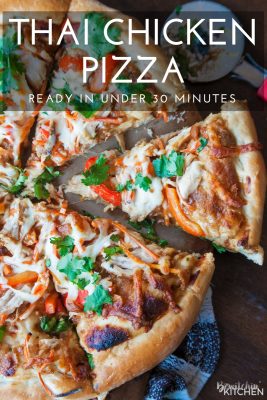 Get a free sample recipe
Receive a sample recipe from Delish Dressings & Vinaigrettes straight to your inbox.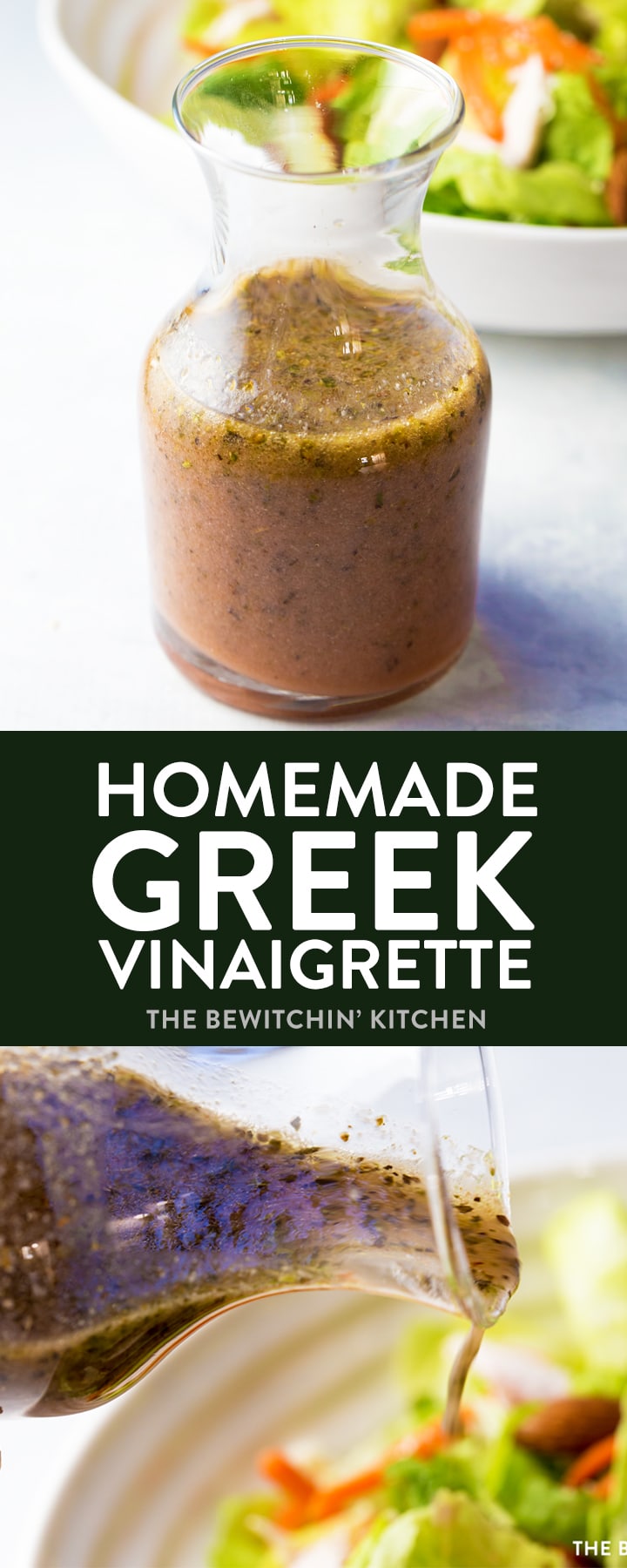 products I used to make this happen Shop This Post
(may include affiliate links)