Homemade Greek Dressing
This homemade Greek dressing couldn't be easier to put together and is perfect as a salad dressing or marinade. In less than 2 minutes, you can have a flavor-packed, zesty, clean salad dressing that goes with everything. You'll never want store-bought Greek dressing again!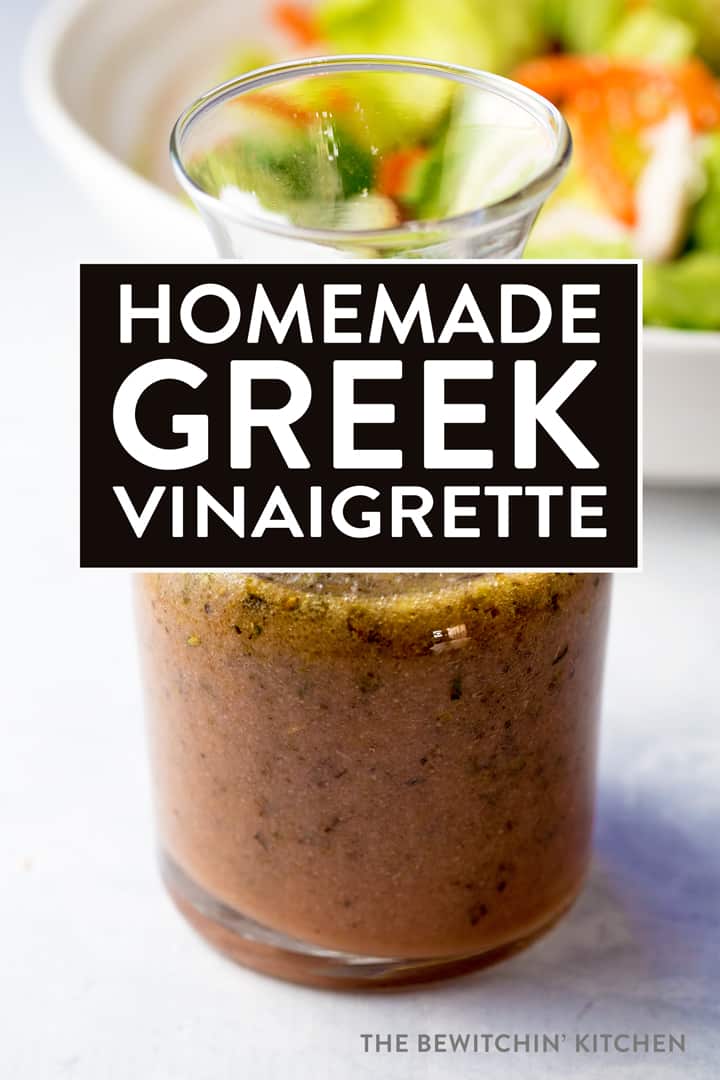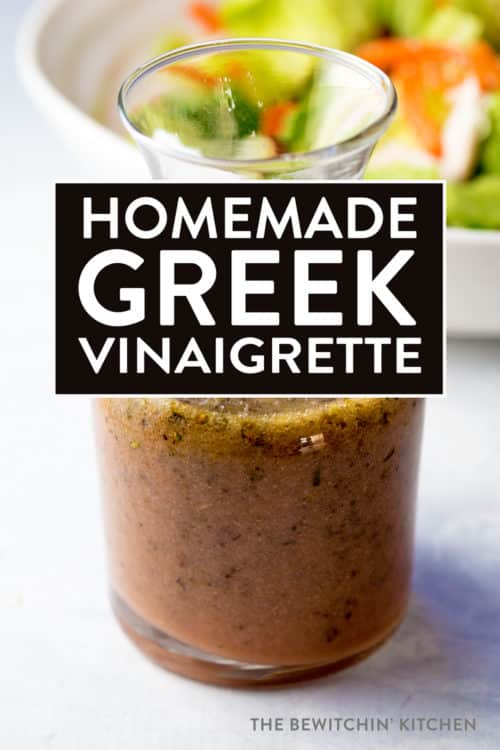 Disclosure: This post contains affiliate links for your convenience. As an Amazon Associate, I earn from qualifying purchases.
Homemade Greek Dressing
In all honesty, I originally made this homemade Greek vinaigrette for the Greek pizza recipe. But after pouring it on my salad for lunch today, I knew I had to share it with you all as a separate post. After all, what is Greek dressing without a plethora of recipes to use it with?
This Greek dressing deserves to be highlighted. Try it with my Greek Chicken Souvlaki or Easy Greek Chicken.
Why You'll Love This Clean Salad Dressing
Delicious Greek flavor – Red wine vinegar, olive oil, and a bunch of classic Greek spices add a taste of Greece to any recipe.
Fast and Easy – Throw this clean salad dressing together in about 2 minutes and enjoy!
Healthy – Real, whole ingredients make this Greek vinaigrette recipe low-carb, gluten free, and dairy free.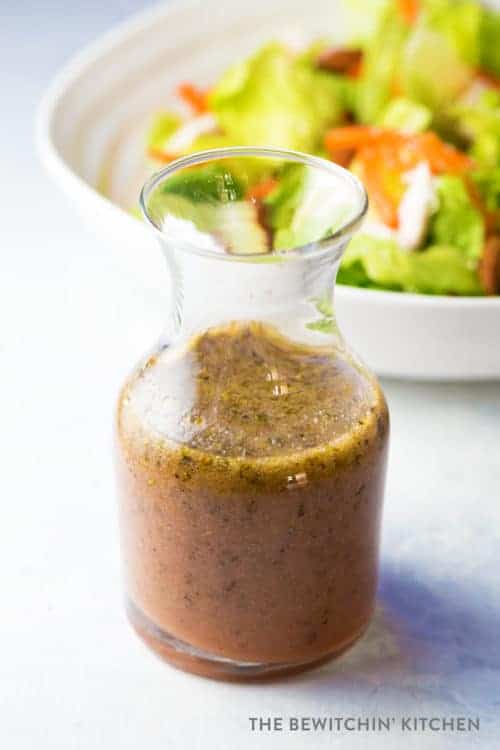 Greek Vinaigrette Ingredients
I really like this salad dressing shaker. Easy to shake, easy to pour, and you can measure right in the glass! Easy peasy (plus it has awesome Amazon reviews).
How to Make Greek Vinaigrette Dressing
This makes a delicious Greek salad dressing recipe, but here's the thing… I don't like Greek salad (can't do tomatoes or cucumber), so I like to pour it over a bed of spinach complete with feta, chicken — and when I'm feeling dangerous, bacon.
Combine Ingredients
Combine the red wine vinegar, olive oil, garlic powder, oregano, basil, onion powder, Dijon mustard, ground sea salt, and pepper in a mason jar. Shake until well combined.
This homemade Greek vinaigrette is perfect on salads, as a chicken marinade, or on a Greek pizza. It's the most popular recipe here on The Bewitchin' Kitchen, and I can see why — it's delicious.
Serve or Store
Serve immediately or store in the fridge until ready to use.
Extra Zesty Greek Vinaigrette
If you're craving a lot of zest (like me) or you love Dijon — the extra teaspoon is delicious! Dijon mustard is one of my favorite things to put in homemade salad dressings … and soup!
I know the soup comment may have thrown you off a little bit, but trust me, throw some Dijon in broccoli cheddar soup and your life will be forever changed.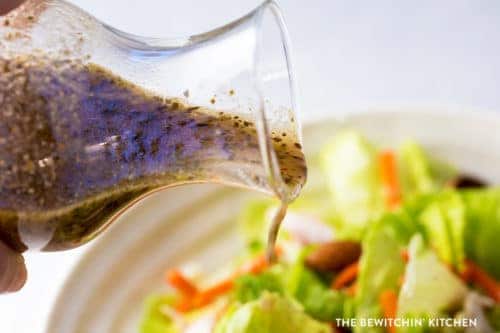 Frequently Asked Questions
What is Greek Dressing?
What is Greek dressing, anyway? A traditional Greek salad dressing is technically a vinaigrette as it contains olive oil, red wine vinegar, and lemon juice. A Greek dressing goes a step further by including Dijon mustard, minced garlic cloves, dried oregano (the key ingredient), and salt and pepper.
How Do You Store Greek Vinaigrette?
This Greek dressing will store in the fridge for up to a week. I recommend taking it out to soften a few minutes before you're ready to use it. You can also pop it in the microwave for 15 seconds to soften it, as the fats in this recipe will solidify in the cold.
If you like this, then you'll love these recipes
Homemade Greek Dressing
Homemade Greek dressing couldn't be easier to put together and is perfect as a salad dressing or marinade. Whip up a batch in minutes!
Servings 6 tbsps
Calories 90kcal
Ingredients
1/2 cup red wine vinegar
1/4 cup olive oil
2 tsps garlic powder
2 tsps oregano
1 tsp basil
1 tsp onion powder
1 tsp dijon mustard
1/4 tsp  ground sea salt
Pinch of pepper
Instructions
Combine all of the ingredients in a mason jar and shake until combine.

Store in the fridge for a week.

Note: when you take it out for your salads either take it out a few minutes before you need it or microwave it for fifteen seconds to soften it.
Nutrition
Serving: 1g | Calories: 90kcal | Carbohydrates: 1.4g | Protein: 0.3g | Fat: 9.4g | Saturated Fat: 1.3g | Sodium: 11.8mg | Fiber: 0.3g | Sugar: 0.1g
Follow On Pinterest
Follow @bewitchinkitchen On Pinterest for more delicious recipes!
Do you make your own vinaigrettes and salad dressings?
Popular recipes on The Bewitchin' Kitchen: