Chocolate Banana Walnut Overnight Oats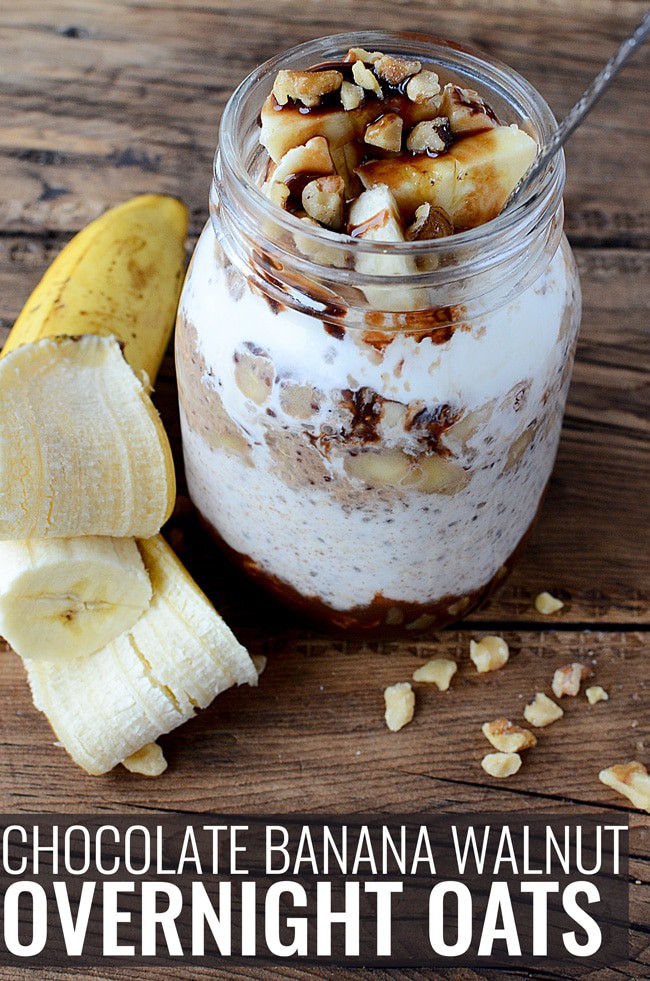 Have you ever tried Overnight Oats? They're one of my new favorite ways to meal prep. Here's a recipe for a healthy but decadent twist: Chocolate Banana Walnut Overnight Oats.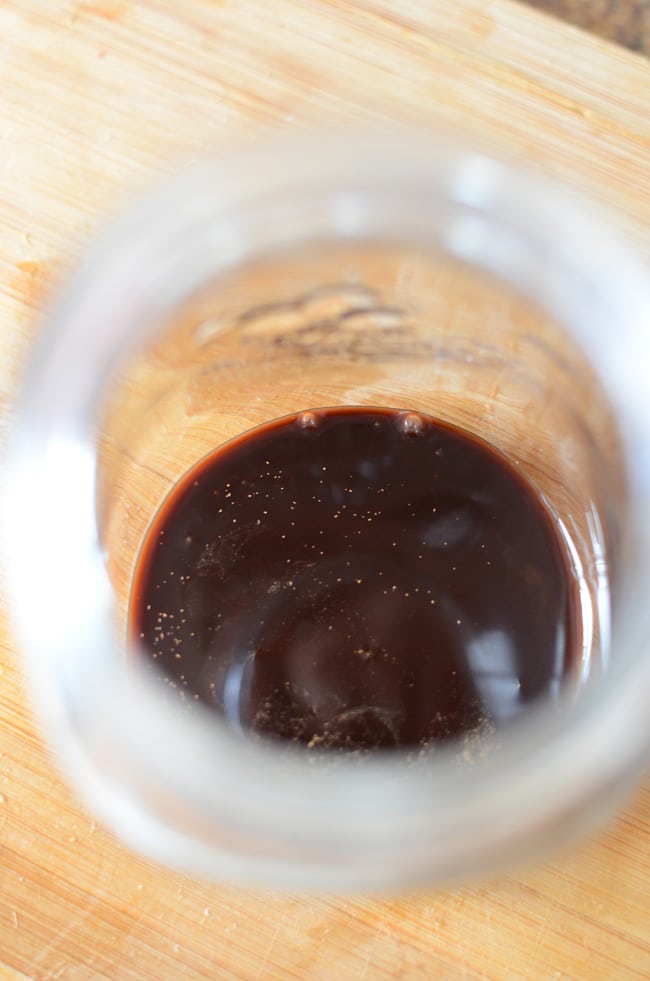 What I love about overnight oats is how simple they are to make. Layer, store, sleep and you're done! Any recipe that has sleep as an instruction is my kind of recipe!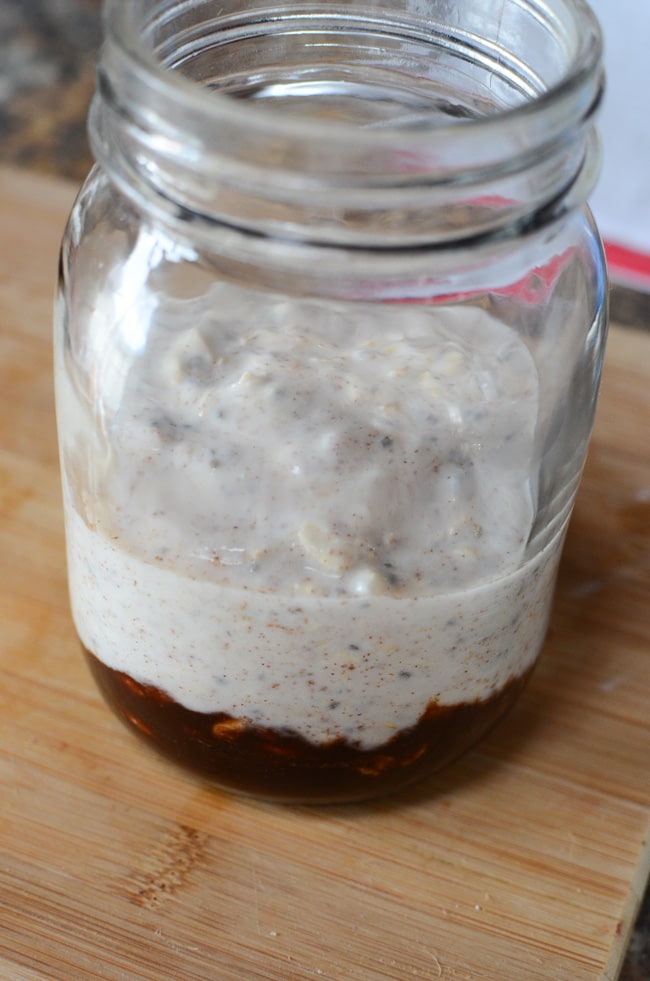 Chocolate Banana Walnut Overnight Oats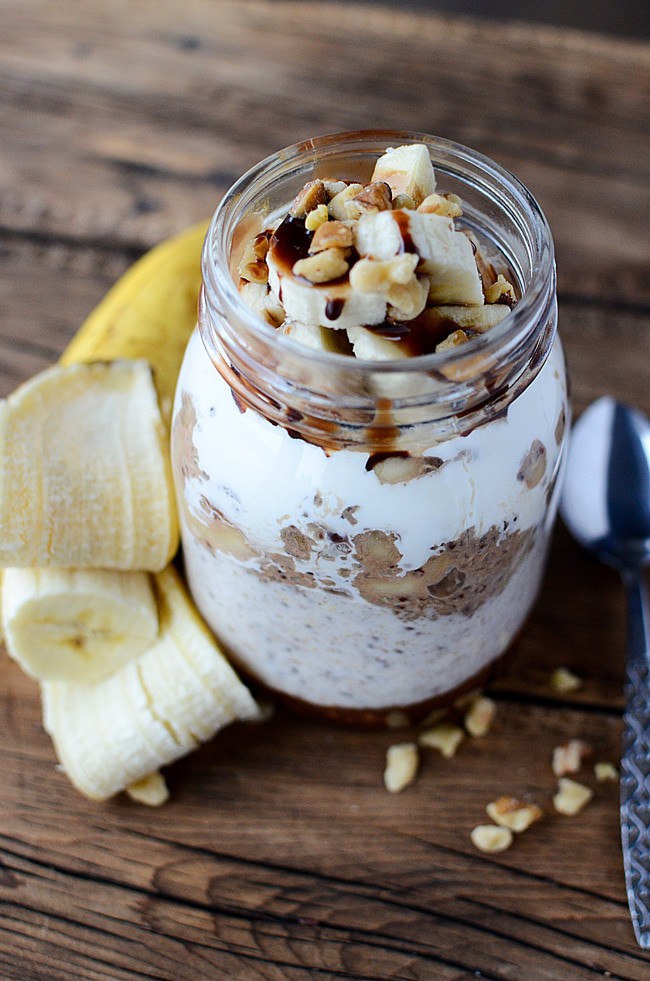 This recipe for Chocolate Banana Walnut Overnight Oats serves TWO people, so divide the mixture up into two jars. You can either save the second for yourself the next day or share (although you may not want to). This is a great recipe for busy mornings, perfect for grab and go.

Chocolate Banana Walnut Overnight Oats
Servings 2
Ingredients
1 1/4 C Plain yogurt
3/4 C Old fashioned oats
2 tsp Chia Seeds optional
2 Bananas cut into small bites
1/4 C Milk I used Cashew Milk, but Almond, Coconut, or regular milk will do
2 Tbsps. Honey
2 Tbsps. Walnuts
2 Tbsps Chocolate Sauce
Optional: extra milk for topping up and extra chocolate sauce for garnish
Instructions
Combine the yogurt, oats, chia seeds, milk and honey together. Mix well.

Spoon 1 tablespoon of chocolate sauce in the bottom of each jar.

Spoon 1/2 of the mixture into the bottom of 2 mason half pint jars.

Let rest in the refrigerator overnight?.

In the morning, spoon the cut bananas on top of the oat mixture in each jar.

If there is extra space, fill with some extra milk, a tsp of chocolate sauce and a tablespoon of walnuts in each jar.
Follow On Pinterest
Follow @bewitchinkitchen On Pinterest for more delicious recipes!
If you like this recipe for Chocolate Banana Walnut Overnight Oats, you can Pin it either by hovering over the image below or clicking on the Pinterest "P" on the bottom or side of the blog post.

Have you tried Overnight Oats yet?
FREE Recipe Binder
Are you constantly wondering what's for dinner?
When I don't meal plan I feel behind, and we usually end up ordering take out. This recipe binder will keep you organized and make life a little bit easier.