6 Meal Prep Tips For Busy Families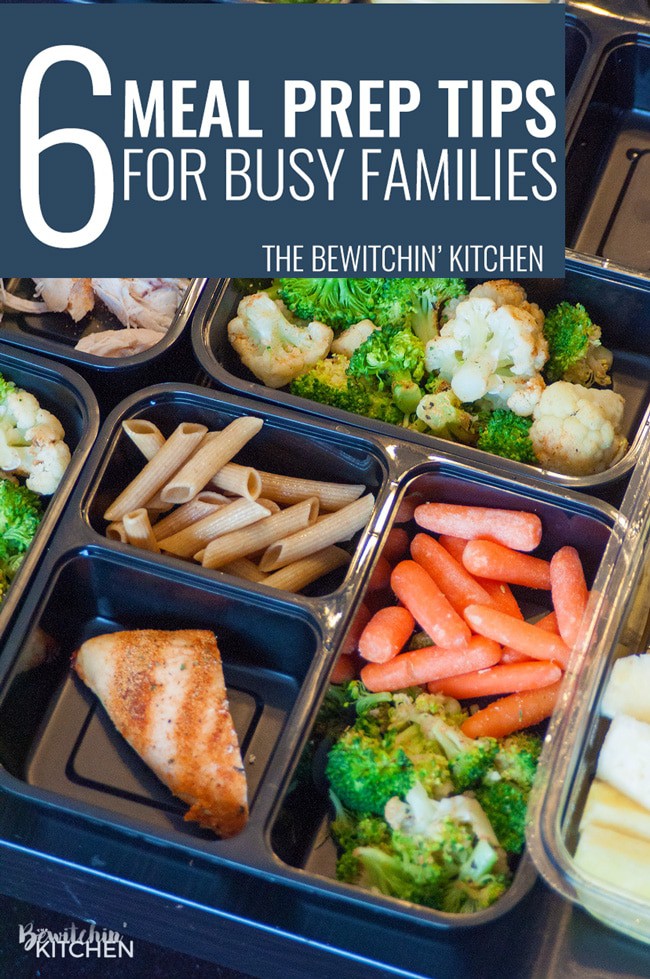 To keep myself sane in the kitchen I like to do a weekly meal prep. Meal prep is where you cook or "prep" a few items ahead of time to make your life easier.

Why Meal Prep?
Having a plan and setting an hour aside a week, can save you loads of time (and sanity) in the kitchen. In that hour, you'll be pre-cooking meat and veggies for easy stir fries, lunches, and pasta dishes.
Meal prepping is the only way I can be honest with my eating. What that means is that because of that hour I set aside for one day, it allows me to eat healthier that whole week.
I tend to be a little lazy when it comes to lunches and dinner during the week, especially with a tough day of work. So having pre-cut vegetables (or cutting them ahead of time and portioning it out) allows for a quick and easy grab and go snack. Also, having some pre-cooked chicken and vegetables on hand is what makes it possible to create a nutritious and delicious dinner from pot to table in under fifteen minutes (like this Penne in Tomato Basil Cream Sauce).
I recorded the above video last summer sharing a few tips on my "lazy girl" tips to be prepared for a week of healthy eating. These tips include buying pre-cut produce (and update to the video: Costco has pre-cut cauliflower and it's cheaper than buying a head of cauliflower right now in Canada).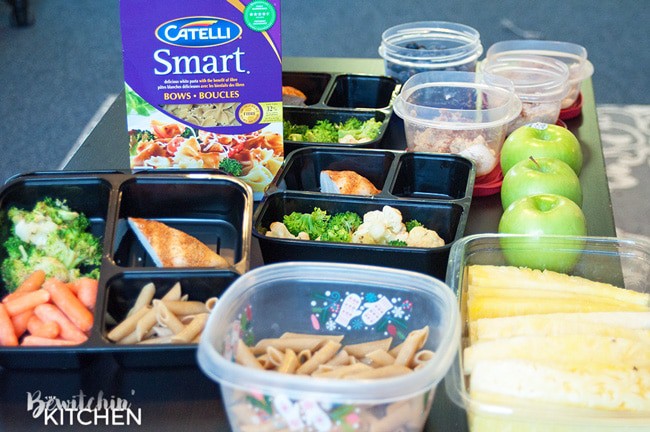 Meal Prep Tips
Last month I chatted with Chef Cory Vitiello. Chef Cory is the chef behind Toronto's The Harbord Room and Flock and can be seen on The Food Network's Chef In Your Ear. I asked Cory about his meal planning tips and for fun, healthy ideas to refresh your weekly dinners.
Meal Prep Tip 1, Repurpose Your Ingredients:
When you repurpose your ingredients you want to get the maximum out of every product you buy. This goes for meat, dairy, produce and pasta. With smart meal planning, you could stretch 2-3 different meals out of every ingredient. It's all about being smart with your food and your budget.
Example: broccoli. If you prep your broccoli and for the next three days used 1/3 of the broccoli for a steamed side, an add-in to a casserole bake or toss it into a stir-fry.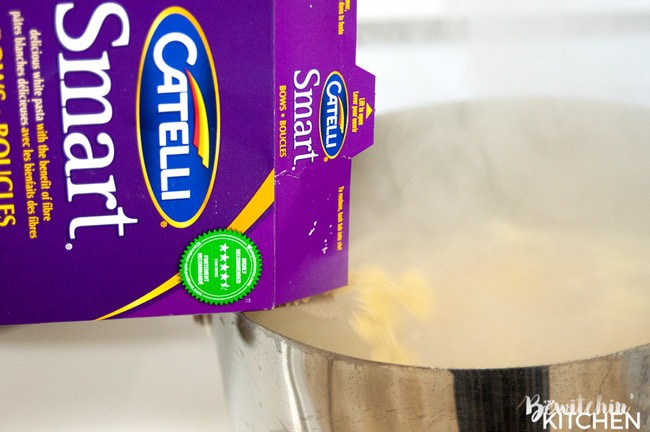 Meal Prep Tip 2, Keep It Simple:
Don't complicate your meal planning and meal prep. Chef Cory recommends keeping it simple to showcase the flavors. Five staples Chef Cory recommends to have in your fridge/pantry for a simple and easy meal prep:
Catelli Smart Pasta – it tastes like traditional pasta but has 32% of our daily fibre needs per 85g serving.
Cooked Sausage
Can of San Marzano Tomatoes
Block of Cheese
Olive Oil
With those five ingredients, you have a base for a variety of recipes. Here are a few ideas:
Hearty Sausage Soup – combine Catelli Smart macaroni, cooked sausage, vegetables of choice, herbs and top with parmesan cheese. You could cook the soup ahead of time, portion it out into to-go containers for healthy and hearty lunches or a healthy dinner between the kid's hockey and gymnastics.
By changing the vegetables and herbs, you can have two exciting and satisfying pasta dinners throughout the week. It's not just about spaghetti and meatballs anymore!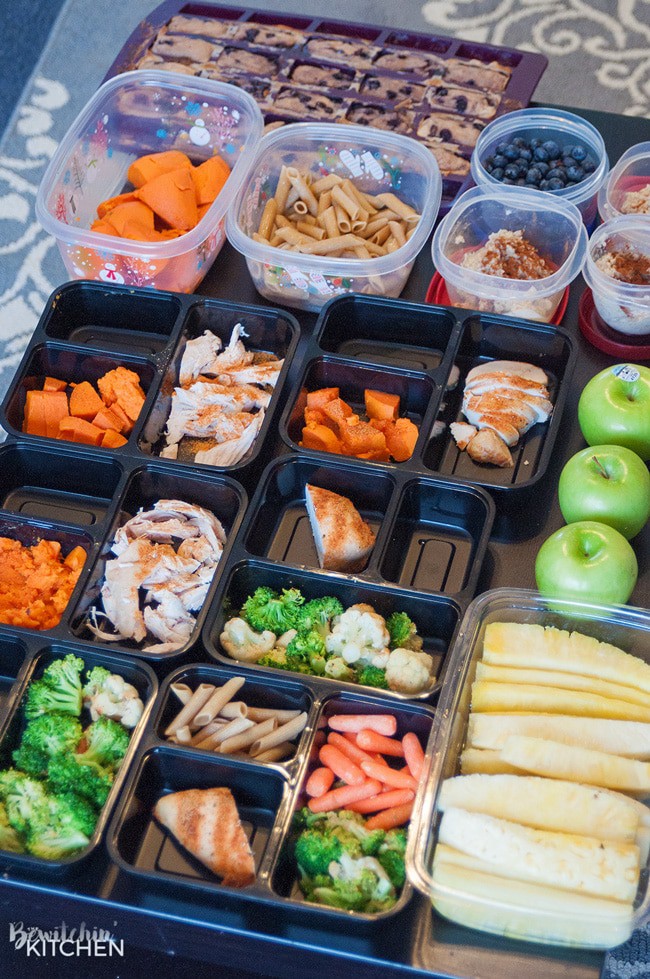 Meal Prep Tip 3, Relax:
Cooking is about having fun. No recipe is set in stone. Be flexible and add your own twist with the ingredients to repurpose them to fit your tastes. Don't take your recipes too seriously either – use them as guidelines and templates. It doesn't have to be exact. Make mistakes and take chances.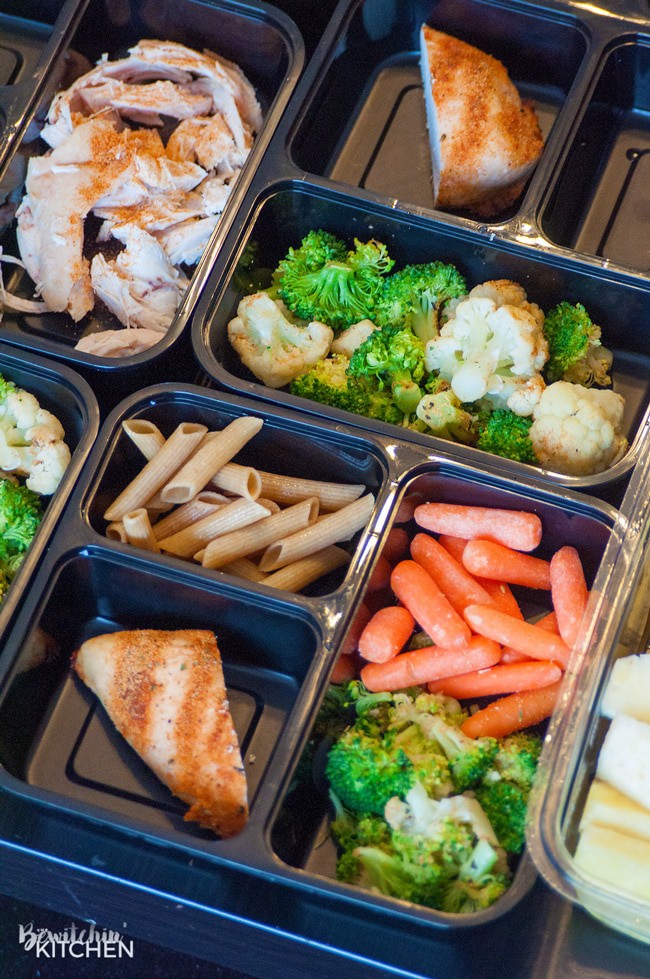 Meal Prep Tip 4, All About Pasta:
Although pasta only takes roughly 8-10 minutes to cook, it is possible to cook it ahead of time. I asked Chef Cory for his pasta meal prep tips and here are his suggestions:
If you are pre-cooking pasta (Catelli's Healthy Harvest is perfect for this, and I actually have some pre-cooked in my fridge right now) cook it as per the instructions on the box. Don't under cook the pasta unless you're planning on adding it to a pot of water and re-cooking.
Do not rinse the pasta, you want to keep the starch.
To keep the noodles from sticking to each other, add a little bit of olive oil and stir. Seal the bowl with plastic wrap and place in the fridge. It will hold up for a few days.
Keep in mind that pasta should not wait for sauce, so if one night you know you will be enjoying a penne with marinara add the marinara right away and put it in the fridge.
Meal Prep Tip 5, Keep It Fresh:
Here are a few ways you can keep your prepped food fresh:
When I prep berries, I lay a paper towel at the bottom of the bowl to capture additional moisture.
I do the same with hard-boiled eggs as I do with berries.
Pre-cooked chicken breast will dry out. When I know the chicken breast will be dryer than usual, I plan recipes the use a lot of moisture and sauce (stir fries, marinara sauce, soup). Chef Cory recommends using boneless chicken thighs for meal prep. He said that they retain their moisture, but be sure to trim the fat and to take off the skin.
The same advice goes towards ground meats. Ground meats (like ground beef) will not retain their moisture, so plan accordingly. For example: Night 1 – tacos, night 2 – taco salad, night 3 – taco soup. Nights two and three will have moisture added by either a dressing or the broth from the soup. Or to bring the ground meat back to life you can add a little broth to it when cooking.
Keep lemons on hand. Lemons will brighten up your vegetables and meats to transform your dish and keep it fresh.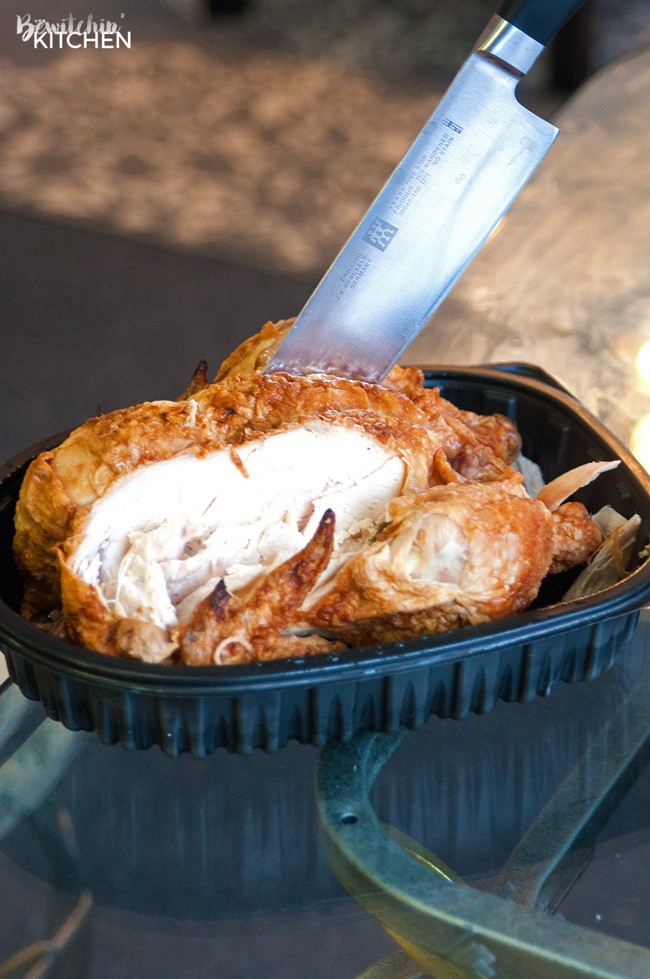 Meal Prep Tip 6, What Should You Prep:
This could vary from person to person but here is what I like to prep ahead of time:
Vegetables – wash and cut up all your vegetables for the week ahead of time. Store in containers in your fridge. One thing I like to do is buy my vegetables in bulk, chop them up all at once and flash freeze in the freezer. Once it's flash frozen (here's how to flash freeze fruits and vegetables), transfer to individual bags and freeze vegetables together by meals. This makes soups that much easier!
Chicken for salads, pasta or soups (I season and cook this ahead of time)
Chicken for dinners (I keep it raw but I add a marinade or a dry rub)
Hard boiled eggs for snacks and salads.
Fruit – wash and store in the fridge for easy snacks.
Make a big pot of oats for a fibre-rich breakfast.
I also like to ensure I have a lot of frozen fruits (bananas, raspberries, and strawberries) because when I blend frozen fruit with greek yogurt I have a healthy and homemade frozen yogurt.
Any healthy snacks that are easier to make ahead of time: muffins, almond butter bites or overnight oats.
Both Cory and I are teaming up with Catelli this year to learn more about how Canadians use pasta in their day to day lives. We all love pasta, but I'm curious to learn about how many of you use it in meal planning. I'm also interested to learn how many of you meal plan. There are so many ways to make your meals easier with meal prep. Share with me what you did and be sure to share your family's meal-prepped pasta tips using #CatelliFamilies and in the comments below.
To learn more about Catelli and the pasta products they offer visit http://www.catelli.ca/.
These meal prep tips have been sponsored by my friends over at Catelli, all opinions and thoughts are my own.