Spicy Chicken and Apple Sweet Potato Stir Fry
This is a sponsored post written by me on behalf of Loblaws Canada Inc.. All opinions are 100% mine.
I've been cleaning up meal plans for 2017 and in doing so, I've discovered my love for real food again. This Spicy Chicken and Apple Sweet Potato Stir Fry makes a quick and easy lunch or dinner for those days where a salad just isn't going to cut it, and you're super hangry after fixing the kids their lunch.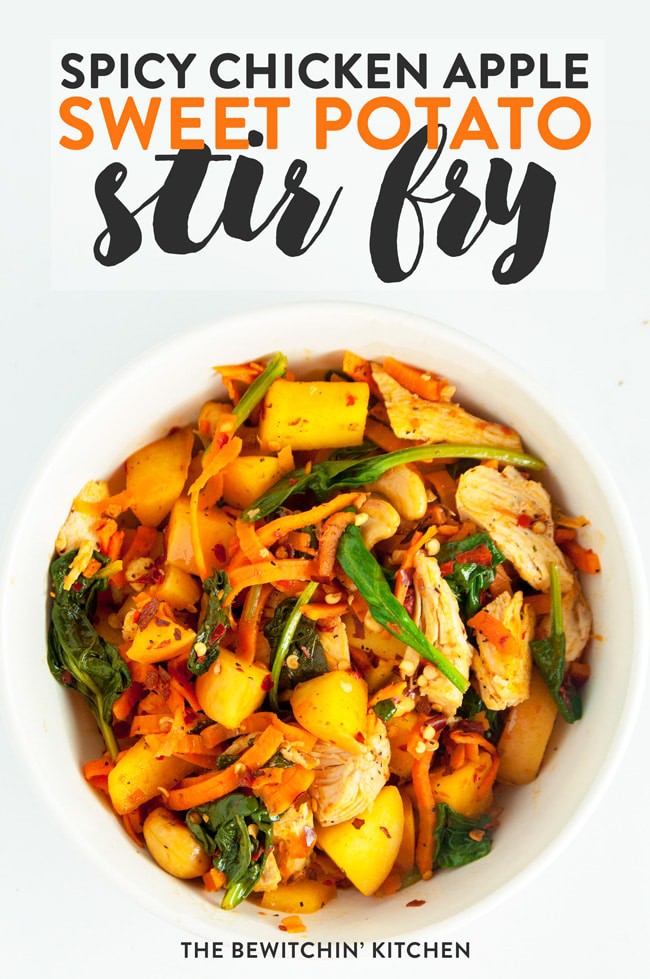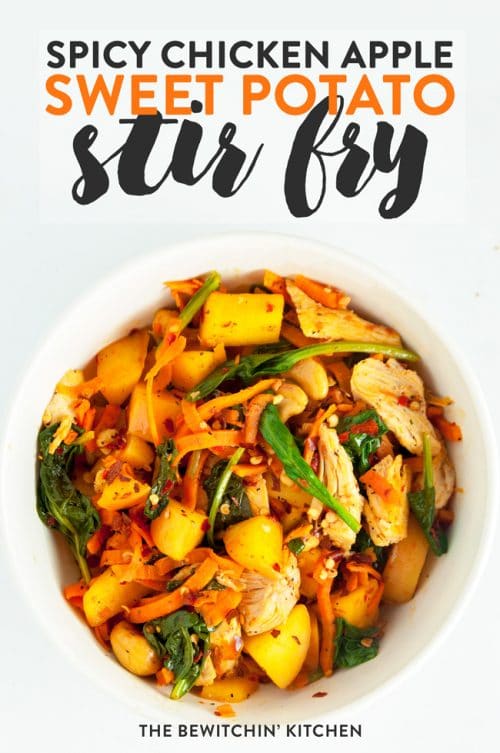 The reason for my meal plan clean up? I don't feel my best. I've mentioned before that I suffer from chronic urticaria (aka hives all the time) and I'm determined to finally find out why. I've mentioned in previous posts that I have found solutions that minimize their effect or will eliminate them for a while, but they always come back. I had a blood test done two years ago and it stated I was allergic to 125 different foods, this isn't true. We believed that my body was so inflamed that any little sensitivity was triggered (even with foods that don't do anything negative to my body).
With that being said, I'm eliminating foods that my blood results came back with as high offenders and I'm also eliminating other common allergens/intolerances. Here's the funny thing, I don't miss them. I've been keeping my meal plan fresh and exciting by trying new foods with recipes like this spicy chicken and apple sweet potato stir fry. I'm eating for health and I'm eating how I want to feel (#EHYWTF).
What I love about this particular recipe is everything included is usually in my pantry. It uses everyday ingredients, including ones that I tend to forget and that usually end up molding in the corner of the lazy susan (I'm looking at you sweet potato) so it's also saving me money. I'm always up for saving money.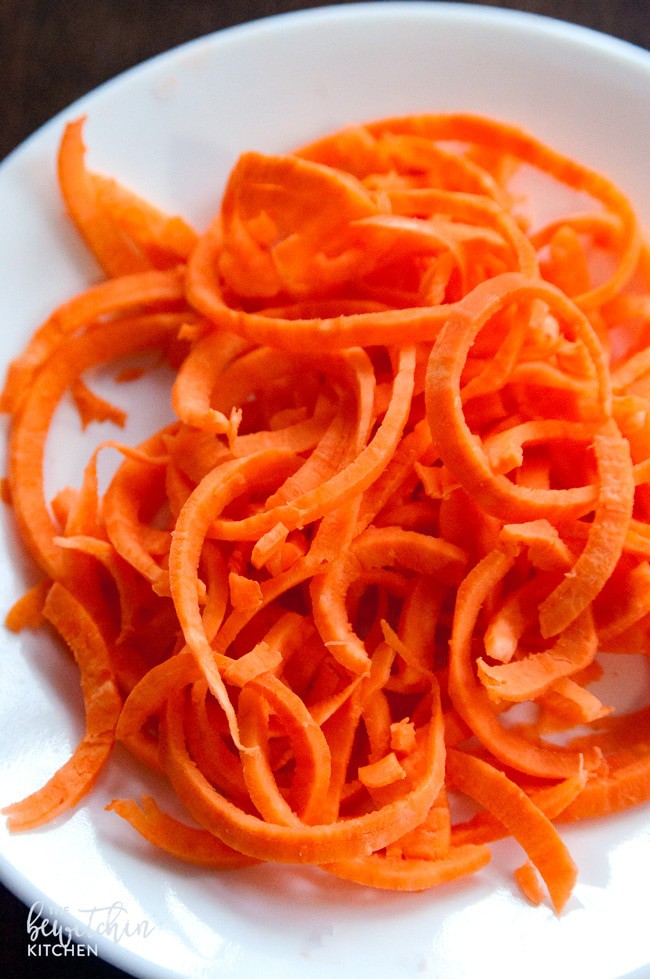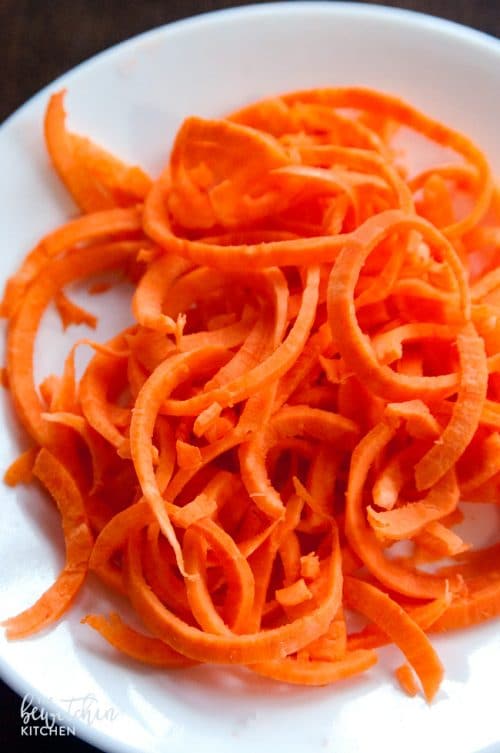 Another love? It's so fast. Sweet potato can take time to cook up, but if you spiralize it (or shred it) it's ready to go in just a few minutes. You can save even more time with using pre-cooked chicken. If you use pre-cooked chicken, this recipe goes from pot to plate in less than ten minutes.
This dish adheres to Canada's food guide's standards on portion sizes. If you have any questions about Canada's food guide, or about nutrition in general, you can visit your local Loblaws store. Select stores have Loblaws Dieticians on hand, who can answer any dietary questions you may have. An appointment can be made for any day of the week.
Spicy Chicken and Apple Sweet Potato Stir Fry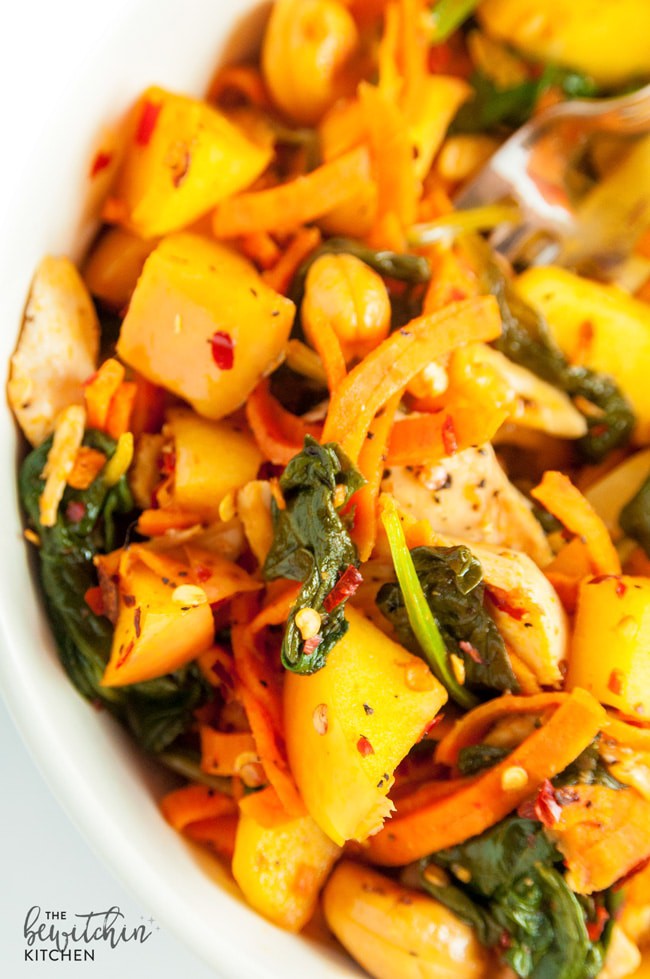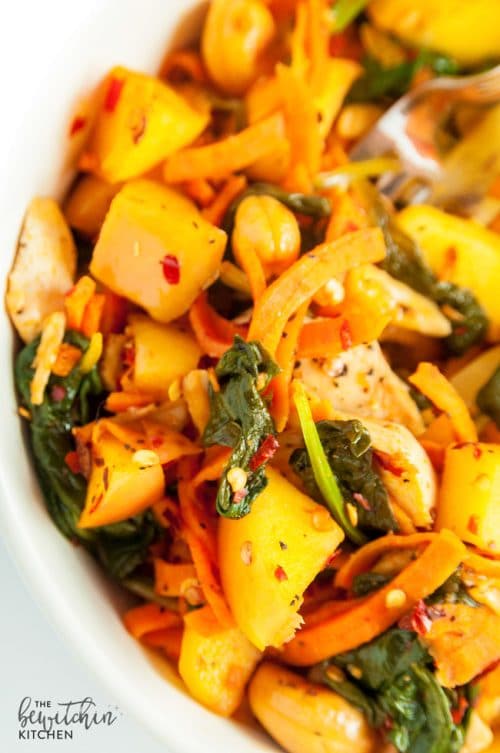 Another option for this recipe is to make a big batch without the chicken and serve it as a healthy side dish.

Spicy Chicken and Apple Sweet Potato Stir Fry
Spicy Chicken and Apple Sweet Potato Stir Fry recipe – a clean eating meal idea that's whole30 compliant and paleo approved. Makes a quick lunch or an easy healthy dinner.
Servings 1 serving
Calories 558kcal
Instructions
Heat the coconut oil in a large pan over medium-high heat and add the raw, cubed chicken. Cook for 2-3 minutes.

Add the cashews and finish cooking the chicken (another 3-4 minutes).

Add the apple and sweet potato. Cook for about 5 minutes.

In a small bowl mix together the apple cider vinegar, chili paste, chili flakes, salt, and pepper. Pour over the dish.

Add the spinach and stir until wilted.

Serve.
Nutrition
Serving: 1g | Calories: 558kcal | Carbohydrates: 52.5g | Protein: 32.5g | Fat: 25.9g | Saturated Fat: 5.8g | Cholesterol: 72.3mg | Sodium: 156.5mg | Fiber: 8.9g | Sugar: 24.2g
Follow On Pinterest
Follow @bewitchinkitchen On Pinterest for more delicious recipes!
Do you have any fast and furious go-to healthy recipes? Share them in the comments section!