Cranberry Balsamic Chicken with Roasted Vegetables
This recipe for Cranberry Balsamic Chicken is a great way to use up any leftover cranberry sauce after the holidays. It makes a great glaze, and would be awesome on chicken wings too.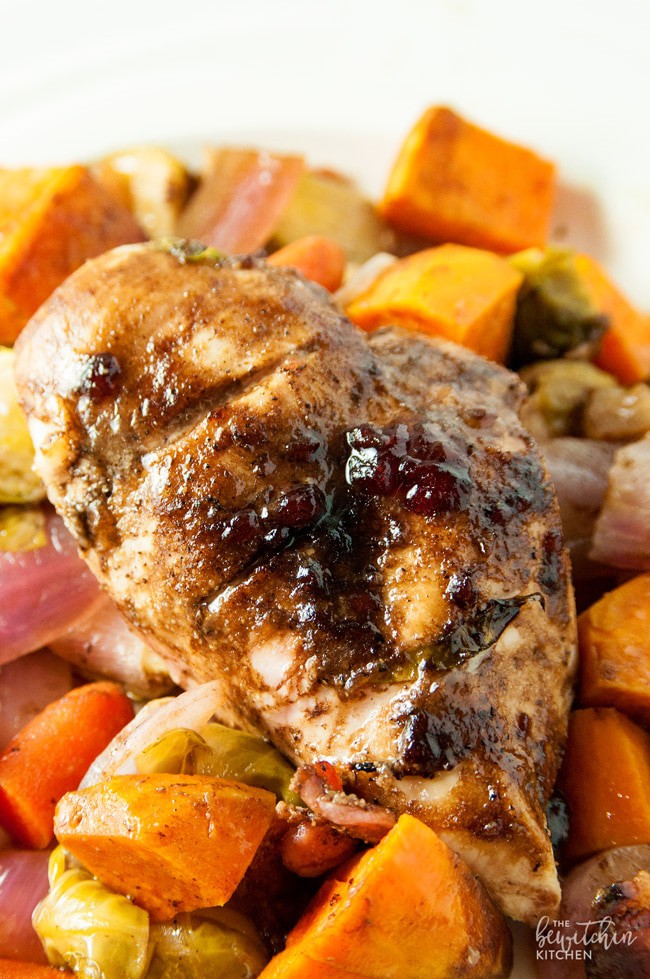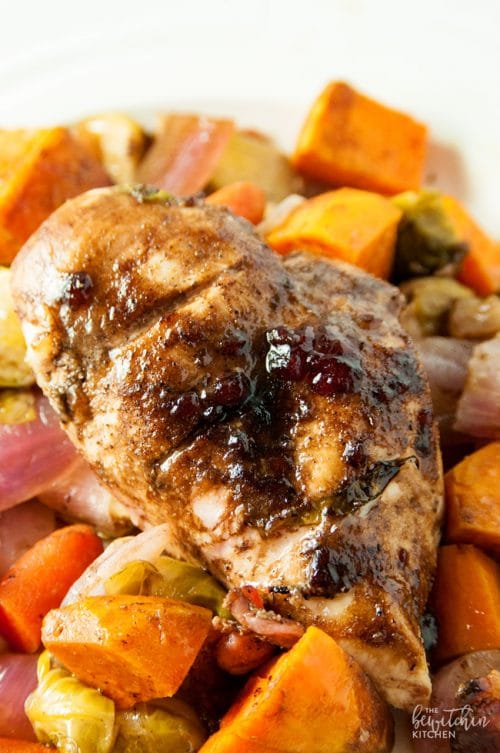 I love it when strange ingredients come together in a surprising, but delicious way. I would never have thought to put cranberry sauce on chicken, let alone with balsamic vinegar. It works so well together!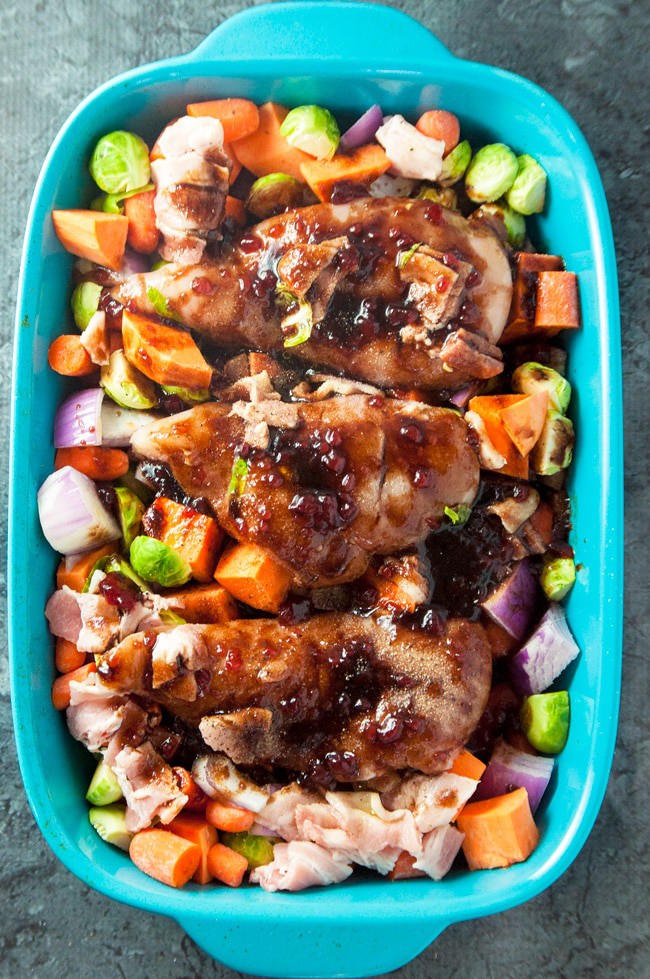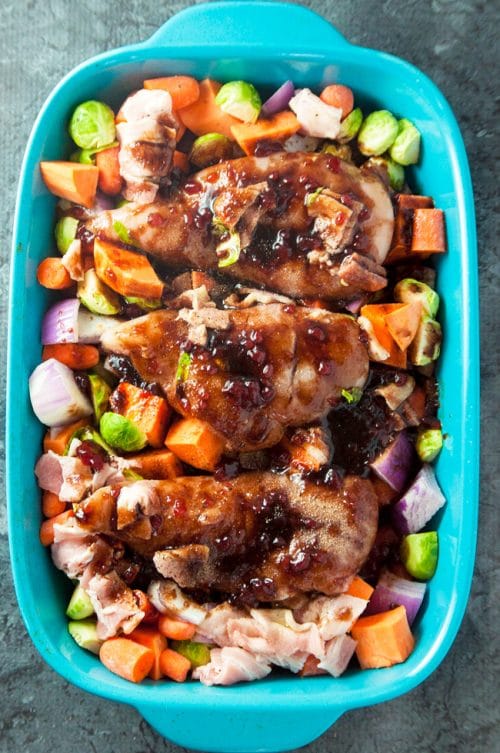 My husband is the only one in my household that likes cranberry sauce, however, he has a rule. He refuses to eat homemade sauce, therefore it has to be "real cranberry sauce". FYI – the jelly that comes from a can. Since he's the only one that eats it, there is always cranberry leftover when all the turkey is gone. So I came up with a fun way to use some of it up: Cranberry Balsamic Chicken.
Before ya'll ask, my baking dish is from this CW by Corningware set , which made an appearance in this recipe for Roasted Chicken and Artichokes.
Cranberry Balsamic Chicken Recipe Video
[adthrive-in-post-video-player video-id="n7tEioE1″ upload-date="2017-02-15T22:01:50.000Z" name="Cranberry Balsamic Chicken" description="Cranberry Balsamic Chicken recipe, a delicious way to use up extra cranberry sauce." player-type="default" override-embed="default"]
I originally made this recipe for my friends at Canadian Chicken Farmers but realized I put together the wrong kind of recipe (I was supposed to make an appetizer) so I kept this as some delicious, non-sponsored content for all of you. Which is fine, I do non-sponsored recipes and videos all the time – but there is a branded message in the above video. Which, again, is totally fine because I buy Canadian chicken anyway! If you're dying to know what appetizer I made it's these Fajita Chicken Wings.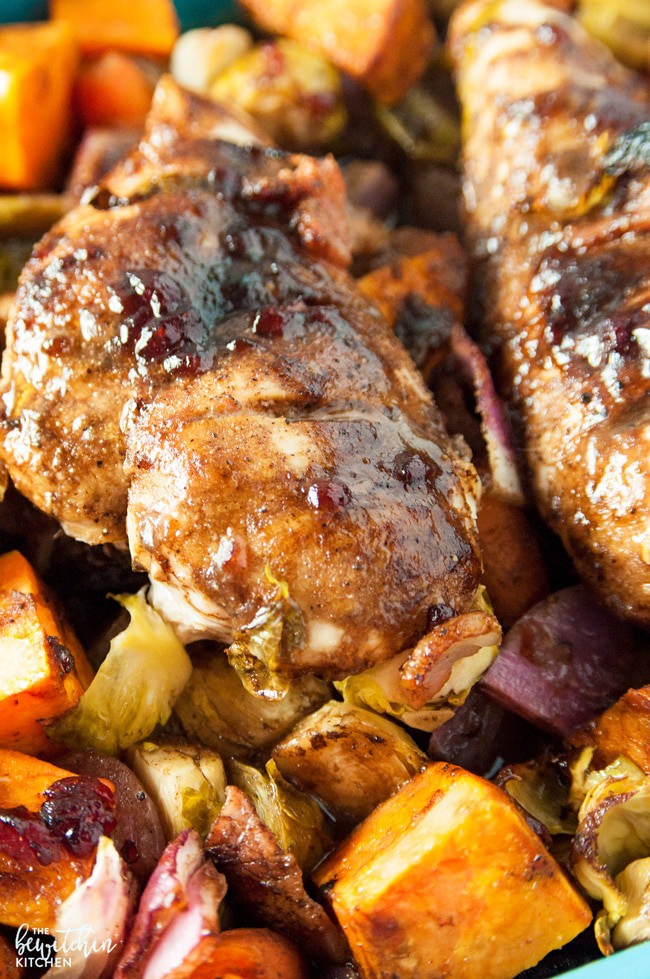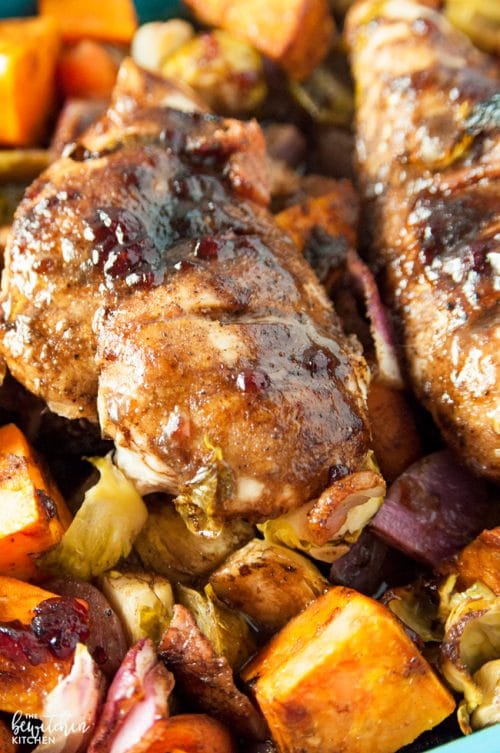 Cranberry Balsamic Chicken with Roasted Veggies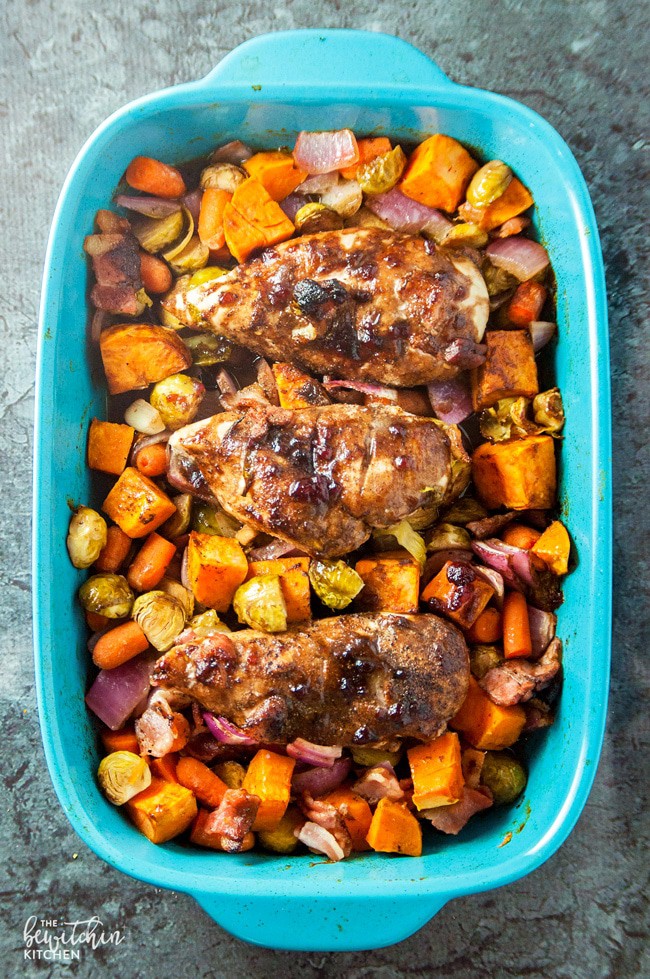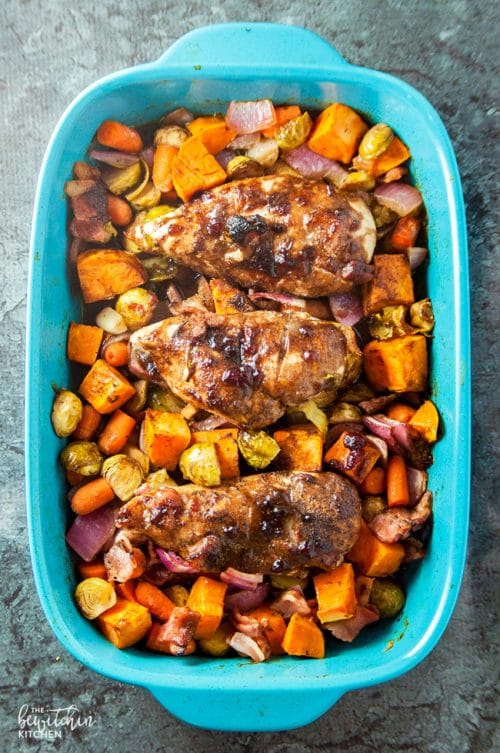 Cranberry Balsamic Chicken with Roasted Vegetables
Servings 3 servings
Ingredients
3 chicken breasts
2 cups sliced Brussels sprouts
1 yam cubed
1 medium Red onion chopped
3 slices of bacon diced
1/2 cup carrots chopped
salt
pepper
2 tbsps olive oil
Cranberry Balsamic Sauce
1/2 cup balsamic vinaigrette
3 tbsps cranberry sauce
1 tbsp olive oil
1/2 tsp sea salt
1/4 tsp pepper
Instructions
Preheat oven to 375F
Grease a casserole dish with olive oil and add the chicken breasts. Optional: make three slits in each breast so the sauce soaks in.

Arrange all the chopped vegetables and bacon around the chicken.

In a separate bowl mix together the sauce cranberry balsamic sauce ingredients: olive oil, cranberry sauce, balsamic vinegar, salt and pepper.

Pour the cranberry balsamic sauce over the chicken and vegetables and drizzle with a little extra olive oil.

Bake for 45-50 minutes, or until chicken is done.
Follow On Pinterest
Follow @bewitchinkitchen On Pinterest for more delicious recipes!
Now isn't this an awesome way to use up leftover cranberry sauce? If you like this recipe, please send it to your friends.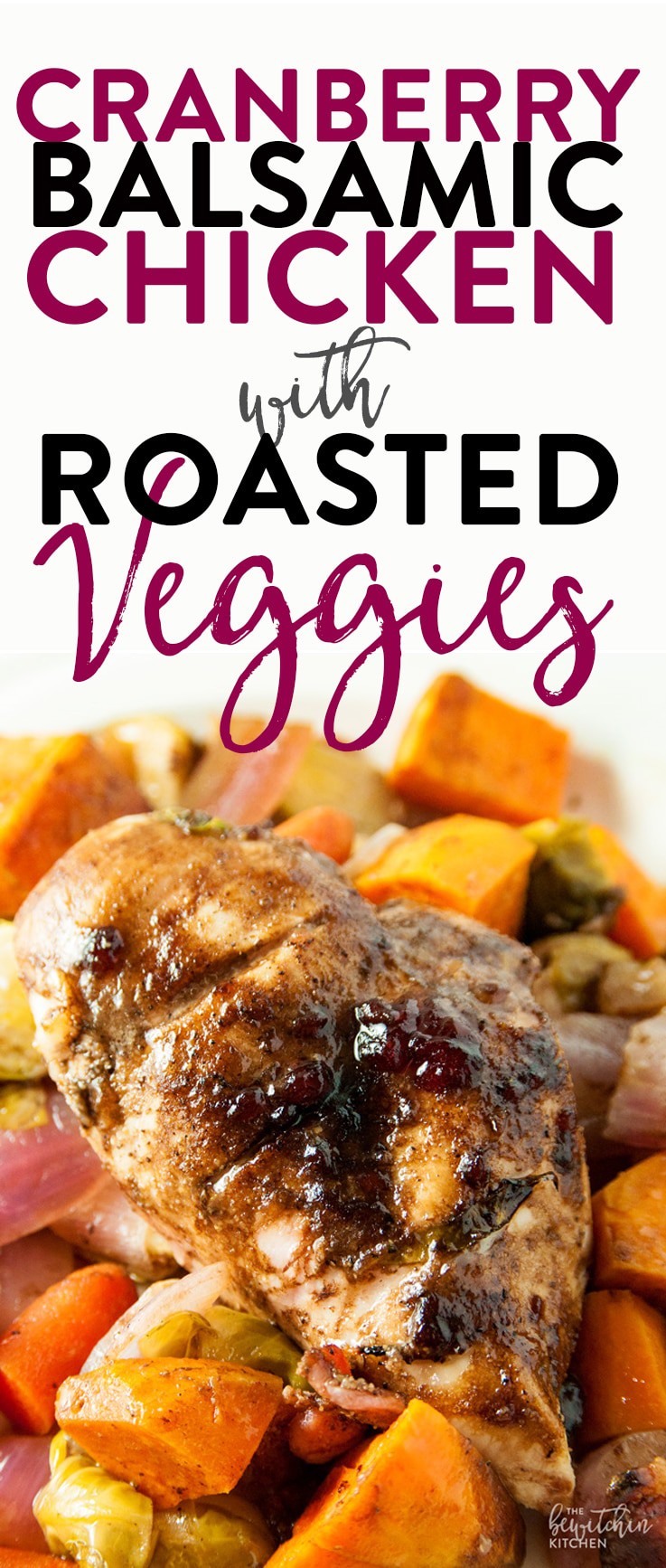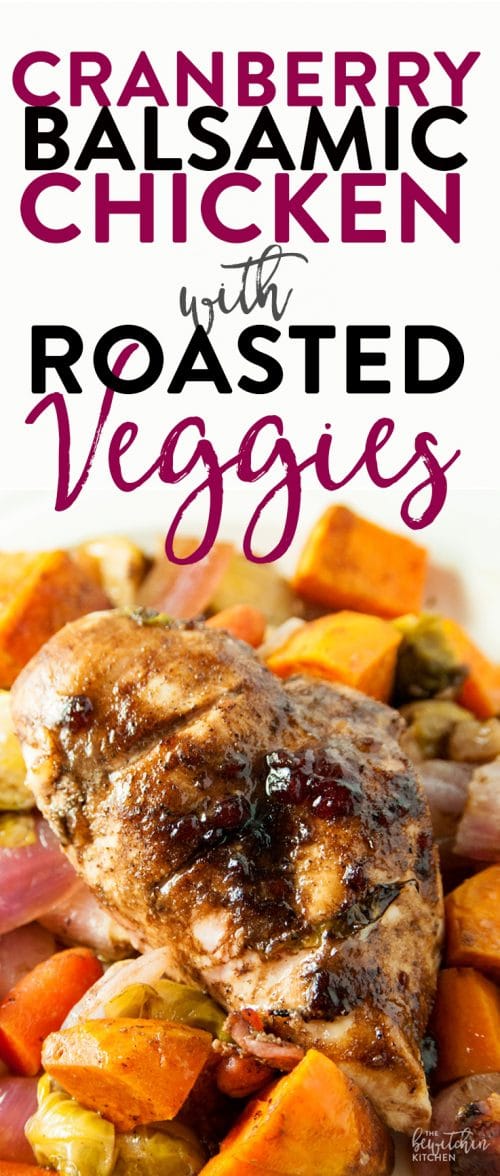 This post contains affiliate links. I put affiliate links in my blog to share the products that I love and use, and to make a little extra money.