Nanaimo Balls
Nanaimo Balls are a twist on the classic Canadian dessert recipe, Nanaimo bars. Making this sweet confection, a bite-sized treat in the form of easy coconut balls.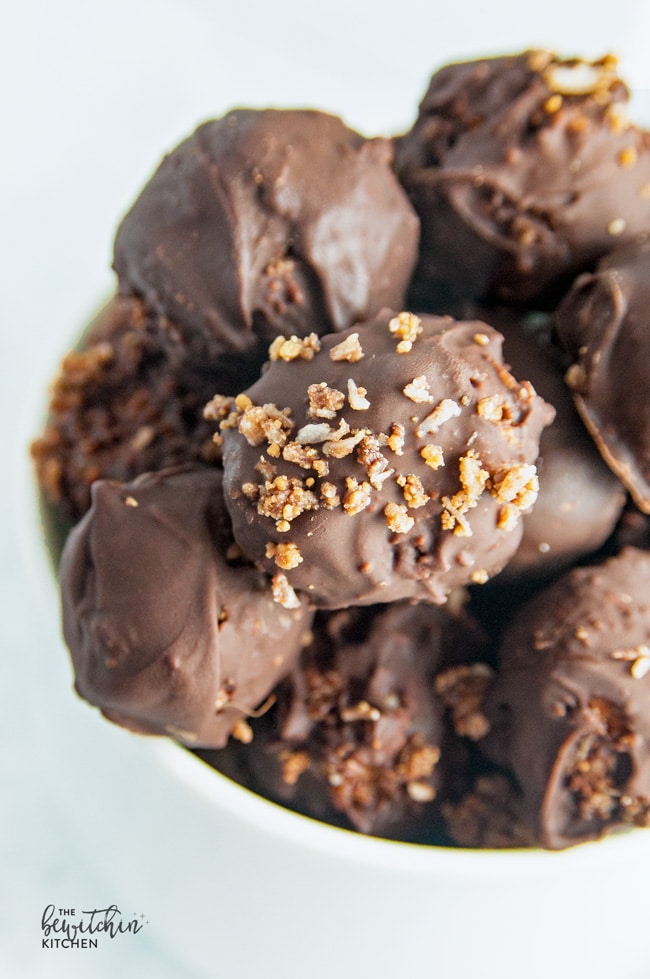 The famous Nanaimo Bars are from the city of Nanaimo here in British Columbia. I was in Nanaimo a few years ago, but I never ordered a Nanaimo bar – next time. I mean, I have to try it from the source right? That would be like going to the Keys and not ordering Key Lime Pie!
Truth be told, I'm not a baker. Aside from buns, I don't bake often so when we decided to do a dessert ball recipe for the Holiday Entertaining Guide I was stumped. I opted to do a no-bake one, just to make it easier on myself. I was asked to create a Nanaimo bar recipe for a future post coming your way and I thought that no bake Nanaimo Balls would be an awesome option for today's post.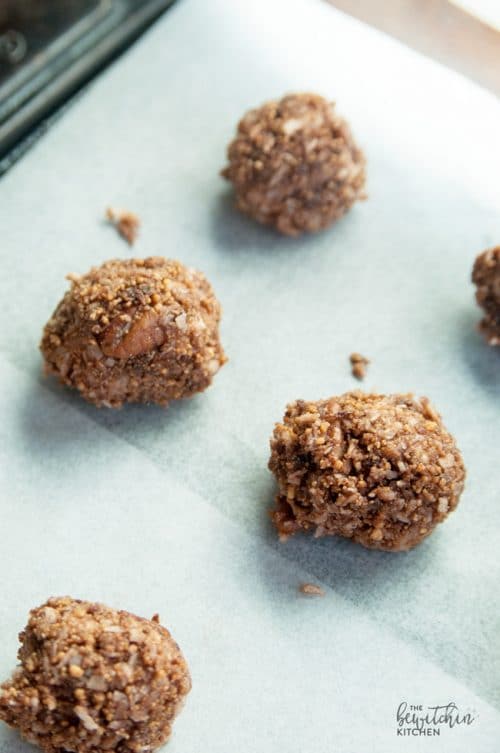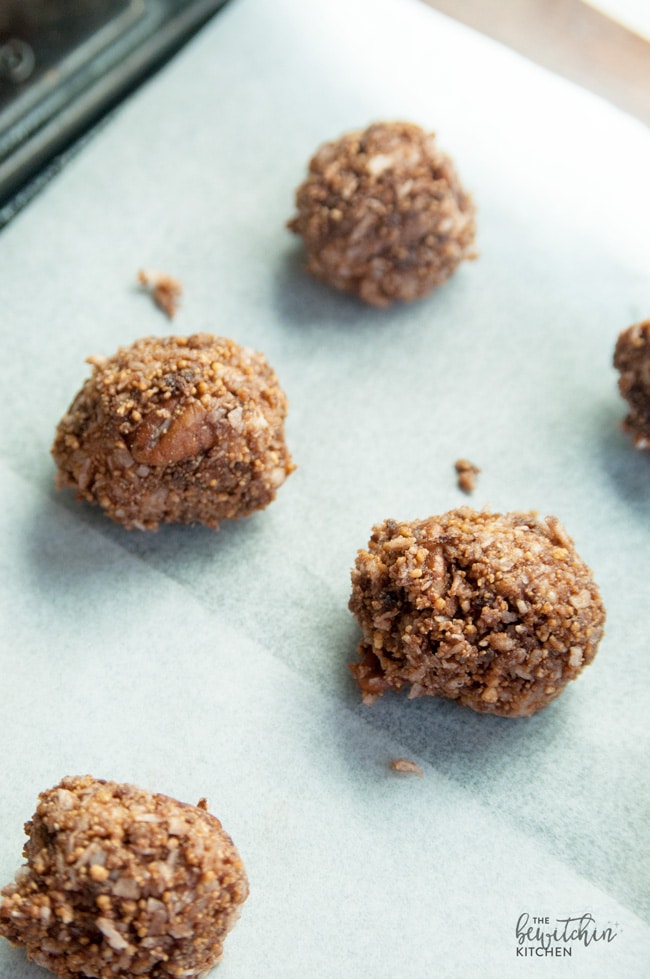 You know those days where you start baking and you realize you have no ingredients? That was me today and in true Randa fashion, I refused to go to the store (for the third time this week). So I made do what some substitutions and it turned out great. In place of custard, I used vanilla pudding mix. Another sub that I was really nervous about? I didn't have cream, so I used the Internation Delight Southern Butter Pecan and omg – so good.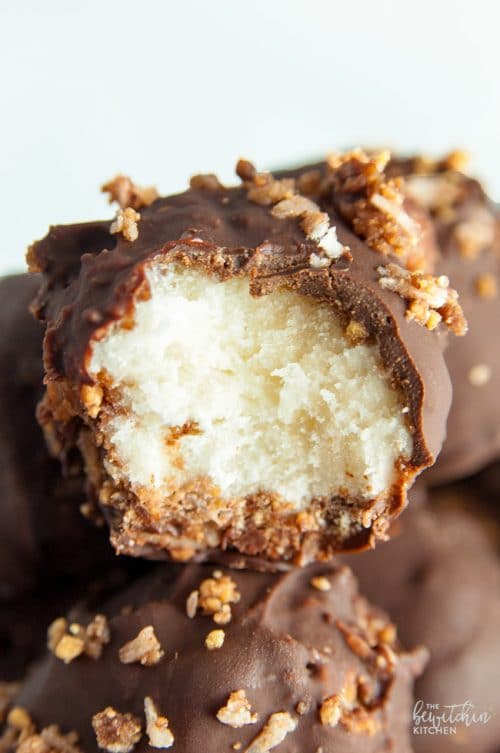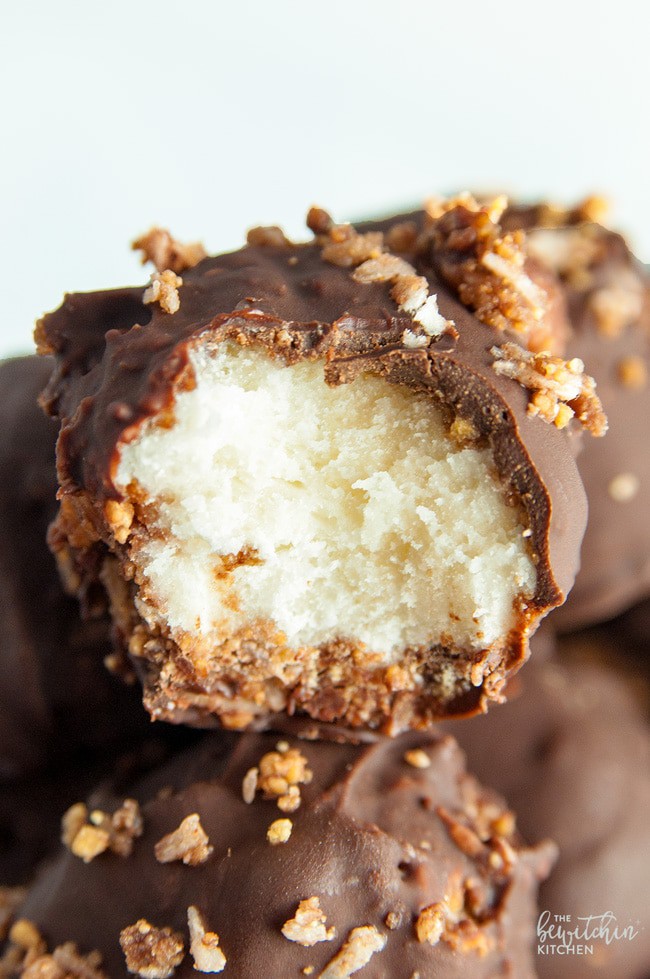 I had a little trouble with finishing them. Some I dipped in chocolate, some I sprinkled the chocolate coconut mixture on top of the melted chocolate. I don't know what I like best.
Nanaimo Balls
If you like Nanaimo bars, then you're going to love this recipe for Nanaimo Balls. Whether you use my substitutions or use the traditional cream and custard powder, these no bake desserts are going to be a hit around the holidays!
Randa's Tip: The inside is very soft, so don't forget to freeze them! Once they're frozen and then dipped in chocolate – you're good for afterwards 🙂 It's all in the instructions 🙂
Don't forget to try this twist too: Mocha Nanaimo Bars.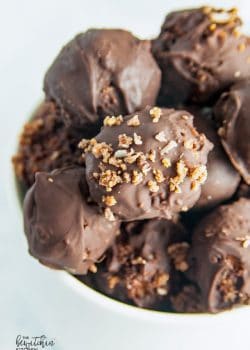 Nanaimo Balls
Nanaimo Balls are a twist on the classic Canadian dessert recipe, Nanaimo bars. Making this sweet confection, a bite-sized treat.
Ingredients:
1 cup Graham cracker crumbs
1 cup sweetened grated coconut
1/2 cup chopped pecans
1/2 cup + 2 tbsps melted butter
2 tbsps cocoa powder
Filling
2 cups powdered sugar
1/4 cup melted butter
3 tbsps cream
2 tbsps vanilla pudding mix
Chocolate Coating
8 ounces semi-sweet chocolate
1/2 cup butter
Directions:
In a large bowl add the graham cracker crumbs, coconut, pecans, melted butter, and cocoa powder. Stir and set aside.
In a smaller bowl, mix up the filling ingredients.
Take the filling, roll in a ball that's about 3/4″. Sprinkle the chocolate coconut mixture on top and roll until the filling is surrounded.
Once all the balls are rolled out and placed on parchment paper, stick them in the freezer for 30 minutes.
Meanwhile, place a glass bowl over a boiling pot of water and add the semisweet chocolate and butter. Stir until smooth and glossy.
Remove the balls from the freezer and roll in the melted chocolate. Place back on the parchment paper and top with any additional coconut mixture.
Let stand a few hours until chocolate is set, or toss them in the freezer to speed it up.
All images and text ©
.
More Coconut Ball Recipes:
Chocolate Covered Coconut Balls
Helpful Supplies for Making Coconut Balls:
Reynolds Baking Sheets Parchment Paper
Make sure you head to both Stacey and Julie's websites to check out their dessert balls they prepared for the #HolidayEntertaining2016 guide.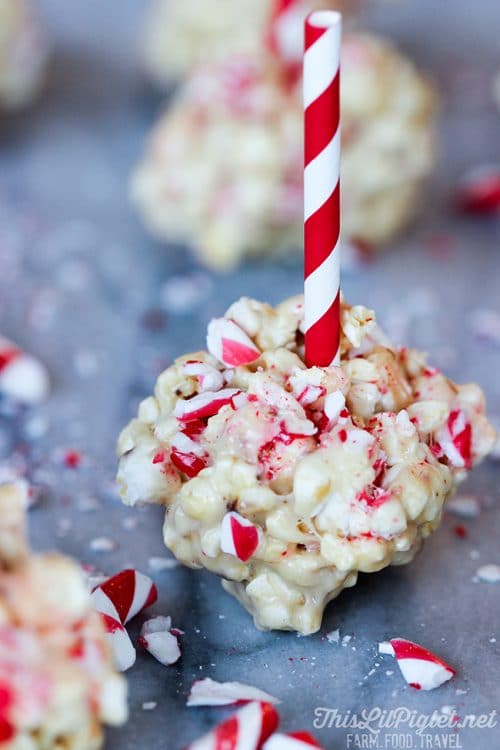 Cherry White Chocolate Popcorn Balls via This Lil Piglet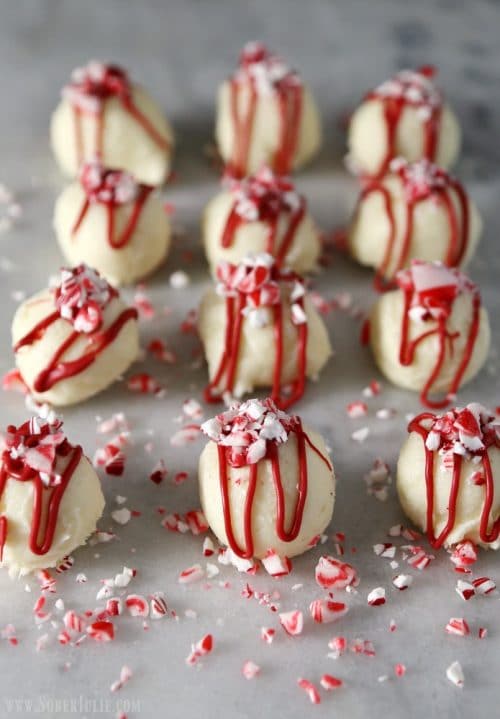 White Chocolate Peppermint Truffles via Sober Julie
Like this recipe? Then send it over to your friends on Facebook and don't forget to pin it on Pinterest.


FREE Recipe Binder
Are you constantly wondering what's for dinner?
When I don't meal plan I feel behind, and we usually end up ordering take out. This recipe binder will keep you organized and make life a little bit easier.