Chocolate Coconut Balls (A Nanaimo Bars Recipe)
Chocolate Coconut Balls are a fun twist on the classic Canadian Nanaimo Bars treat. Make bite-sized versions of the famous Nanaimo dessert with this easy coconut balls recipe!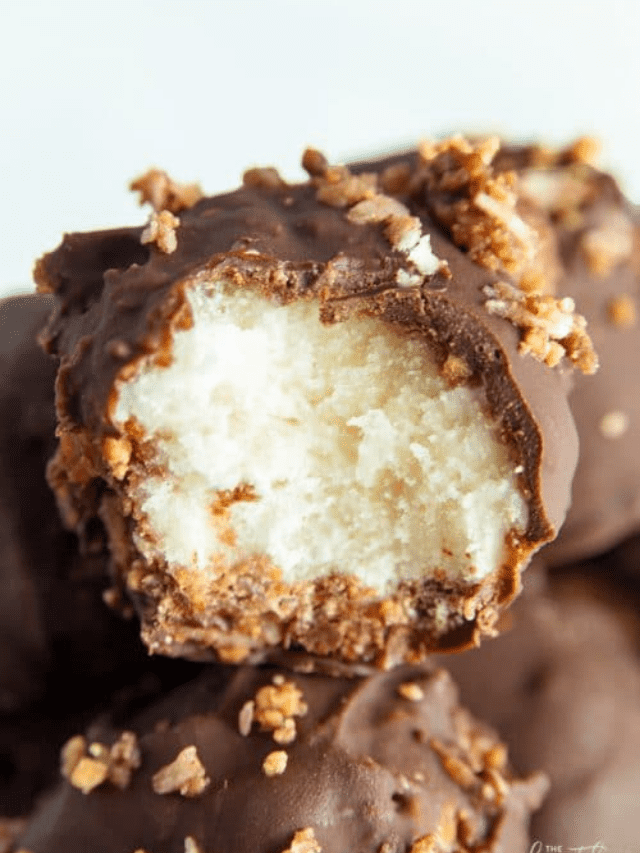 Sweet & Crunchy Chocolate Coconut Balls
Disclosure: This post contains affiliate links for your convenience. As an Amazon Associate, I earn from qualifying purchases.
These chocolate coconut balls are perfect for when you want a sweet treat without whipping up a complicated dessert. Based on the famous Nanaimo Bars, named for the city of Nanaimo in British Columbia, you won't be able to eat just one!
Sweet coconut, sandy graham cracker crumbs, and crunchy pecans coat a creamy vanilla custard center. Don't forget the chocolate! Each round is dipped in melted semi-sweet baking chips and chilled until firm. The result is a deliciously sweet and crunchy bite full of flavor and texture.
Craving something more classic than this fun Nanaimo balls recipe? Try this caffeinated twist: Mocha Nanaimo Bars!
Why You Will Love No Bake Coconut Balls
Simple ingredients – you may already have everything on hand
No oven necessary – just mix, roll, chill, and dip
Makes 40 treats – enough for party guests or holiday gifts
Easy substitutions – there's no one right way to make this recipe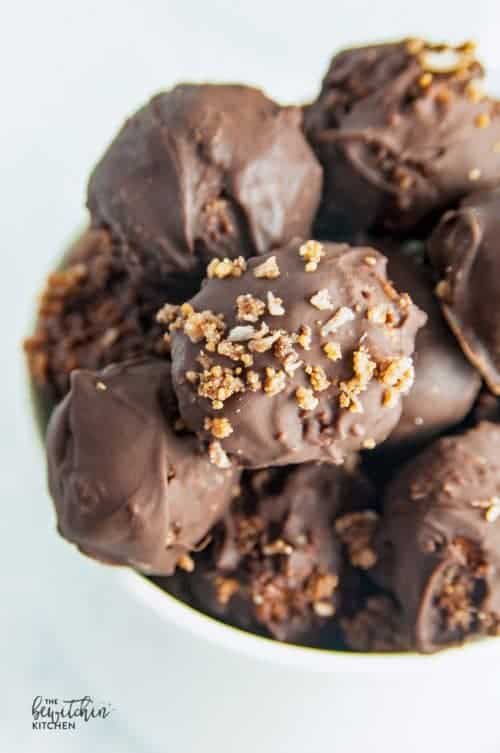 How To Make This Easy Coconut Balls Recipe
If you like Nanaimo bars, then you're going to love this recipe. Whether you use the traditional cream and custard powder or my personal substitutions, these no bake coconut balls are going to be a hit around the holidays!
Carefully form the balls
These no bake coconut balls are as messy as they are delicious! Wear food prep gloves or lightly grease your hands with butter to prevent the filling mixture from sticking to your fingers.
I also find it helpful to use a melon baller or small cookie scoop to portion out the mixture. Not only is it easier to roll, but each treat is guaranteed to be the same size.
TBK's Pro Tip: The inside is very soft, so don't forget to freeze them! Once they're frozen and then dipped in chocolate – you're good! It's all in the instructions 🙂
Substitute ingredients as needed
You know those days where you start baking and you realize you have no ingredients? That was me when I first made this Nanaimo dessert recipe! Thankfully, I was able to make do with some substitutions, and it turned out great.
In place of custard, I used vanilla pudding mix. Another sub that I was really nervous about? I didn't have cream, so I used the International Delight Southern Butter Pecan coffee creamer and omg – so good.
Don't be afraid to make similar adjustments to the filling, or even the outer coating! Pressing extra graham cracker mixture onto the chocolate coconut balls adds more texture and presentation, but you can easily leave them plain. Or, try a sprinkle of sea salt or caramel drizzle.
Create a smooth exterior
While you could simply use your fingers to roll each ball in the melted chocolate, there's an easy trick for a flawless presentation.
Place a few rounds in the bowl, then roll them around with the tines of a fork until coated on all sides. Carefully lift the chocolate coconut balls out with the same fork — one at a time — and gently slide them back onto the parchment-lined pan. No missing spots or smudge marks to be found!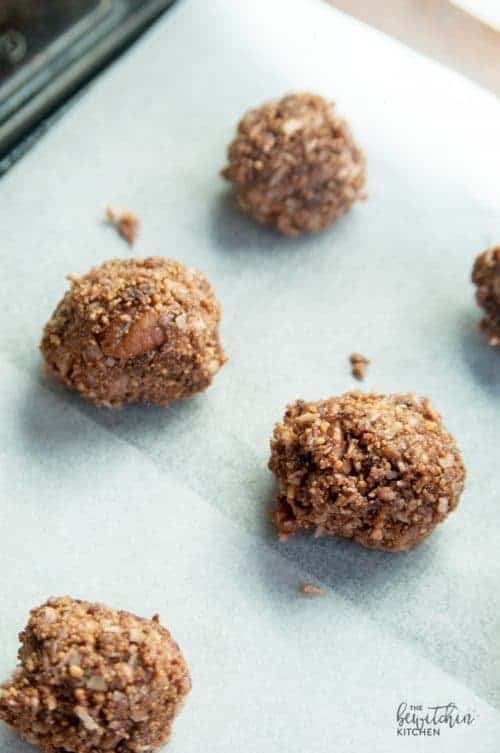 Helpful Supplies for This Coconut Balls Recipe:
Frequently Asked Questions About No Bake Coconut Balls
Why are my coconut balls falling apart?
First, be sure that you use the correct measurements for each ingredient. I, myself, have been known to mix up my measuring cups a time or two!
If your filling mixture is still too soft to form into rounds, toss the bowl into the freezer for about 10 minutes to help it firm up. Then, you should be able to scoop out the filling and roll it with ease. Keep in mind that you will still need to freeze them as directed before coating in chocolate.
Should I use powdered or ready made pudding?
For this coconut balls recipe, you will need to measure out 2 tablespoons from a box of powdered pudding mix. I tend to have the instant version on hand, but it should work with the traditional version. Just don't prepare the pudding in advance!
The powder adds flavor while helping to thicken the filling mixture and hold it all together. You can also use custard powder instead of pudding mix — that's the traditional way to make it!
Can I make chocolate coconut bites ahead of time?
You bet! Keep them chilled so the chocolate doesn't melt and store in an airtight container or sealable bag for best results. Chocolate coconut bites will last for about 1 week in the refrigerator or up to 3 months in the freezer — if you don't eat them all before then!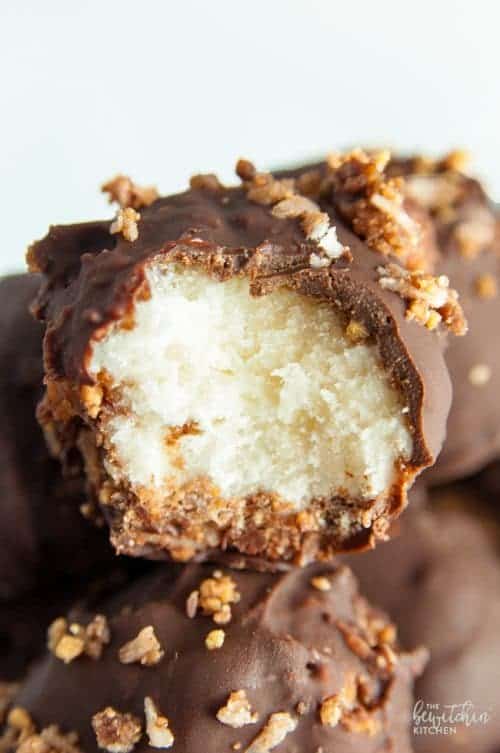 More No Bake Dessert Recipes:
Mini Apple Salted Caramel Cheesecakes
Nanaimo Balls
Chocolate Coconut Balls are a fun twist on the classic Canadian treat. Make bite-sized versions of Nanaimo bars with this easy recipe!
Servings 40 balls
Calories 145kcal
Ingredients
1 cup Graham cracker crumbs
1 cup sweetened grated coconut
1/2 cup chopped pecans
1/2 cup + 2 tbsps melted butter
2 tbsps cocoa powder
Filling
2 cups powdered sugar
1/4 cup melted butter
2 tbsps cream
2 tbsps vanilla pudding mix
Chocolate Coating
8 ounces semi-sweet chocolate
1/2 cup butter
Instructions
In a large bowl add the graham cracker crumbs, coconut, pecans, melted butter, and cocoa powder. Stir and set aside.

In a smaller bowl, mix up the filling ingredients.

Take the filling, roll in a ball that's about 3/4″. Sprinkle the chocolate coconut mixture on top and roll until the filling is surrounded.

Once all the balls are rolled out and placed on parchment paper, stick them in the freezer for 30 minutes.

Meanwhile, place a glass bowl over a boiling pot of water and add the semisweet chocolate and butter. Stir until smooth and glossy.

Remove the balls from the freezer and roll in the melted chocolate. Place back on the parchment paper and top with any additional coconut mixture.

Let stand a few hours until chocolate is set, or toss them in the freezer to speed it up.
Nutrition
Serving: 1g | Calories: 145kcal | Carbohydrates: 12g | Fat: 10g | Saturated Fat: 6g | Cholesterol: 16mg | Sodium: 70mg | Potassium: 56mg | Fiber: 1g | Sugar: 9g | Vitamin A: 190IU | Calcium: 9mg | Iron: 0.6mg
Follow On Pinterest
Follow @bewitchinkitchen On Pinterest for more delicious recipes!