Instant Pot Coconut Curry Lentil Soup
If you're looking for an easy dinner recipe, you need to try this Curry Lentil Soup recipe. It's healthy, easy to make vegetarian or vegan, and so creamy — plus, you can make it in an instant pot! This coconut lentil curry soup is a good example that healthy doesn't have to mean boring.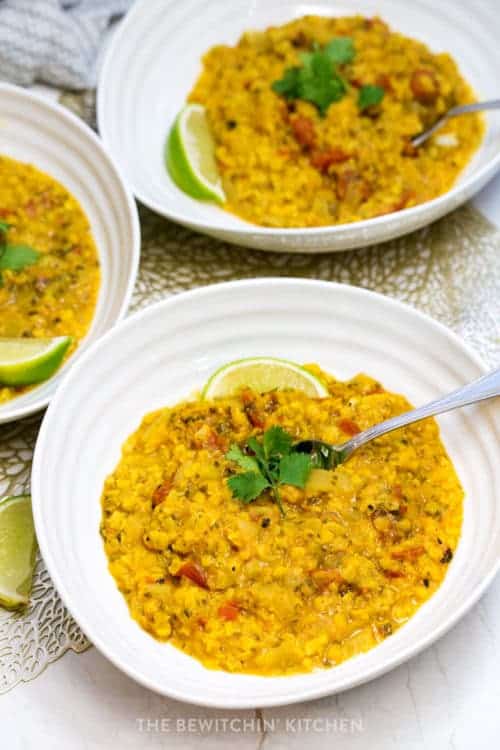 Curry Lentil Soup
Disclosure: This post contains affiliate links for your convenience. As an Amazon Associate, I earn from qualifying purchases.
If I had to describe this meal in three words, they would be: creamy, bright, and filling.
Then, there's the ease and quickness of using an instant pot with recipes like this — all you have to do is add the ingredients, turn it on, and walk away!
Red lentils are an easy plant-based protein, made even better with the subtle heat of ginger, garlic, and curry power. Fire roasted diced tomatoes add to that "simmered all day" flavor. Finally, coconut milk makes everything deliciously creamy and helps to balance the savory and spicy notes in this coconut lentil curry soup.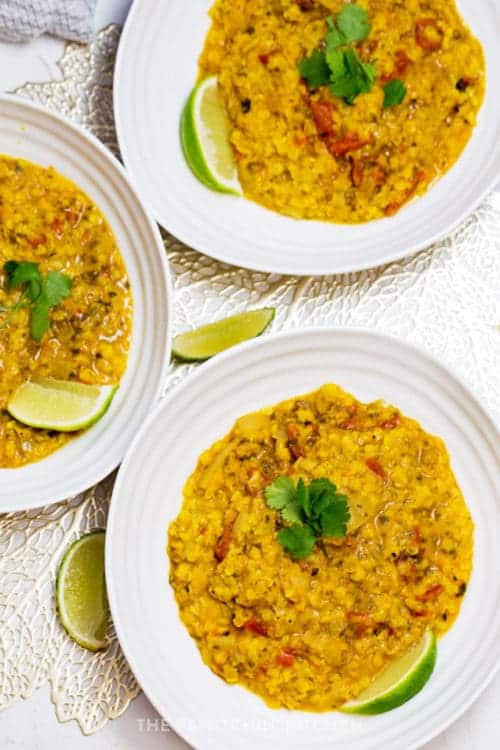 I have been on a lime kick for the past few months. I like to add it to most of my recipes, and I find that one lime adds so much flavor without my fallback of adding hot sauce (though, sriracha would be so amazing in this).
If you want to use the stovetop or Instant Pot instead, it's easy to adjust the cook times. This coconut curry lentil soup ticks all the boxes for a healthy dinner that the whole family will love.
Why You Will Love Spicy Coconut Lentil Soup
Delicious flavors – enjoy savory, creamy, spicy goodness with a hint of citrus and herbs
Easy cleanup – all you need is an instant pot and a can opener
Hearty on its own – the protein and fiber from the lentils will keep you feeling full
Scale up as needed – easily double the recipe for guests or leftovers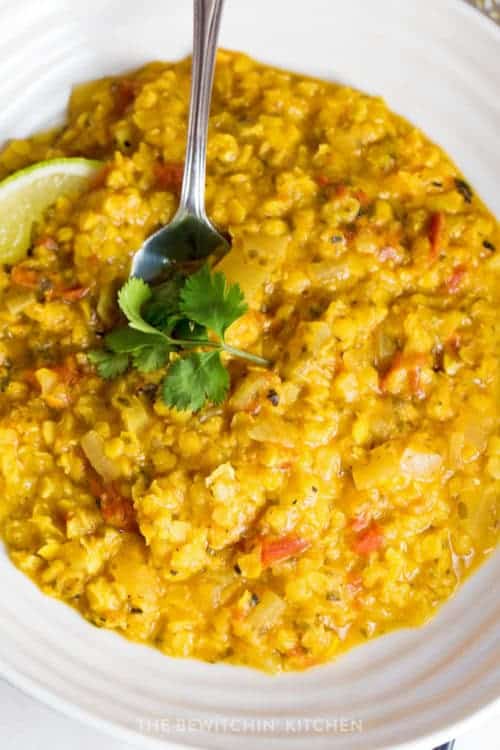 Instant Pot Coconut Lentil Curry Soup
This is, by far, the easiest and most hands-off way to prepare this curry lentil soup recipe. Simply add everything to the crock, give it a good stir, and turn it on — cook on Low for 6-8 hours or on High for 4-6 hours.
Boost the flavor
If you have the time (and don't mind the extra dishes!), you can saute the onions on the stove first. Once they're softened, add the garlic, ginger, and curry powder. Cook for another minute, until fragrant.
Then, transfer the mixture to the crock pot and add the remaining ingredients. This simple step will really bring out the flavors of the aromatics and spices for a bolder lentil curry soup!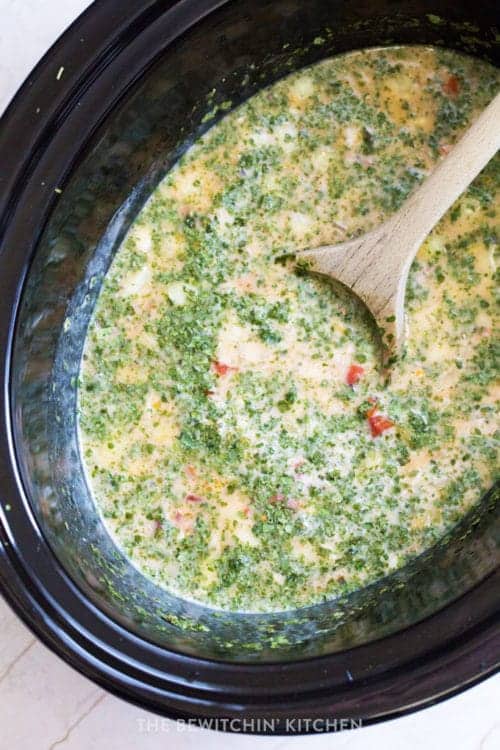 TBK's Pro Tip: If you're looking for a little extra heat, try it with Sriracha. Add 1 tsp and increase to the desired kick.
Watch the texture
Every bag of lentils is different, and every instant pot comes to temperature at different speeds.
Once you pressure cook these for 15 minutes, carefully release the pressure and check for the right consistency. If you need a bit more time, I usually go up by 5 minutes or so at a time.
You can add extra time as needed, depending on the tenderness of the lentils, plus it's the perfect chance to add more seasonings!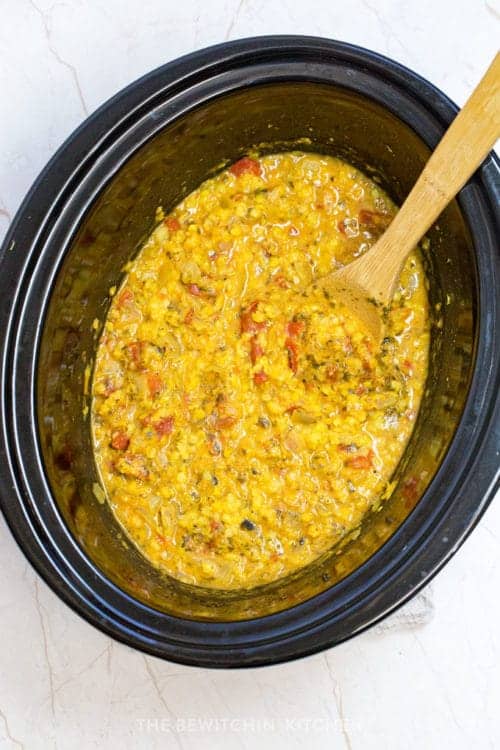 How to Cook Lentil Soup In an Instant Pot
This coconut lentil soup recipe can be swapped from the stovetop to the Instant Pot (if you don't have one, you can grab one here).
I have the instructions in the recipe below, but simply add all the ingredients to the electric pressure cooker, seal, and cook on manual pressure for 15 minutes.
Then, do a quick release when the time is up. If you find it sputtering, just let it release naturally.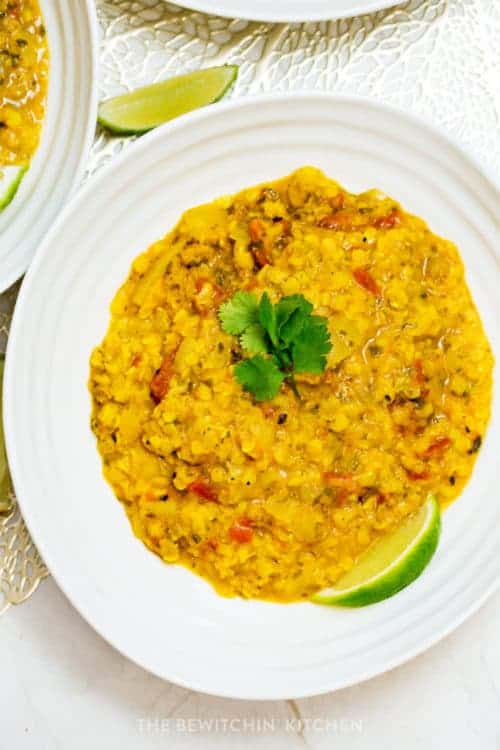 Frequently Asked Questions about Lentil Curry Soup
What color lentils are best for soup?
Red lentils cook the fastest and break down the easiest, creating a smooth and creamy texture for soups and stews. That's why I chose them for my coconut lentil curry soup recipe!
If you prefer something a bit toothier and with more texture, you might want to use green or brown lentils instead. Avoid Puy lentils (French black lentils) — they hold their shape very well and aren't the best choice for curry lentil soup.
When should coconut milk be added to curry?
That will depend on the recipe and the preparation method, but there are some general guidelines you can follow.
For recipes that depend on coconut milk for the base — like this instant pot lentil curry soup — you can add the can with the rest of the ingredients.
When using coconut milk or coconut cream to thicken a dish, it may be better to add it at the end. That's because it can curdle and become grainy when cooked for a prolonged period of time at high temperatures (like a boil).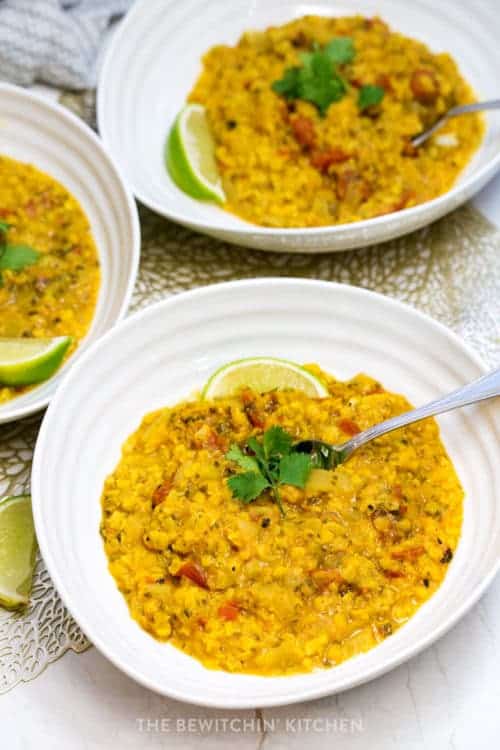 Are lentils healthy?
It's been recommended that we eat more plant-based protein, and lentils are fantastic for that! They're also budget-friendly, which is always a plus.
1 cup of lentils offers 18 grams of protein and 16 grams of fiber! That is huge!
TBK's Pro Tip: Try swapping one protein a week with a plant based protein. Think meatless Mondays.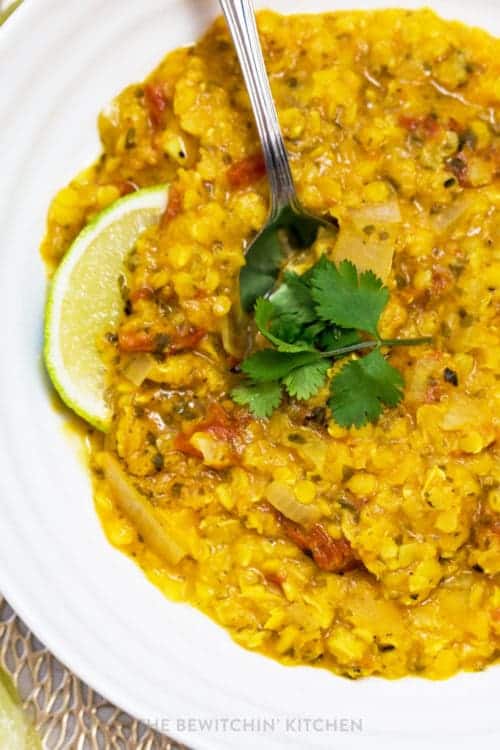 I'm not going to get into the food guide in this blog post, but I will say that I love that the Government of Canada is focusing on health as more than just what you eat.
They are stating that you should: be mindful of your eating habits, cook more often and enjoy your foods, eat meals with others, read food labels, limit processed foods, and be aware of marketing (I couldn't agree with the marketing more).
More curry dinner recipes:
Coconut Curry Chicken Meatballs (with Video)
Curry Quinoa with Kale and Roasted Cauliflower
Coconut Curry Lentil Soup
Coconut Curry Lentil Soup ticks all the boxes for a healthy meal that the whole family will enjoy. Use a crockpot, Instant Pot, or stovetop!
Servings 4
Calories 429kcal
Ingredients
1 tbsp avocado oil
1 small onion diced
1 tbsp minced garlic
1 tbsp ginger paste
2 tsp curry powder
1 lime juiced
1/2 cup cilantro roughly chopped
2 cups chicken broth vegetable broth if vegetarian
1 14oz can coconut milk full fat
1 cup red lentils dried
1 14oz can fire roasted tomatoes diced
sea salt and pepper to taste
Instructions
Heat the avocado oil in a medium sized pot, over medium heat.

Add the onion and stir until translucent, about 3-4 minutes. Then add the garlic, ginger, and curry. Stir until fragrant. 

Add the lentils and stir it around so it coats the curry mixture. Then add the tomatoes, 1/4 cup of the cilantro, broth, lime juice, and coconut milk. Season with sea salt and pepper.

Bring the soup to a boil over medium heat, then reduce to a simmer for 25 minutes. Stir it often as the lentils could stick to the bottom.

Taste and adjust seasonings to your liking. Garnish with the remaining cilantro, if desired.
Instant Pot Instructions
Add all of the ingredients to the Instant Pot, seal, and do a manual pressure for 15 minutes.Do a quick release, but if you find it sputtering, let it release naturally.
Notes
Weight Watchers: 12 SmartPoints as listed. 4 SmartPoints when using light canned coconut milk instead of full fat.
21 Day Fix Container Counts
Full recipe count: 3 green, 4 yellow, 5 blue, 3 tsps.
Per serving: 3/4 green, 1 yellow, 1 1/4 blue, 3/4 tsps.
Nutrition
Serving: 1serving | Calories: 429kcal | Carbohydrates: 40g | Protein: 15g | Fat: 25g | Saturated Fat: 19g | Polyunsaturated Fat: 1g | Monounsaturated Fat: 4g | Sodium: 1189mg | Potassium: 810mg | Fiber: 16g | Sugar: 4g | Vitamin A: 585IU | Vitamin C: 20mg | Calcium: 100mg | Iron: 8mg
Follow On Pinterest
Follow @bewitchinkitchen On Pinterest for more delicious recipes!