Edible Playdough
This Edible Playdough uses peanut butter. If you love it as much as I do, then when you're done reading this check out the rest of my peanut butter recipes on The Bewitchin' Kitchen.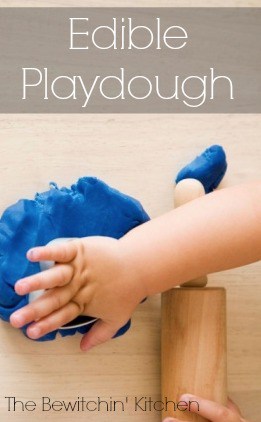 I have a guilty pleasure, I'm addicted to TLC. More specifically, Jon & Kate + 8 (I know, I know). Yesterday morning while I was watching re-runs of of said guilty pleasure, Kate made a kid friendly recipe that caught my eye. It was a recipe for edible play dough. I was really impressed with the fact that it was all natural and contained no chemicals. It was definitely something that I am excited to share. Enjoy!
Edible Playdough
Equal Parts Of:
Powdered Milk
Honey
Peanut Butter
Just mix together and you have it! It's so easy, and safe and NON TOXIC. I noticed while she was making it on TV that she also added a little but of flour. It must have held it together a bit better. If you child has an allergy, just substitute it with a nut free butter, I'm sure it will work the same. Store in an air tight container, I'm not sure on how long it will keep for.
To make it a little more fun, I would add a few drops of natural food coloring (beet juice, crushed blueberries, etc). This keeps with the chemical free theme.
Have you ever made your own playdough before? What about edible playdough?
Looking for more great ideas? Click here to follow me on Pinterest!
Visit Randa | The Bewitchin' Kitchen's profile on Pinterest.