Moroccan Chicken Quinoa Salad
If you're looking for a quick and easy recipe for the summer, where you don't have to stand in front of the oven for an hour or more then you are going to love this Moroccan Chicken Quinoa Salad.
It's light, it's bright, it's oh so tasty!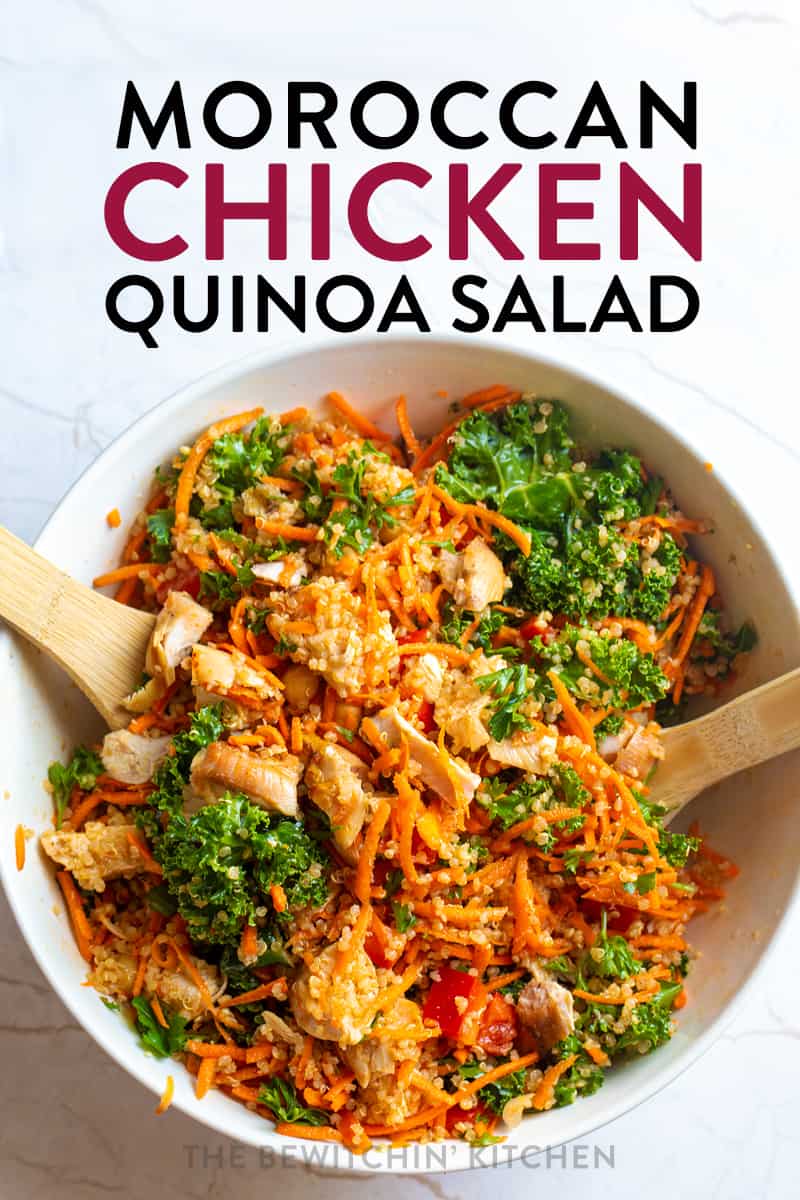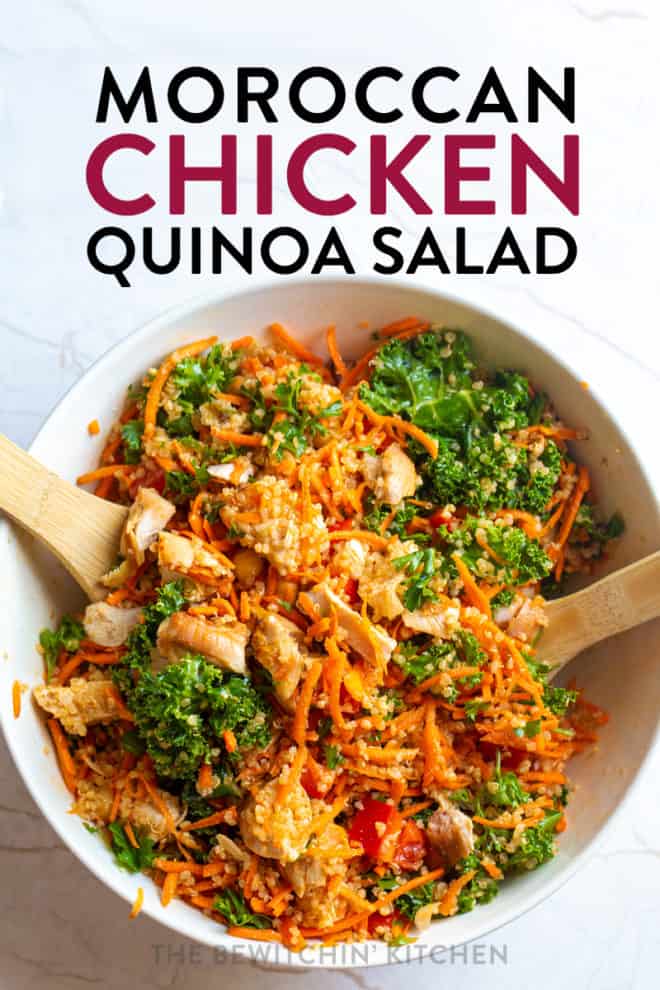 Chicken Quinoa Salad
Disclosure: I am participating in the Chicken Farmers of Canada campaign managed by SJ Consulting. I received compensation in exchange for my participation in this campaign. The opinions on this blog are my own.
A few years ago I was visiting my husband while he was working in the next town over. While we were waiting for him to finish work, my son and I went to the grocery store beside the hotel to grab some lunch.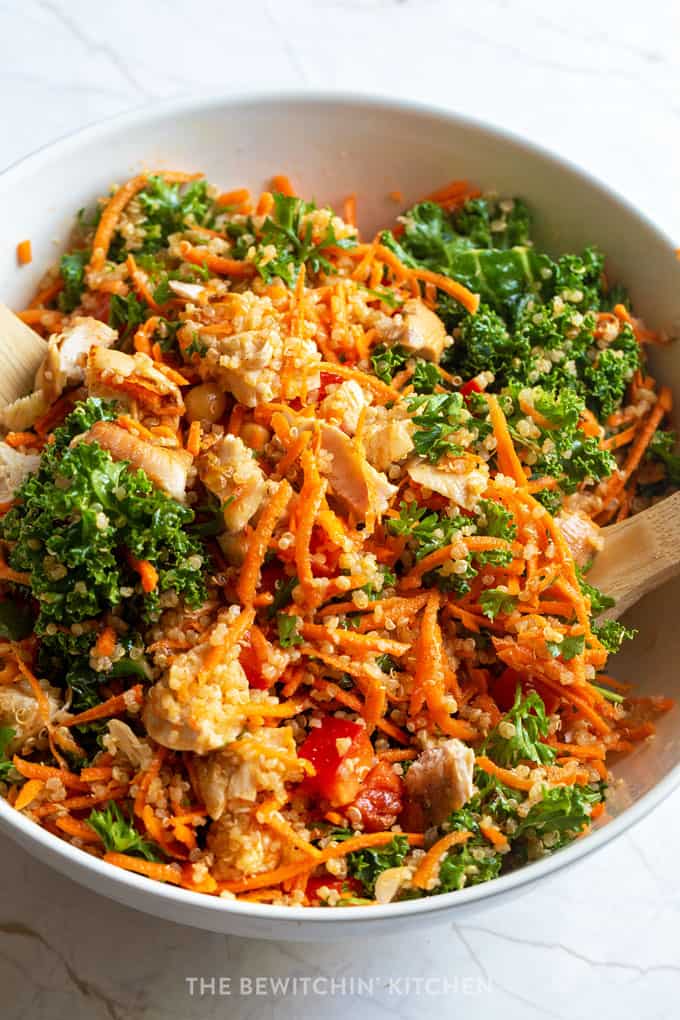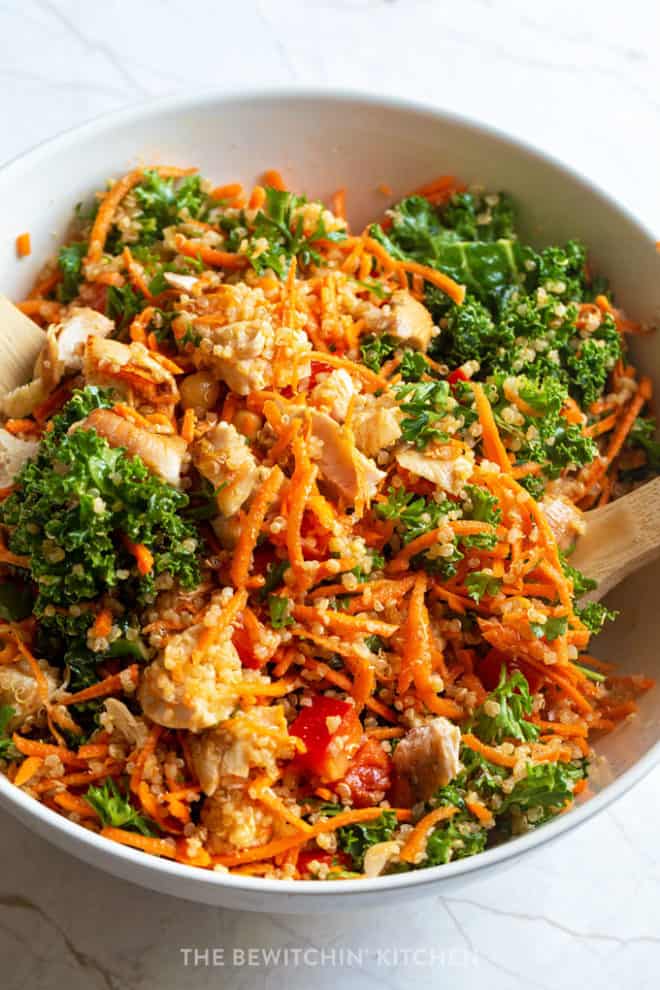 I half-heartedly grabbed a quinoa salad and head for the till. I was annoyed there wasn't much selection at the deli (and I was super hangry). When I got back to the hotel and took a bite I was super surprised: the quinoa salad was amazing.
I actually forgot about it until I was trying to think of a recipe to create for this month. I wanted to do something similar to this Moroccan Carrot Salad but make it a main course, or a delicious and healthy lunch.
Simplified Summer Eating
It's hard for me to cook (let alone be productive) during the summer months. My routine is thrown off a bit with my son being home and life can be a bit chaotic.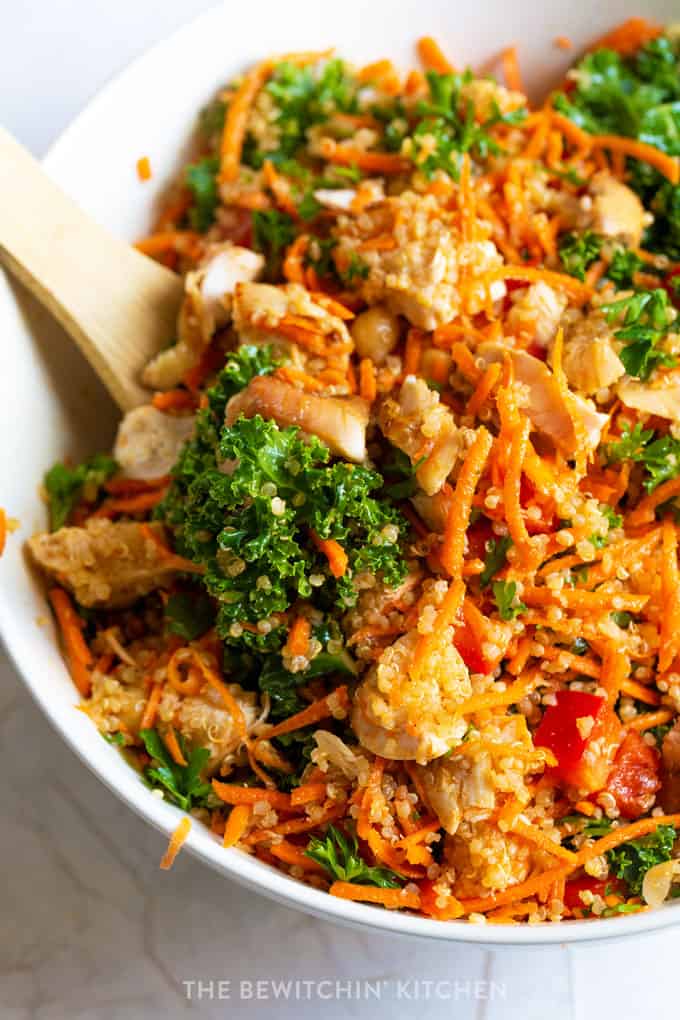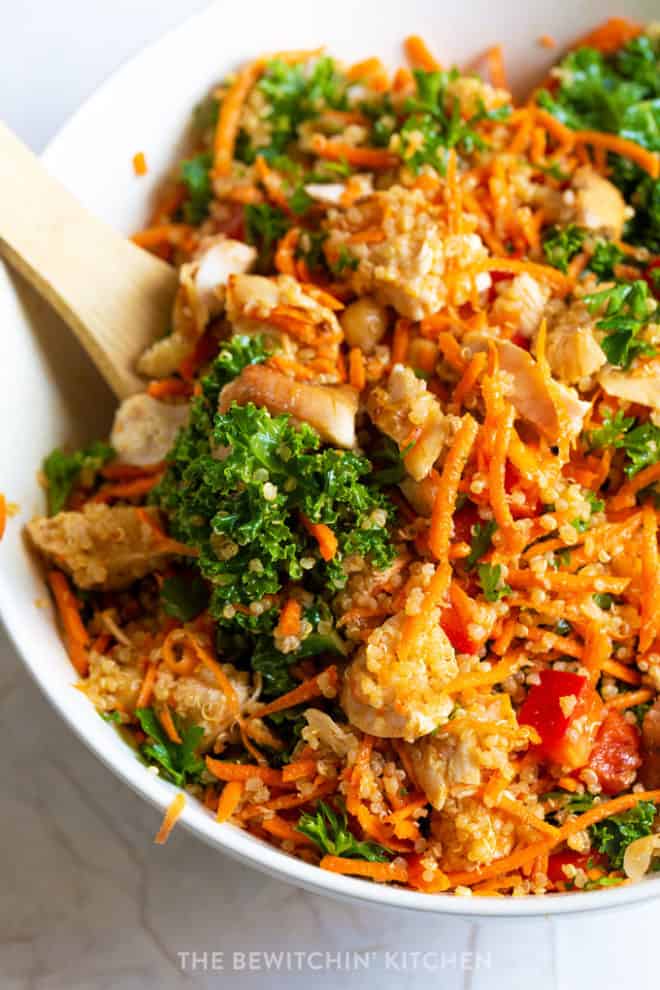 I like to simplify during the summer. Here are some simplifying summer eats:
Meal Plan: We all know how much I love to meal plan (find out more about learning how to meal plan here).
Meal prep: I highly recommend meal prepping to have a lot of your ingredients ready. Even just chopping up vegetables and cooking quinoa/rice/chicken, etc ahead of time so you can toss things together last minute helps big time.
Use the Chicken App to get organized for shopping: With all the kids in tow, you are going to want to get in and out of the grocery store fast. The Chicken App keeps your grocery list organized and even gives you some recipe ideas. Tip: Make sure your partner has the app too so they can sync to your list and give you a hand.
Grill. We grill everything during the summer. It's quick and it allows my house to stay cool.
Is Quinoa Salad Healthy?
It depends. It can be. There are a few factors to consider.
If you add a balance of healthy carbohydrates, fats, and proteins to make it a complete meal – absolutely.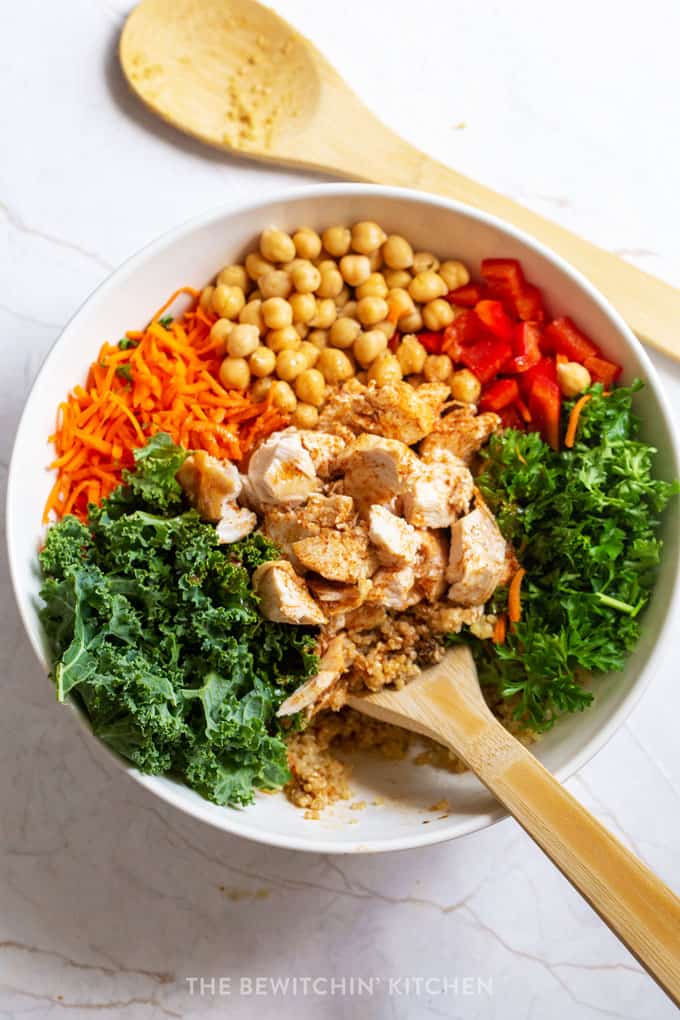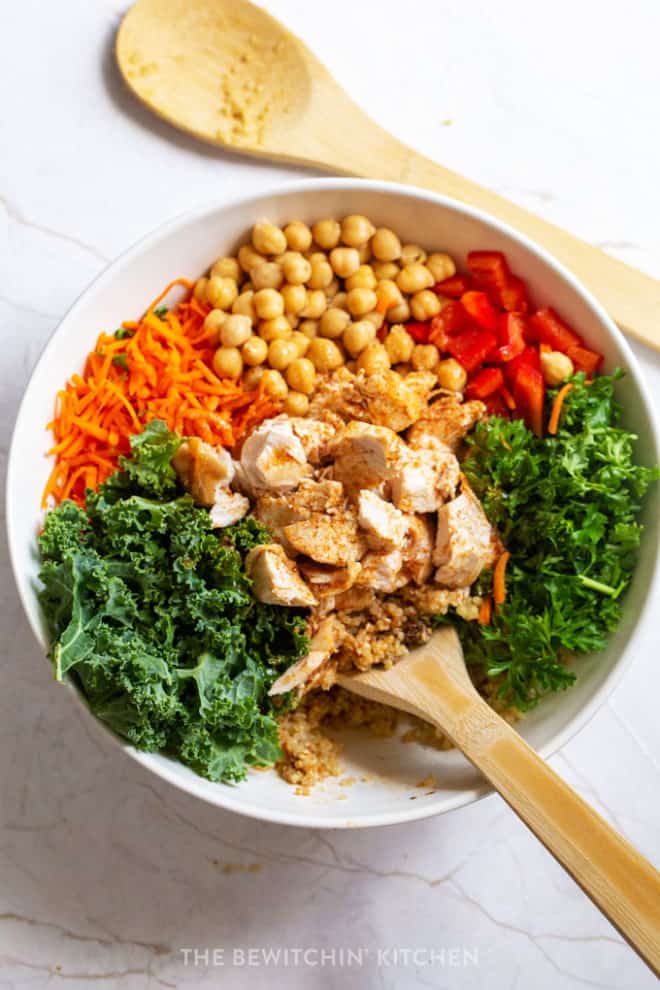 It also depends on what you dress it with. A thick dressing, or too much can turn a healthy recipe into unhealthy fast.
Something else to consider is your serving size. Too much of anything can be unhealthy, so keep that in mind. This particular recipe for Moroccan Quinoa Salad serves 8, which makes it a perfect lunch at 334 calories.
21 Day Fix Containers
I'll be slowly adding in container counts for Ultimate Portion Fix after popular demand.
The full recipe has 6 greens, 8 reds, 5 yellows, 1 blue (optional), and 8 orange.
Per serving the counts are: 3/4 green, 1 red, 2/3 yellow, 1 orange.
Moroccan Quinoa Salad Add-Ins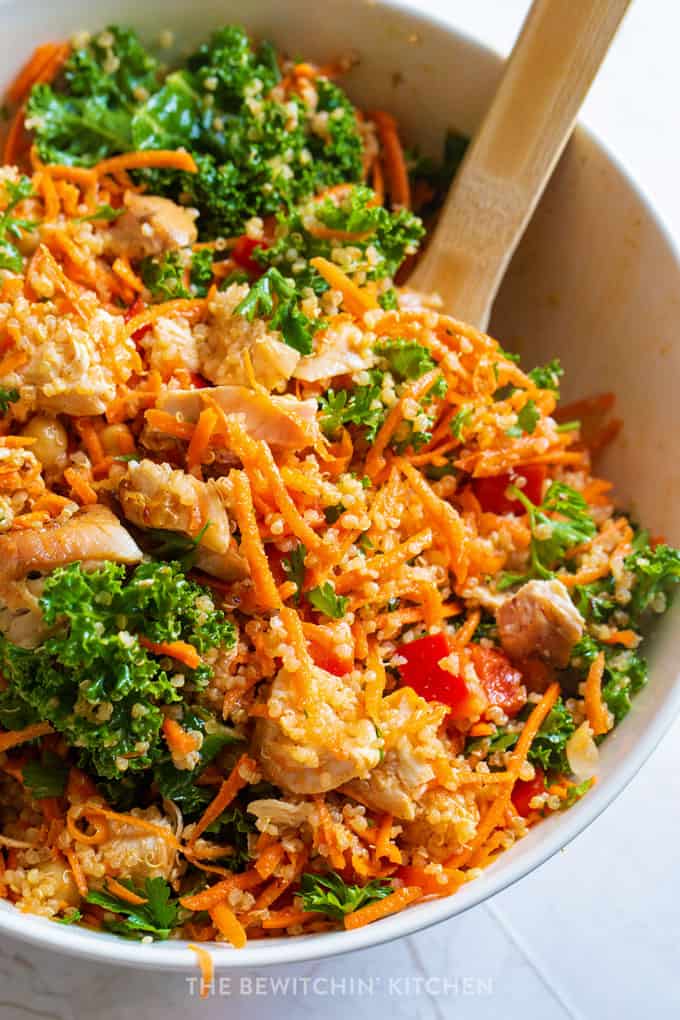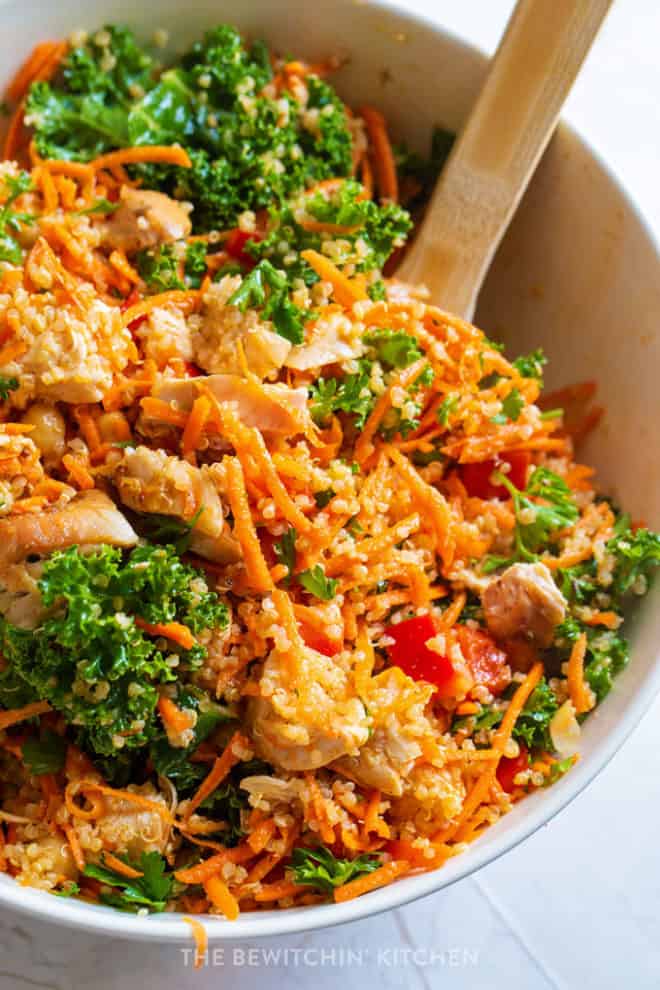 My husband is dairy free, so I didn't put cheese in to the main dish (as you can see in the photos).
That being said if you want to up this quinoa chicken salad game, add some feta.
I don't think adding feta makes this dish "Moroccan" by any means but it works so well with the flavors and I am obsessed with this pairing.
How to Make Moroccan Chicken Quinoa Salad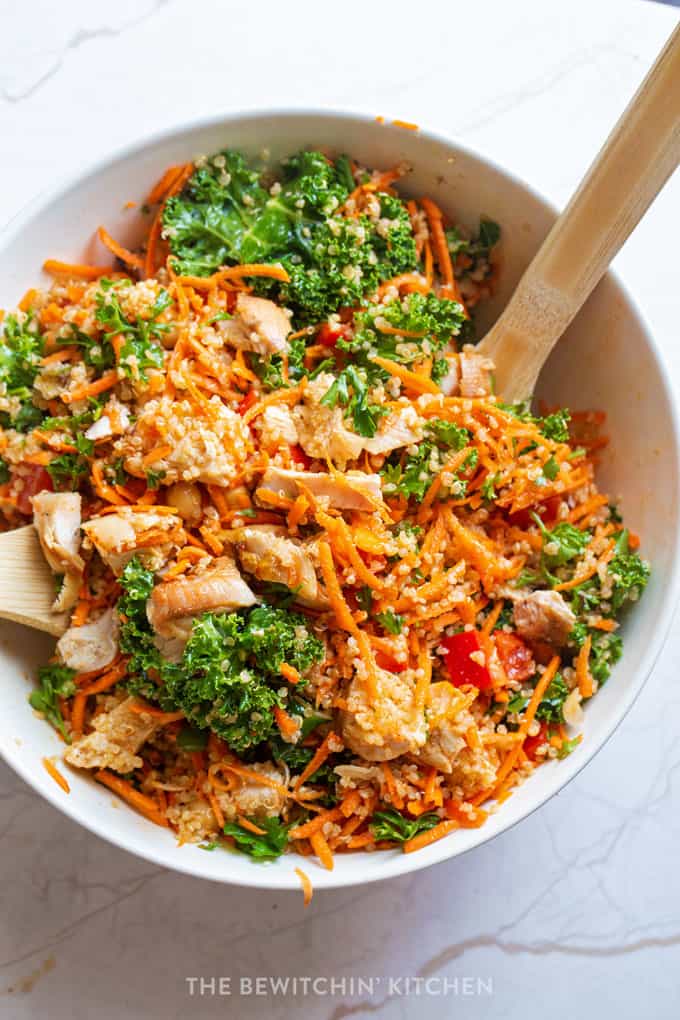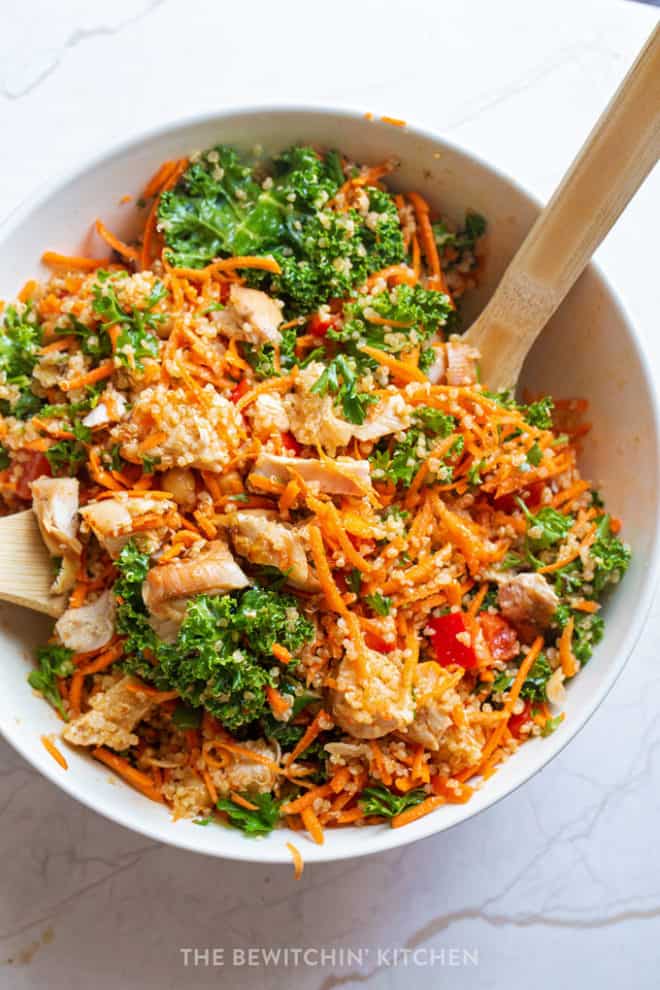 Recipes you'll also love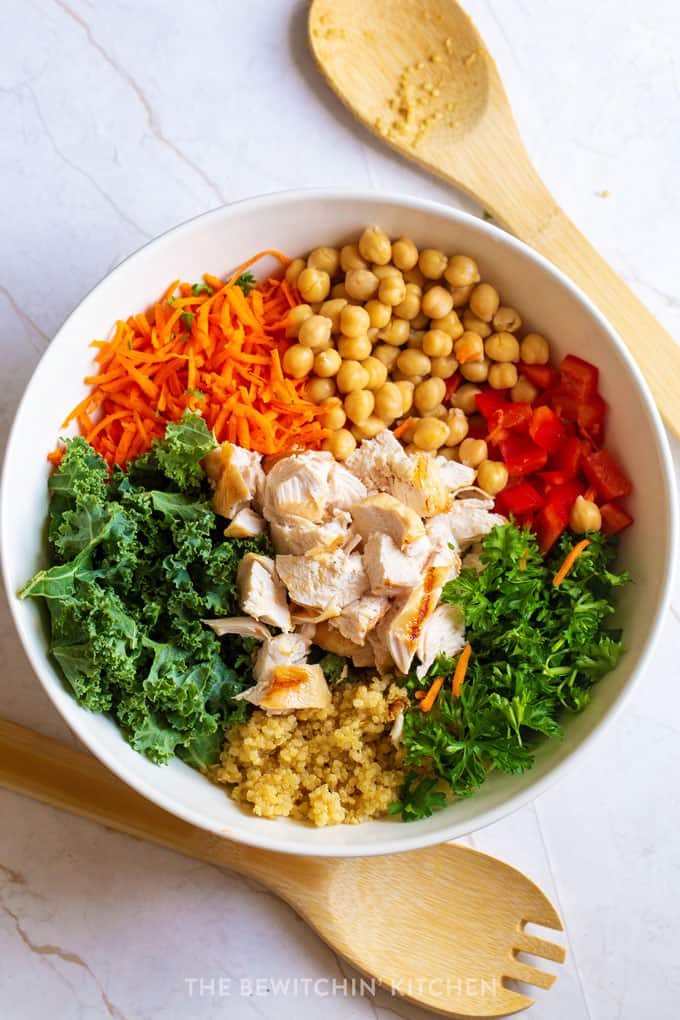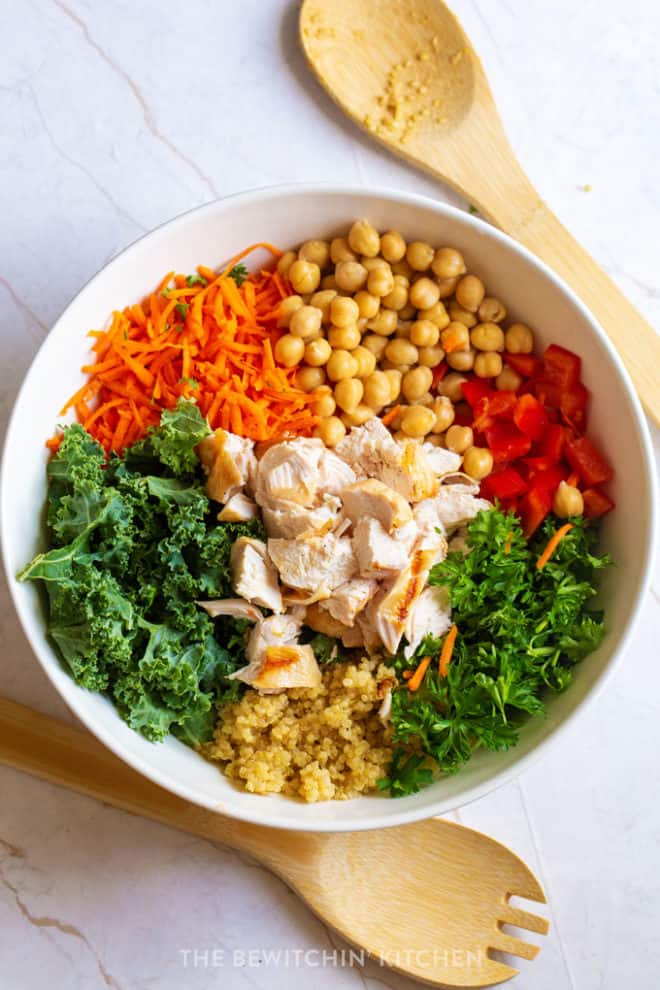 Looking for more? Search the recipe sections over at Chicken.ca to discover more healthy recipes. Don't forget to follow them over at Facebook, Twitter, Instagram, and Pinterest.
Moroccan Chicken Quinoa Salad
Refreshing, light, yet filling this chicken quinoa salad the perfect dish to serve during hot summer months.
Servings 8 servings
Calories 334kcal
Ingredients
2 chicken breasts cooked and cubed
2 cups quinoa cooked
1 cup kale chopped
1 bell peppers chopped
8 medium carrots grated or spiralized
1/2 cup chickpeas if canned, drained and rinsed
1/2 cup parsley chopped
Vinaigrette
6 tbsps lemon juice
2 tbsps extra virgin olive oil
1/2 tsp garlic powder
1/2 tsp cumin
1/2 tsp paprika
1/2 tsp cinnamon
1/2 tsp sea salt
1/2 tsp cayenne pepper
Instructions
Make Vinaigrette
Whisk together the lemon juice, olive oil, and seasonings. Set aside.
Putting it together
Combine all ingredients together in a large bowl. Drizzle vinaigrette over. Serve right away or cover and refrigerate for a few hours to allow the flavours to come together.
Notes
Calories include optional feta cheese If you have your quinoa and chicken prepped beforehand this recipe comes together in minutes, if not the time listed in the recipe card is correct.
21 Day Fix Containers
I'll be slowly adding in container counts for Ultimate Portion Fix after popular demand.
The full recipe has 6 greens, 8 reds, 5 yellows, 1 blue (optional), and 8 orange.
Per serving the counts are: 3/4 green, 1 red, 2/3 yellow, 1 orange.
Nutrition
Serving: 1serving | Calories: 334kcal | Carbohydrates: 39g | Protein: 22g | Fat: 10g | Saturated Fat: 3g | Cholesterol: 45mg | Sodium: 368mg | Potassium: 784mg | Fiber: 6g | Sugar: 5g | Vitamin A: 11985IU | Vitamin C: 42.8mg | Calcium: 116mg | Iron: 3.2mg
Follow On Pinterest
Follow @bewitchinkitchen On Pinterest for more delicious recipes!