Fried Cabbage and Bacon
Fried Cabbage and Bacon is a harmony of taste and texture: crispy, savory bacon is fried alongside sweet and tender cabbage, onions, and peppers for a fragrant and flavorful dish!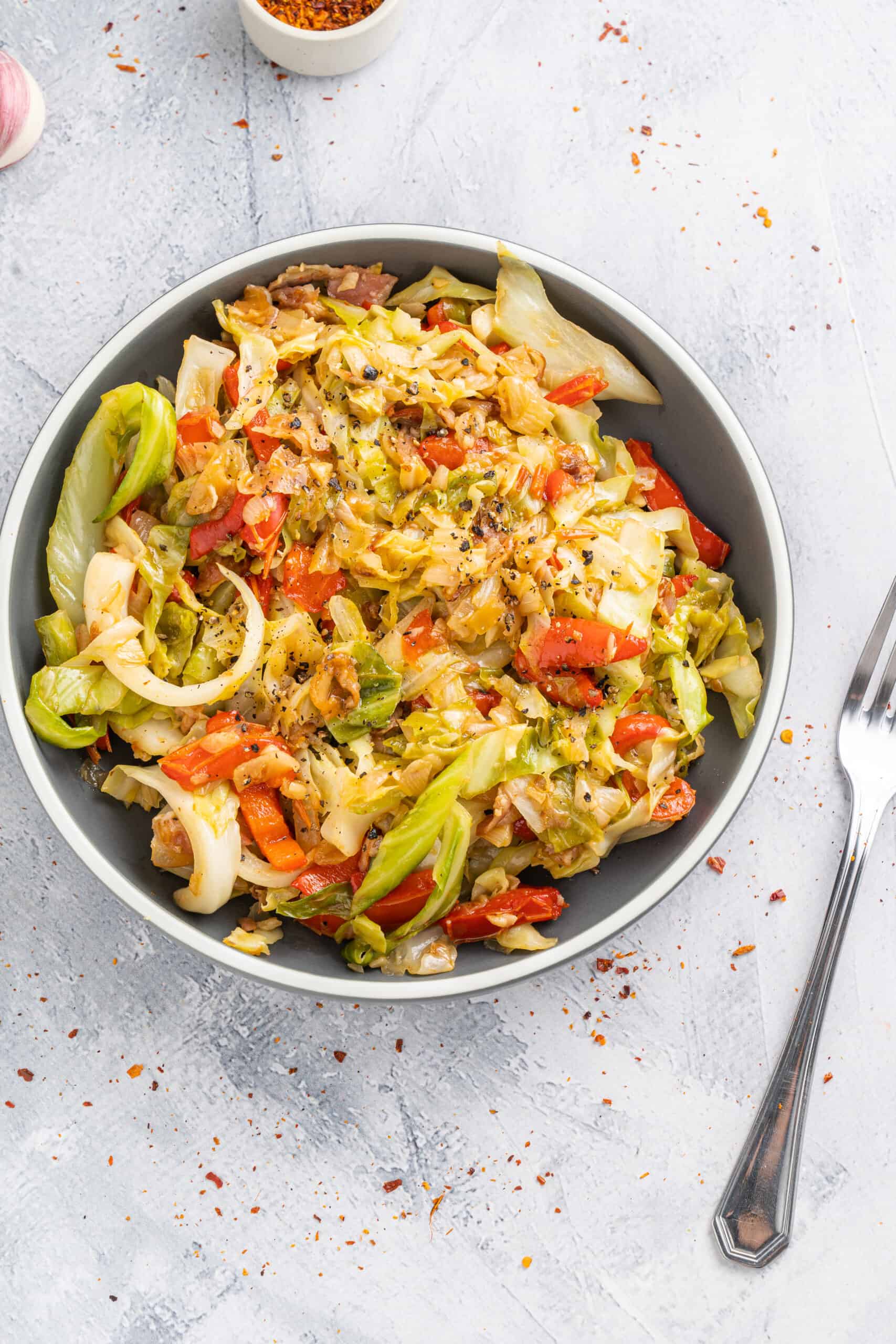 Fast and Flavorful Fried Cabbage and Bacon
When it comes to Southern-style cooking, you can almost guarantee a boatload of flavor and a healthy helping of wholesome, simple ingredients. Bacon and cabbage are already delicious on their own – with onions, peppers, and garlic added to the pan, the aroma and taste is incredible! It's hard to believe you can get all of that flavor with only a handful of ingredients.
Vegetables, salt and pepper, bacon, and garlic – that's all you need!
Leftover bacon slices (this recipe only needs 4!) can be saved to pair with other vegetables, like our fantastic Balsamic Bacon Brussels Sprouts, or mixed into a protein-packed breakfast quiche – we recommend our Bacon and Mushroom Quiche!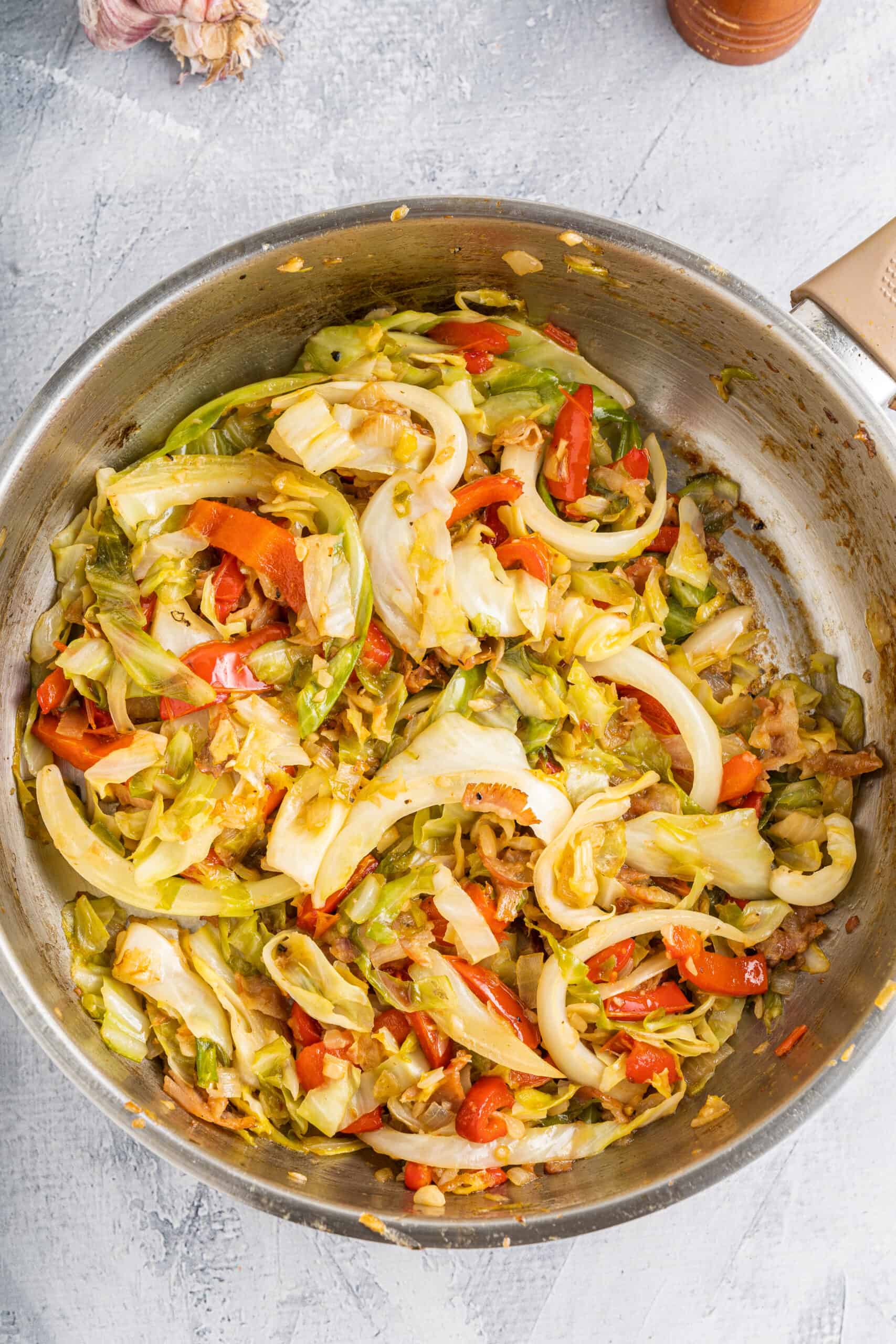 Why you will love this Cabbage Bacon Recipe
It takes less than 30 minutes to prepare
This cabbage bacon recipe uses inexpensive, year-round ingredients – a truly evergreen dish!
It's dripping with flavor without a whole lot of extra seasonings and ingredients
Reheats well and keeps for up to 5 days — leftovers are always delicious!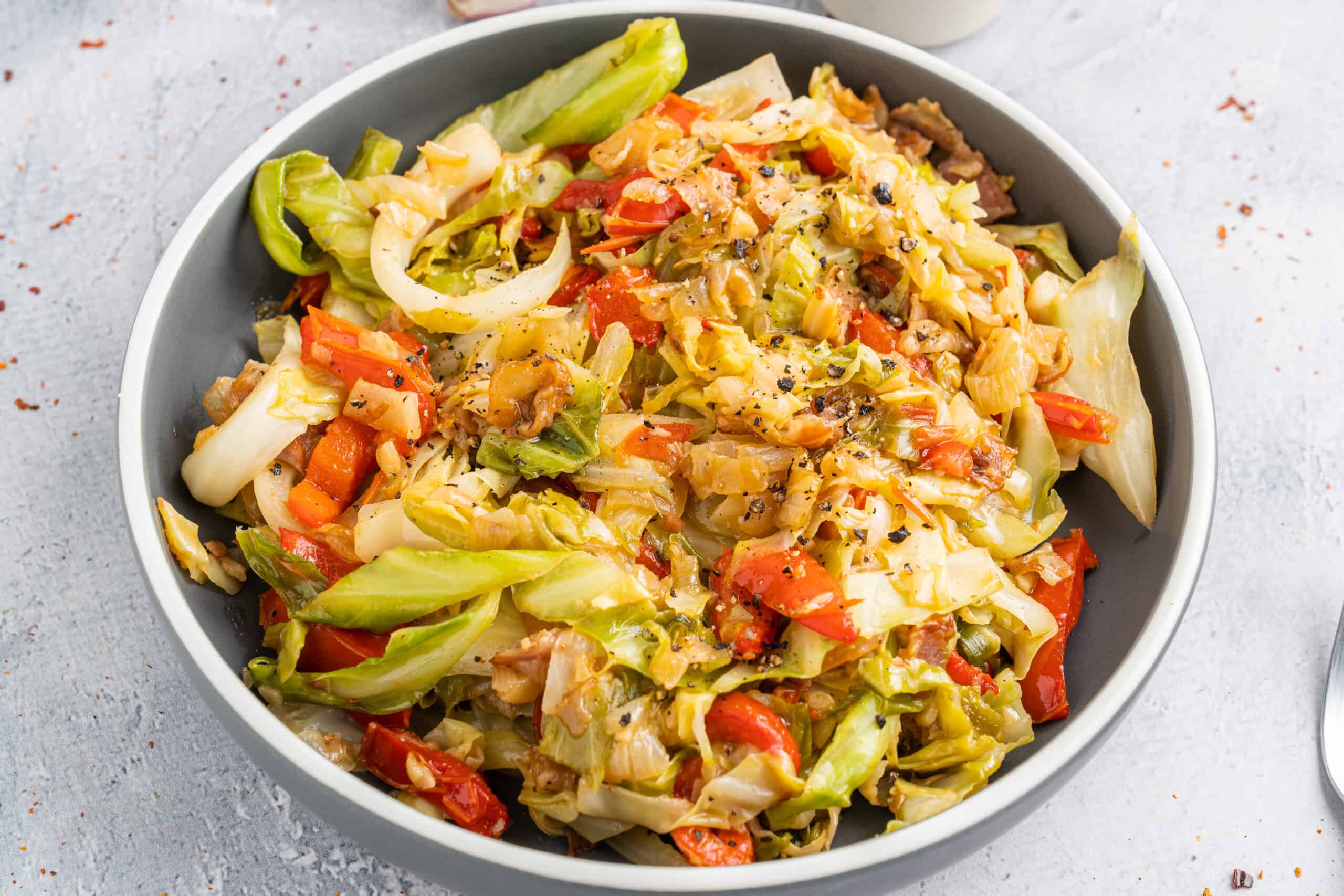 How to Make Perfect Fried Bacon and Cabbage
Step 1: Wash and dry the cabbage, onion, and bell peppers before slicing into strips. Mince the garlic cloves.
Step 2: Pour the olive oil into a pan and heat on medium. Add the sliced onion and bell peppers, stir frying until soft and fragrant.  
Step 3: Follow with the minced garlic, stirring into the vegetables and cooking until aromatic.
Step 4: Make space between the vegetables for the bacon and add it to the pan. Cook until the meat becomes brown and crispy.
Step 5: Finally add the cabbage and stir fry until soft.
Step 6: Plate fried cabbage and bacon right from the pan and serve warm.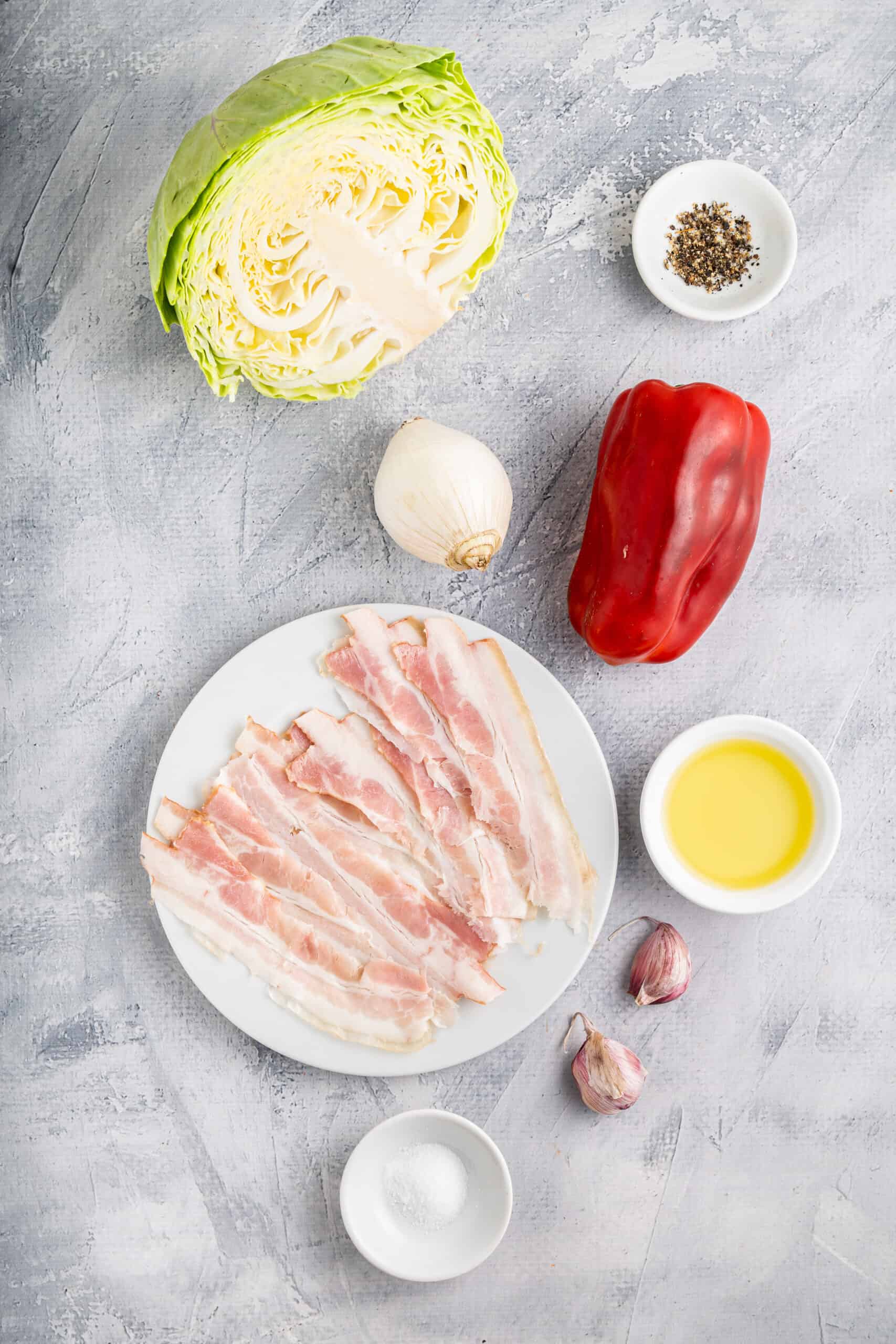 Pro Tips for Making Fried Cabbage Recipes With Bacon
Add some heat: You can add a twist to this dish with a dash of red pepper flakes and a squeeze of lime juice. It matches well with the ingredients used, and it gives this already delicious fried cabbage with bacon and onions a unique Asian-inspired flavor. 
Take care when doubling: The ingredients measured in this cabbage bacon recipe makes enough for two servings. While this recipe can be doubled easily, you don't want to make so much at once that the vegetables add too much moisture to your pan – this will steam rather than fry them. 
Reheat in skillet: Leftover fried cabbage and bacon will keep in the fridge for up to 5 days. Reheat right back in the skillet, no extra oil necessary, stirring to prevent burning.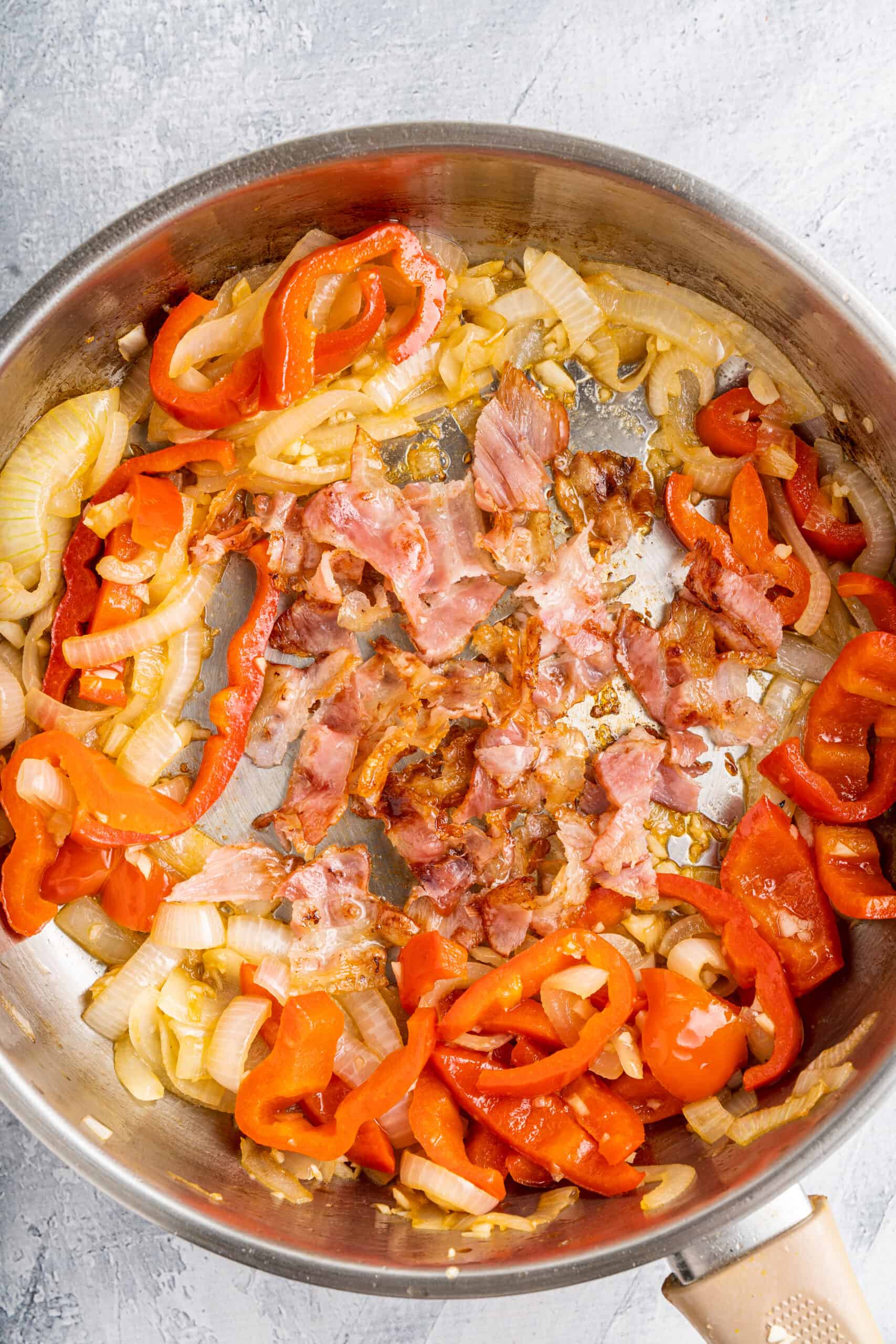 Frequently asked Questions about Fried Cabbage With Bacon
Should you blanch cabbage before frying?
Blanching cabbage is more for presentation than anything else. It can help to preserve flavor and texture in some recipes, but won't benefit you when making bacon and cabbage. The vegetables are cooked until soft, so the effects of blanching will be all but lost.
How do you cut cabbage for frying?
It's best to slice cabbage into strips to stir fry. Large leaves are somewhat difficult to manage in larger quantities, particularly among other vegetables, while strips are easy to cook evenly.
Always wash your vegetables before slicing. Additionally, be sure to pay them dry – you want to avoid any injuries from slippery veggies, and we want to avoid any extra moisture in the pan.
What does cabbage pair well with?
Other than bacon and onions, already included in this cabbage bacon recipe, this leafy green is delicious when paired with:
Savory meats such as steak, sausages, and pork
Other sweet and crunchy vegetables such as carrots, beets, and tomatoes
Wholesome sides such as baked or roasted potatoes, dumplings, and corn
Savory dishes such as pot roast and chicken pot pie
Fried Cabbage and Bacon
Fried Cabbage and Bacon is a harmony of taste and texture: crispy, savory bacon is fried alongside sweet and tender cabbage, onions, and peppers for a fragrant and flavorful dish!
Servings 2 Servings
Calories 481kcal
Ingredients
1/2 large cabbage head or 1 small one
4 oz bacon slices
1 medium onion
1 medium red bell pepper
2 tbsp olive oil
2 clove garlic cloves
1/2 tsp salt
1/2 tsp ground pepper
Instructions
Slice cabbage and onion, and chop bell pepper into strips. Then, mince garlic cloves.

Heat a large skillet with 2 tbsp olive oil and add onion and bell pepper. Stir until softened.

Next, add minced garlic and stir until fragrant.

Open space in between veggies to cook bacon until crispy.

Fold in chopped cabbage and stir until soft.

Serve warm.
Notes
This fried cabbage is soft and juicy. Taste-wise it has a subtly sweet flavor due to fried red bell pepper and onion, with a hint of bacon.
Tips
Red Pepper flakes and lime juice matches great with the ingredients of this recipe, it provides an Asian Style flavor to this Stir-Fry Cabbage.
Store leftovers in an airtight container for up to five days. Warm it in a skillet, stirring occasionally, so it doesn't burn.
Nutrition
Calories: 481kcal | Carbohydrates: 29g | Protein: 13g | Fat: 37g | Saturated Fat: 10g | Polyunsaturated Fat: 5g | Monounsaturated Fat: 20g | Trans Fat: 0.1g | Cholesterol: 37mg | Sodium: 1018mg | Potassium: 867mg | Fiber: 10g | Sugar: 15g | Vitamin A: 2194IU | Vitamin C: 195mg | Calcium: 153mg | Iron: 2mg
Follow On Pinterest
Follow @bewitchinkitchen On Pinterest for more delicious recipes!