Balsamic Bacon Brussels Sprouts
This Balsamic Bacon Brussels Sprouts recipe is not the brussels sprouts I grew up with, and we can all be thankful for that. Crispy bacon, zesty (yet sweet) balsamic all over roasted brussels sprouts is a side dish that the whole family can enjoy.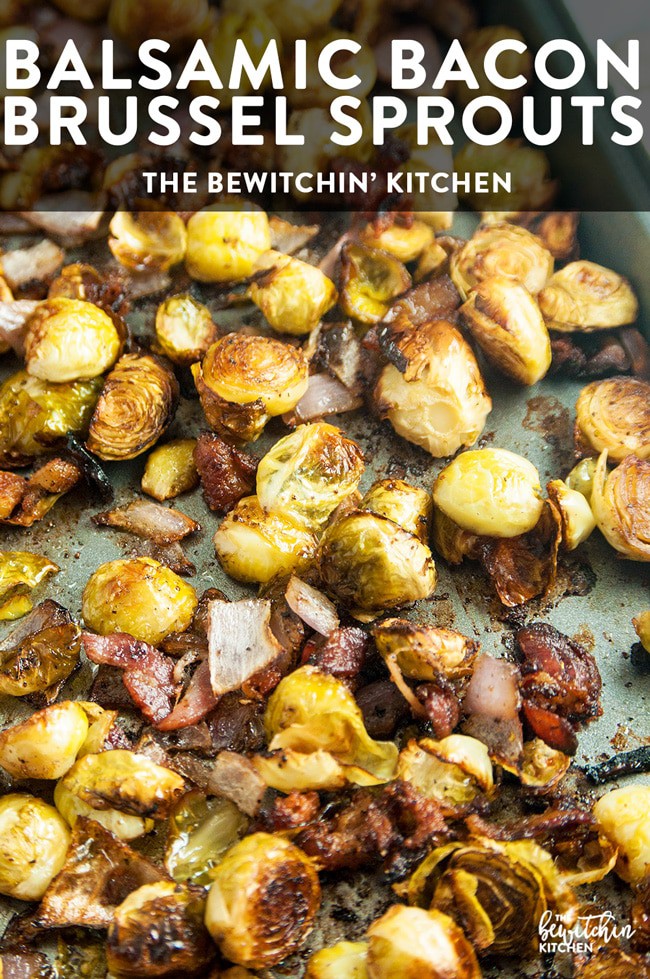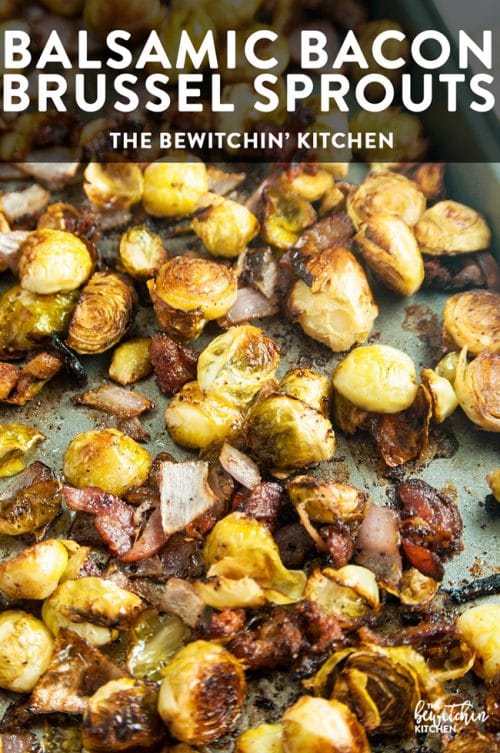 Balsamic Bacon Brussels Sprouts
Disclosure: This post contains affiliate links for your convenience. As an Amazon Associate, I earn from qualifying purchases.
Growing up, the only brussels sprouts I knew were the Green Giant frozen ones.
You know, the ones in a bag that you heat up in boiling water? They were so gross, not even cheese could save them (you know it's bad when an unhealthy cheese sauce that smothered all the green that you could see didn't improve the taste).
I always thought that's how brussels sprouts tasted and I'm happy to report that they're not. So if you grew up with the same experiences, give fresh brussels sprouts a chance!
You'll love these Balsamic Bacon Brussels Sprouts, because if all else fails – bacon.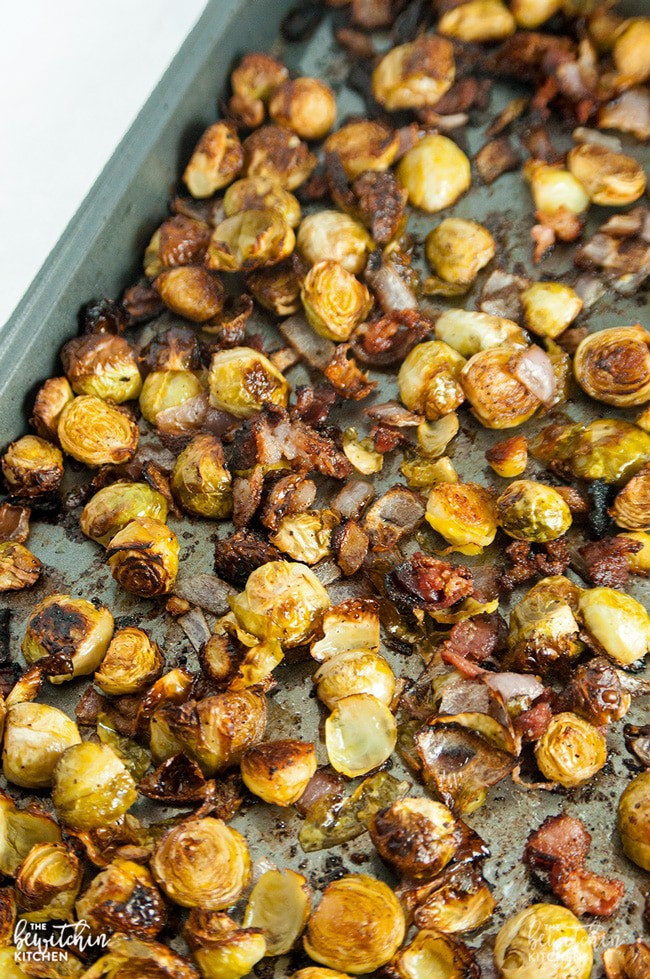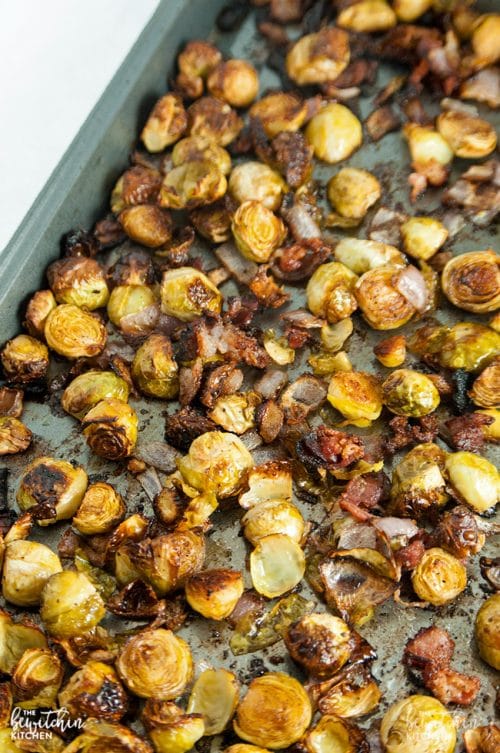 What to serve with brussels sprouts
A couple of weeks ago I made Cranberry Balsamic Chicken with Roasted Vegetables. The vegetables (spoiler alert) were brussels sprouts and I was surprised that I liked them, a lot. I had only made brussels sprouts once before that and they were okay, not my favorite but okay. So as I said, I was surprised that I went back for seconds.
This recipe is really good. I served them with Hasselback potatoes (smothered in olive oil, Epicure pesto mix, garlic powder, salt, and pepper) and grilled steaks. I love Friday nights aka steak night.
Other dinner ideas to serve brussels sprouts as a side dish:
Brussels Sprouts vs Brussel Sprouts
While writing this recipe I struggled with knowing the difference between the two.
Since this recipe uses multiple Brussel sprouts, the correct plural term is Brussels Sprouts.
The more you know.
How to roast Brussels sprouts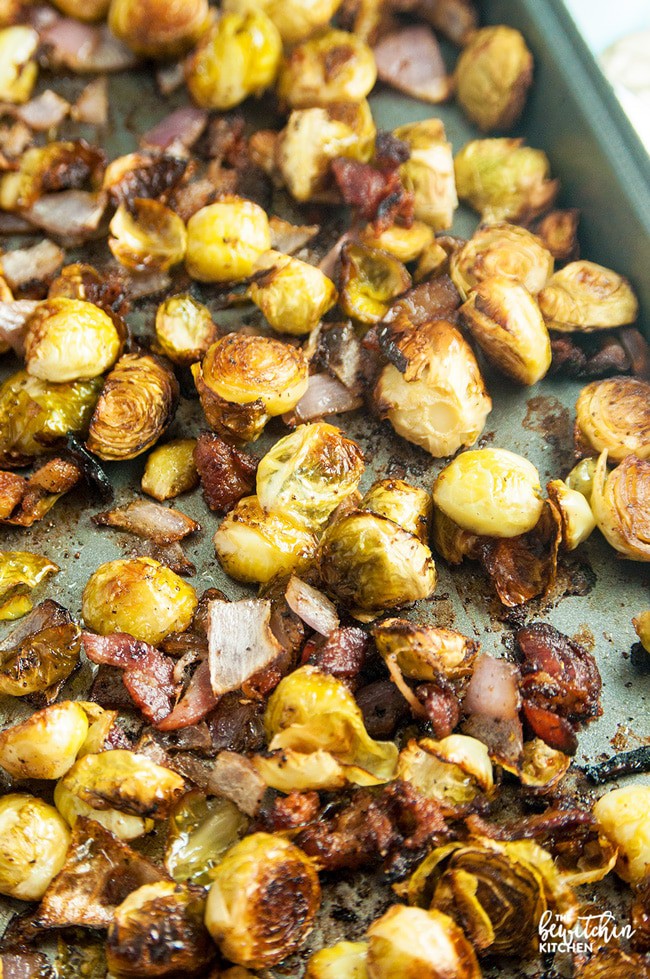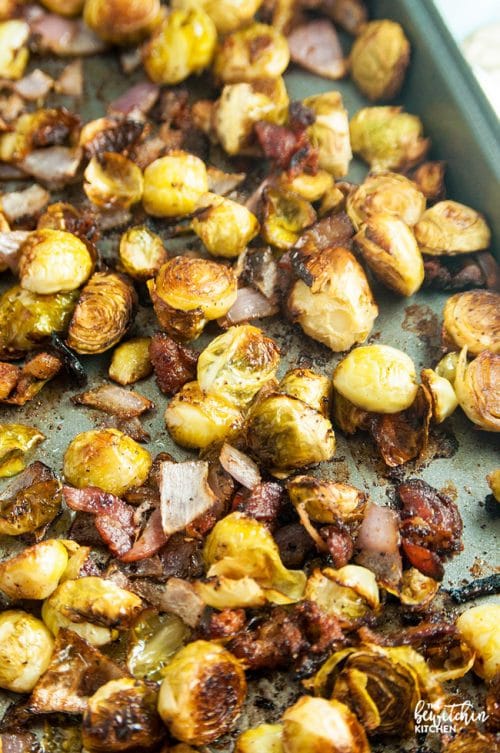 Do you know what's even better than brussels sprouts with bacon?
This recipe is paleo and Whole30 approved (depending on the bacon you buy of course), so if you're following a specific lifestyle this recipe can be added to your meal plan.
Is it paleo? I Googled if it was paleo diet friendly and got mixed answers because of the balsamic vinegar. If you're super strict, I'd say no but if you're a little lenient, enjoy.
Balsamic Bacon Brussels Sprouts
This Brussels sprouts healthy side dish is an easy one pan recipe that goes great with chicken, steak or Christmas dinner.
Servings 5 servings
Calories 166kcal
Ingredients
2 lbs Brussels sprouts ends chopped, peeled and sliced in half
1/4 large red onion diced
3 slices bacon diced (I used Lazy Maple flavored bacon for an even more delicious taste)
1/2 tsp garlic powder
1 tbsp olive oil
Sea salt and pepper to taste
2 tbsp balsamic vinegar
Instructions
Pre-heat oven to 400F

Arrange the sliced brussels sprouts, red onion and bacon evening over a baking sheet.

Sprinkle with the garlic powder and olive oil.

Mix around with your hands to combine

Add the salt, pepper, and finish by sprinkling the balsamic vinegar over the sheet.

Roast for 35-40 minutes, at the 20 minute mark take them out of the oven, stir and put them back in.

Serve with extra balsamic, if desired.
Nutrition
Serving: 1g | Calories: 166kcal | Carbohydrates: 18g | Protein: 7g | Fat: 8g | Saturated Fat: 2g | Cholesterol: 8mg | Sodium: 134mg | Potassium: 747mg | Fiber: 6g | Sugar: 5g | Vitamin A: 1370IU | Vitamin C: 154.6mg | Calcium: 76mg | Iron: 2.6mg
Follow On Pinterest
Follow @bewitchinkitchen On Pinterest for more delicious recipes!
Did you like brussels sprouts as a kid? How about now?
Don't forget to pin this recipe if you like it (or to save it for later).