Garden Pesto, Tomato and Mozza Sandwich

I just went on a recent food tour to New York City and this Garden Pesto Tomato  Mozza Sandwich literally followed me home. During our trip, we bought these beautiful garden fresh sandwiches from a local bakery and then sat in a gorgeous park and had a picnic. It consisted of chewy bread, juicy red tomatoes, fresh mozzarella cheese and a walnut pesto just bursting with basil flavor. I think it was the combination of super fresh food, great company and a stunning location that made this so enjoyable. I couldn't wait to get home and recreate this for my family. What better use of all of the fresh basil and vine tomatoes growing in our garden?
I've grown a ginormous bunch of basil this year, along with lots of juicy red tomatoes, so recreating this was fairly simple. I made a trip to our local bakery for some freshly made ciabatta bread and went to town. Making fresh pesto is very simple and it swirls together in a food processor in a matter of minutes. And because I am a cheese lover through and through, fresh mozzarella is always in our house. Building the sandwich is pretty easy once the ingredients are assembled. Friends, this Garden Pesto Tomato Mozza Sandwich is like taking a giant bite of summer. The basil pesto gives the sandwich loads of fresh flavor and the juicy tomatoes seep into the crusty, chewy bread.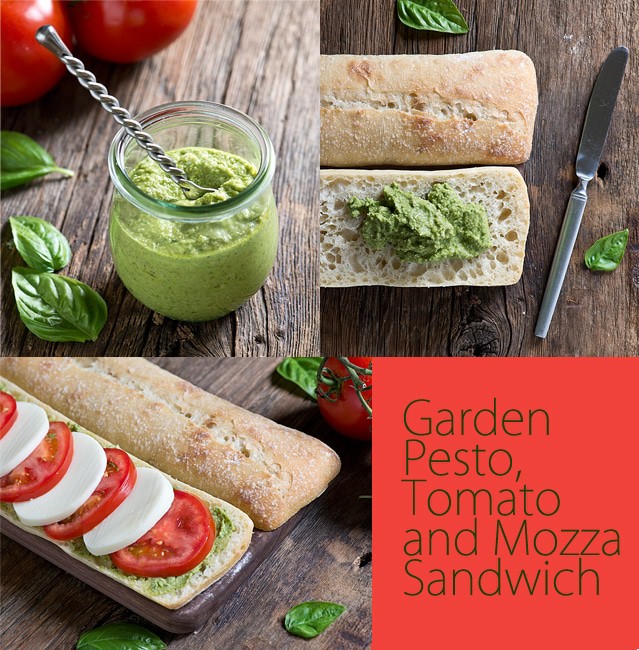 For some added goodness, you can grill this in a Panini press for a few minutes too. That seems to be the favorite of the boys around here. I prefer mine straight up, and even like to make a few extra for the fridge because they are a super easy grab and go lunch.
Garden Pesto, Tomato and Mozza Sandwich? Guys, what could be a better summer snack? Or weeknight supper? Or afternoon picnic?
Garden Pesto Tomato Mozza Sandwich
Pesto
2 packed cups of fresh basil leaves
1/3 cup chopped walnuts, lightly toasted
3 cloves minced garlic
1/2 cup grated parmesan cheese
pinch of salt
1/3-1/2 cup of olive oil as needed
 Process all of the first 5 ingredients in a food processor. Slowly drizzle in the olive oil, starting with 1/3 cup and adding more as needed to get a smooth consistency. Store pesto in the fridge.
Building The Sandwich
pesto
vine ripened tomatoes, thickly sliced
fresh mozzarella, thickly sliced
ciabatta bread, loaf or buns
Spread a generous layer of pesto on the cut side of some ciabatta or crusty bread. Lay a thick slice of tomato, followed by a thick slice of mozzarella and top with the other half of bread. Serve immediately or press in a Panini if desired.