Pumpkin Cinnamon Rolls
Sticky sweet and oh-so gooey, these Pumpkin Cinnamon Rolls couldn't be easier to make! Slather crescent roll dough with a spiced, tangy mixture of cream cheese and pumpkin pie filling, then top with a simple homemade glaze while the rolls are still hot. Enjoy this tasty twist on a classic cinnamon bun recipe — it's the perfect dessert for fall!
The Easiest Pumpkin Cinnamon Rolls
Once the cool weather hits, you're guaranteed to find three things when you walk into my home — a Pumpkin Caramel Latte candle burning, a Pumpkin Spice Latte beside me, and these glorious Pumpkin Cinnamon Rolls on the table.
They're mouthwateringly delicious, and because of my super-duper secret ingredient…so easy to make.
What's the secret ingredient? Pillsbury Crescent Rolls!! Using these bad boys saved me time (and my sanity), and I had no doubt that my pumpkin spice cinnamon rolls would turn out perfectly.
Honestly, there are so many ways to transform a simple refrigerated dough into something spectacular. My recipes for Strawberry Rhubarb Hand Pies and Easy Apple Turnovers are the perfect examples! No mixing, kneading, or proofing required — just scrumptious treats that are ready in no time.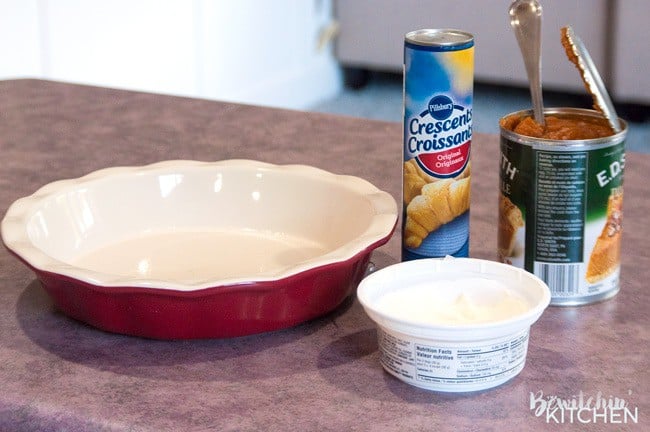 Why You Will Love This Pumpkin Pie Cresent Roll Recipe
Only 3 ingredients – plus a couple of pantry staples for the sauce
Bursting with fall flavor – sweet pumpkin, tangy cream cheese, and warm spices
Ready in 30 minutes – includes just 5 minutes of prep
Great for guests – make the night before or double the recipe
How To Make Pumpkin Spice Cinnamon Rolls
Trust me when I tell you that this pumpkin cinnamon rolls recipe couldn't be any easier to make! And because each batch is made with one tube of refrigerated dough, it's easy to scale up the recipe and make as many as you need.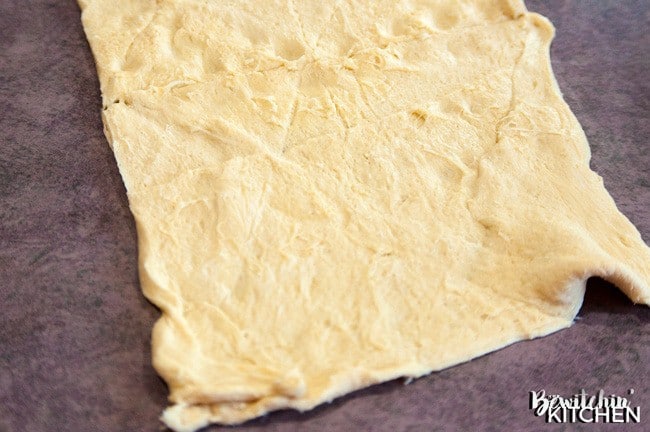 Roll Out The Dough
Carefully remove the dough from the can and roll it out into a rectangle. You may need to press and stretch it into an even shape if the edges aren't lined up.
Then, all you need to do is pinch the seams together to make a flat dough. Work quickly while it's still cold so your pumpkin cinnamon rolls bake up nice and plump.
You can also roll out the dough onto a baking sheet and pop it in the refrigerator for a few minutes before adding the filling.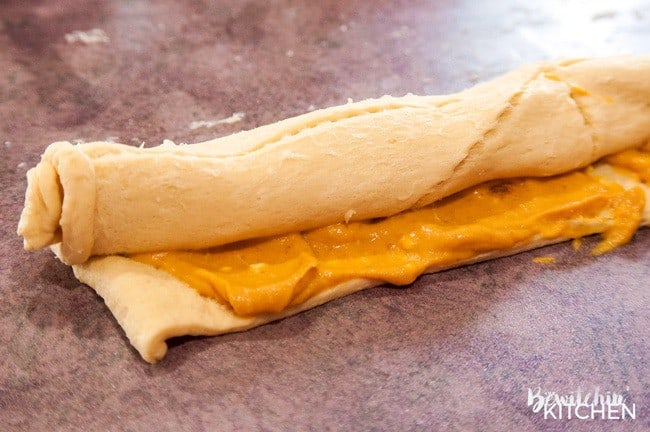 Add Filling and Roll
To make the filling, I simply mixed together the canned pumpkin pie filling and cream cheese. It's important to bring the cream cheese to room temperature before mixing — otherwise, it will take forever to combine and there will be lumps everywhere!
Simply scoop out (or slice off) the amount you'll need and let it sit on the counter for about 30 minutes before starting this pumpkin cinnamon rolls recipe. If you're pressed for time, you can microwave the cream cheese for 10-15 seconds — just be sure to remove the wrapper first!
Once mixed, I added the majority of the filling to the dough and rolled inwards. Then I sliced the log into nine pieces, roughly 1″ sections.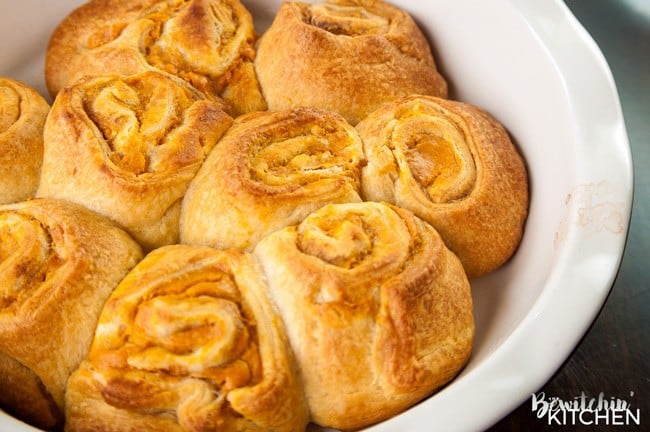 Bake and Glaze
Place each piece in a greased baking dish so the spiraled edges are facing up. They should be nestled nicely into the dish without being too snug — you need a little bit of room for the dough to puff up when baked.
Bake your pumpkin spice cinnamon rolls until the dough is crisp and golden all over.
I highly recommend using a ceramic or glass dish for even results — a pie plate is great! A metal cake pan will also work, but you may want to pull it a minute or two sooner since the rolls will continue to bake as they cool.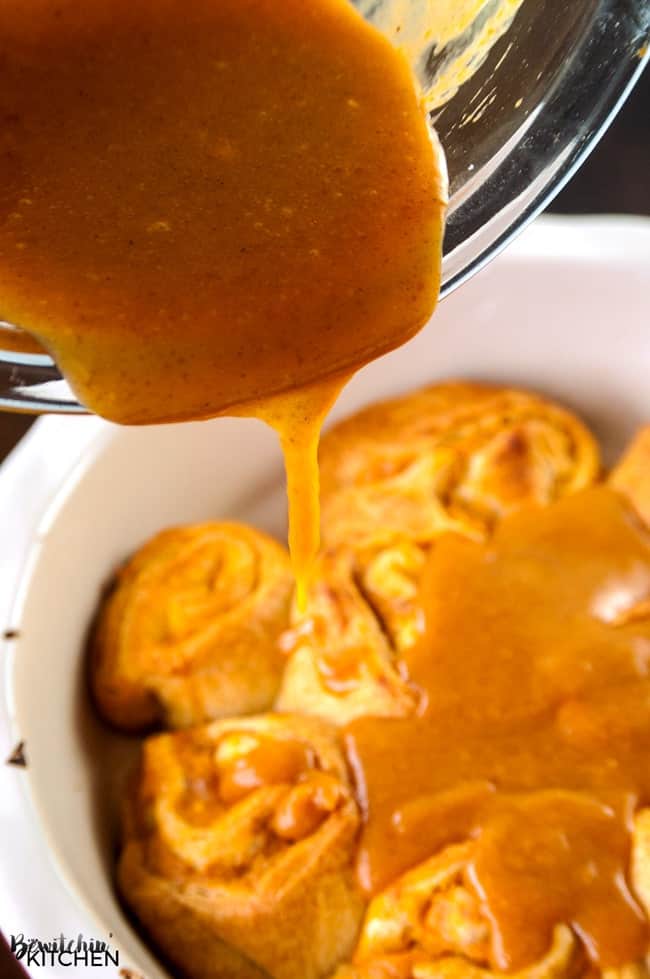 While these are excellent fresh out of the oven as is, I wanted to make a glaze to go on top. Originally, I was going to make a glaze that was similar to my Maple Butter Cinnamon Rolls recipe, but at the last second, I was inspired to make something out of the leftover pumpkin cream cheese mixture.
Oh. My. Gosh.
My creation was the perfect balance of sweet and spice with plenty of that ooey-gooey factor to put these pumpkin pie cinnamon rolls over the top.
Frequently Asked Questions about Pumpkin Pie Cinnamon Rolls
Can I make this pumpkin cinnamon rolls recipe ahead of time?
You bet! Arrange the rolls in your baking dish, then cover and refrigerate overnight. Let the dish warm on the counter while you preheat the oven the next day, then bake as directed.
Go ahead and mix up the glaze once you have assembled the pumpkin pie crescent roll spirals. Keep in a separate airtight container in the fridge, then drizzle over the rolls as soon as they come out of the oven.
How long do crescent cinnamon rolls last?
These pumpkin pie cinnamon rolls will keep for 2-3 days in the refrigerator. Since the rolls and glaze contain dairy, they cannot be kept at room temperature.
You can also freeze the rolls for about a month. Cool to room temperature first, and wait to add the glaze until serving.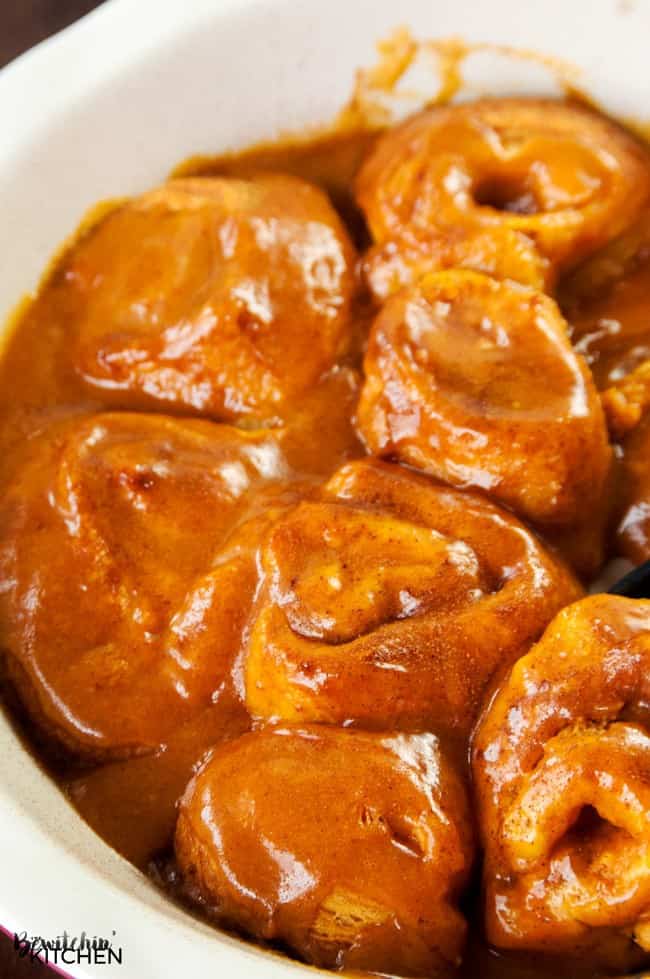 How to reheat pumpkin spice cinnamon rolls?
If you manage to have quite a few left, you can place the pan back in the oven at 350 degrees F for 10-15 minutes. Reheat individual pumpkin cinnamon rolls in the microwave until warmed through, about 15 seconds.
More Sweet Breakfast Recipes
GF Banana Chocolate Chip Muffins
Pumpkin Pie Cinnamon Rolls
Pumpkin Cinnamon Rolls are a tasty twist on the classic cinnamon bun recipe. Topped with spiced homemade glaze, it's the perfect fall treat!
Servings 9 rolls
Calories 152kcal
Ingredients
For the rolls
1 can of Pillsbury Crescents
1/2 cup pumpkin pie filling
1/4 cup cream cheese
1/4 tsp pumpkin pie spice
**use 1/2 cup of the pumpkin cream cheese mixture on the rolls
For the pumpkin spice icing
Leftover pumpkin pie cream cheese mixture
1/2 cup powdered sugar
1 tsp pumpkin pie spice
Instructions
Preheat oven to 375F.

Open the can of Pillsbury Crescents and roll out to a rectangle. Pinch all the seams together.

In a medium bowl add the pumpkin pie filling and cream cheese, beat until smooth.

Spoon 1/2 cup of the mixture over the crescent rolls and sprinkle with pumpkin pie spice.

Roll the dough inwards (where it's longer, not thicker) and cut into 1" pieces. I cut nine pieces.

Bake for 20-25 minutes.

For the icing

Take the bowl that you mixed the cream cheese and pumpkin pie filling and add sugar and pumpkin pie spice. Mix together and pour over the cinnamon rolls.
Nutrition
Serving: 1g | Calories: 152kcal | Carbohydrates: 21g | Protein: 1g | Fat: 8g | Saturated Fat: 4g | Polyunsaturated Fat: 2g | Monounsaturated Fat: 1g | Cholesterol: 6mg | Sodium: 248mg | Potassium: 31mg | Fiber: 1g | Sugar: 9g | Vitamin A: 1330IU | Vitamin C: 1mg | Calcium: 14mg | Iron: 1mg
Follow On Pinterest
Follow @bewitchinkitchen On Pinterest for more delicious recipes!

This post has been sponsored by my friends at Life Made Delicious. As always, all opinions are 100% my own.