Healthy Kids Breakfast Ideas: Kitty Cat Toast
This recipes uses peanut butter, be sure to stick around for more peanut butter recipes.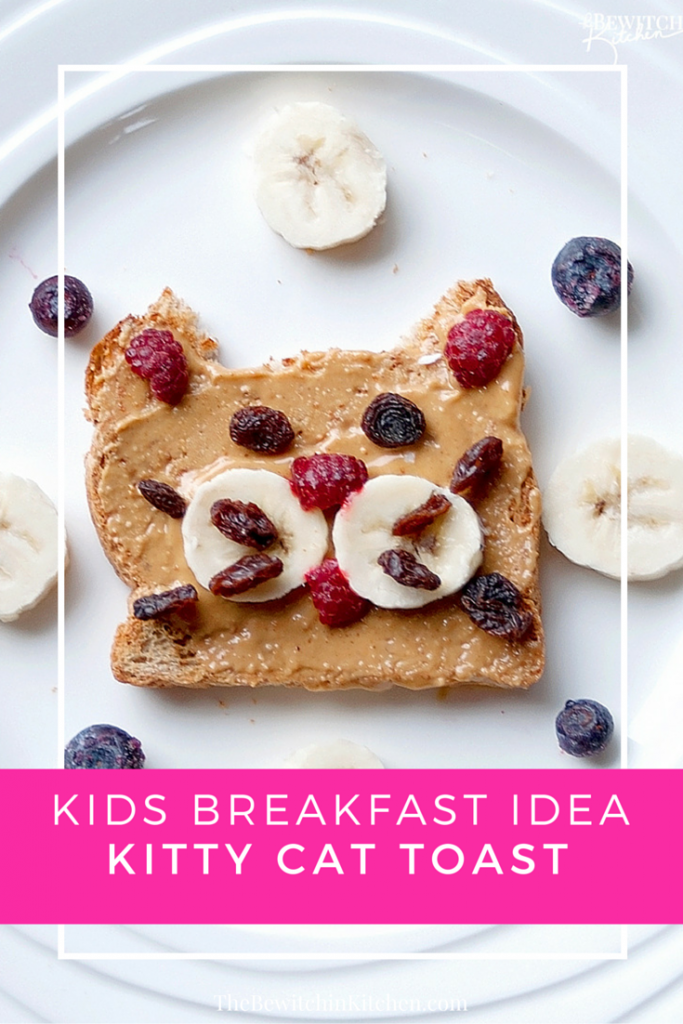 I have an incredibly picky toddler. Coming up with healthy kids breakfast ideas isn't always easy with him but he loves this kitty cat toast.
You guys, I have become the mom I always said I would never be. The one that stresses over what he child eats and does ridiculous things to cater to them.
My little guy is so fussy when it comes to food. He only likes a handful of things and he likes to pick and choose what day he likes them. As a concerned parent, it's very frustrating. As a student in nutrition, it's worries me.
I have found myself make 3 different dinners for him to try to get him to even take a small bite of one of the dishes, and usually it ends up with either my husband or myself eating them. At three years old, he has still never tried chicken. It drives me crazy.
What I have noticed is that he likes presentation. When I arrange his food nicely, he will usually have a bite or two. I have also noticed that he likes color. So I thought I would try something fun with his toast this morning and use everything he loves as a snack, but put it together as a meal.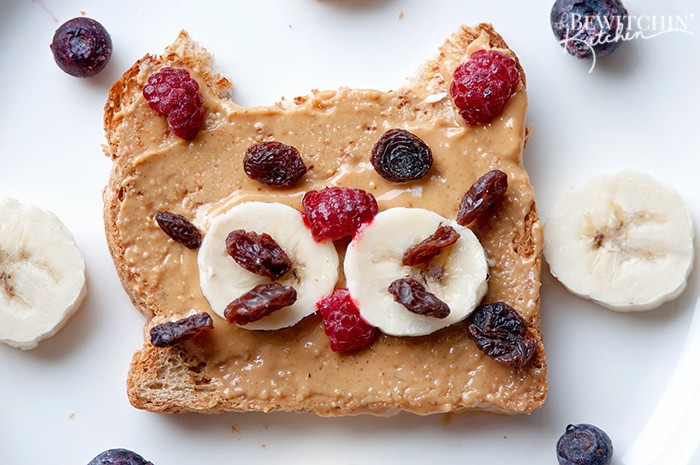 Healthy Kids Breakfast Ideas: Kitty Cat Toast:
Here's what you need for the kitty cat toast:
1 piece of toast (I love Little Big Bread)
1 banana, sliced
2 raspberries (I used frozen and split them)
Natural peanut butter (I usually buy mine from Vitacost <—PS if you sign up for a free account you get a $10 credit from me this is an affiliate link.)
It's pretty easy to put together, just cut the toast in a shape of a cats head (to the best of your ability, mine isn't perfect). Lay down two slices of banana for cheese, split a raspberry for the ears and again for the nose and tongue. I used the raisins for eyes and squashed them flat for the whiskers.
[ctt title="Click to tweet out this healthy breakfast idea to your friends." tweet="Kitty Cat Toast: a healthy breakfast idea for kids via @bewitchinkitc http://ctt.ec/ffycB+ #pickyeaters #healthykids" coverup="ffycB"]
Serve with the leftover fruit.
I'm sure you could get more creative with this with a variety of fruits and vegetables but I just what I had on hand.
Do you have any favorite healthy kids breakfast ideas? Share them in the comments.
Looking for more ideas? Check out this toddler snack idea (hungry mice).