Apple Cinnamon Yogurt Bowl and The Benefits of Fiber #sponsored
This conversation is sponsored by the Calorie Control Council. The Calorie Control Council provided compensation for me to create this recipe and discuss dietary fiber. The opinions and text are all mine.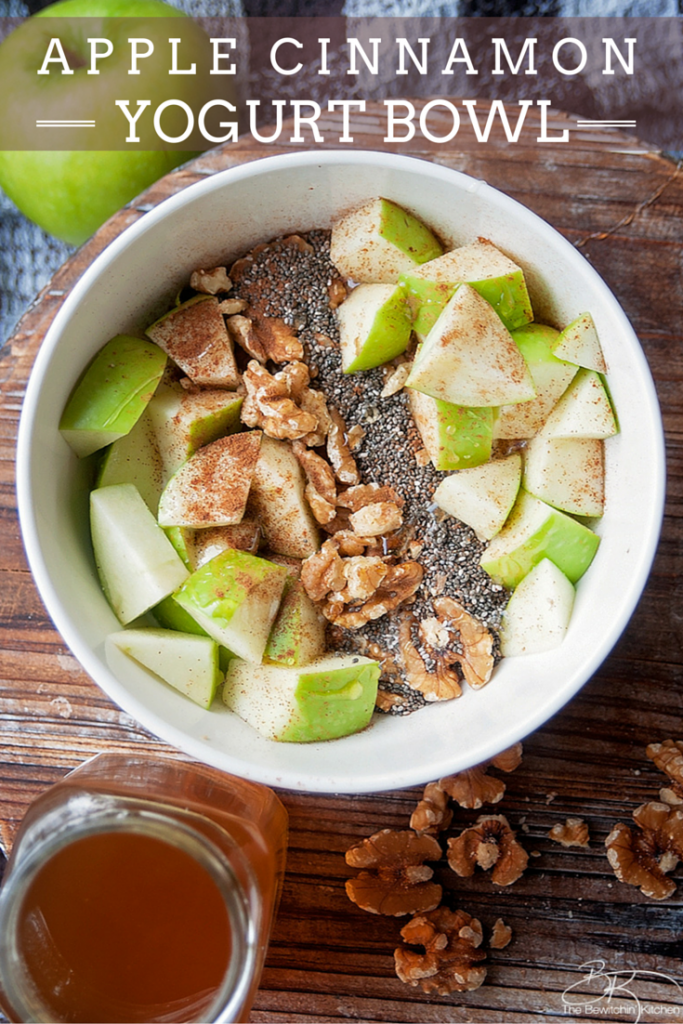 After a challenging summer, I'm starting over. My health habits have diminished and I'm building them back up from managing my caloric intake, upping protein and adding in more fiber. My downfall has been snacks and so I'm brushing up my knowledge and sharing with you a healthy snack idea: the apple cinnamon yogurt bowl.
At night time my sweet tooth calls and lately it's been a whole lot of ice cream and chocolate, in fact it's been too much (which would help explain the fifteen pound weight gain). So like I said, I am starting over and doing my best to remember what my habits were when I was healthier and felt like a whole different person.
One of my favorite snacks was this apple cinnamon yogurt bowl.
The apple cinnamon yogurt bowl is beneficial in providing healthy fats, protein and fiber.
Why Fiber?
Fiber benefits can vary, so having a variety of different fiber in your diet is highly beneficial, here are a few benefits:
Reduced Constipation
Promotes a healthy colon
Lowers cholesterol, blood pressure, and the risk of cardiovascular disease
Improves blood sugar
Aids in weight loss
Increases mineral absorption
Increases immune support
Where can you get fiber?
The most common sources of fiber are from non-digestible carbohydrates. Think along the lines of whole grains (oat, wheat, barley, rice), beans, fruits and vegetables. This is my favorite way of adding fiber in my diet because it's incredibly filling and it uses whole foods.
There are products that are enriched with fiber and (accord to U.S regulations) to be qualified as a "good source of fiber" it must contain at least 10% of the daily value or 2.5 grams of fiber per serving. High fiber claims must have 20% (or 5 grams) of fiber or more per serving.
How much fiber do you need? 
It's recommended that a daily serving of fiber is 25-35 grams, but most people do not reach this recommendation. I started tracking my fiber intake using MyFitnessPal and was amazed just how little I was getting. Foods enriched with fiber are a great way to increase the variety as well as amount of fiber consumed daily.
Apple Cinnamon Yogurt Bowl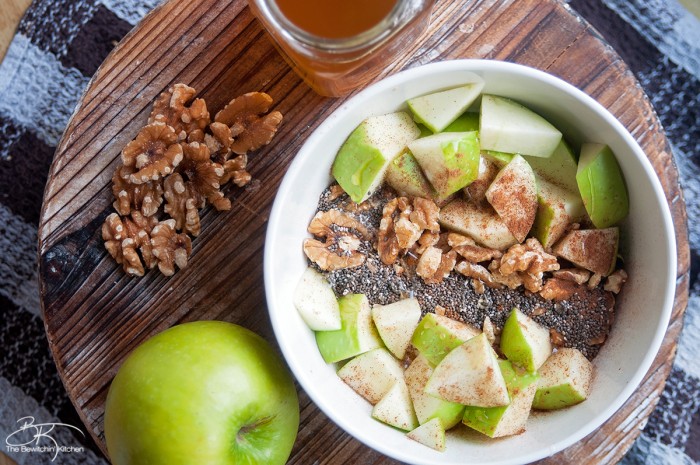 This recipe for apple cinnamon yogurt bowl is delicious as a snack or a dessert and it has a total of 11g of fiber.
Apple Cinnamon Yogurt Bowl
Servings 1
Ingredients
3/4 cup 0% plain greek yogurt
1 granny smith apple
1 tbsp chia seeds
1/4 tsp cinnamon
2 tbsps chopped walnuts
Optional: 1 tsp pure maple syrup or raw honey
Instructions
In a bowl add the yogurt and then lay out the rest of the ingredients.
Follow On Pinterest
Follow @bewitchinkitchen On Pinterest for more delicious recipes!
Here's a delicious tip: heat up the apples with the cinnamon in the microwave before you add it to the yogurt, it reminds me of apple pie and ice cream.
For more information on fiber and how it can make a difference in your health, please visit FiberFacts.org.