Good For You Kefir Bowl with Citrus Buckwheat Granola
Well friends, the holidays are winding down for another year. We've enjoyed great food, amazing cocktails and lots of laughter with friends and family. And even though I feel incredibly lucky and enjoy every minute of it, it's time to get back on track. I do try to eat pretty healthy throughout the year, but there's so many tempting things to eat during the holidays! I'm kicking off the new year with this Good For You Kefir Bowl with Citrus Buckwheat Granola. It's a tasty little thank you to my gut, if you will, for the way I've eaten in the last few weeks.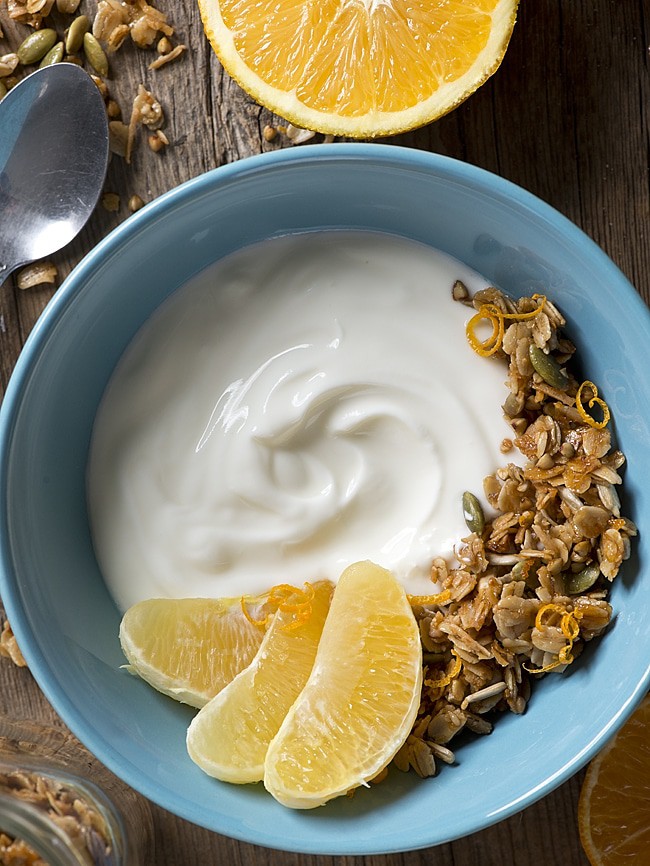 If you've never had it, Kefir is a tangy, thin, drinkable, cultured milk product. It's a ginormous powerhouse of probiotics that help stop the growth of harmful bacteria in our intestines and boost our immune system. And, a serving of kefir has up to 10 grams of protein, which helps keep you full longer and curb cravings. I aim for one serving a day, because I actually crave that tangy flavor, and I most often enjoy it with a topping of granola or fruit. Because I like it thick, like yogurt, I simply strain it with some cheesecloth for an hour before eating it (save the whey and put it in your smoothies!). Usually I buy the best organic kefir I can find, and immediately strain the container when I get home so it's ready for the week. Then I portion it into small jars for work and school snacks.
Lately, we've been obsessed with topping it with juicy orange or clementine segments and this incredible buckwheat granola. In these cold, blustery winter days, this Good For You Kefir Bowl with Citrus Buckwheat Granola is like a serious hit of sunshine.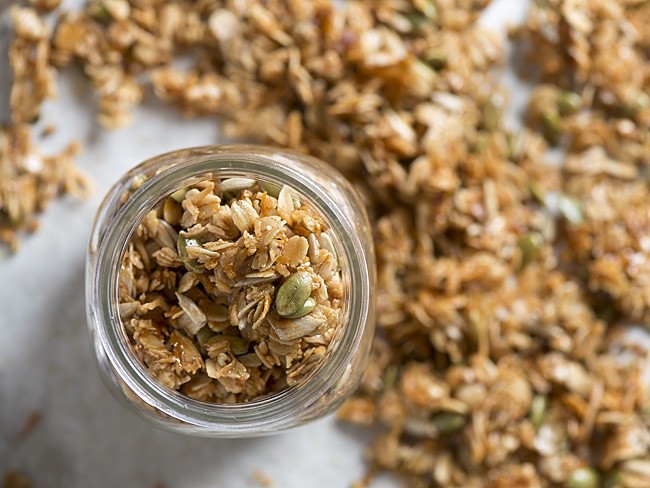 I've been making granola for years because the recipe is so versatile. You can flavor it based on what is seasonally available and it can be used for so many things. I will often just grab a handful of this when I get home from work and I need something to tide me over while I make dinner. It's also perfect on top of muffins, berries and of course smoothie bowls. It too can be a nutritious powerhouse when made with buckwheat, seeds, and coconut oil. Research is saying that buckwheat is also good for gut health and studies are finding that it helps lower blood sugar levels, which may help people with diabetes.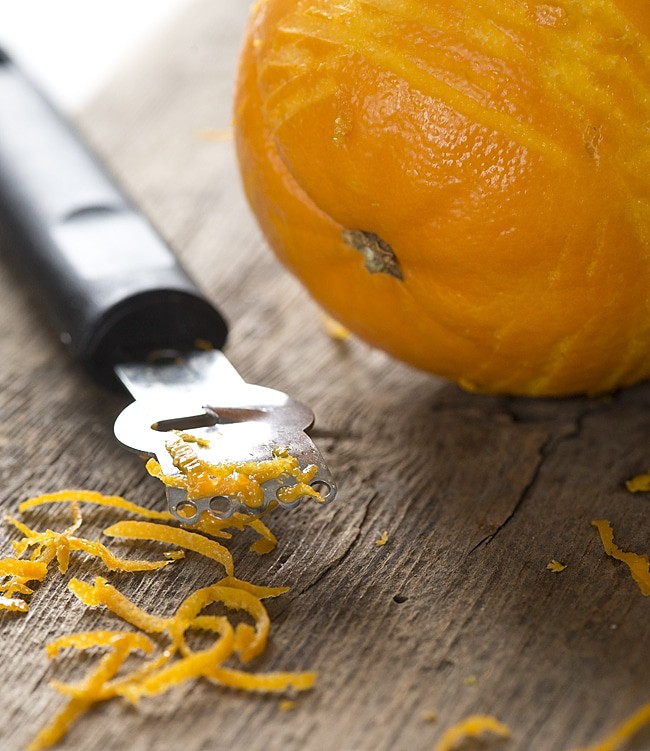 Don't forget the power of citrus for immune boosting too! Before you throw out those peels next time, remember that orange peels are loaded with flavonoids and phytonutrients, which is just a fancy way of saying that they are powerful antioxidants (with anti-inflammatory properties too!).
Guys, this is all just shaping up to be the perfect breakfast bowl or snack! I feel so much better when I take charge of the health and well being of my crew. I want this new year to start with nothing but health and happiness. I wish that for all of you too!
Kefir Bowl with Citrus Buckwheat Granola
Good For You Kefir Bowl with Citrus Buckwheat Granola
An easy recipe for Good For You Kefir Bowl with Citrus Buckwheat Granola. A bright and beautiful bowl that's packed with nutrition.
Servings 8
Calories 291kcal
Ingredients
For the granola:
1 1/2 cups oats
1/2 cup raw buckwheat
1/4 cup sunflower seeds raw
2 tbsp. brown sugar
zest from one orange
1/4 cup coconut oil
1/4 cup honey
1 tsp orange emulsion or extract
1/4 tsp salt
1/4 pepitas
1/4 cup coconut
orange segments for serving
Instructions
Preheat the oven to 300° and line a sheet pan with parchment.

In a large bowl, combine the oats, buckwheat, sunflower seeds, zest, brown sugar and salt; set aside.  In a small dish microwave the coconut oil until melted and stir in the honey and orange emulsion.  Pour that on top of the oat mixture and stir to combine.

Spread oat mixture in a thin layer on parchment lined sheet.  Bake for 20 minutes.  Add the coconut and pepitas to the oat mixture and stir on the baking sheet.  Bake for an additional 15-20 minutes until oats are golden.

Remove from oven and allow the mixture to cool on the baking sheet.  It will firm up as it cools.

While the granola is in the oven, line a fine strainer with atleast 6 layers of cheesecloth.  Add the kefir and allow it to strain for up to an hour or until it reaches desired thickness.

Divide kefir amongst serve bowls or jars.  Top with cooled granola and orange segments.  Serve immediately.
Nutrition
Serving: 1g | Calories: 291kcal | Carbohydrates: 37.2g | Protein: 8.3g | Fat: 13.8g | Saturated Fat: 9.5g | Cholesterol: 15.9mg | Sodium: 131.3mg | Fiber: 3.2g | Sugar: 18.6g
Follow On Pinterest
Follow @bewitchinkitchen On Pinterest for more delicious recipes!